26th Annual Hillsdale Brewfest – 2019 Battle for the Belt
|
Come relive Oregon brewing history when McMenamins Hillsdale Brewery & Public House hosts one of our favorite events of the year, the 26th Annual Hillsdale Brewfest, aka, the 2019 Battle for the Belt.
Back in October 1985 the Hillsdale Brewery and Public House became the first brewpub in Oregon's modern history. Now the McMenamins empire has 22 breweries, all producing beer for their respective areas that are sold at their onsite pubs and at other neighboring McMenamins locations.
Now 26 years in, the battle for the best McMenamins brewery continues at the 2019 Battle for the Belt. This title will be determined this weekend at the 26th annual Hillsdale Brewfest taking place on Saturday, February 23rd from 11:00am-1:00pm. If you've never made it out for the Battle for the Belt you have been missing out. This annual festival is one of our favorites to attend and its a great way to experience all 22 McMenamins breweries all in one convenient, historic location!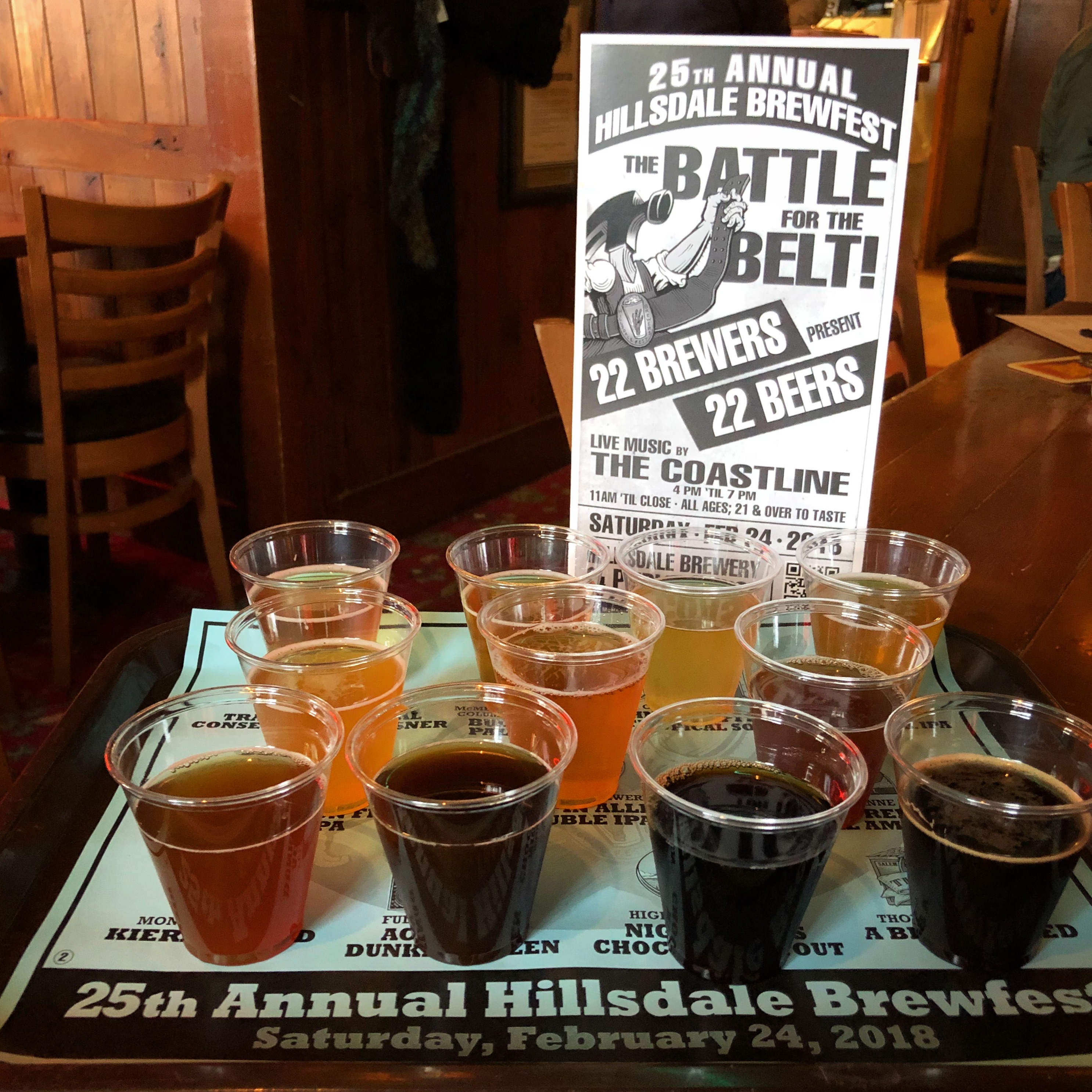 The lineup of 22 beers will be divided into 2 taster trays of 11 beers each. Featured beers will cover the gauntlet of beer styles from Fruited Sour to Coffee Porter, Hazy IPA to Double IPA and beyond. Each taster casts one ballot that lists their top three choices. The winning brewery will then be announced a few days later at the unveiling at McMenamins 23rd Avenue Bottle Shop, where the first place winner receives the trophy, and their name(s) will be stamped into the leather belt to join the past 25 winners!
Here's a preview of all 22 beers that will be pouring on Saturday, all vying to win the Battle for the Belt!
McMenamins on the Columbia Brewery – Columbia's Gold
This slightly sweet, crisp Golden Ale is as refreshing as it is tasty. Featuring floral and subtle citrus notes on the end from a late edition of Centennial Hops, this beer is a simple but delicious brew that your taste buds will be sure to enjoy.
Malts: Golden Promise, Pale, Crystal 15
Hops: US Golding, Centennial
ABV: 4.64
Crystal Brewery – Welcome to Paradise Wheat
Brewed while blaring a choice playlist of California punk bands like Green Day, The Offspring and Rancid, this Wheat Beer is sure to keep your day or night fueled with fun and energy, whether you're enjoying a show, or playing on stage. Tropical hop flavor and slight spice from the Wheat are simpatico with the California grown malt and orange peel. Raise your glass, and your horns!
Fruit: Orange Peel
Malts: Best Wheat, California 2-Row, Vienna
Hops: Chinook, Centennial, Meridian, Ekuanot
ABV: 4.90
Old St. Francis School Brewery – Razzfandel
The first of our Barrel-Aged Sours, this Raspberry Sour was aged for four months in a Zinfandel barrel from the Edgefield Winery. The base beer was blended with eighty-four pounds of raspberries and a puree of Japanese plums harvested from the Old St. Francis School property. This fruity Sour Ale has a sweet start, followed by a complex but subtle wine character that's provided by the barrel.
Special Techniques: Edgefield Zinfandel Barrel-Aged
Fruit: Raspberries, Japanese Plums
Malts: 2-Row, Carapils
Hops: Nugget
ABV: 5.29
West Linn Brewery – Tropical Shores Hazy IPA
Tropical Shores gets its haze from a grain bill that's over half White Wheat and Rolled Oats. This provides a nice creamy full-bodied beer. A large amount of Citra and Mosaic Hops were added to the fermenter, providing flavors of citrus, tropical fruit, and a bit of pine without too much bitterness.
Special Ingredients: London Ale 3 Yeast
Malts: Premium 2-Row, White Wheat, Rolled Oats
Hops: Citra, Mosaic
ABV: 6.84
Monroe Brewery – Pigpen's Hazy IPA
Pigpen came by while we were brewing and left his haze in this hoppy ale. He spoke of his friend in the '60's and '70's who was a wonderful keyboardist and harmonica player and ironically had the same name. The Mosaic, Citra and Cascade Hops dance on the tounge as if composed by Pigpen himself. Cheers to both Pigpens, and cheers to this beer, dedicated to the both of them!
Special Techniques: Dry-Hopped
Special Ingredients: Juice Yeast
Malts: Best Pilsen, Flaked Wheat, Rolled Oats
Hops: Mosaic, Citra, Cascade
ABV: 6.97
Hillsdale Brewery – Rosé City Brut IPA
This IPA is dry and light-bodied with a champagne-like effervescence. Dried hibiscus flowers and Centennial Hops were added to the kettle after flame off to contribute a beautiful rose color and floral aroma with little bitterness. Amarillo Hops were added at the end of fermentation for that extra bit of hop character. Cheers with this fun new style!
Special Techniques: Dry-Hopped
Special Ingredients: Hibiscus Flowers
Malts: Premium 2-Row, Vienna
Hops: Centennial, Amarillo
ABV: 6.45
High Street Brewery – Shooting Grandma's Cannon Double IPA
We took Grandma Betty, fed her a big plate of Hops N' Malts to fatten her up, and shot her through a hop cannon!
Malts: Gambrinus Pilsen, Crystal 15
Hops: Mosaic
ABV: 8.00
Anderson School – Road Warrior Red Ale
Drawing inspiration from the best of the worst action movies of our generation, this American style Red Ale boasts a big body with toasted malt and chocolate notes. Heavy additions of citrus and floral hops lend to a better drinkability and layers of pleasant flavor.
Malts: Premium 2-Row, Aromatic, Crystal 60, British Chocolate Malt
Hops: Nugget, Citra, Crystal, Centennial
ABV: 7.10
Cornelius Pass Roadhouse Brewery – Munich Dunkel Lager
New to our ever-expanding lager program, but not new in the roots of Bavarian brewing history, this dark ("dunkel") lager offers a rich malt footprint with the smoothness of a lager. This brunette colored gem employs the malt that bears the name Munich, the same city that made the beer famous, along with the additions of the Noble German hop Tettnanger. Prosit!
Malts: Best Dark Munich, Wheat, Chocolate Malt
Hops: Tettnanger
ABV: 6.06
Thompson Brewery – Pole Ax Lager
This is an old school recipe brewed up for a long-standing tradition! This big Amber Ale is full of great malt character and balanced out by a Cascade Hop profile. True to it's name, he is strong and ready for consumption!
Malts: Premium 2-Row, Munich, Crystal 75, 135/165, Kiln Black
Hops: Chinook, Cascade
ABV: 7.48
Lighthouse Brewery – High Council Porter
This unique variation of Silly Willy Chocolate Porter got an addition of French Oak soaked in McMenamins High Council Brandy. This contribution provides a wonderful explosion of flavors on top of the already silky smooth nature of this beer. Please enjoy a pint or two. The High Council approves.
Special Techniques: French Oak Spiral Soaked in McMenamins High Council Brandy
Malts: 2-Row, Pale, Munich, Flaked Barley, Crystal 135/165, Black Chocolate Malt
Hops: Simcoe, Perle
ABV: 5.68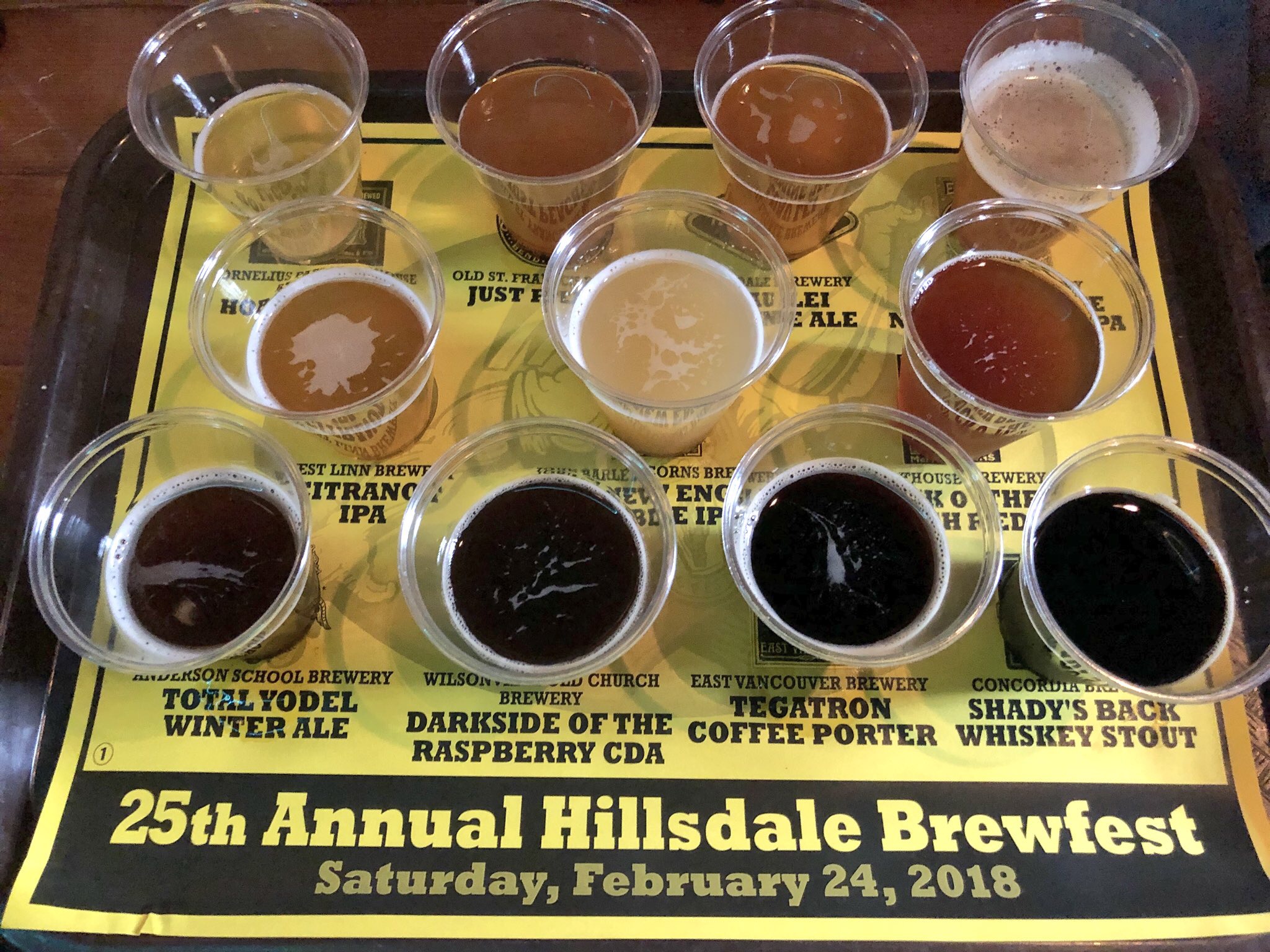 Kalama Harbor Brewery – Dos Hermanos Mexican-Style Lager
This cerveza boasts a deep honey color, unique bitterness and a touch of sweetness. With a tasty mild corn flavor at the top, this is a perfect beer to sip while putting your toes in the sand, or grass, or pool, etc. This lager has subtle notes of toasted bread crust with a smooth, easy-going texture. Enjoy, and try adding a few drops of fresh squeezed lime juice for a little something different!
Malts: Vienna, Pilsen, Flaked Corn, Crystal 30, Baird's Black
Hops: Tettnanger, US Golding
ABV: 4.90
Edgefield Brewery – Blackberry Blossom Smoothie
This Sour Ale is the recreation of a classic fruit smoothie. Blackberries and peaches were chosen for their rich decadence and high acids to create a dessert-like beer. Massive additions of milk sugar at the end of our boil team up with flaked oats and Wheat Malt to create a perfect backbone for the fruit to shine. It's the perfect harmony of fruit, sugar, and acidity.
Special Techniques: Kettle-Soured
Special Ingredients: Lactose, Vanilla
Fruit: Blackberries, Peaches
Malts: 2-Row, White Wheat, Rolled Oats
Hops: Nugget
ABV: 5.16
Queen Anne Brewery – Rat Race ESB
This cooper-hued brew is an American take on a British style, brewed with Cascade and US Golding Hops providing a mild bitterness and satisfying finish.
Malts: Pale, Rye, Vienna, Crystal
Hops: Cascade, US Golding 
ABV: 4.90
John Barleycorns – Careless Waze 
Three hop varieties were used in Careless Waze to create a juicy haze. Big fruity aromas of grapefruit and melon are matched by a full-bodied malty mouthfeel.
Malts: Gambrinus Pilsen, Oat Malt, Unmalted Wheat
Hops: Amarillo, Ekuanot, El Dorado
ABV: 6.70
Wilsonville Brewery – Hopster IPA
We're lucky to be living in the Pacific Northwest, where we're known as hop heads. This IPA uses a simple Superior Pilsen grain base that sets the stage for hops to shine. Using Horizon in the beginning, we used lots of Centennial, Mosaic and Idaho 7 Hops towards the end of boil, bringing out strong aromas of tropical citrus, orange, earthy pine and mango.
Special Techniques: Dry-Hopped
Malts: Superior Pilsen, Flaked Barely, Crystal 15
Hops: Horizon, Centennial, Mosaic, Idaho 7
ABV: 6.58
Fulton Brewery – Flounder Tears Double IPA
This IPA is all about big feelings. It explodes with citrusy bitterness right from the start and the body is marked by a malty sweetness that carries the hop load to a more balanced finish. This high gravity offering is sure to please hop enthusiasts, big beer lovers, and of course, dedicated Portland Timbers fans.
Malts: Superior Pilsen, Crystal 40, Wheat
Hops: Chinook, Centennial, Amarillo, Simcoe
ABV: 8.64
East Vancouver – Warm and Cozy Red Ale
Warm up and get cozy with a pint of this delicious Red Ale. It's all about the holiday aromas, flavors of caramel, chocolate and honey, with hints of ripe plums and toasty oats. It has a surprisingly light mouthfeel and crisp finish that balances the sweetness, leaving you craving more, like a bite of dark chocolate and a warm fireplace.
Special Ingredients: Touch of Cinnamon and Clove
Malts: Golden Promise, Red X, Munich, Oats, Honey, Crystal Malt
Hops: Centennial, Crystal
ABV: 6.32
Highland Brewery – E.C.T. Lager
This Vienna Lager has a nice dark red color, with a smooth and crisp finish. The malt provides a nice backbone as the hops balance this beautiful beer out. Sit back, put your feet up, and enjoy this one with friends.
Malts: Vienna, Crystal 120, Dextrapils
Hops: Nugget
ABV: 6.19
Oak Hills Brewery – The New Old World Porter
This is a recipe from the 1800's made with modern ingredients and brewing techniques. What you get is a close relative of what was consumed 200 years ago in homes and pubs across Europe. Originally, dark beers were made because there was less taxation on roasted malts, but people soon began to enjoy the new cheaper brews for the people. Let us toast to those who came before us!
Special Ingredients: Heather Tips
Malts: 2-Row, Crystal, Blackprinz, Rolled Oats
Hops: Chinook
ABV: 4.30
Roseburg Brewery – Ooh La La
This full-bodied Strong Ale will excite your tastebuds and take the chill out of winter with a rich, malty sweetness, a toasty complexity and a zing of rye. Mosaic, Ekuanot and Idaho 7 Hops counter the malt sweetness with tropical citrus flavor and aroma. Lightly toasted Habanero peppers add a bold flavor and a subtle warmth.
Special Techniques: Dry peppered with lightly toasted Habanero peppers
Fruit: Habanero Peppers
Malts: Pale, Munich, Rye, Crystal 75, Blackprinz, Rolled Oats
Hops: Mosaic, Ekuanot, Idaho 7
ABV: 7.22
Concordia Brewery – Fallen Comrade Russian Imperial Stout
A certifiable smorgasbord of malts supplies a sturdy backbone with dense body and rich sweetness. Matured in Hogshead Whiskey barrels for one year, subtle spirit sensations and a silky-smooth finish are sure to satiate with notes of vanilla and caramel. Black as night. Heavy as a neutron star. One sip, and you'll think you've died and gone to heaven!
Special Techniques: Hogshead Whiskey Barrel-Aged
Special Ingredients: Molasses
Malts: Golden Promise, Dark Munich, Vienna, Rolled Oats, Roast, Chocolate Malt, Black, Caramel Vienne
Hops: Nugget, Tettnanger, Crystal
ABV: 10.32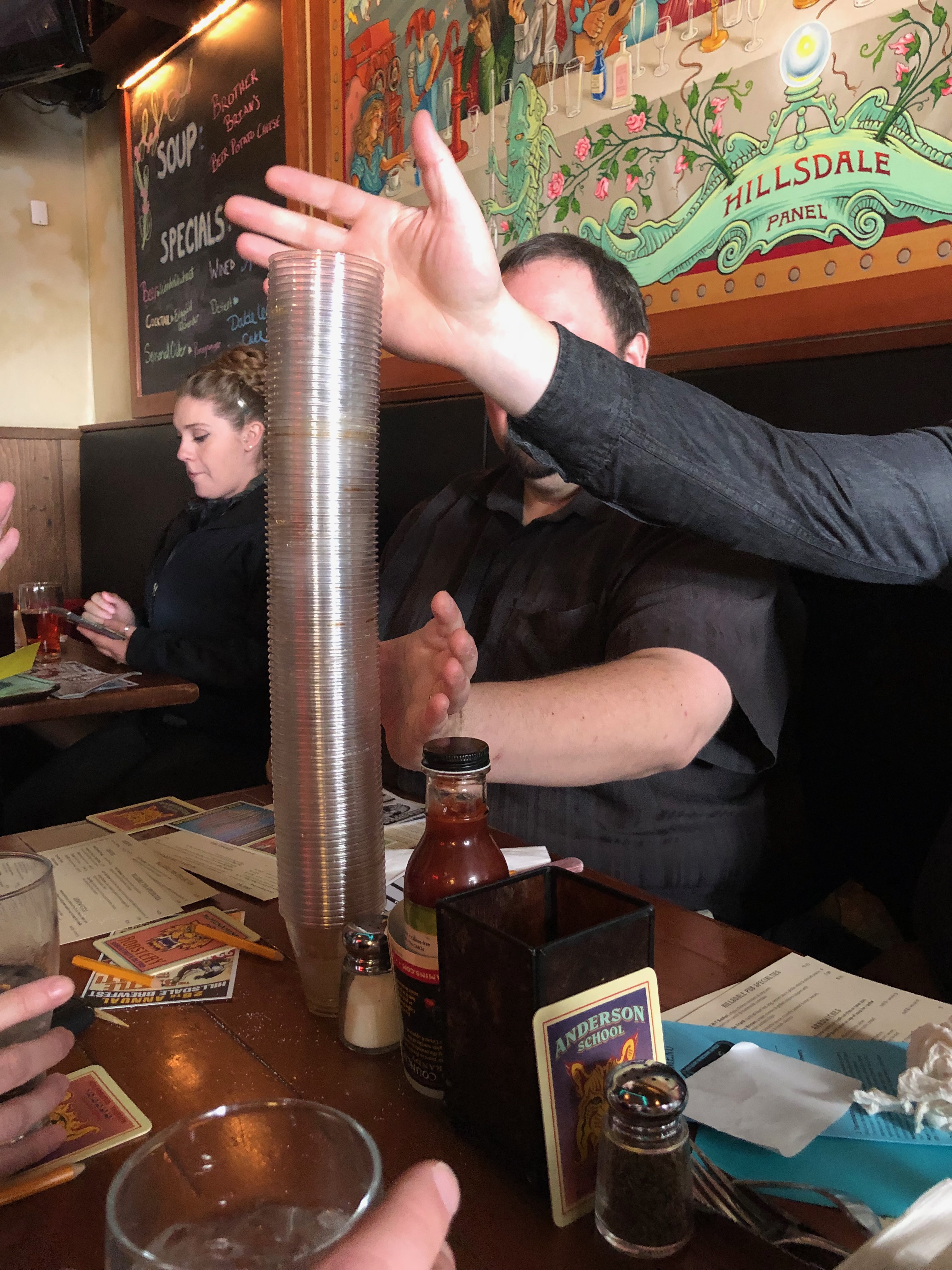 Beyond the 22 beers flowing, the day will also bring two bands to the Hillsdale Brewery & Public House to perform. First up will be My Siamese Twin playing its take on popular songs from 1980s college radio. My Siamese Twin performs from 3:30-5:30pm.
Then The Coastline will take the stage from 6:00-9:00pm. This Portland based trio is influenced by a wide variety of genres that has resulted in performances that range from lounge rock to synth-driven electro pop. After playing their first McMenamins show at Ringlers Pub in 2015, The Coastline have since performed at Hotel Oregon, Kennedy School, the Crystal Ballroom, The Winery at Edgefield and more.
McMenamins Hillsdale Brewery & Public House
1505 SW Sunset Blvd.
Portland, OR 97239