2nd Annual Rural Brewer Fest Returns July 23
|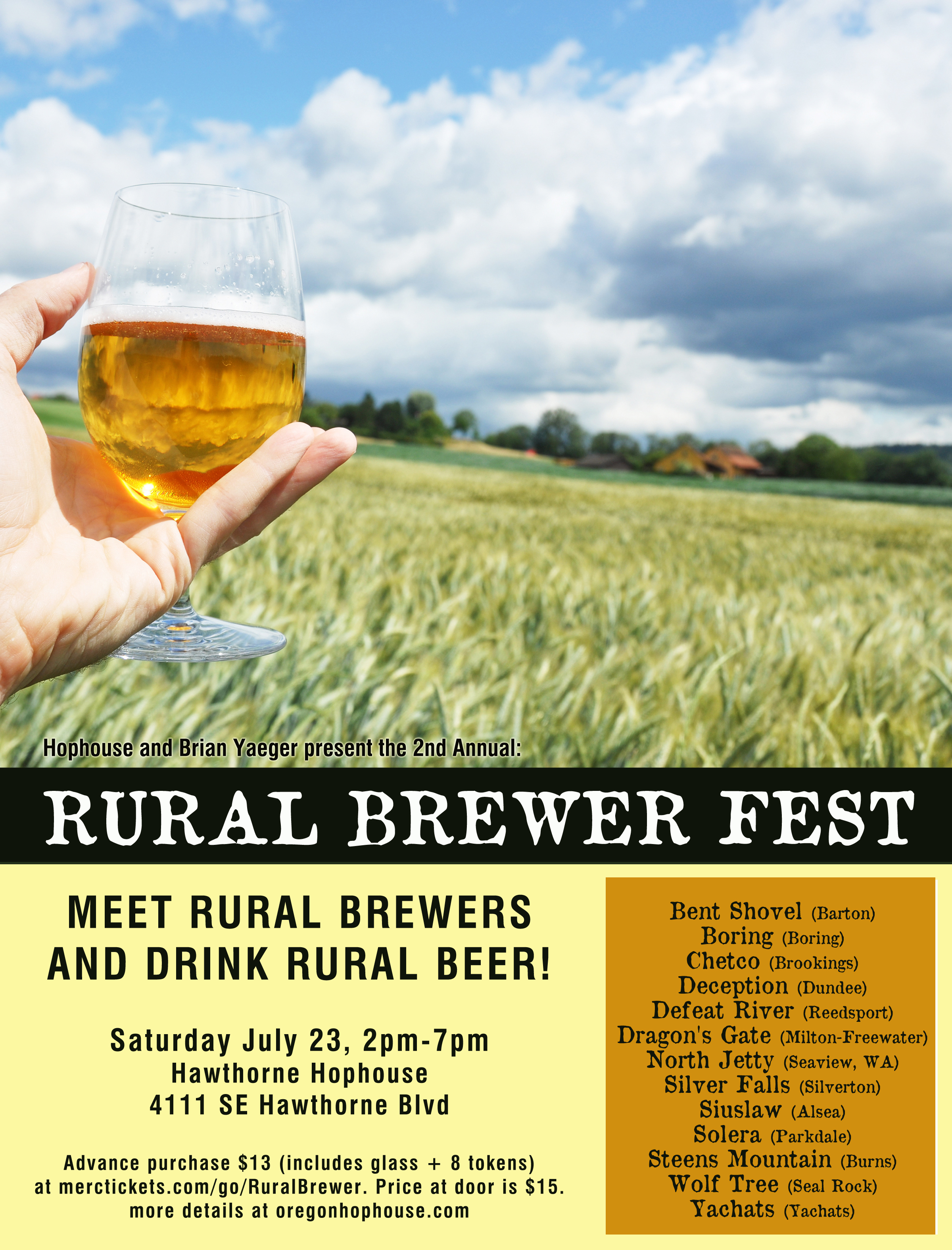 After a successful first run last year, Brian Yaeger returns with his 2nd Annual Rural Brewer Fest on Saturday, July 23rd from 2:00 to 7:00pm at Hawthorne Hophouse. Rural Brewer Fest will feature fourteen of the regions smaller and more remote brewers from Oregon (13) and Southwest Washington (1).
"Beyond Portland, Bend, Eugene, and Oregon's celebrated beer Meccas, great breweries exist all over the state", says event organizer and Portland beer scribe Brian Yaeger in a news release. All fourteen breweries all come from towns of populations all under 10,000 people each. Though one brewery may share a mailing address with a much larger city, Bent Shovel Brewing, the brewery itself is miles away from the actual border of the city limits of Oregon City.
Regarding beers that will be pouring at Rural Brewer Fest, expect a wide array of beers from Belgian inspired beers to fruit forward beers and of course IPAs. Here's a preview of beers to be pouring from festival organizer, Brian Yaeger.
A variety of styles will be pouring, from hoppy IPAs to fruit beers and Belgian styles, often brewed with these far-flung breweries' local terroir. Siuslaw Brewing represents the smallest Oregon city with a brewery, Alsea (population 164), and is surrounded by the Siuslaw National Forest. The brewers grow their own hops and barley and the beer Siuslaw will pour at the event, Grass Clippings Cream ale, uses in-house malted barley. No knock against Steens Mountain Brewing from the town of Burns that is still recovering from the occupation of the Malheur National Wildlife Refuge located five hours from Portland, but the brewers traveling the farthest to participate will be Mike and Alexandra Frederick of Chetco Brewing in Brookings on Oregon's South Coast, which is a six hour drive (or seven and a half via Highway 101.) They will pour The Chetco Effect, a summertime ale with Sorachi hops.
This year's line-up of breweries includes:
Here is a Google map showing where each participating brewery hails from:
Last year that festival offered a casual atmosphere in the parking lot of the Hawthorne Taphouse. There was a tent to give some needed shade but also an open area to enjoy all of what Mother Nature is willing to offer. Just as with many festivals theses days, last year there were some fine beers to be had but there were also a few beers that were a bit less than stellar. But one thing is for sure; it's a great way to try a few rare beers from breweries that are a bit off the beaten path.
Advance tickets are now on sale for $13.00 each at http://Merctickets.com/go/TheRuralBrewer and admission at the gate will be $15.00. Admission includes 8 tokens for 8 beer samples with additional tokens costing $1. Every beer will cost one token. Minors will be allowed at the Rural Brewer Fest.
Hawthorne Hophouse
4111 SE Hawthorne Blvd.
Portland OR 97214