30th Annual Oregon Brewers Festival Preview
|
As we continue to celebrate Oregon Craft Beer Month the largest beer event of the year returns to close out this month dedicated to our beer culture. The 30th annual Oregon Brewers Festival (OBF) returns to Portland's Tom McCall Waterfront Park from Wednesday, July 26th through Sunday, July 30th.
This annual beer festival is one of the largest out there and brings an estimated 80,000 people to the waterfront to enjoy craft beer from 13 states and one from The Netherlands. Each day OBF opens at Noon and closes at 9:00pm, except for Sunday when it closes at 7:00pm.
OBF will pour 91 beers ranging in style from over two-dozen beer styles on the main festival grounds. Of the festival's 91 beers, all come from 13 different states and one foreign country, The Netherlands. Oregon leads the pack with 56 breweries represented and is followed by Washington with 14 breweries, California with 8 breweries and New York and Colorado with two each. There are 8 states that are represented with just one brewery each.
What makes OBF exciting for the craft beer drinker is that 64 of the 91 beers are all brewed specifically for the festival. A few breweries such as Old Town Brewing from Portland will continue its recent trend of brewing beers that push the envelope. The brewery has done a candy cap mushroom beer in 2015 and last year brewed a mint julep beer. This year the brewery enters OBF with Coconut Curryiocity – Experimental Beer. Yes a beer brewed using flaked coconut and curry spices. We recently sampled this from the brite tank at the brewery and were impressed with just the perfect amount of spice yet easy to drink. And the best beer name goes to 54°40′ Brewing for its Art AllAzaccas – American Style India Pale Ale. Yes a take on the famous Portland musician that fronts the band Everclear.
(The COMPLETE brewery and beer list with descriptions is posted further down in this article.)
In addition to the main festival beers there will be a Specialty Tent that replaces the International and Buzz Tents of prior years. In the new Specialty Tent look for over 90 rare, bold and experimental beers from many of the participating breweries. These beers are extremely limited in quantity and will pour on a rotating basis; beers will be available by tasters only and each taster will cost double or triple tokens.
Another new tie in for the 2017 Oregon Brewers Festival is that it is now an official Untappd venue. This means that users both old and new of Untappd will be the first to know when beers run out and when beers change out at the Specialty Tent.
Entry into the OBF is free. To taste beer an official 2017 OBF 14 ounce mug must be purchased for $7.00. Beer is then purchased with wooden tokens, which cost $1.00 apiece. Patrons pay five tokens for a full mug of beer, or one token for a taste. The purchase of mugs and tokens is made on-site or at a few sites around Portland. The event is cash-only, with eight ATMs located on-premise.
But prior to the official opening of the 30th annual Oregon Brewers Festival the OBF Brunch returns once again in 2017. Hosted by Hopworks Urban Brewery, the OBF Brunch will take place at The Redd located at 831 SE Salmon Street from 9:00am-11:30am on Wednesday, July 26th.
The morning menu includes Seasonal Fruits, Biscuits and Honey, Smoked Salmon, Bagels, Bacon, Beer Braised Sausage, Rosemary Roasted Potatoes with Onions and Peppers, Tofurkey ESB Braised Scramble with Vegan Eggs, Sausage and Eggs Scramble, Cider Braised Corned Beef Hash, Cheddar Grits, Stout Pancakes, Biscuits and Gravy (Sausage or Mushroom Gravy) and Coffee, tea and juices.
Tickets are still on sale through Wednesday, July 19th at Noon. Cost is reduced to $37 since there is not festival t-shirt included. Brunch tickets include brunch, two Hopworks beers, the OBF official tasting mug and your first five tokens. Purchase OBF Brunch tickets here: http://www.oregonbrewfest.com/festival/brunch/
Then at 11:30am the OBF Parade will begin out in front of The Redd. The route will take walkers across the Hawthorne Bridge and then lead into Tom McCall Waterfront Park. This year's Grand Marshal, John DeBenedetti of F.H. Steinbart Company will lead us.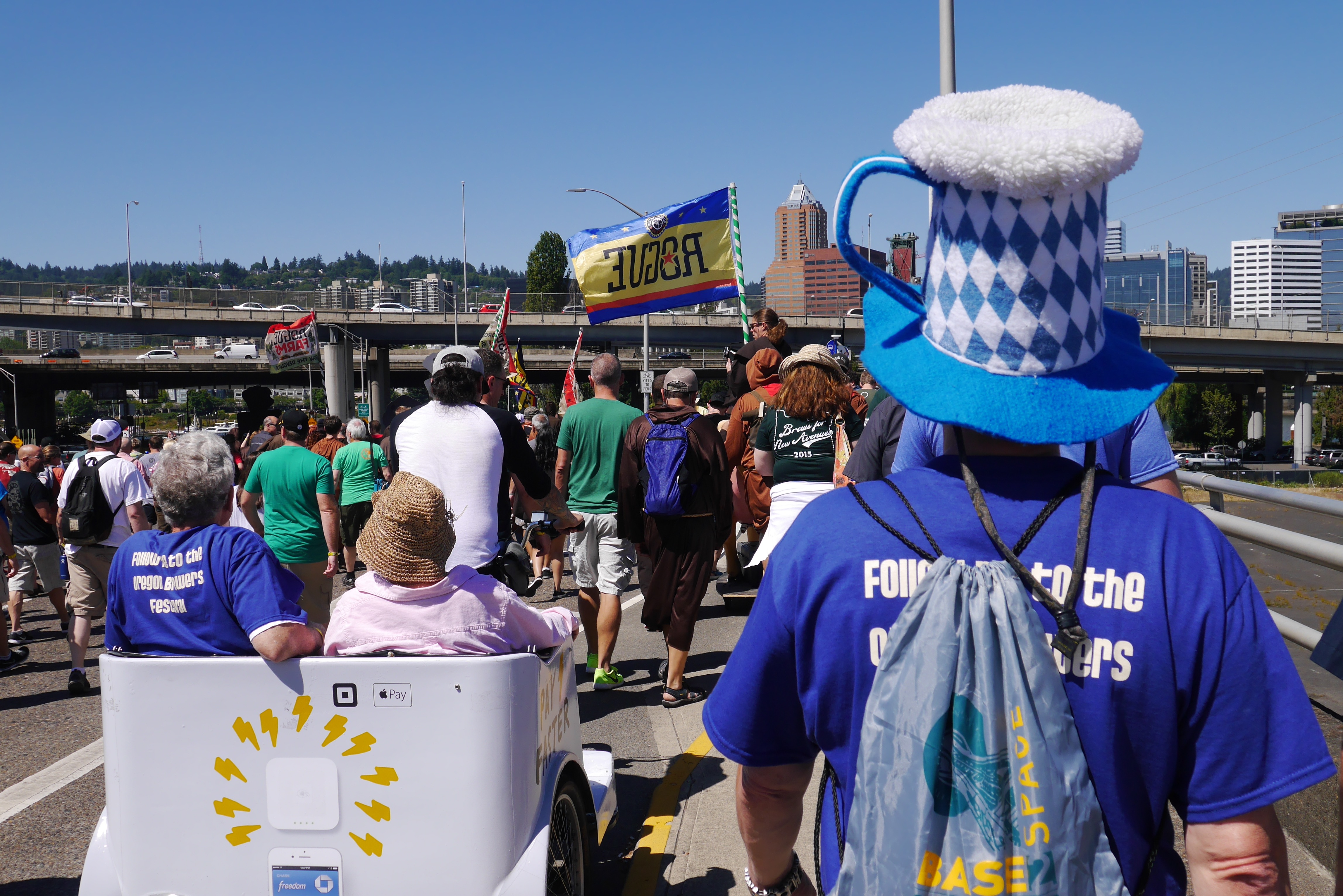 MAIN FESTIVAL BEER LIST + DESCRIPTIONS:
21st Amendment – San Leandro, CA
Watermelon Funk – Belgian Style Fruit Beer
Brewed with real watermelon juice from the Columbia Valley and Sierra snow melt from the great Mokelumne River Watershed, this new twist on 21st Amendment's Watermelon Wheat is fermented with French saison yeast to lend an estery, spicy and slight barnyard character. The grain base of two-row pale and white wheat is bittered with a single dose of Magnum hops at the beginning of the boil to preserve the fruit-forward aromas and flavors.
Unique to Fest
54°40′ Brewing Co. – Washougal, WA
Art AllAzaccas – American Style India Pale Ale
This West Coast style IPA is a tribute to Portland's own Art Alexakis of Everclear, who once sparkled brightly and has since faded like so much afterglow. A simple base of two-row malt lets the Azacca hops shine through like the cutting lyrics of Father of Mine. The brewers swear they listened to Everclear for eight hours straight in the brewhouse while brewing this IPA. 54°40′ invites you to raise a glass to Everclear and all of the lost CD cases of our youth.
Unique to Fest
Alameda Brewing Co. – Portland, OR
Touch of Orange – Belgian Style Pale Ale
Alameda did everything it could to make this beer as orange as possible. Sweet orange peel flavored the wort, made from German pilsner, Munich, white wheat and dark Belgian specialty malts and bittered with Bravo hops. Dry hopped with Citra, Galena and Centennial, it's fermented with a Belgian yeast that lends a clean, citrus and spicy character. The original gravity is close to "45," but it won't leave a bitter taste in your mouth.
Unique to Fest
Ancestry Brewing – Tualatin, OR
Tiny Umbrellas Experimental Hop IPA – India Pale Ale
Tiny Umbrellas was made to showcase two of the exciting hop varieties that have come around recently: Bru 1 and HBC 472. Bru 1, prized for its canned pineapple and pine characteristics, makes for a beautiful late hop addition. HBC 472, one of the more unique hops to hit the market recently, exhibits flavors of toasted coconut, wood and bourbon. Together, they blend to make a sweet and drinkable tropical fruit character that will have you searching for the nearest beach blanket.
Unique to Fest
Anchor Brewing – San Francisco, CA
Blackberry Daze IPA – Fruit IPA
A synergistic union of blackberries and hops, this IPA gets its hop bitterness in the brewhouse. Most of the action, however, is in the cellar, where the fruit is added during secondary fermentation. A special blend of loamy, herbaceous dry hops complements the bright, deep complexity of the blackberries. The result is a sublimely intense synthesis of rich earth, ripe fruit, hop bitterness and blackberry tartness, with alluring color and aromas up front and a refreshingly dry finish.
Anderson Valley Brewing Co. – Boonville, CA
G&T Gose – Contemporary Gose
This gose is made with lemongrass, lemon peel, grains of paradise, cinchona bark, juniper, cucumber and even a bit of salt, but its signature tart flavor derives from a kettle souring process with lactobacillus bacteria. But over 95% of this beer is Rudy Nebs: pristine Boonville mineral water. Brewed with two-row pale, cara crystal and wheat malts, it's relatively low in alcohol, so don't shy away from grabbing a full mug!
Aslan Brewing Co. – Bellingham, WA
Disco Lemonade – Berliner Style Weisse
This sour brew, originally brewed in collaboration with the Bellingham Homebrewers Guild, is a refreshing beer brewed to a style that dates back to the Middle Ages and is often referred to as "The People's Champagne." The tartness of this beer will bring out hints of lemon, while the generous amount of wheat will round out the body, lending a remarkable similarity to lemonade.
Backwoods Brewing Co. – Carson, WA
Blueberry Sour – Specialty Beer
Backwoods uses an all natural Oregon blueberry flavoring to give this beer its great aromatics and slight blueberry taste. Nancy's Yogurt provides the right bacteria to lower the pH level, with a kettle souring process following strict guidelines for the style. A simple grist of two-row and white wheat malt gets a triple hop dose in the kettle and the beer's unique water source is Rock Creek, a flowing creek up above Stevenson, which provides some of the best water in Washington State.
Unique to Fest
Baerlic Brewing Co. – Portland, OR
Dropping Acid Psychedelic Sour IPA – American Style Sour Ale
A moderate hop bittering schedule allows this brew's signature tart flavor to shine, obtained through kettle souring with lactobacillus. Pils, wheat and oat malts, along with unmalted rolled oats, are mashed with very soft gravity fed Bull Run water from Mt. Hood, providing a wort lightly hopped in the boil with El Dorado and dry hopped with Comet and Amarillo.
Unique to Fest
Base Camp Brewing Co. – Portland, OR
Bretta Livin' – Wild Beer
A tart, tangy, true lacto soured, brettanomyces fermented ale, with raspberry added as a puree late in fermentation, meaning great fruity taste and aroma without residual sugar sweetness. No hops! And keeping it simple, there's only one malt in the grain bill, Vienna, providing a distinctive toasty, biscuit malt aroma and flavor.
Unique to Fest
Bayern Brewing – Missoula, MT
30th Anniversary Pilsener – Pilsner
To celebrate Bayern's 30 Year Anniversary, master brewer Jüergen Knöeller went "retro" to recreate a brew he learned as an apprentice in his native Germany in the 1970s. Weyerman Malting in Bamberg, Germany supplied 10 metric tons of floor-turned "Barke" two-row malt supplemented with Munich malt, for a uniquely malty flavor profile. The saltiness gets balanced by equal parts Hallertauer Northern and Gold Brewer in the boil and Tetnanger hops in the finish. Enjoy this refreshing piece of brewing history!
Belching Beaver Brewery – Oceanside, CA
Easy Beaver – Session India Pale Ale
This easy drinking session IPA isn't just for those wearing orange and black. True balance means Duck fans will love it, too. Two-row pale malt and Golden Naked Oats get hopped up with Citra, Mosaic and Galaxy in the whirlpool and the fermenter. Minerals are added to provide the right pH and flavor profile and a clean, neutral California ale yeast lets the malt and hops shine.
Blackberry Farm Brewery – Walland, TN
Classic Saison – Classic French & Belgian Style Saison
This classic Belgian saison is conceived of Weyermann floor malted pilsner, floor malted wheat, floor malted dark, Carafoam, and acidulated malts in the mash tun. Its complex hop bill includes first wort hopping with Styrian Aurora and Czech Saaz, Styrian Aurora and UK East Kent Golding in the boil and more Czech Saaz and Goldings in the finish. Belgian saison yeast provides both spicy phenolics and fruity esters, along with an almost bone dry finish and crisp effervescence.
Boneyard Beer – Bend, OR
Enzymatic IPA – American Style India Pale Ale
This beer's fermentables are uniquely Northwest. The grist consists of 100% locally sourced malt from Skagit Valley (Copeland pale, club wheat, C-15 and acid malt) and it's flavored with 100% Oregon fruit products (aseptic Northwest grown raspberry puree). Kettle soured with a house bacteria culture, it's top fermented with a house ale yeast. Aged Styrian Bobek hops go in at first wort and it's dry hopped with Citra for a citrusy finish.
Unique to Fest
Boundary Bay Brewery – Bellingham, WA
Raspberry Radler – American Style Sour Ale
Radlers are a German invention, conceived as half beer, half soft drink. In this case, aseptic raspberry puree complements the brew's already tart kettle soured base beer, brewed up from 100% local Skagit Valley Malt. Hopped with Aged Styrian Bobek at first wort and dry hopped with Citra, it's fermented with a combination ale strain and house bacteria for extra tartness.
Unique to Fest
Breakside Brewery – Portland, OR
Dreamboat – Belgian Style Witbier
One of three beers created by students at Lewis & Clark College as part of the final project for their course in brewing science, Breakside's brewers helped the students develop and brew the beer. This is an interpretation of a Belgian witbier with the addition of more flavoring and aroma hops than would be found in a classic version. The Citra and Huell Melon hops provide beautiful notes of honeydew and grass.
Unique to Fest
BridgePort Brewing Co. – Portland, OR
Deep Cuts: India Pale Wheat – India Pale Wheat
BridgePort's Deep Cuts is neither a Hefeweizen nor an IPA. This beer mixes the beats of two different styles for a hot new single that's all about the base of half pale and wheat malts. Sterling, Crystal and Cascade hops gets the taste buds bumping, then they step it up with a huge dry hop of Cascades for a floral/citrus finish. Lightly filtered, IPW has a haze and hop aroma that make the crowd go wild.
Burnside Brewing Co. – Portland, OR
CANNONBALL! – Wood- and Barrel-Aged Strong Beer
Is it beer, or is it wheat wine? Pilsner, wheat, Crystal and aromatic malts get mashed in the traditional way, bittered and flavored with three hop doses and fermented with a clean ale yeast that accentuates the malt. It's then aged in neutral red wine barrels with tart cherries and pineapple. The result is an explosion of flavor that may send you to the front of the line over and over.
Unique to Fest
Caldera Brewing Co. – Ashland, OR
Cousin Rick Triple IPA 20th Anniversary Brew – Triple IPA
This limited brew celebrates Caldera's 20th Anniversary, so raise a full mug in celebration. Brewed from generous amounts of premiun two-row and Wyermann Light Munich malts, its complex hop bill works triple overtime to keep up: Simcoe extract and Centennial whole hops at first wort, CTZ Lupulin in the boil, Mosaic Lupulin at the end and Mosaic leaf in the hop back. Then it's dry hopped with Centennial pellets, Eureka and Lemondrop oils in the brite tank.
Cascade Brewing – Portland, OR
Razz Hands – Sour Wheat Ale
This light bodied sour is a blend of two different wheat ales: one aged in chardonnay barrels and fermented with blackcap raspberries, the other fermented in stainless steel tank with red raspberries. Aged for up to 13 months, this refreshingly bold blend features flavors of black raspberries and other dark bramble fruits finishing with a dry, gentle sourness.
Chetco Brewing Co. – Brookings, OR
The Chetco Effect – American Style Pale Ale
Welcome this newcomer to the OBF with a full mug cheer! A boatload of Sorachi dry hops lends a dry lemon rind finish to this easy drinking summer ale. Two-row pale, Maris Otter and unmalted flaked barley make up the grist, bittered with CTZ hops and flavored with CTZ and Chinook at the end of the boil and at flame out. With a yeast as neutral as Switzerland, you'll taste those Sorachis with ease.
Cloudburst Brewing – Seattle, WA
Tigers in Tiny Spaces – American Style Pale Ale
This OBF first timer is ready to wow you with this balanced, fruity, estery pale ale. The strawberry esters derive from the ale yeast used to ferment all the sweet malts: Rahr Two-Row, Weyermann Carafoam and Simpson's Caramalt. Chinook hops give a nice piney/grapefruit backbone, while lots of additional fruity notes come from the other hops used, like peach from the Citra, strawberry from the Loral and candied citrus from Hop 522.
Unique to Fest
Coalition Brewing – Portland, OR
Honcho – German Style Kölsch
This is not a traditional kölsch. Jacobson sea salt, fresh lime and fresh lime juice add a refreshing sea air quality to complement the fruity character and lager-like finish contributed from the kölsch-style yeast. The mash of 75% kölsch malt and 25% white wheat malt meet up with Perle and Tettnang in the boil. Bull Run water is treated with a dash of gypsum to mimic the waters of Cologne.
Unique to Fest
Coin Toss Brewing – Oregon City, OR
Toss Tonic – Herb and Spice Beer
Think of this beer as a deconstructed gin & tonic. Rye malt adds spicy notes, while the juniper and lime zest added in the mash tun as a spice-back are the botanicals. A mash of pilsner, two-row, six-row, rye and toasted rice have a meet-and-greet with Bullion, Hull Melo and Horizon hops in the kettle. Lime juice was added to the brite tank for a tart and refreshing finish.
Unique to Fest
Collaborator – Portland, OR
Kentucky Kölsch – American Style Fruit Beer
Portland homebrewer Charles Macaluso designed this German-style ale, an easy-drinking summer brew with dehydrated strawberries added at the end of the fermentation process. Pilsner, Vienna and Munich 20L malts are balanced with 100% noble Hallertau hops. Adding the hops at first wort – pre-boil – allows the spicy, floral flavors and aromas of the Hallertau to come through without interfering with your enjoyment of the strawberries, which present a wonderful underlying fruit aroma and flavor.
Unique to Fest
Crooked Stave Artisan Beer Project – Denver, CO
Single Hop IPA Exp.06297 – American Style India Pale Ale
This brew not only is made with only a single, new, experimental hop. In a unique twist, the hops are all added at flame out or as dry hops. This maximizes the hop flavor and aroma and allows you to taste the unique flavor of this innovative variety. Only pilsner malts were used in the grist and an English-style ale yeast fermented the wort.
Unique to Fest
Deschutes Brewery – Bend, OR
Overnight Phenom – American Style Sour Ale
Black raspberry puree added during conditioning unites with kettle sour tartness to form a whole that is greater than the sum of its parts. The light malt base lets the bright black raspberry flavor and color pair up with clean acidity to form a delightfully refreshing sour ale. 1187 Ringwood ale yeast produces fruit esters and a malty complex profile. It's a whole new beer category: "Black Raspberry American Session Sour."
Deschutes Brewery – Bend, OR
Gluten Free – Gluten-Free Beer
This gluten free Northwest Pale Ale features a floral, tropical hop aroma and medium bitterness. The gluten free fermentables were extracted from brown rice syrup, dark Belgian candi syrup and honey. Nugget, Mosaic and Azacca hops went into the kettle and it was dry hopped with EXP #431 and Amarillo for a citrusy finish.
Unique to Fest
Double Mountain Brewery – Hood River, OR
A RIVER RUNS THROUGH IT: Hop Shake IPA – Specialty Beer
This specialty craft beer was a collaboration with Fort George Brewery of Astoria, OR. Grambrinus pilsner malt, flaked oats and carahell 55 malt in the grist met up with three hop doses in the kettle, including larger late additions and Eldorado and Azacca as dry hops. An ESB yeast helps the malt stay front and center, because, well, did we mention that they added some hops?
Unique to Fest
Druthers Brewing Co. – Saratoga Springs and Albany, NY
The Dare – Leipzig Style Gose
Brewed with coriander and a small amount of salt, this gose was then fermented with lactobacillus as well as yeast to create a refreshing, citrusy tartness. It's light and refreshing, with just enough salt to enhance the flavor. This was the gold award winner at the 2014 World Beer Cup in the German style sour ale category!
Dunedin Brewery – Dunedin, FL
Passionate Disenchantment – Chili Pepper Beer, Classic French & Belgian Style Saison, Coffee Beer
Lots going on in this beer. Serrano peppers add a spicy kick to this classic saison style brew, then cold brewed Tanzanian coffee provides a different kind of kick to your system. The wort gets constructed from pilsner malt, carahell malt and oats, hopped with Mt. Hood, Tradition and Nelson and fermented with a farmhouse yeast to add a spicy and slightly tart character. It should be your first beer after breakfast.
Unique to Fest
Ecliptic Brewing – Portland, OR
Espacio Mexican Lager with Lime Zest – International Style Pilsener
Don't add lime to your beer – let the brewer do it for you! Fresh lime zest adds a citrusy tartness to this beer, brewed from pale, Vienna and pilsner malt. Hops go into the kettle and whirlpool to give it balancing bitterness and hop flavor and a few weeks of cold lagering give it a smooth, crisp profile. You don't have to be the most interesting man in the world to drink this Mexican style lager.
Unique to Fest
Eel River Brewing – Fortuna, CA
Organic Tropical Blonde Ale – Golden or Blonde Ale
What makes this brew tropical? Passionfruit and kiwi concentrate, of course. A simple grist of two-row, C-15 and wheat malts provide the golden hue, with Magnums added to the first wort for balancing bitterness as well as subtle spice and fruit flavors, accentuated by the clean, slightly fruity yeast. Find your own tropical beach!
Unique to Fest
Elk Horn Brewery – Eugene, OR
Sirberlin – Berliner Style Weisse
This beer is named after a longtime Elk Horn employee, Sirberlin, and is made with lemongrass and lychee fruit, both native to his home of the Philippines. Kettle souring provides a tartness to balance the sweet fruit. A simple base beer concocted of German pale and wheat malt and Tettnanger hops lets the sweet and tart flavors compete for most of your attention.
Unique to Fest
Everybody's Brewing – White Salmon, WA
Tangible – Belgian Style Fruit Beer
Tangible is a hybrid of wit, saison and farmhouse style beers, highlighting all things refreshing. It employs citrus fruits (tangerine, orange and grapefruit) to provide the flavors and aromatics and gets some help from Mandrina Bavaria hops and a traditional wit strain. These ingredients give the beer some depth and complexity from all directions. The Belgian pilsner malt and toasted rice give the beer some backbone while allowing the tangerine to shine.
Unique to Fest
Ex Novo Brewing Co. – Portland, OR
Cal Estúpido – International Style Pilsener
"Cal estúpido," or "Lime Stupid," is a refreshing Mexican lager flavored with lime, coriander and a touch of sea salt. Flaked yellow corn joins pilsner and Vienna malts in the mash tun, providing a light body and golden hue. Czech Saaz hops and Mexican lager yeast provide a clean lager profile. This beer is lagered for a few weeks before being fined, after which concentrated lime puree is added.
Unique to Fest
Falling Sky Brewing – Eugene, OR
Octopus Tree Spruce Tip Pale Ale – Field Beer
Inspired by the 200-plus-year-old Sitka spruce tree outside Cape Meares called the Octopus Tree (a.k.a. Council Tree), which looks like a giant upside down octopus, this spruce tip pale ale, bursting with AU Ella hops, is a great pairing for a council around the tree or an OBF tent…just add imagination.
Unique to Fest
Fat Head's Brewery – Portland, OR
Tourist Saison – Classic French & Belgian Style Saison
Fresh ginger root and lemongrass provide a spicy character to this already lively brew. Rahr Premium Pils, Weyermann Vienna, Weyermann Wheat, Briess Red Wheat and Weyermann Acidulated malts comprise the complex grist, compared to the simple hop bill of Perle and two late doses of Saaz. The saison yeast adds notes of pear and subtle bubblegum.
Unique to Fest
Fearless Brewing Co. – Estacada, OR
Fearless Lemon Lager – OTHER
Brewed from the magical, very soft waters of the Clackamas River, this light and thirst quenching lager is finished with lemon to provide a slightly tart, citrusy flavor. The malt is pure pilsner, the hops are wholly Hallertau and the German lager yeast gives it a pure, clean flavor.
Unique to Fest
Fort George Brewery – Astoria, OR
No Pulp – American Style Pale Ale
his brew's concise mash of two-row barley and C-40 malt produced a mellow yet well-rounded body to accentuate the Strata hop additions, both as kettle and dry hops. Soft and juicy, it's like biting into a fresh picked orange but without the pulp. The yeast provides a fruity, very light and softly balanced palate with a slightly sweet finish.
Unique to Fest
Full Sail Brewing Co. – Hood River, OR
Blood Orange Wheat – Fruit Wheat Beer
Blood Orange Wheat is brewed with two-row Northwest pale malt, malted wheat and unmalted wheat. Blood orange provides a subtle twist to this refreshing brew. It pours with a white lacy head and a hint of orange aroma. It's medium bodied, with a crisp wheat finish and subtle orange flavor.
Georgetown Brewing Co. – Seattle, WA
Bodhizafa IPA – American Style India Pale Ale
This classic hop forward American IPA begins life simply enough with two-row barley, light Munich malt and rolled oats mashed in with soft California brewing water. It's in the kettle where life gets complicated: Columbus hops for bittering, a late dose of Columbus for flavoring and a potpourri of Citra, Columbus, Chinook and Mosaic at knockout. In the whirlpool comes more Chinook and Mosaic. The yeast adds a mild dried stone fruit aroma and flavor.
Ghost Runners Brewery – Vancouver, WA
Chasing Fluffy Pink Unicorns – Contemporary Gose
Coriander, peppercorn, raspberry, rose hips, sea salt and hibiscus flowers help flavor this magical brew. This lightly fruited raspberry gose has a gentle fruited tartness and a salty finish. More traditional ingredients include premium pilsner malt and torrefied wheat in the grist, Liberty and Hersbrucker hops and a Belgian style yeast that yields a creamy head, low flocculation and light fruity esters.
Ghostfish Brewing Co. – Seattle, WA
Dry hopped Sour – American Style Sour Ale, Gluten-Free Beer
This beer is 100% gluten free, brewed in a dedicated gluten free brewery. The fermentables are biscuit rice malt, Vienna millet malt, pale buckwheat malt and flaked quinoa, bittered with Cascade and dry hopped with Centennial. It's kettle soured, using lactobacillus cultured in coconut water and fermented with a kölsch yeast to accentuate hops flavors and leave a super clean, lager like ale.
Unique to Fest
Gigantic – Portland, OR
G & T – Experimental Beer
As the name implies, this beer was inspired by the Gin & Tonic cocktail, with lime, juniper and botanicals included in its many flavor contributors. It's beer, though, with pilsner malt, carahell and oats in the mash, citrusy hops late in the boil to lend a little more citrus to help out the lime and a fruity ale yeast for that one final push of complexity. Cocktail lovers will find this one refreshing and delicious.
Unique to Fest
Golden Valley Brewery – McMinnville, OR
München Luncheon – Münchner Dunkel
München Luncheon was brewed from Weyermann Pils, Vienna and Munich malts with a touch of chocolate malt. Hopped in the kettle with Perle, Hersbrucker and Tettnanger hops, this Munich style Dunkel was fermented with Wyeast Munich lager yeast and lagered over eight weeks for extra smoothness. Munch on!
Unique to Fest
GoodLife Brewing Co. – Bend, OR
Secret Stash #004 – American Style India Pale Ale
The fourth installment of our Experimental IPA series, Secret Stash #004 is a kettle soured tart IPA. This IPA is not overly hoppy and is slightly tart. As for the rest…that's still a secret.
Unique to Fest
Great Divide Brewing Co. – Denver, CO
Roadie Grapefruit Radler – Radler
Roadie Grapefruit Radler was named both for the road biking cyclist (roadie) and the German word for cycling (radler) and inspired by Great Divide's roots in the cycling community. Brewed with natural grapefruit puree, this easy drinking ale pours a hazy sunrise gold and is bursting with citrus aroma. Unique in its class, this radler is refreshing and slightly tart, with just enough bitterness to keep both cyclists and spectators coming back for more.
Heathen Brewing – Vancouver, WA
Mojito Sour – Experimental Beer
Are you ready for a beer that taste like a mojito? The Heathens up north put lime and mint in this kettle soured brew. The lactobacillus found plenty of beer like stuff to ferment, with pilsner, torrified wheat, carahell and acidulated malts providing the sweet stuff and a light dose of Magnum hops providing its relatively low bitterness. Cocktails, anyone?
Heretic Brewing Co. – Fairfield, CA
Session Grapefruit IPA – Session India Pale Ale
In most IPAs, the citrusy, grapefruit aromas and flavors come from the hops and sometimes get a boost from the yeast. In this single hopped brew, it's from actual grapefruit. The neutral American yeast lets you taste the real fruit as well as the Mosaic hops. While loaded with hop flavor, it's not overly bitter for an IPA.
Unique to Fest
Hopworks Urban Brewery – Portland, OR
Kiwi Sparkle & Pop – American Style Fruit Beer
This tart wheat beer benefits from a dose of kiwi. Soured in the kettle with lactobacillus, it's then fermented with lactobacillus and wild saccharomyces yeast to provide citrus orange and lemon flavors, and dry hopped with El Dorado hops. Its two-row and wheat malt as well as its El Dorado hops are certified salmon safe, so you can help the Earth by drinking this beer.
Unique to Fest
Laht Neppur Brewing Co. – Waitsburg, WA
Strawberry Concoction – Belgian Style Flanders Oud Bruin or Oud Red Ale
This beer's unique flavor comes from the addition of strawberry puree, naturally occurring lactobacillus from the brewery and lactose to provide a lingering sweetness. Fermented with a Belgian abbey yeast, its single hop addition is held to a low level so you can taste those unique flavorings. Finally, the new ale is blended with a year-old lactobacillus enhanced amber ale for maximum complexity.
Unique to Fest
Lakefront Brewery – Milwaukee, WI
El Wisco Mexican LagerAmerican Style Lager
El Wisco pours a bright gold with a rocky white head. Mild lemon candy, herbal tea and slight melon aromas arise from the late Lemondrop and Mt. Hood additions. Brewed from two-row pale, honey malt and flaked maize, this light bodied brew delivers clover honey and citrus flavor before ending with a crisp finish.
Unique to Fest
Laurelwood Brewing Co. – Portland, OR
Boysenberry Berliner Weisse – Berliner Weisse
This tart, German style Berliner Weisse gets its unique complexity from the big dose of bosenberry puree added in the fermenter. The house yeast also honeymoons with the sugars extrated from two-row pale, wheat, Munich light and acidulated malt. A single hop addition at the beginning of the boil provides just enough bitterness to balance.
Lompoc Brewing – Portland, OR
Lompocker Hoppy Kölsch – German Style Kölsch
A highly drinkable German style ale with a touch more hops than a traditional kölsch. Cascade, Perle and three additions of Mandarina Bavaria hops give it a fruity aroma. Bright golden in color, the clean, crisp traditional German kölsch strain renders a finished brew with delicate, soft maltiness and a lingering hop bitterness.
Loowit Brewing Co. – Vancouver, WA
Shaka Brah IPA – American Style India Pale Ale
A refreshing, summer IPA filled with fruit forward hop flavors. The X331, El Dorado and Cryo Mosaic hops are balanced by a soft creamy malt profile from two-row, Northwest pale, carahell, Munich, flaked wheat and lactose and then accentuated by an apricot infusion added after fermentation to maximize fruit flavor and aroma.
Unique to Fest
Lucky Labrador – Portland, OR
SummerThaime Saison – Specialty Saison
This brew's French saison yeast produces a beer that is estery, peppery, spicy and citrusy. But that's just for starters. Fresh lime, ginger, galangal, Thai basil and Thai bird pepper give this already spicy brew style a unique added punch. Five different malts comprise the grist, balanced by Galaxy and Goldings hops; it's then aged in oak chardonnay barrels.
Unique to Fest
Maui Brewing Co. – Kihei, HI
Mango Hefeweizen – Fruit Wheat Beer
Brewed with no – that's zero – extract, this brew uses eight pounds of real mango per barrel, sourced from the island of Maui. The malt sugars from two-row, white wheat and biscuit malt get munched by German Hefeweizen yeast and are balanced by, naturally, two additions of Calypso hops.
Mazama Brewing – Corvallis, OR
Goldilocks Turmeric Saison – Specialty Saison
This brew is not dry hopped, it's dry "spiced" with a golden potion of turmeric root, cassia cinnamon, ginger, black pepper and turmeric powder. The turmeric helps contribute that deep golden color. More phenolic spiciness derives from the saison yeast, doing its best to convert the fermentables from Belgian pilsner malt, wheat malt and light candi syrup to that big alcohol number. Mt. Hood hops provide the balancing bitterness.
Unique to Fest
McMenamins Edgefield Brewery – Troutdale, OR
Tropic Heat – American Style Sour Ale
Tropic Heat is a kettle soured ale brewed with pink guava puree, coconut and habanero peppers. The heat contribution from the peppers is very minimal and creates a pleasant background quality that lingers. This slight spiciness accentuates the fruity, full guava taste that is this beer's foundation. Coconut flakes were also added to pleasantly blend all of the flavors together.
Natian Brewery – Portland, OR
"Full Pour" Imperial IPL – Imperial IPL
This sharp, crisp light lager has a delightful citrus kick. This single hop IPL utilizes Citra in multiple steps of the brewing process. Citra is added generously to the boil, hop back and dry hopping to ensure a fragrant presence without the mouth puckering bitterness, balancing the sweetness from the pilsner, two-row and Munich malts.
Unique to Fest
New Holland Brewing Co. – Holland, MI
Dragon's Milk: Thai Curry – Wood- and Barrel-Aged Strong Beer
Dragon's Milk is New Holland's flagship bourbon barrel aged stout with a Thai inspired twist. Look for a little heat from curry and ginger spices along with tropical sweetness from kaffir lime leaves and coconut, all with the subtle hint of vanilla stemming from the beer's time in oak.
Unique to Fest
Ninkasi Brewing Co. – Eugene, OR
Beautiful Trouble – American Style India Pale Ale
Beautiful Trouble is a big American IPA with a touch of Kiwi inspiration. New Zealand and U.S. hops collide, creating a tropical and fruity hop aroma and flavor, with notes of white wine grapes, tropical fruit, melon and passionfruit, all balanced by rich Munich and Vienna malts. Originally brewed in collaboration with Birkenhead Brewing Co. of New Zealand, this is the first time this beer will be tapped in the States.
Unique to Fest
No-Li Brewhouse – Spokane, WA
Red, White and No-Li – American Style Pale Ale
With a light malt bill comprised of pale two-row, special roast and Munich light malt, this dry hopped pale ale highlights the bright citrus, grapefruit, melon, lime and passionfruit notes of the Citra hops tossed in during the whirlpool and dry hop stages. Its clean, neutral yeast lets the hop flavors shine.
Old Market Pub and Brewery – Portland, OR
Bloody Well Wit – Belgian Style Witbier
Fresh squeezed blood orange juice and zest, grains of paradise and coriander contribute this beer's most unique flavors and aromas. The blood orange juice is added during fermentation and also in secondary. Most of the malts are organic. The brew is lagered on blood orange juice for a month. The yeast contributes an excellent balance of spicy phenolic character and esters and a significant amount acidity.
Unique to Fest
Old Town Brewing – Portland, OR
Coconut Curryiocity – Experimental Beer
Pale two-row, pilsner and flaked corn get fermented by a neutral yeast and balanced by a single dose of Mt. Hood hops at the start of the boil. Then things get really interesting. Instead of dry hopping with hops, Old Town used flaked coconut and curry spices to deliver a foreign twist to an American classic beer style. This one would go well with Thai food.
Unique to Fest
Omission Brewing Co. – Portland, OR
Omission Mango Ultimate Light – Gluten-Free Beer, Golden or Blonde Ale
Omission Mango Ultimate Light is a smooth and easy drinking golden ale, but full of flavor. Citrusy hops and a clean finish leave you wanting more. And with only 99 calories and 5 carbs, you can have another without feeling full. Like all Omission beers, Omission Mango Ultimate Light is crafted to remove gluten.
Unique to Fest
Oproer – Utrecht, NL/Oregon City, OR
24/7 – American Style India Pale Ale
This Oregon-Netherlands collaboration will have you in an uproar! It's a hop monster IPA brewed with three big doses of Magnum, Chinook and Cascade hops in the kettle and then dry hopped with more Chinook and Cascade. The pale, rye and Munich malts join Oregon City water treated to match Utrecht's and it's all fermented with a clean fermenting U.S. style yeast. No wonder Utrecht is so well known for great design.
Ordnance Brewing – Boardman, OR
Raspberry SIPA – Session India Pale Ale
This kettle soured, blended IPA gets a sweet-tart boost with an infusion of raspberry flavor. The fermentables come from pale, dextrine and light crystal malt, with Glacier and Mosaic hops in the kettle for aroma and flavor. Dry hopped with Glacier and Cascade, reverse osmosis water treated with gypsum and calcium chloride helps feature the hop flavor and the neutral ale yeast allows the raspberry tartness to shine through.
Unique to Fest
Oregon City Brewing – Oregon City, OR
Plumbelievable! – American Style Sour Ale
This dynamically hued ale is kettle soured with lactobacillus to provide a moderately tart base. After fermentation with a clean, well attenuating yeast, plums and boysenberries join the fun, adding a fruity sweet-sour profile. A moderate amount of bittering hops were added, just enough to balance all that sweet-tart action.
Pelican Brewing Co. – Pacific City, OR
Negra Pelicano – OTHER
Negra Pelicano is a highly refreshing Latin style lager, or Cerveza Negra. This lager is dark brown in color, with an off white head and deep ruby highlights when held to the light. Negra Pelicano is brewed with spicy, floral noble hops and paired with toasted malt, adding a cocoa like flavor. This dark lager finishes clean and smooth, on the dry side with a mild hop finish.
Unique to Fest
Perennial Artisan Ales – Saint Louis, MO
Ship of the Sun – Classic French & Belgian Style Saison
Ship of the Sun is a mixed fermentation saison, dry hopped with Styrian Goldings and East Kent Goldings. The complex grain bill includes pilsner, white wheat, flaked wheat, malted oats and acidulated malt and it's fermented with a mixed culture of saccharomyces and brettanomyces, giving it a hints of spice, fruit and a bit of tartness. Naturally conditioned in the keg, this beer is alive!
Unique to Fest
pFriem Family Brewers – Hood River, OR
Guava Saison – Specialty Saison
Guava puree gives this light farmhouse ale hints of pear and strawberry in the aroma and flavor. Underlying the fruit is Gambrinus Pilsner, Weyermann Spelt and Rahr unmalted wheat, with noble Tettnangers for mild bitterness, Motueka and Huell Melon in the finish for aroma and flavor. Relatively low in alcohol, it finishes tart, spritzy and refreshing.
Unique to Fest
Portland Brewing – Portland, OR
Strawberry Rhubarb Blonde Ale – American Style Fruit Beer
Are you ready for dessert? Rhubarb and strawberry puree from Oregon Fruit Products are added before fermentation to yield a flavor profile that will have you reminiscing for Grandma's homemade pies. Two-row and wheat malts in the mash, Perle and Vanguard hops in the kettle, Bull Run water and a house ale yeast fill out the chef's recipe in this summer delight.
Unique to Fest
Rogue Ales – Newport, OR
Straight Outta Newport – American Style India Pale Ale
Straight Outta Newport, Rogue's 29th badass OBF beer, was brewed with a rigorous dry hopping regimen of Citra and Mosaic hops to impart intense, dank aromas of grapefruit rind, tangerine and orange. These fruity hop notes shine against a bitter hop bite and subtle malt breadiness, creating an insanely drinkable double IPA bursting with juicy, tropical hop dankness. Don't get drunk, get dank!
Unique to Fest
Rusty Truck Brewing Co. – Lincoln City, OR
Tequila Lime Lager – American Style Lager
This Mexican style adjunct lager is made with superior Pilsen malt, noble hops and flaked maize. Golden straw in color with a nice pilsner lager yeast presence, it's balanced with all noble hops in the kettle. Medium toasted tequila oak spirals are added after fermentation, then it's conditioned for three months. Adding 100 pounds of half cut limes produces a crisp tequila oak aged lime lager. Perfect for a hot day!
Unique to Fest
Sasquatch Brewing – Portland, OR
KGB (Kremlin Ginger Blonde) – German Style Kölsch, Specialty Beer
In tribute to our Russian overlords, Sasquatch offers this experimental ale brewed with fresh organic ginger, lime juice and lime zest. Conceived in Moscow, brewed in Portland and made for a copper mug. "May we suffer as much sorrow as the drops of beer we are about to leave in our glass!" Fake news sources claim that brewers square danced blindfolded while juggling swords during brew day. Drain that mug, comrade!
Unique to Fest
Sierrra Nevada Brewing Co. – Chico, CA
Know Good IPA – American Style India Pale Ale
You think you know a good IPA? We do too and this one's it. This is a straightforward, full-throttle, American IPA. Nothing fancy here; just hop flavor and lots of it. Its hazy blonde malt body has just enough heft to carry the citrus and floral hop notes (Simcoe, Comet & Citra) straight to your palate, making Know Good perfect for today, or any day. When it comes to IPA, Sierra Nevada knows what good is.
Unique to Fest
Sixpoint Brewery – Brooklyn, NY
Arboreous – Dortmunder/European Style Export
This brew might make you feel like camping. Wisconsin spruce tips added at the end of the boil give it a piney scent and flavor unlike anything you'd get from hops. Best pilsner, best Munich and best chit malts provide food for the S-23 lager yeast. Perle hops in first wort give it a floral character and gentle bitterness and the late additions of German style Huell Melon give it a slightly fruity finish.
Unique to Fest
StormBreaker Brewing – Portland, OR
Hopfenreich IPA – International Style Pale Ale
StormBreaker took one of its favorite summer styles, a German wheat beer, and combined it with a classic IPA. The brewers used all German ingredients, including five different malts, four infusions of hops and German yeast, resulting in a crisp and refreshing summertime beer with aromas of pineapple, tangerine and lemon. The tropical and citrus fruit flavors make for the perfect beer to drink at the waterfront on a hot OBF day.
Unique to Fest
Surly Brewing Co. – Minneapolis, MN
#Merica! – American Style Lager
Don't get Surly standing in line; just get in the Surly line before everyone else does. This easy drinking light summer brew came to life with CMC pils malt, acidulated malt and flaked corn, providing that golden color and light body. It's moderately bittered with Warrior hops, while a late dose of Willamette gives it lip smacking hop flavor.
Terminal Gravity Brewing – Enterprise, OR
Knuckle Buster Strong Red – Strong Ale
This brew really will bust your knuckles and a few other body parts if you're not careful. Generous amounts of pale two-row, dark caramel and Munich malts with a blast of roast barley to give it that shiny red color add up to almost 9% alcohol. Balancing all that: Columbus bittering hops and a late addition of Crystal, Fuggle, Simcoe and Chinook for aroma and flavor. Wrap your knuckles around your mug so no one steals this one from you!
Unique to Fest
The Lost Abbey – San Diego, CA
Avant Garde – OTHER
Deep gold in color with hints of biscuits, caramel and fresh baked bread, this Biere de Garde style Farmhouse Ale starts off with an initial malt sweetness that fades into a firm but subtle hop presence. The aromas are an enticing blend of ripened orchard fresh fruit (green apples) and warm bread pulled just from the oven. The lager yeast and cold maturation ensure a crisp smooth finish.
Three Creeks Brewing Co. – Sisters, OR
Dry Hopped Apricot Stonefly Session Ale – Session Beer
Apricot puree added late in the fermentation process adds a sweet fruity flavor that will delight your palate in this golden, light bodied ale. The mash consisted of two-row, rye and honey malts and in the kettle, the brew enjoyed traditional hopping with Oregon grown Crystal hops. It's dry hopped with Experimental 0331 and fermented with a clean, American ale yeast so that you'll taste apricot in the finish.
Unique to Fest
Thunder Island Brewing Co. – Cascade Locks, OR
Brettanomyces is not a Dinosaur! – Brett Beer
French saison and brettanomyces yeasts create the spicy, fruity, slightly tart and earthy flavors and aromas you'll detect in this complex brew. The international grain bill consists of Belgian pale and pilsner malt, German pilsner, wheat and rye malt and American flaked corn and flaked rice. The hop bill is just as worldly: Magnum (U.S.), Czech Saaz and German style noble Hersbrucker.
Unique to Fest
Two Kilts Brewing Co. – Sherwood, OR
Kilted Destroyer IPA – American Style India Pale Ale
Looking for a good, clean, big but straightforward IPA? You've found it! Pilsner malt, flaked barley and Vienna malts in the grist, citrusy Amarillo hops in the kettle, Mosaic in the whirlpool and a clean, crisp, highly flocculant yeast with a medium high attenuation yields a balanced, medium bodied brew that won't pucker your mouth with overdone late hop additions. Calcium chloride and sulphate were added to city water to add mouthfeel and softness.
Unique to Fest
Upright Brewing – Portland, OR
Heirloom Saison – Wood- and Barrel-Aged Sour Beer
Heirloom Saison blends a vintage strong saison aged in barrels for over 18 months with a special carbonic chardonnay cask version of Upright's Saison Vert, a black lime wheat based brew. All of the hops – Mt. Hood, Columbia, Santiam, Liberty and Cascade – were late kettle additions to keep the bitterness in check. The finished beer has complex elements from the old beer and extra bright notes from the young portion, making for a truly unique blend just for the OBF.
Unique to Fest
Vanguard Brewing – Wilsonville, OR
Berry White – Fruit Wheat Beer
A classic for summer! For this raspberry wheat beer, the brewers started with a Belgian wit recipe and replaced the traditional coriander and orange peel with raspberry added after fermentation. Whiteout (Imperial yeast) adds a balance of spicy phenolic character and esters and a touch of acidity. This produced a beautiful hazy blush colored beer, a fresh raspberry aroma and a light, fruity taste, perfect for summer.
Vertigo Brewing – Hillsboro, OR
Little Big Hop – Session IPA
Lighter in alochol and body than a traditional IPA, this brew allows you to have multiple tastings, or that all important full mug when the lines get long. Premium two-row, pale, victory and light crystal malt blend nicely with Aurora and Citrus hops, both in the kettle and the fermenter. The organic American ale yeast ferments clean and crisp, resulting in a balanced, lip smacking, refreshing flavor.
Unique to Fest
Walking Man Brewing – Stevenson, WA
Yoga Pants – Herb and Spice Beer
Lavender, chamomile and lemongrass are what give this golden hued brew its unique aroma and flavor. The clean, highly flocculent ale yeast gets its workout on fermentables extracted from pilsner malt, torrified wheat and honey malt, balanced in the kettle by an early thrust of Horizon for bitterness and Citra hops for late flavor and aroma additions. Perfect for 16 oz curls.
Unique to Fest
Widmer Brothers Brewing – Portland, OR
THRILLHAUS – Münchner (Munich) Style Helles
This simple, copper colored brew is perfect for summer! Pilsner and Vienna malts in the grist meet up with noble Hallertau hops in the kettle for a soft, balancing bitterness, then Enigma hops from Australia are added to the whirlpool to give it a slightly fruity flavor and aroma. Portland Bull Run water is adjusted to Munich's mineral profile with brewing salts and Augustiner yeast finishes it off clean.
Unique to Fest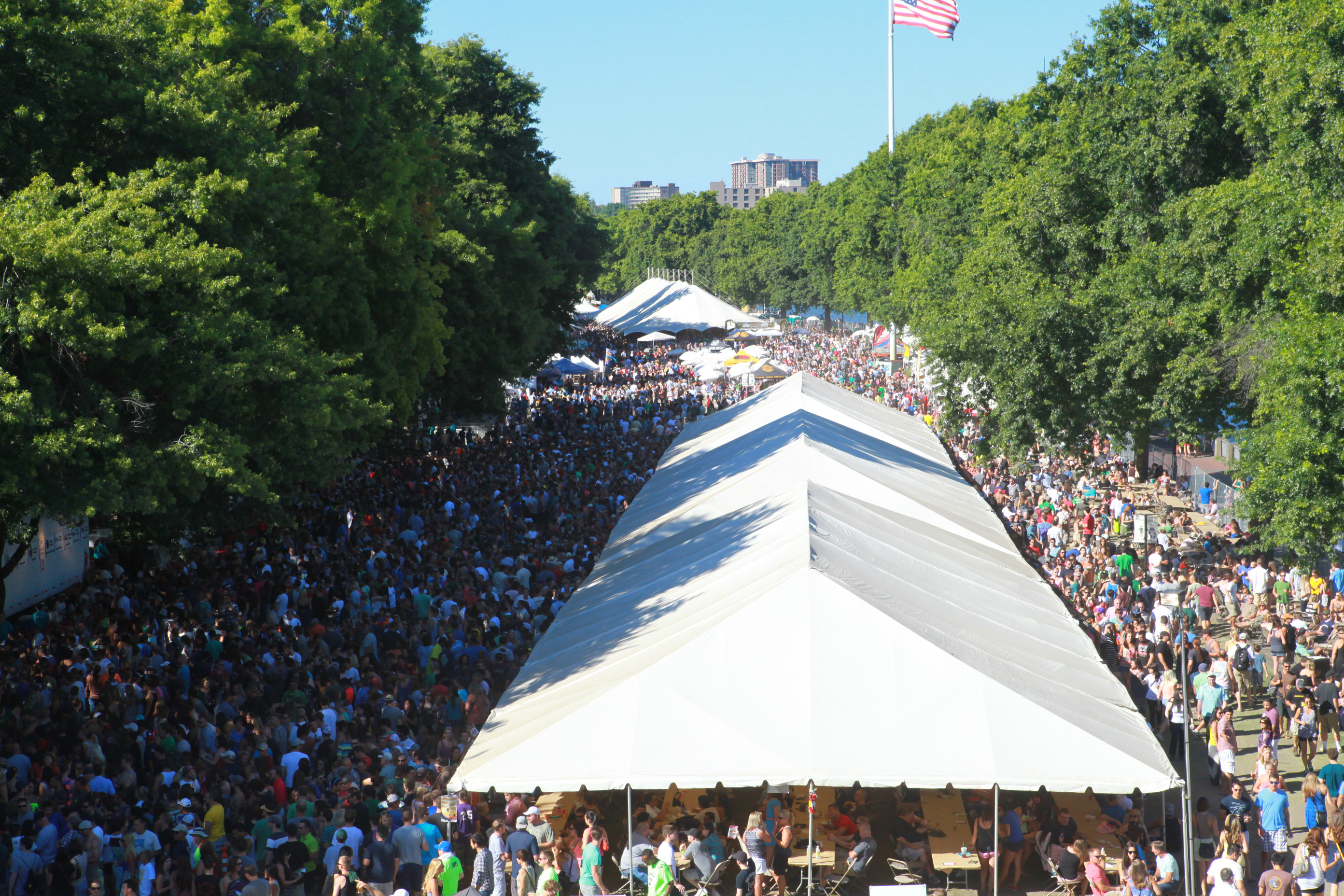 SPECIALTY TENT BEER LIST:
21st Amendment: Great Things, Wooden Pony, Kriek Forte D'Or
54-40: Oats & Hoes, Tequila Barrel Aged Porter
Ancestry: Wine Country Russian Imperial Stout
Anderson Valley: Salted Caramel Porter
Base Camp: Moon Dog Session Lager, Bière de Mars, First Revolution, Third Anniversary BDS, Single Barrel Oude Bruin, Barrel-Aged Nomadic Blood Orange Double IPA
Boneyard: Gooze Cruze
Breakside: Old Lord Chubby Cheeks, Dog & Pony Show
BridgePort: Mint Julep Beer, Pearlinerweiss with brett
Caldera: Green Imperial Stout
Cascade: Bourbonic Plague & others TBA
Chetco: Bussman's R & R
Coalition: Dark Horse
Coin Toss: Caught in a PIckle Lager
Deschutes: Abyss 2015, Black Butte Anniversary XXVI, Spiritual Awakening, Culitvateur
Double Mountain: 2014 Devils Kriek
Druthers: Raspberry Imperial Porter
Ex Novo: Barrel Aged Saison w/Mango & Papaya
Falling Sky: Sugar Shack Maple Quad 2014, Sky Nectar Braggot 2013
Fearless: B2tW (Balls to the Wall) BarleyWine
Fort George: Matryoshka with cocoa nibs & raspberries
Full Sail: Kentucky Bourbon Cream Ale
Ghostfish: Ghost Pepper Saison
Ghostrunners: Elite, Running with Scissors
Gigantic: Pipewrench, Massive BarleyWine
Golden Valley: Dundee Bypass, The Word from the Wood
GoodLife: Aprinaut
Great Divide: Strawberry Rhubarb Sour Ale, Barrel Aged Yeti, Barrel Aged Hibernation
Heretic: Evil Quadruplets, Agony Raspberry/Black Currant, Alternating Current, Tafelbully, Agony Cherry, Cruel Beauty, Tartuffe
Laht Neppur: 2014 Bluewood Barley Wine
Loowit Brewing: Cryptodome
Lost Abbey: Framboise, Deliverance, Angel's Share, Madonna and Child
Lucky Lab: Pinot Barrel Aged Belgian Dubbel Rye
Maui: Liquid Breadfruit
Mazama: Monks Gone Wild, Grand Cru, Sour Classique
Ninkasi: 4 Roses Barrel Aged Oatis Oatmeal Stout, 2015 Critical Hit BarleyWine
Old Town: Grilled Peach Lager, Lavender Plum Lager
Oproer: Imperial Oatmeal Stout
Oregon City: Pinot Noir Barrel Aged Elevator IPA
Pelican: Queen of Hearts
Perennial: Abraxas
pFriem: Brett IPA, Brett Wit, Abrikoos
Rogue: 2017 Rolling Thunder Imperial Stout
Sixpoint: Lil Raspy, Fuzzy Pits, Stickler
Surly: Pentagram, Barrel Aged Darkness
Three Creeks: Rye Whiskey Stampede Strong Ale, Spirits Owl Barrel Aged Saison
Vanguard: Co Pilot
Vertigo: Razz Wheat with Serrano pepper
Walking Man: Jaywalker Imperial Stout
In addition to the beer being served OBF also features live music, food booths, craft vendors and homebrew demonstrations. Here's a bit more on these details.
FOOD VENDORS:
BLUE ELEPHANT  – Gyros (Chicken or Lamb); Garlic Fries; Fried Oysters; Elephant Ears; Yakisoba Noodles with Teriyaki Chicken & Coconut Shrimp.
FAMILY TREE NUT COMPANY – Unique Fresh Roasted Blends of Nuts, Fruits and Herbs including Almonds, Filberts, Cashews, Peanuts, Pumpkin Seeds, Sunflower Seeds, and more.
GUSTAV'S – Pretzel; Bag of Chips; Fondue; Fondue with Pretzel or Bier Sausage; Sausage on a Bun; Oktoberfest Bier Sausage with Kraut; Rotkohl Bratwurst, red cabbage and mustard; Spicy German Jalapeno Cheddar Sausage with Pico de Gallo and Sour Cream; Bottled Water; Lemonade.
HORN OF AFRICA – Garlic Lemon Chicken; Lamb Shanks; Sambusa; Bajiya; Falafel; Lentil Stew; Rosemary Lemonade; Bottled Water.
RACCOON LODGE & BREW PUB – Burgers, Sandwiches, Chicken Strips, Soda, Bottled Water.
ROGUE ALES PUBLIC HOUSE – Pizza by the Slice.
SPIN EVENTS & CATERING – Beer Battered Fish & Chips; Beer Battered Fish & Onion Rings; Hawaiian Combo: Korean Chicken, Kahlua Pork, Mac Salad & Sticky Rice (available limited days & times).
VENDORS:
Bottle Tap: Unique, custom-designed bottle openers
Cascade Breweriana Assn: Sharing amazing examples of beer memorabilia from its members.
Green Mountain Energy: PGE Renewable Power Energy.
Hopped Up Jewelry: Handmade beer hop flower earrings & jewelry for craft beer enthusiasts, made with love in Bend, Oregon by creator & designer, Kimberly Markley.
Linda's Temporary Tattoos: Handpainted temporary body art.
Olive Branch: Gourmet Olives, Pickled Garlic, Pickled Veggies, Olive Oil, Vinegars, Margarita Mix, Bloody Mary Mix and Olive Juice.
Oregon Brew Crew: Oregon's oldest and largest home-brew club will be chatting with attendees and doing homebrew demonstrations at the south end of the park by the volunteer check in.
Oregon Brewers Guild: Selling S.N.O.B. memberships and T Shirts for Supporters of Native Oregon Beer.
Oregon Lottery: Promotional activities
SPORTS-U: Oregon Brewers Festival official merchandise.
Stumptown Kilts: Men and women's modern utility kilts and accessories.
Vacation Internationale: Resort promotions via fun and games.
When it comes to arriving and leaving the Oregon Brewers Festival, the organizers top priority is the safety of its attendees. This year OBF has partnered with Great Western Malting, Portland Bureau of Transportation, Portland Police Bureau, Radio Cab, SmartPark and Vision Zero to encourage its guests to get a Safe Ride Home. The Safe Ride Home program offers up to $18 in discounts for getting home safely. Attendees who park in a SmartPark garage can leave their car overnight and receive a $5 parking voucher, redeemable from 9am to Noon the day after attendance, making the overnight parking free. Attendees can also take a Radio Cab home and get a $13 discount off their fare. Check the website and look for the Safe Ride Home booths at the Festival for full details on the program.
Patrons are also encouraged to take Tri-Met, as the MAX Light Rail has a station one block from the main festival entrance. Those who ride their bikes can park them for free in the Hopworks Urban Brewery secure bike corral; people riding BIKETOWN bikes may also use the Hopworks Bike Corral as a drop off station location. For those who bring a designated driver, the Crater Lake Soda Garden provides complimentary handcrafted soda (no mug purchase required). Minors, who are allowed into the event all hours when accompanied by a parent, also receive free Crater Lake Soda, and there is a face painter available Friday through Sunday from 1pm to 5pm.
2017 Oregon Brewers Festival Hours:
Wednesday, July 26th – Noon-9:00pm
Thursday, July 27th – Noon-9:00pm
Friday, July 28th – Noon-9:00pm
Saturday, July 29th – Noon-9:00pm
Sunday, Julya 30th – Noon-7:00pm
*Taps are open between the above times. Mugs/Tokens sales close 1/2 hour prior to the taps closing.
2017 Oregon Brewers Festival Resources:
Website: OregonBrewFest.com
Social Media: @OregonBrewFest
Facebook Event: Facebook.com/events/1065560490238569/
Hashtags: #OBF #OBF17 #OBF30years
Untappd: https://untappd.com/v/oregon-brewers-festival/77274
Oregon Brewers Festival
Tom McCall Waterfront Park
300 SW Naito Parkway
Portland, OR 97204