30th Annual Oregon Brewers Festival Returns Through Sunday
|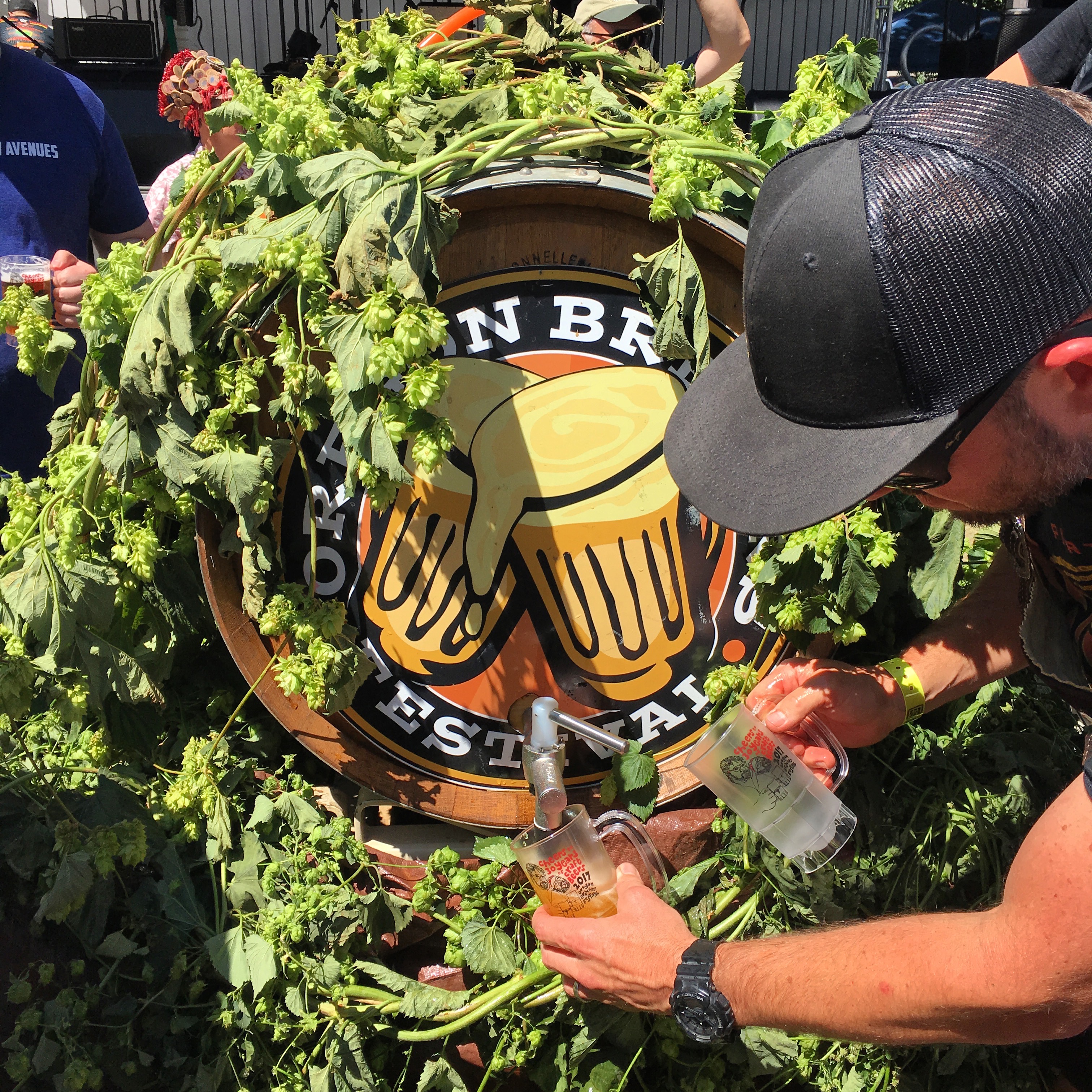 The 30th annual Oregon Brewers Festival kicked off yesterday to an enthusiastic crowd along the Willamette River in Tom McCall Park.
Prior to the festival itself the day began at The Redd in Southeast Portland for the annual Oregon Brewers Festival Brunch that was hosted by Hopworks Urban Brewery. This event space proved to be an excellent choice as there was ample room both inside and outside. After a hearty breakfast and a few HUB beers more festival attendees arrived to get set for the Oregon Brewers Festival Parade.
The Parade kicked off at 11:30am and was led by Grand Marshasl, John DeBenedetti and Mike Moscarelli of F.H. Steinbart Company. A route that took beer fans from The Redd and across the Hawthorne Bridge led us into Tom McCall Waterfront Park to where the Oregon Brewers Festival ceremonial keg will be tapped.
But prior to this tapping Art Larrance presented New Avenues for Youth with a check for $20,000 as this organization is the 2017 OBF beneficiary. It was also on this stage that Christian Ettinger from Hopworks Urban Brewery handed off the OBF Mallet to Jamie Floyd from Ninkasi Brewing. This means that Ninkasi Brewing will be the host brewery for the 2018 Oregon Brewers Festival Brunch.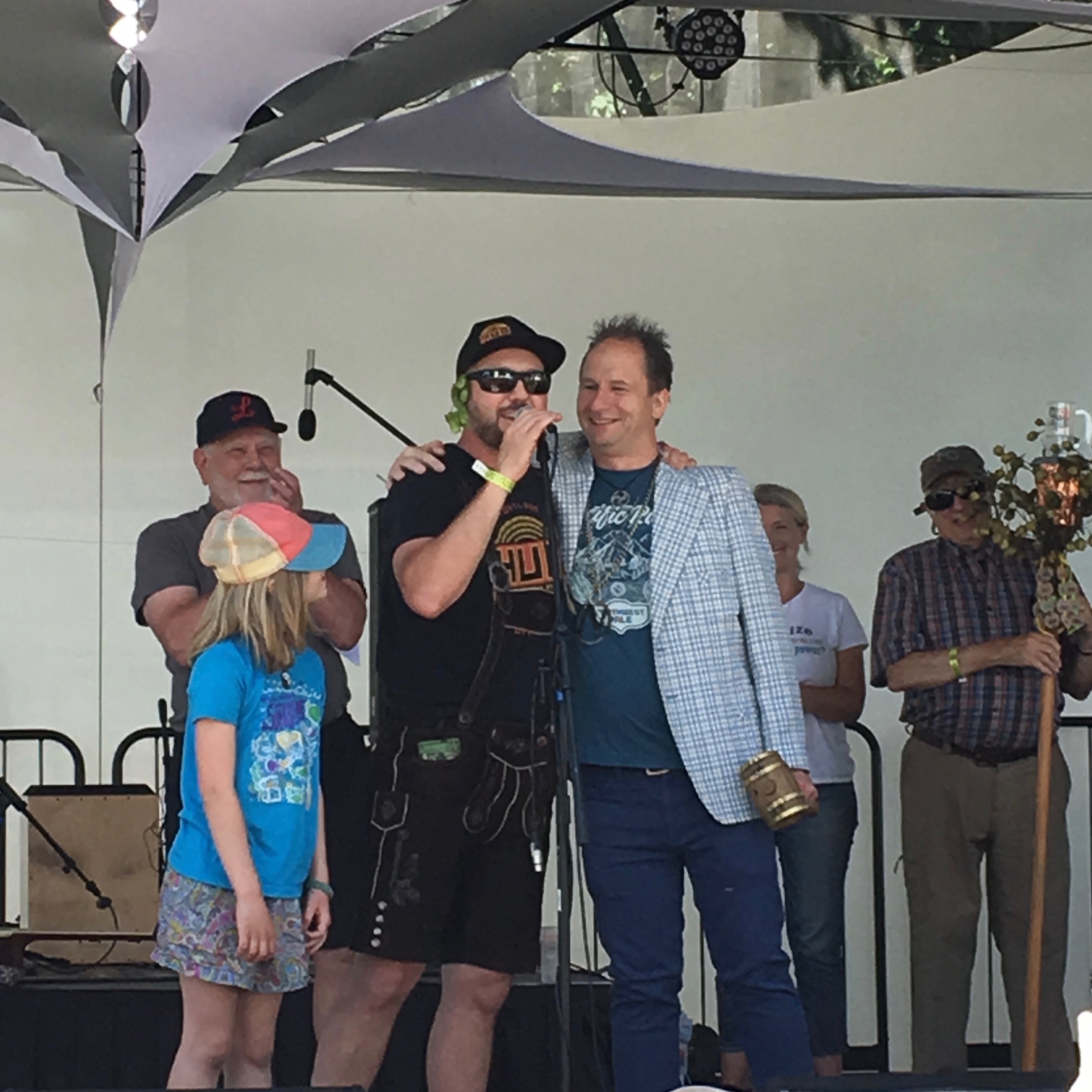 After Ettinger tapped the ceremonial keg the 2017 OBF officially began serving its 91 festival beers. This year's offerings were quite impressive from the various 4-ounce samples that we consumed throughout the afternoon.
The following beers were some of our highlights in no particular order from the festival. With sample pours for only $1.00, you really can't go wrong.
54°40′ Brewing Co. – Art AllAzaccas – American Style India Pale Ale
Blackberry Farm Brewery – Classic Saison – Classic French & Belgian Style Saison
Boneyard Beer – Enzymatic IPA – American Style India Pale Ale
Cloudburst Brewing – Tigers in Tiny Spaces – American Style Pale Ale
Collaborator – Kentucky Kölsch – American Style Fruit Beer
Eel River Brewing – Organic Tropical Blonde Ale – Golden or Blonde Ale
Fort George Brewery – No Pulp – American Style Pale Ale
Ghost Runners Brewery – Chasing Fluffy Pink Unicorns – Contemporary Gose
Gigantic – G & T – Experimental Beer
New Holland Brewing Co. – Dragon's Milk: Thai Curry – Wood- and Barrel-Aged Strong Beer
Old Town Brewing – Coconut Curryiocity – Experimental Beer
Perennial Artisan Ales – Ship of the Sun – Classic French & Belgian Style Saison
pFriem Family Brewers – Guava Saison – Specialty Saison
Rogue Ales – Straight Outta Newport – American Style India Pale Ale
Sierrra Nevada Brewing Co. – Know Good IPA – American Style India Pale Ale
Vertigo Brewing – Little Big Hop – Session IPA
Widmer Brothers Brewing – THRILLHAUS – Münchner (Munich) Style Helles
The only disappointing aspect of this year's OBF is that the International Tent went away to the Specialty Tent. From our views the Specialty Tent seemed much less crowded than in the past few years. We missed mingling with the international brewers but a few of these brewers returned to Portland anyway to take in one of the nation's best beer festival.
The Oregon Brewers Festival continues through Sunday, July 27th with hours each day from Noon-9:00pm and on Sunday from Noon-7:00pm. Remember that the OBF is cash only but there are ATMs on site. An OBF mug is required to drink and beer tokens are $1.00 each.
Here's a photo recap from yesterday's Oregon Brewers Festival including pictures from the brunch and the parade.