3rd Annual Brewstillery Festival Returns To StormBreaker Brewing
|
When 19 breweries and 19 distilleries come together for one event it means only one thing, the return of the 3rd annual Brewstillery Festival to StormBreaker Brewing. The 2017 edition of the popular Brewstillery Festival will take place on Saturday, February 25th from Noon to 8:00pm.
Once again StormBreaker will be expanding this festival outside of its property on Mississippi Avenue in North Portland to include half of Beech Street to allow for more space for all of the pairings. Speaking of pairings, from the 19 participating Oregon breweries and distilleries there will be a total of 21 pairings. The host brewery along with pFriem Family Brewers has two pairings each with a different beer and spirit. When it comes to the pairings, "In general it will be 2 tickets per pairing," states Dan Malech of StormBreaker Brewing.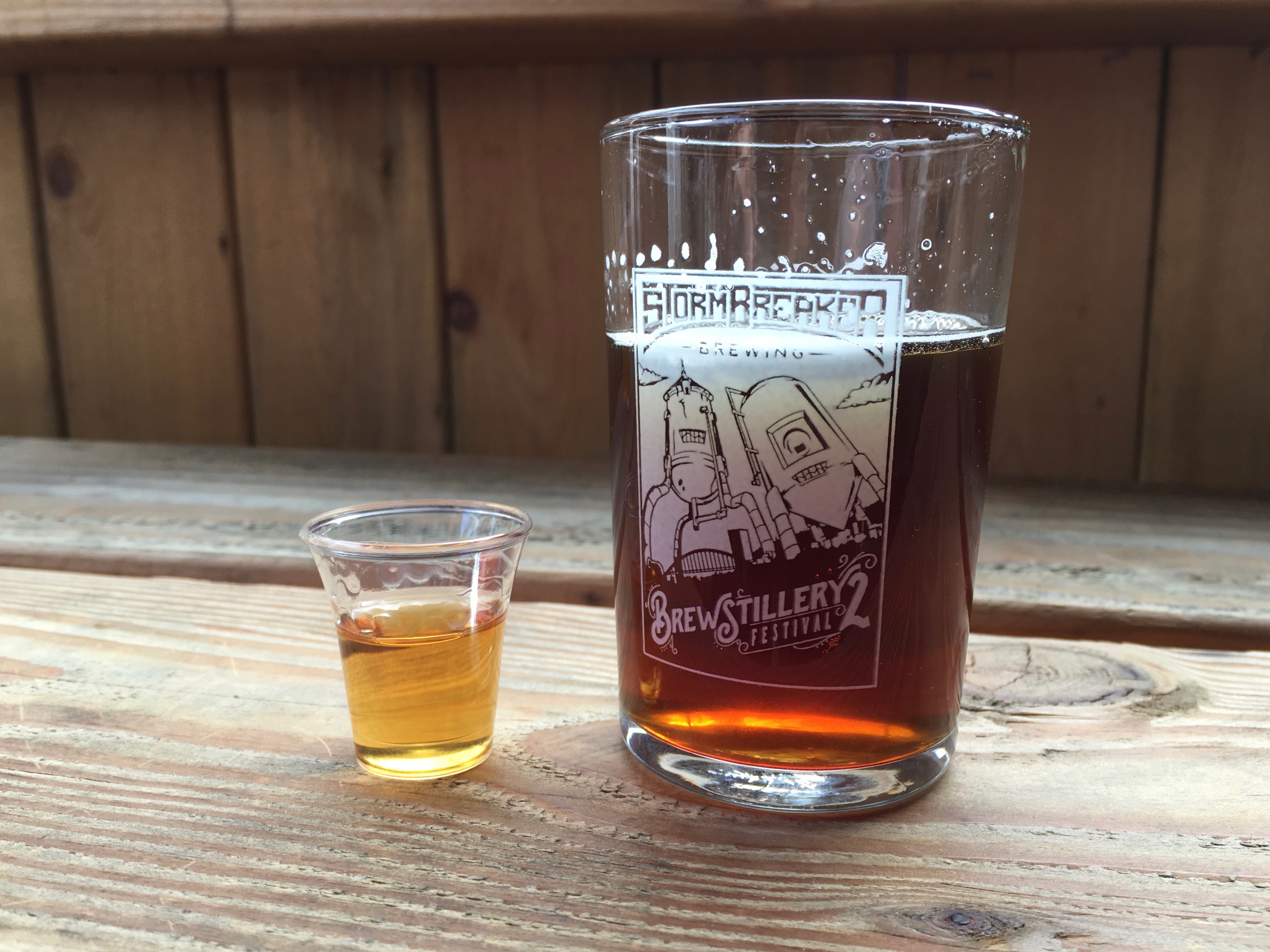 Advance tickets are for sale on-line at a discounted price until 10:00am on February 25th. Regular admission is $20.00 in advance ($22.09 after fees) or $25.00 at the gate. This price includes a festival beer tasting glass and 10 tickets. VIP admission is $40.00 in advance ($43.19 after fees) or $45.00 at the gate. VIP includes a festival whiskey snifter, festival beer tasting glass, 15 tickets, and an hour early entry. Advance tickets can be purchased here. A portion of proceeds goes to Dollar For Portland.
Brewstillery Pairing Teams:
Baerlic Brewing – Bend Distilling
Barley Brown's – Stein Distillery
Base Camp Brewing – 4 Spirits Distillery
Breakside Brewing – Clear Creek Distillery
Cascade Brewing – Thomas and Sons Distillery
Coin Toss Brewing – 503 Distilling
Commons Brewing – Stone Barn Brandyworks
Culmination Brewing – Indio Spirits
Double Mountain Brewing – Hood River Distillers
Ecliptic Brewing – Rolling River Spirits
Fatheads Brewing – Big Bottom Distilling
Gigantic Brewing – Ransom Spirits
Golden Valley Brewing – 3G Spirits/Famosinha de Minas
Great Notion Brewing – Bull Run Distillery
Laurelwood Brewing – Vinn Distillery
Migration Brewing – House Spirits
pFriem – New Deal Distillery
StormBreaker – Eastside Distilling
Wild Ride Brewing – Camp 1805 Distillery
At a recent Brewstillery Festival preview we sampled a few of the pairings that will be pouring on Saturday. One of our two favorites was the pairing from Golden Valley and 3G Spirits/Engenho Buriti de Minas with Brazilian Climax. The Brazilian Climax pairing features Golden Valley's Bald Peak IPA paired with Famoshina de Minas Cachaça that is imported by 3G Spirits. Cachaca is the National spirit of Brazil. Cachaca ferments within 24 hours and is a very light spirit that packs a punch at 84 proof that offers up some unique flavors of cinnamon that uniquely pairs well with the IPA from Golden Valley.
The other pairing we enjoyed came from Great Notion and Bull Run with Bourbon for Breakfast!. This pairing combines Great Notion's Double Stack Bourbon Barrel Aged Breakfast Stout and Bull Run's Straight Bourbon Whiskey. Double Stack offers up some enticing maple flavors that pairs quite well with the vanilla flavors from the bourbon. For those that are looking forward to seeing bottles of Double Stack, "The beer will be released in bottles soon," stated Paul Reiter from Great Notion Brewing.
Once again there will be live music during this year's Brewstillery Festival. The Whiskey Achievers will open the festival from 12:30–2:30 and will be followed by Pagan Jug Band from 3:00–6:00 and Folk Inception will close out from 6:00–8:00.
StormBreaker Brewing
832 N Beech Street
Portland, OR 97227