POSTPONED – 3rd Annual Kriekfest Reveals Brewery & Beer Lineup For July 28, 2018 Event
|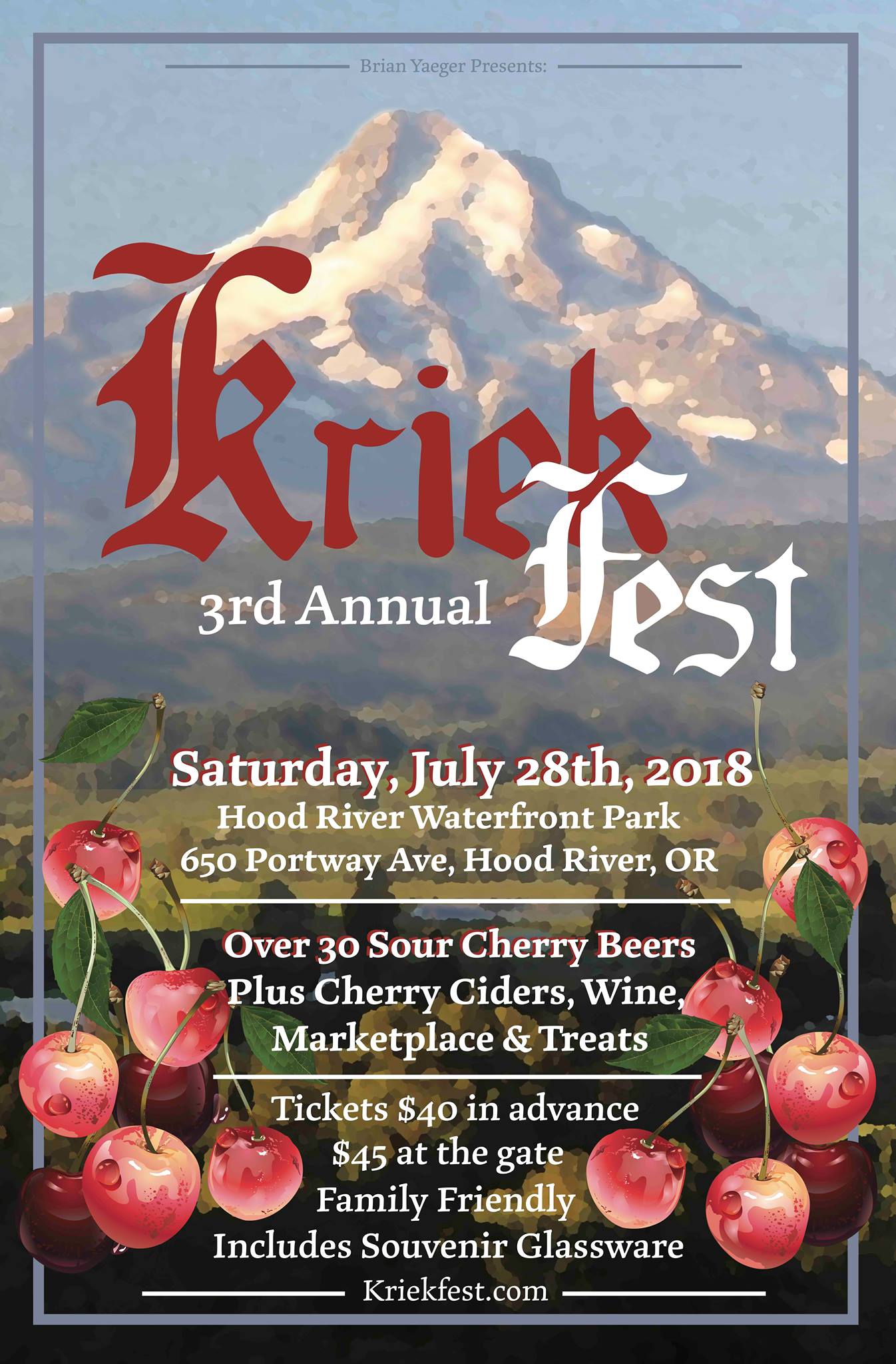 Four years ago kriek fanatic Brian Yaeger announced that he would curate his very own festival devoted to tart, cherry beers. The inaugural Kriekfest took place in Parkdale, Oregon during the summer of 2016.
Now two years later Yaeger will host the 3rd Annual Kriekfest in a new setting and a new town, one that is a bit more convenient to travel to and from. The 2018 edition Kriekfest will move to Hood River this year on Saturday, July 28, 2018 from 11:00am-7:00pm to the scenic Hood River Waterfront Park, located across the street from pFriem Family Brewers.
If you have never attended Kriekfest the beers that Yaeger brings in are quite impressive. He reaches out to his beer industry connections and has access to many varieties of krieks that will make their Oregon debut on July 28th.
"My goal isn't to bring in any ol' cherry beers I can find but the best and that meant finding a way to bring in several such beer rated 97-100 on Ratebeer, as well as having some brewers create wholely new beers or blends," wrote Yaeger in an email. "When I asked Paul Arney (owner/founder of Ale Apothecary) if he'd make a beer for the 2nd annual Kriekfest, he said it takes two years so if I could wait til the 3rd annual, he was in." Look for bottles of Ale Apothecary's El Cuatro on ripe cherries that was aged in brandy barrels at Kriekfest 2018.
When securing beers for a festival sometimes the third try's a charm as this is what it took Yaeger to secure a keg from a Colorado brewery that does not distribute to Oregon with Odell Brewing's Friek. "After 3 years of trying I finally got a keg into Oregon, so this will please both Kriek and Framboise lovers," wrote Yaeger.
Yaeger even reached out Scratch Brewing, a farmhouse brewery from Southern Illinois that has been creating highly sought after beers, many using foraged ingredients from its terroir. Yaeger is excited about this beer as he told us, "The Scratch Brewing beer, I still don't know how we pulled that off, but I love everything about that brewery, the people, and the beers." He continues, "Their Barrel Aged Black Cherry doesn't actually contain any fruit. It's made with the bark from the cherry tree but you'd swear there's some fruit in this dark sour beer. It's so great!"
In addition to these cherry beers, look for two 100-point Rate Beer reviewed beers from Lost Abbey with bottles of Cuvee de Tomme and Red Poppy. Also a few staples will return including krieks from both Cantillon and Drei Fonteinen. Nearby pFriem will debut its new Flanders Red Kriek and Rack & Cloth from Mosier fermented a cherry cider for the festival.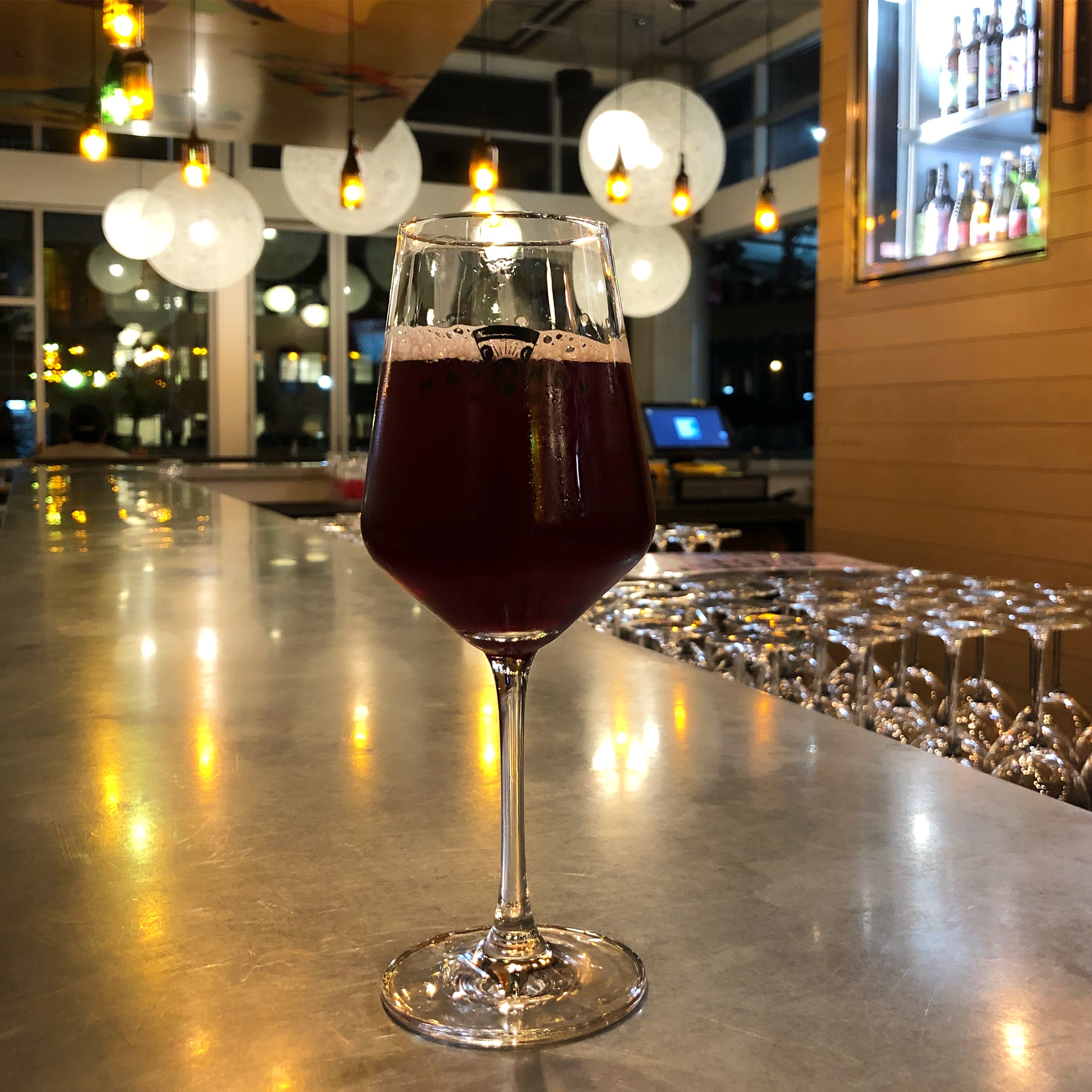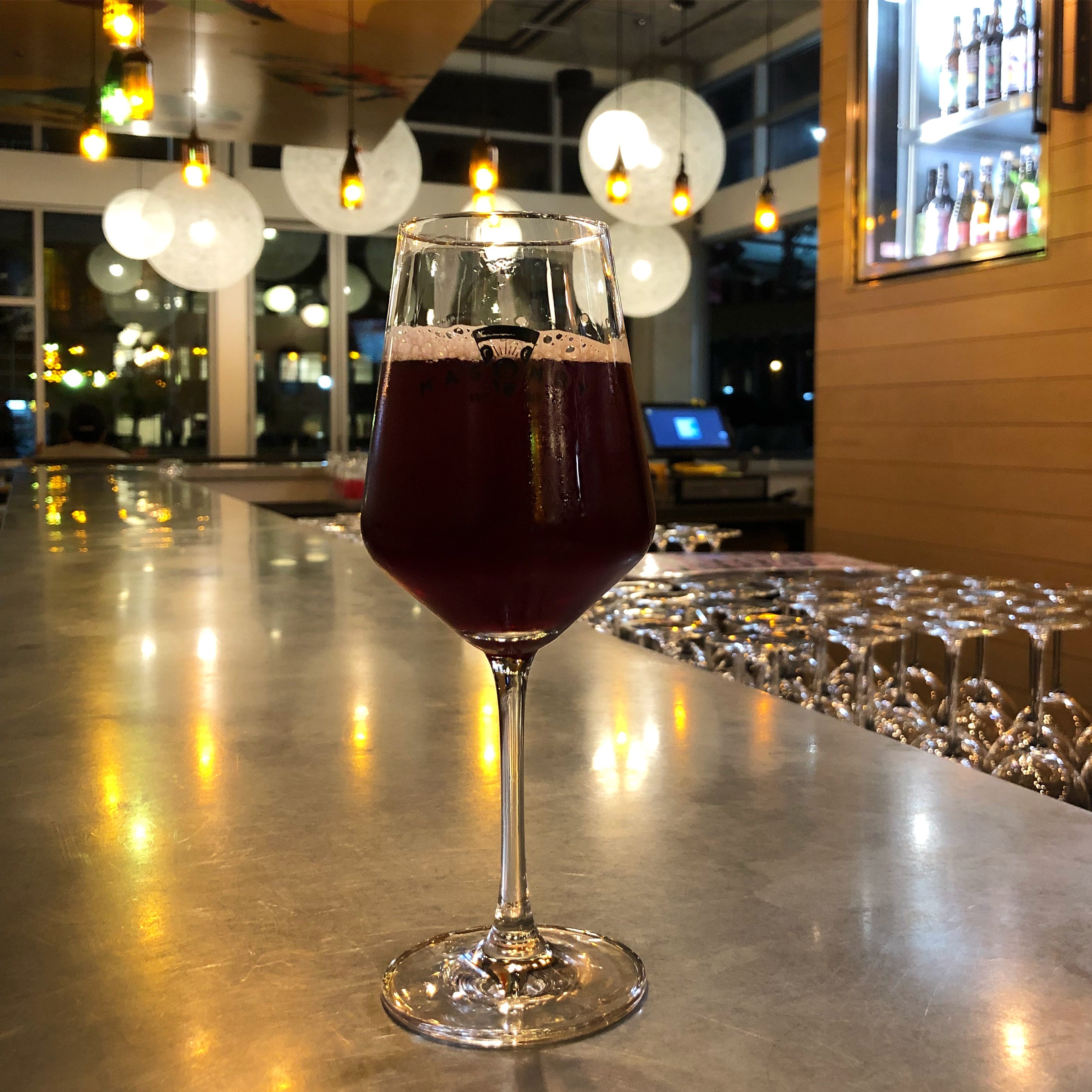 Kriekfest tickets are either $25.00 in advance and includes 5 drink tickets or $40.00 in advance and includes 20 drink tickets. Tickets purchased day of at the gate, if available, will be $45.00 and only include 18 drink tickets. Paid admission includes commemorative glass with additional 4-oz sampling tickets available for purchase on site.
However we have a special code that can be use to unlock an event better deal in advance on the $40.00 entry price. Use code Kriekfest25 and it'll give include 5 extra drink tickets. Yes 25 drink tickets instead of 20! Purchase advance tickets by clicking HERE.
Here's a preview of the beers, ciders and wines that will be pouring during Kriekfest 2018.
Kriekfest Breweries*
Ale Apothecary (Bend, OR) – El Cuatro with Ripe Cherries Aged in Cognac Barrels (created for Kriekfest)
Block 15 (Corvallis, OR) – Kriek  —  (96 pt. rating on RateBeer.com)
Brouwerij Boon (Belgium) Oude Kriek — (97 pts)
Bruery Terreux (Placentia, CA) Sans Pagaie  —  (97 pts)
Cantillon (Belgium) – Kriek   —  (98 pts)
Cascade (Portland, OR) – Cerise Noyaux (aged on cherry pits only, blended for Kriekfest)
Cascade (Portland, OR) – Al Nocino (Sour blond, quad & imp. spiced porter aged in bbls with bing cherry, rose hips, hibiscus, & Stone Barn Brandyworks Nocino, blended for Kriekfest)
Double Mountain (Hood River, OR) – Devil's Cuvee Kriek
Firestone Walker (Paso Robles, CA) Krieky Bones 2017  —  (100 pts) Winner: World Beer cup
Firestone Walker (Paso Robles, CA) Krieky Bones 2018  —  (100 pts)
Great Notion (Portland, OR) – Orchard Reserve
Hanssens (Belgium) – Scarenbecca Kriek  —  (99 pts)
Lindemans (Belgium) Oude Kriek Cuvée René  —  (97 pts)
Logsdon Farmhouse Ales (Hood River, OR) – Kriek Vier  —  (94 pts)
Lost Abbey (San Marcos, CA) Cuvee de Tomme  —  (100 pts) (Exclusively available in Oregon at Kriekfest)
Lost Abbey (San Marcos, CA) Red Poppy — (100 pts) (Exclusively available in Oregon at Kriekfest)
Modern Times (Portland, OR) Revolution of the Moon  — (club-only release)
New Belgium (Fort Collins, CO) Le Kriek Noir  —  (Exclusive to taproom in Ft. Collins and now Hood River)
Nøgne Ø (Norway) Kriek of Telemark
Odell (Ft. Collins, CO) Friek — (98 pts) (Exclusively available in Oregon at Kriekfest)
pFriem (Hood River, OR) Flanders Red Kriek (debuting at Kriekfest)
pFriem (Hood River, OR) Oude Kriek — (93 pts)
Scratch (Ava, IL) Barrel-Aged Black Cherry — (95 pts) ​(Exclusively available in Oregon at Kriekfest)
Solera (Parkdale, OR) – Kriek
Upright (Portland, OR) – Hearts Beat  — (95 pts)
Wolf Tree (Seal Rock, OR) (Created for Kriekfest)
Kriekfest Cideries/Wineries*
Rack & Cloth (Mosier, OR)
Reverend Nat's (Portland, OR)  – Sacrilege
Frederiksal (Denmark) – Sparkling Cherry Wine
*Companies or beers subject to change.
Traveling to and from Hood River became much easier with the Columbia Gorge Express bus. This bus service from the Oregon Department of Transportation is an affordable and convenient option for traveling between Portland and the Columbia River Gorge National Scenic Area. The bus service begins in Portland at the Gateway Transit Center and ends in Hood River with stops at Rooster Rock State Park, Multnomah Falls and Cascade Locks. Ticket prices to Hood River from Gateway Transit Center are $7.50 each way or $15.00 roundtrip and can be purchased by clicking HERE.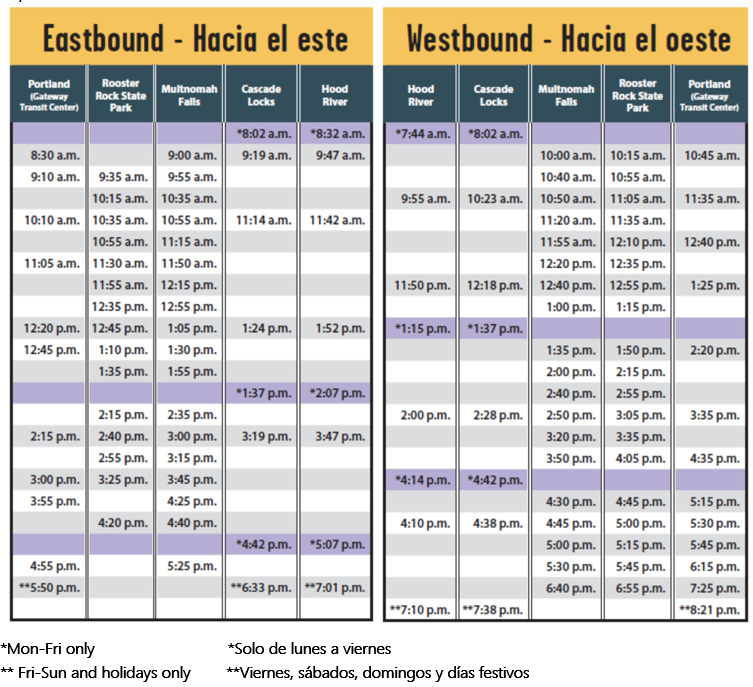 Hood River Waterfront Park
650 Portway Ave 
Hood River, OR 97031