420, Earth Day, Nano Beers, New Breweries – Beer Events For The Week of April 20th
Beer fests, new breweries and new beers, must be a week in Portland beer…
Celebrating Dank & Smoke
4:20 p.m. Thursday April 20, The BeerMongers, 1125 SE Division St.;
4/20 has always been a special day for the Mongers…here's what's pouring this afternoon:
Block 15 Dab Lab "Doomglass" IPA
Claim 52 Super Salad IPA
Culmination Final Cut Double IPA
Fat Heads Dank Zappa IPL
StormBreaker Embrace The Dankness Double IPA
Sunriver Double Dank Double IPA
Aecht Schlenkerla Lentbier
Reverend Nat's Smoky Tepache
Plus, burgers professionally styled by NWIPA's Jackson Wyatt.
Beer Belly Dinners Return with Coalition Brewing
6 p.m. Thursday April 20, EastBurn, 1800 E Burnside St.;
The first Beer Belly Dinner of 2017 featues Coalition's Two Flowers IPA plus a line-up of Coalition CBD (Industrial hemp) beers paired with five CBD inspired courses, plus a special cocktail from Indio Spirits to close out the night. Sorry, no THC products served or allowed…Here are the deets.
Hopworks Beers Celebrate Earth Day
5 p.m. Thursday April 20- Saturday April 22, all Hopworks locations;
Hopworks pubs will tap new beers brewed with an extra nod to sustainability, including HUB's first ever beer made with 100% Salmon-Safe Certified ingredients. These releases will be available at all three Hopworks pubs., which will also have limited amounts of Double Vision and Green Loop bottles available at their pubs.
April 20: Double Vision PNW-Style English Strong Ale
Originally brewed for Belmont Station's 20th Anniversary, Double Vision will be available for the first time on draft and very limited bottles. Brewed with Celeia, Bullion, Salmon-Safe Centennial hops, and a generous hit of Maris Otter malt. In bottles, this beer will improve with age for years to come.
April 21, 5pm – MaiBock Is Your Bock
MaiBock Is Your Bock is Hopworks' first beer made entirely of Salmon-Safe Certified ingredients. Conditioned for nearly a month and brewed to Bock strength, this MaiBock features Salmon-Safe Sterling and Crystal hops along with Salmon-Safe Pilsner malt and Munich wheat from Mainstem Malt. All products from Mainstem support family farms, relocalization of malt production, and on-farm water conservation efforts.
April 22, 5pm – Green Loop IPA
The Green Loop is a six-mile park in planning that links Portland's east and west sides, creating an "urban promenade" for cyclists, walkers, and public transit. As enthusiastic supporters of cycling and alternative transportation, Hopworks was honored  to make a beer inspired by the concept. This deliciously hoppy IPA uses Certified Salmon-Safe Chinook and Crystal hops to represent the river that intersects the districts in the loop, plus a blend of resinous hops from Crosby Hop Farm, to celebrate the positive environmental impact and the power of community that makes the Green Loop a beautiful addition to our city. The beer is available on tap and in limited bottles at our pubs and at the Design Week Portland opening night.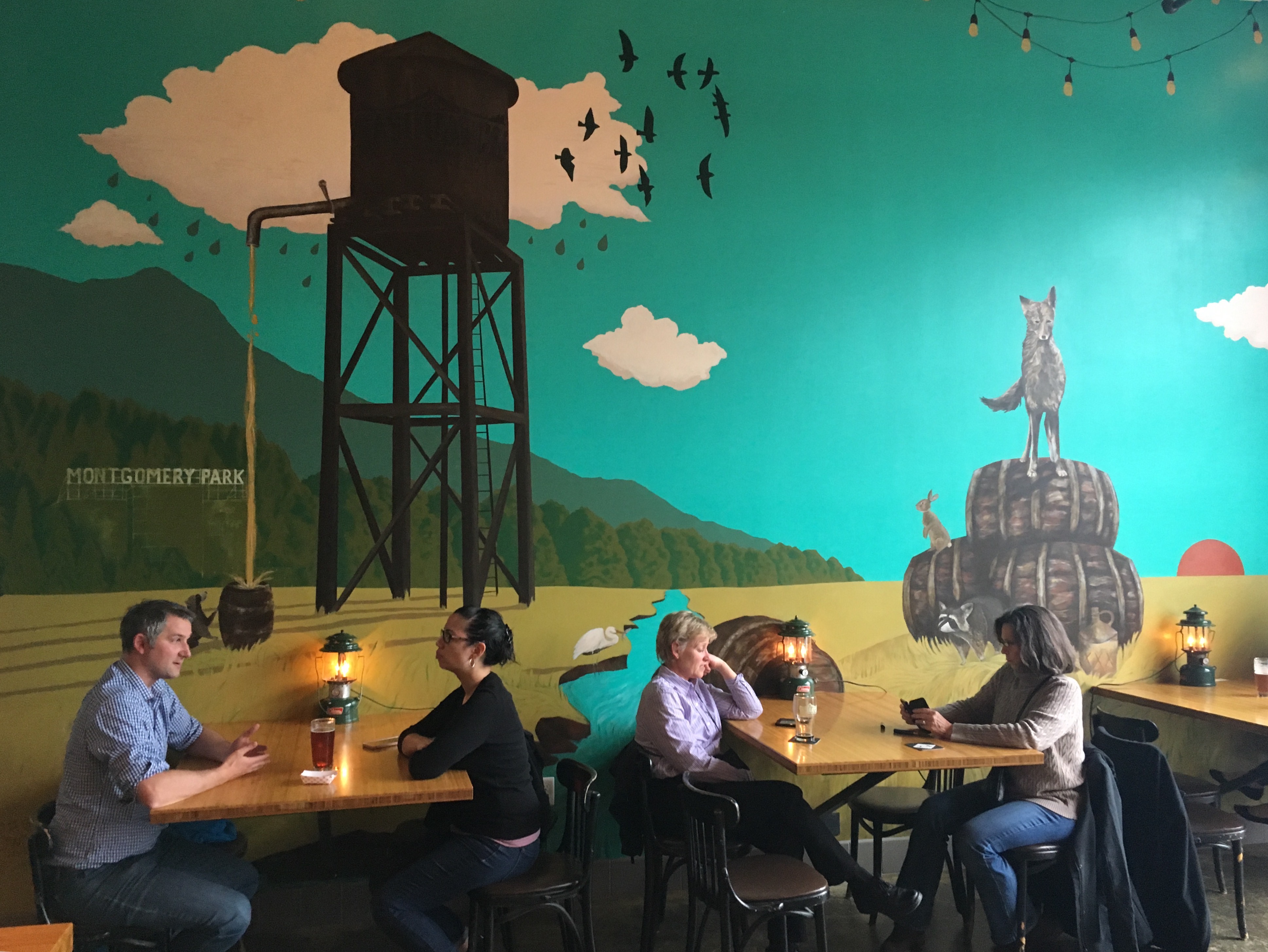 Sasquatch Brewing Co. Grand Opening
3-10 p.m. Friday April 21, Sasquatch Brewing, 2531 NW 30th Ave.
After five years in its small Hillsdale-area brewery and pub, Sasquatch Brewing Co. is expanding with a new brewing facility in a 4000-square foot warehouse in industrial Northwest Portland. The new brewery will include a 15-barrel system, two 90-barrel cider fermenters, and a tasting room open to the public seven days a week. The new brewery will feature 22 taps with a wide variety of beers and ciders, local kegged wine, a barrel program for aging beers and large, private event space. The original location in Hillsdale will remain open, focusing on developing small experimental batches. Three brand new beers – a Kolsch, Amber and a Grapefruit IPA – and a new Hopped Cider will be released at Friday's grand opening, which is free and open to the public and will include complimentary BBQ and live music from Portland bluegrass band Out West.

2017 Spring Nano Beer Fest
2-10 p.m. Friday, April 21, noon-10 p.m. Saturday, April 22, John's Marketplace, 3535 SW Multnomah Blvd.; $20 for logo glass and 10 tix.
The Nano Beer Fest began in 2008 at Max's Fanno Creek where the owners were looking for a way to showcase the local small brewers who were coming on the scene. Nine years later, the fest is under new management and has grown to a bi-annual event featuring 50+ beers, ciders, meads and soft beverages made by some of the most inventive and newest members of the local craft industry. Unlike many fests, most of the beers will be poured by the brewers themselves plus floater volunteers from the Oregon Brew Crew and PDX Brewers Club, so everyone serving will be knowledgeable about beer.
Little Beast Brewing Launch Party
5-8 p.m. Saturday April 22, OP Wurst Sausage Bar, 3384 SE Division St.;
Sample farmhouse beer maven Chuck Porters fine farmhouse style beers from his new brewery, which is named in honor of the yeast strains Porter so masterfully uses. As the Little Beast Web site says: Founder and veteran brewer, Charles Porter, has a knack for harnessing the little beasts or microflora that ferment our beer, capturing their untamed beauty and producing highly craveable and totally delicious craft beer. Rooted in old world technique, inspired by the abundance of Oregon's edible landscape and influenced by American brewing ingenuity, we craft our beer naturally with diverse cultures, including Saccharomyces, Brettanomyces, Lactobacillus, and wild flora. We age in stainless steel and wood barrels, blend vintages and bottle-condition to create the finest finished product.
Earth Day Brew Fest
1-4 p.m. Saturday, April 22, Portland Brewing Co. Taproom, 2730 NW 31st Ave.; $20 includes 10 beer samples and a commemorative pint glass
The Brew Fest following a 5K Fun Run for the Oregon Brewshed Alliance features live music, vendors, and beer samples from Portland Brewing, Base Camp Brewing, Bridgeport Brewing, Burnside Brewing Co., Widmer Brothers Brewing, Fort George Brewery, 54°40' Brewing, Portland Cider Co., Ecliptic Brewing, Ninkasi Brewing, and pFriem Family Brewers.
Seventh Annual Samuel Smith Salute Continues
Here's what the Merchant du Vin website has to say: Remember – or imagine – what beer drinking was like in America in 1978, before the first Samuel Smith's shipment arrived. There were about 85 breweries in the US and only one was a craft brewery. Imports were few, and Almost all were pale lagers. Today, the American beer scene is the most dynamic on the planet.
Each year, many great beer spots salute Samuel Smith with promotions, tastings, special prices, and a chance to celebrate: the annual Samuel Smith Salute. Please join in: savor the benchmark beers from Samuel Smith's, and recall the prominent role this iconic British brewery has played in the US craft beer revolution and raise a glass to Samuel Smith handcrafted ales & lagers – Brewed Since 1758 – Imported since 1978.
7-11 p.m. Friday, April 21: McMenamin's 23rd Ave. Bottleshop, 2290 NW Thurman St.;
3-5 p.m. Saturday, April 22: McNally's Taproom, at 370 E. Main Steet;
Thursday, April 27: The Abbey, 1650 NW 23rd Ave;
King's Day Celebration
5-8 p.m. Wednesday April 26, Bazi, 1522 SE 32nd Ave.;
Each year at the end of April the Dutch celebrate their King. It's a day of parties and bright orange clothing so wear orange – the color of royalty – on Wednesday and experience beers by the only Dutch trappist brewery as well as a special Kopstootje pairing with Portland's own Upright Brewing.
La Trappe is one of only ten Trappist breweries in the world allowed to carry the logo "Authentic Trappist Product". This logo guarantees authenticity, recipe, tradition and, in the case of La Trappe, a thriving working relationship between monastery and brewery. These world-class beers have been brewed at the Cistercian Abbey of Onze Lieve Vrouw van Koningshoeven since 1884.
Kopstootje Biere Tasting. The Kopstootje, or "little headbutt", is the Dutch version of beer and a shot. A tulip glass is filled to the rim with genever and served with a beer back. Since the glass would overflow if moved, the drinker bends down to take the first sip off the top, following that with a sip of beer. Upright Brewing returns with the fourth release of their twist on a Biere de Garde recipe that shares many ingredients with their national spirit, genever, and also pairs well with it. Those ingredients include barley, wheat, corn, and rye in the grist, and a blend of ginger, angelica, aniseed, juniper, clove, allspice, bitter orange, and hops in the kettle. The beer was openly fermented to generate some pleasant orange and pear notes from the yeasts, ultimately drinking like a lightly spiced French bière de garde. 6.2% ABV.
Complimentary "King's Day" t-shirts will be available with every La Trappe beer or Kopstootje pairing. Expect orange beads, crown's fit for a Queen or King, sunglasses, plus other swag.
About The Author
John
John Foyston is Oregon's longest serving beer writer, and wrote a weekly beer column for The Oregonian until just recently. His work has appeared on CNN, and in Beer Connoisseur, Celebrator Beer News, Oregon Beer Growler, Mix Magazine and other publications and will occasionally appear on these pages, at least until Angelo and DJ get tired of him too...He can be followed on Twitter at @beerherejohnny.