4th Annual Rock The Cask Bar Returns to Santiam Brewing
|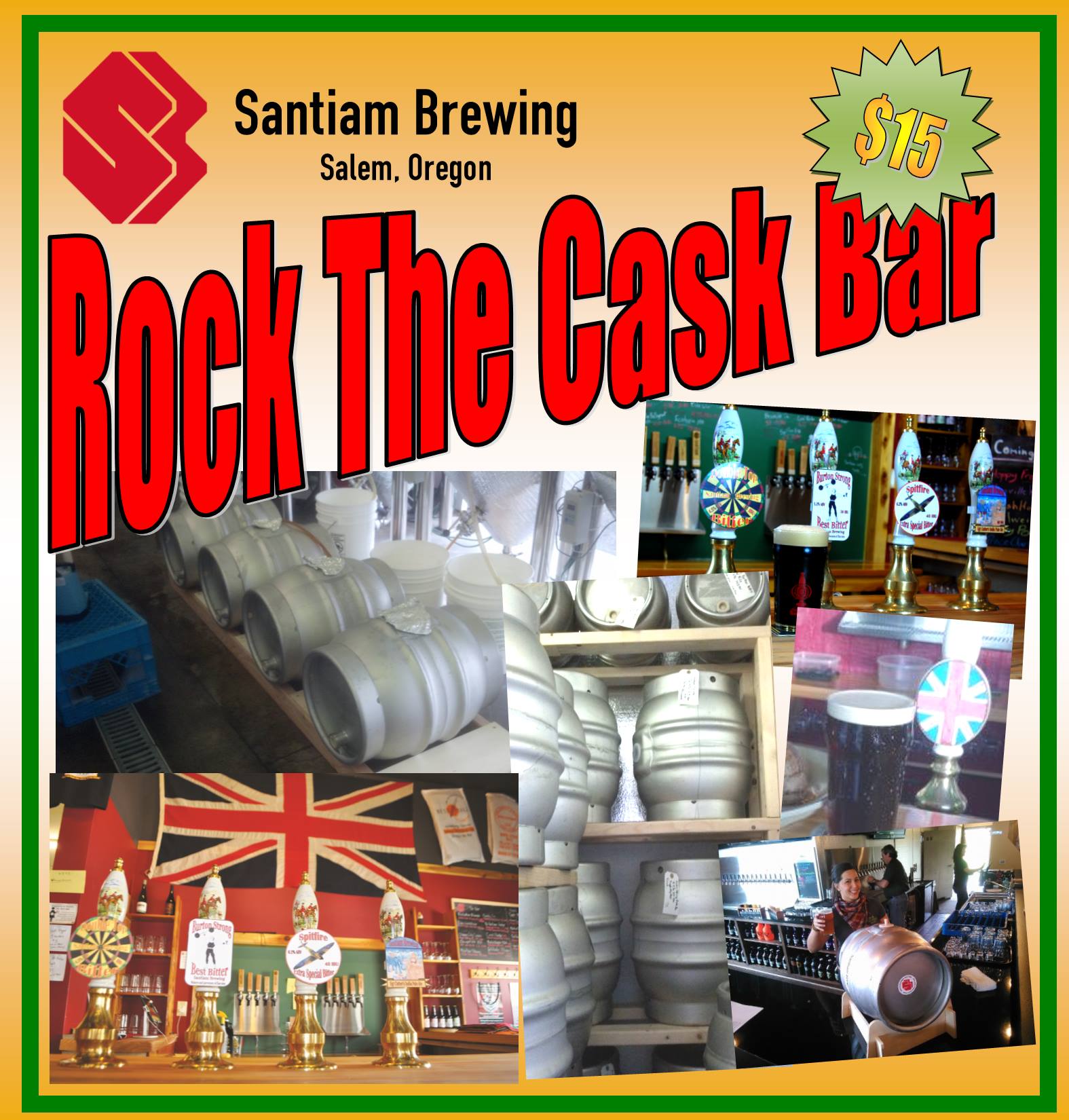 Fans of real ales will once again have a summertime beer festival that will garner their interest. Santiam Brewing will once again host its Rock the Cask Bar. Now in its fourth year, Rock the Cask Bar will take place on Saturday, July 9th from 11:00am until 11:00pm in Salem at Santiam Brewing's Tasting Room.
Salem's only cask ale festival featuring 23 different cask offerings, including guest brewery casks from Planktown Brewing, Brewer's Union Local 180, Salem Ale Works, Vagabond Brewing, and Wandering Aengus Ciderworks.
Cask List – Vintage releases:
2014 Golden Sultan – Belgian-style Golden Strong with Sultanas and Vino Blanc 2015 Sangre de Cristo – Cabernet Stout
2016 Sangre de Cristo – Cabernet Stout aged in wine barrels
2014 Prince Charlie's – Scottish-style Wee Heavy
2015 Prince Charile's – Scottish-style Wee Heavy
2016 Gin Peche – Peach Willambic Sour Ale aged in gin barrels
Special releases:
Cymru – Welsh-style Strong Ale
Diabolus – Belgian-style Tripel
Bloody Hell!! – Double NW IPA with Blood Orange and Grapefruit Daydream – Tropical NW IPA with Pineapple and Passion fruit Venti's Hoppycock – NW IPA
Lacey Lady – Session NW IPA
Bramble On – Raspberry Pale
1859 – German-style Maibock aged in wine barrels
Infiltrator – Bohemian-style Pilsner
Standard releases:
Stonehenge – NW IPA
Spitfire – ESB
Coal Porter – Robust Porter
Advance tickets are now on sale in the Santiam Brewing Tasting Room and online here. Ticket prices are $15.00 in advance or $20.00 at the door. After 10:00pm the night of the event growler fills from the gravity poured casks are only $5.00 each.
Santiam Brewing
2544 19th St SE
Salem, OR