54º 40′ Brewing 4th Anniversary + 5k Fun Run
|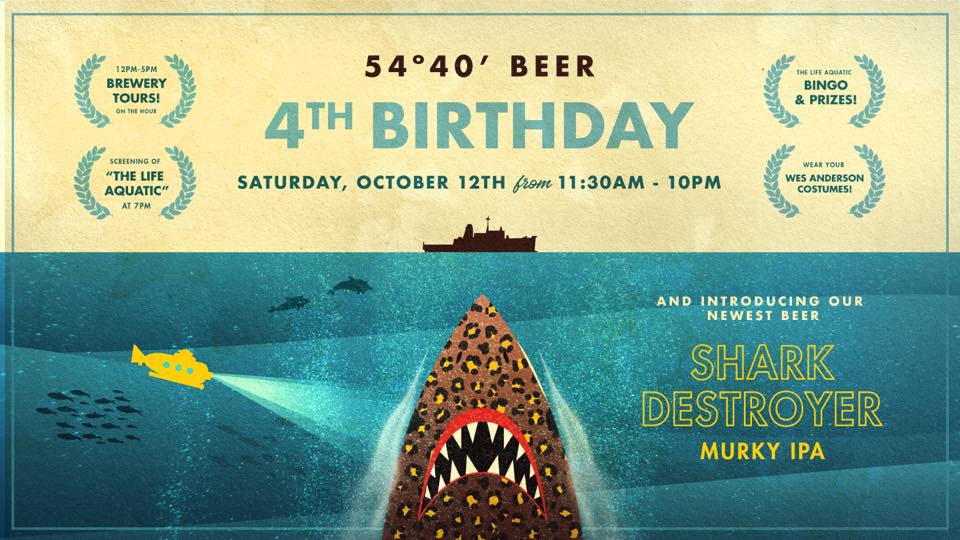 Four years ago Bolt Minister took the leap and opened 54º 40′ Brewing Co. in Washougal, Washington. Since the brewery's opening there have been a few changes and added expansion, most notably the new, larger outdoor space on the eastside of the building that offers views of the Columbia River Gorge and Mt. Hood to the east.
On Saturday, October 12th, 54º 40′ Brewing will celebrate its 4th Anniversary from 11:30am-10:00pm. The brew team will be releasing its latest beer, Shark Destroyer Murky IPA and they'll be offering brewery tours on the hour from Noon-5:00pm.
For its 4th Anniversary, the theme will be one that celebrates the film maker Wes Anderson. At 7:00pm the brewery will show Anderson's film, The Life Aquatic with Steve Zissou. Plus, there will be Life Aquatic Bingo!
In addition to brewery's 4th Anniversary, 54º 40′ Brewing 5k Fun Run will kick of the day's festivities beginning at 11:00am. Partnering with the Oregon Brewery Running Series, this 5K fun run will allow participants to walk, jog, or run approximately 3.1 miles, then drink beer!
Everyone is invited to enjoy the day's entertainment: live music, great food, giveaways and activities with partners and sponsors. Everyone receives a craft brew, and collector's pint glass or seasonal swag item. 10% of our proceeds help support our nonprofit partners, the Oregon Brewshed Alliance, Dollar For Portland, and Life Vest Inside.
Find out additional details, including how to register by visiting the Facebook Event Page.
54º 40′ Brewing Co.
3801 S Truman Rd.
Washougal, WA 98671