8th Annual KillerBeerFest At Bailey's Taproom & The Upper Lip On Saturday
|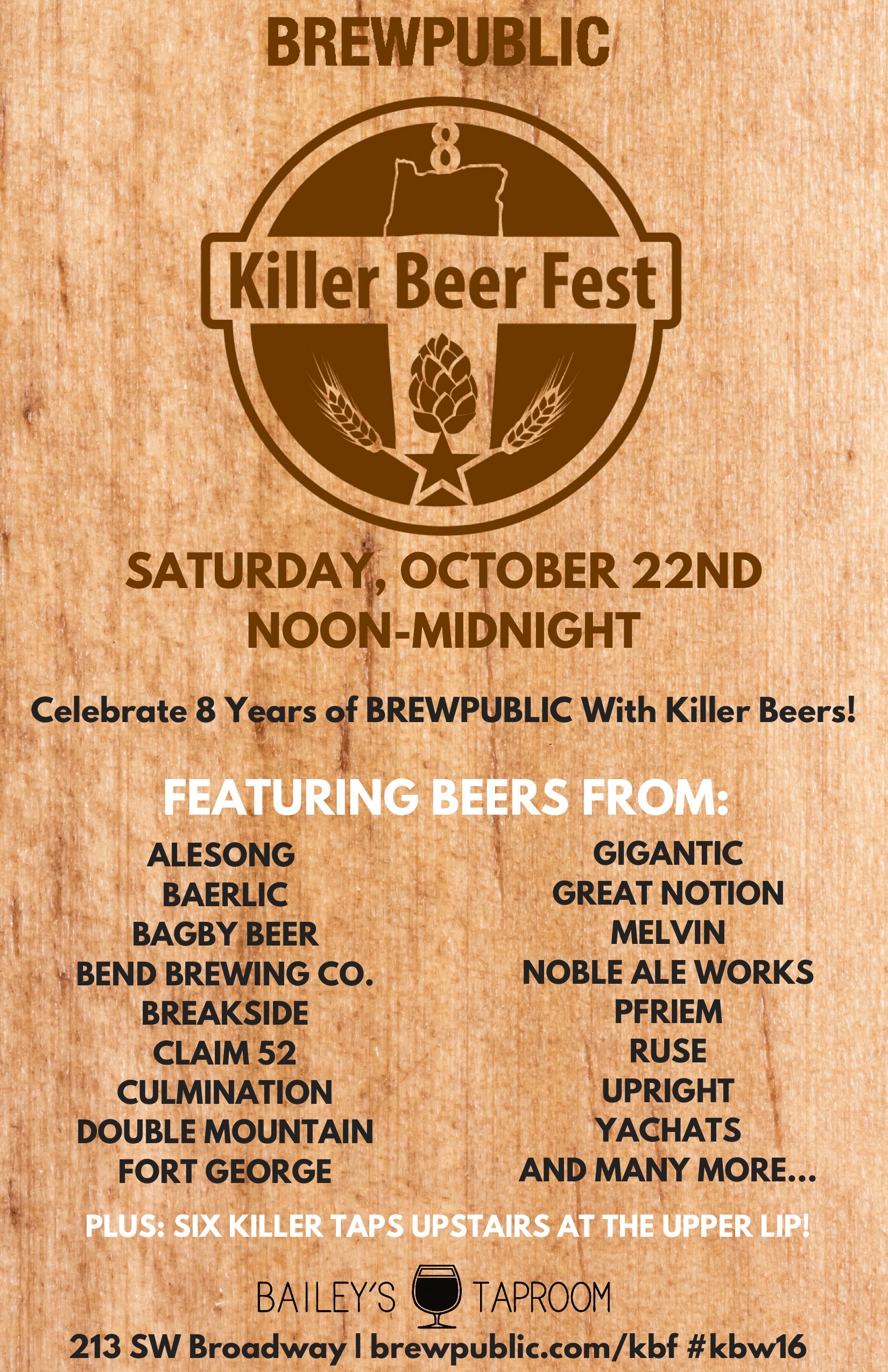 The granddaddy of them all, KillerBeerFest makes its triumphant return for the eighth consecutive year at Bailey's Taproom. Our biggest event during Killer Beer Week has always been KillerBeerFest and this year's event returns on Saturday, October 22nd from Noon until Midnight. Craft beer fans will have 12 hours to sample from over 30 curated taps of craft perfection.
This year's edition of KillerBeerFest is the largest one ever as we not only take over the 26 taps at Bailey's Taproom but we are also invading its upstairs at The Upper Lip and its 6 taps. What we along with Bill Murnighan of Bailey's Taproom came up with is quite an amazing list of beers. Bailey's will be pouring some rare, out of market treats from legendary brewery Jeff Bagby and his Bagby Beer alongside fellow SoCal brewery Noble Ale Works.
Then when you look at the small, yet well managed draft list upstairs at The Upper Lip, we even secured the best American-Style IPA for KBF with Bohdizafa IPA from Georgetown Brewing. And we here at Brewpublic do not forget about brewing history as we are one of the few to secure a keg of Pilsner Urquell Nefiltrovaný, its unfiltered and unpasteurized Pilsner. There are only a half dozen of these kegs in the country that arrived via plane this week. This is going to be some fresh Pilsner Urquell that is rated an impressive 99 at RateBeer. And just when you think this cannot get any better, we have Matt Geary, Trade Quality Manager – Pacific Region, from Pilsner Urquell setting up a special faucet that will pour Netrofiltraný three different ways; Na Dvakrat (Crisp), Hladinka (Smooth), and Mliko (Milk/Sweet). And if you have never had it Mliko style, please do yourself a favor and try it this way.
Without further ado, here's one hell of a KILLER Taplist for KillerBeerFest 8.0 at Bailey's Taproom and The Upper Lip!
Bailey's Taproom
Wildcraft Cider – Winter Witch's Brew
Nectar Creek – Mellifera Sour Mead
Gigantic Brewing – Most Premium Russian Imperial Stout – Firkin
Wayfinder/Widmer – Supergeil Festbier
Bend Brewing – India Pale Kolsch
The Common/Oedipus – Transatlantic Foosball
Noble Ale Works – Naughty Sauce Blonde Stout – Nitro
Crux Fermentation Project – Nuggetzilla IPA, 100% Denali hops
Great Notion – Ripe IPA
Melvin Brewing – 2×4 DIPA
Bagby Beer – Genius IIPA
Claim 52 – Not Everyone Wants to be a Butterfly IPL
Fort George – Pekko Pale Ale
Yachats – Tears of the Innocent, Sour Wit
Breakside – Portmanteu, Blended Sour Ale
pFreim – Kumquat Farmhouse
Upright – Fresh Hop Sideline Blend
Alesong Brewing & Blending – Tangled Up In Blueberry
Ruse/Culmination – Red Wedding
Baerlic – Oktobaerfest
Wolves & People – La Truffe, Stout w/ white truffles, hazelnuts
Goose Island – Imperial Stout aged in Duck Pond Pinot Noir Barrels
Buoy – Mr. Robusto, Maple Porter
Silver Moon – Barrel Rye'd, Rye BA Rye Barleywine
Culmination – The Funky Punch, BA Gose w/ Key lime and Cranberry
Ecliptic – Rye BA UltraViolet
The Upper Lip
Pilsner Uquell – Nefiltrovaný (Unfiltered Pilsner)
Lagunitas – Born Yesterday
Georgetown – Bohdizafa
Double Mountain – 2015 Tahoma Kriek
Double Mountain – 2015 Devil's Kriek
Epic – Big Bad Baptist
We hope to see you at Bailey's Taproom and The Upper Lip on Saturday to celebrate another great year of craft beer!
Bailey's Taproom
213 SW Broadway St.
Portland, OR