A Busy Saturday: Belgians, Spicy Beers, Big IPAs and Cider Riot! Grand Opening
|
Here's the press release:
Hopworks will release HUB Brewer's Whiskey at both Hopworks pubs on Wednesday November 16. More than four years in the making, the whiskey was distilled at New Deal Distillery from the wash of Hopworks' award-winning Organic HUB Lager. Highly limited in production, HUB Brewer's Whiskey will be available primarily by the glass at Hopworks pubs, with an upcoming bottle sale in December.
"What really sets our Brewer's Whiskey apart is the use of our beautiful, finished and filtered organic beer in the still," said Hopworks brewmaster and founder, Christian Ettinger. "We get a smooth spirit that exhibits characteristics well beyond its years. Making whiskey is a natural extension of our passion for craft beer. Our Brewer's Whiskey is a product of our playfulness and our commitment to push the limits of what we can do as fermentation experts."
Scratchdog Stringband
7 p.m. Thursday Nov. 10, Baerlic Brewing, 2235 SE 11th Ave.;
Scratchdog Stringband plays an infectious brand of Americana with a guitar/stand up bass/fiddle line-up. The music should mesh perfectly with the homey, handmade vibe of the Baerlic taproom and those excellent beers. (Which includes the just released Arctos Winter Ale, a 7 percent India Red Ale with lots of hop character and available in the taproom on draft and in 22-oz. bottles…)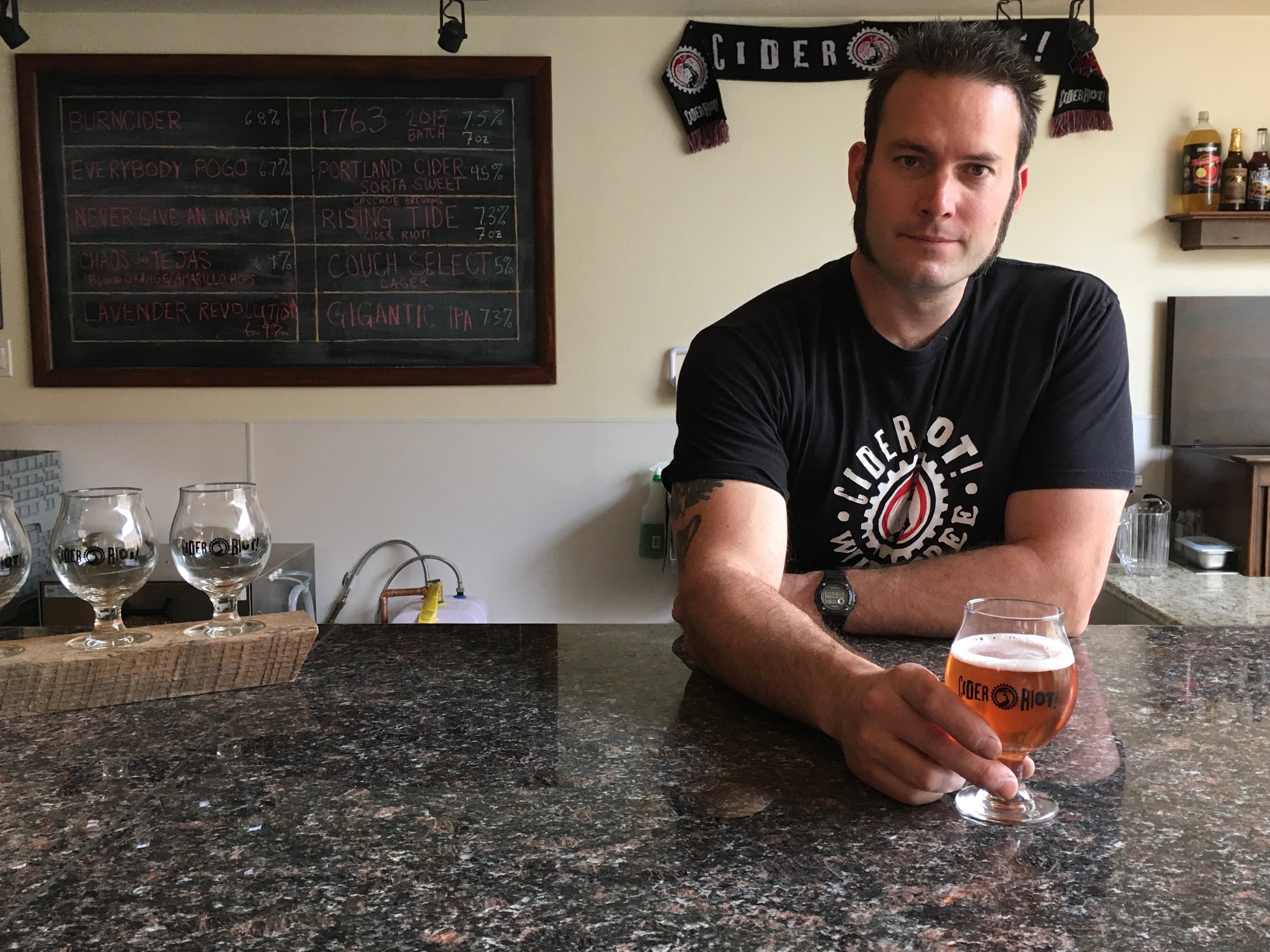 Cider Riot! Grand opening Party
Noon- 10 p.m. Saturday Nov. 12, Cider Riot, 807 N.E. Couch St.; Kids OK before 7 p.m.
It's taken Abram Goldman-Armstrong a while to find a place to move Cider Riot – he had been working out of his house. The pub and cidery has been open since late summer and this Saturday, Abe is welcoming the world to the new digs with what should be a memorable party: special cask tappings in the pub and cidery, special ciders and Gigantic IPA on tap during the day, tours, a special three-year vertical of 1763 Revolutionary West Country Cider with a bonus pour of Old Main Drag vintage Burncider during the festival and special case pricing on all four. Morris Dancers and live music from the Rendezvous String Band during the day and at 7 p.m. in the Cidery, music from the Vacillators, the Anxieties and the Portland punk Rock Collective.
Seventh Annual Bailey's BelgianFest
Noon-close Saturday Nov. 12, Bailey's Taproom, 213 SW Broadway; free admission.
The Bailey's crew has rounded up two dozen Belgian-style beers from Oregon brewers, including the taproom's new rotating house beer, or Hausbier. Brewed by a different brewery each quarter, expect easy-drinking, sessionable styles that fit the seasons and The Commons is is first to step up to the fermenter with White Lager, which will be tapped Saturday.
"We landed on doing a White Lager, with some newer German hops," says Commons Head Brewer Sean Burke, "and spicing it for the appropriate season. … Basically we're taking inspiration from a Wit, but using lager yeast."
The taps will be pouring an array of Belgians at Bailey's Saturday, and sister pub The Upper Lip, gets its own mini-fest this year: Kriek'n On A Come Up, which celebrates the fine art of sour cherry ale. They'll tap six American sour cherry ales at noon then change out the taps at 6 p.m. for six examples from Europe. The hours will be the same as BelgianFest. But remember: you can't roam between bars with open containers. You CAN open tabs at both bars and migrate once your beer is finished.
BelgianFest Draft List:
The Commons/Bailey's – Hausbier: White Lager
RevNat's – Winter Abbey Spice
WildCraft – Silverberry Belgian Poire
Mazama – Firkin of Belgian Blonde
Ecliptic – Callisto
Alesong – Harvest Ale
pFriem – Blaeber
Ruse & Culmination – Red Wedding
Wolves & People – Plum/Blackberry Sebastian
Santiam – Bourbon BA Abbey Porter
PINTS – Biere de Garde
Crux – Better Off Red
Ancestry – Bourbon BA Quad
Deschutes – The Stoic 2015
Logsdon – ZuurPruim
Upright – SuperCool
Agrarian Ales – Grow A Pear
Ex Novo – Blonde, James Blonde
Breakside – Bellwether
Fat Head's – Zeus Juice
Falling Sky – Big Ripple Tripel
BaseCamp – 4th Anniversary
Block 15 – Fat Monk
Baerlic – Woodworker: Harshmellow Mountain
Double Mountain – Tahoma Kriek
Fire and Brimstone
11 a.m.-close, Saturday Nov. 12, Saraveza, 1004 N. Killingsworth St.;
This unique beer event is centered around all things smoky and spicy and all 10 taps will be taken over by a mix of smoky and spicy beers and ciders sure to keep your tastebuds tingling. The Saravezans aren't doing a festival format for the event this time around, so no wristbands, no special glassware, no admission, and no beer fest hassle.
Draft list:
Burnside "Imperial Stout w/ chiles"
Bell's Brewing "Smoked Stout"
Breakside "2015 Barrel Aged Aztec"
Ex Novo "It Burns When IPA"
Schlenkerla "Marzen"
Reverend Nat's "Spicy Hot Tepache!"
Hi-Wheel "Peach Habanero"
Boneyard " Fuego Diablo Roja"
Agrarian "Spicy Michelada"
The Commons "Rauch Helles"
Rastaban Returns
11 a.m. Saturday Nov. 12, Ecliptic Brewing, 825 N. Cook St.;
Ecliptic is releasing Barrel-Aged Rastaban Oud Bruin for a second year in the pub starting at 11 a.m. Saturday with a limited tapping; bottles will be available as well, and John Harris has brought a few bottles of the 2015 batch from his cellar for sale too.
Here's the description of this eagerly anticipated release: The star Rastaban is one of the dragon's eyes in the constellation Draco. A Belgian-style brown ale, we brewed Rastaban Oud Bruin with raspberries and cherries and then age it in red wine barrels. Dark malty flavors meld with yeast spiciness. The tartness of the fruit is balanced with the oak, resulting in a character similar to a red wine: 7.4 percent.
Dorothy Mantooth Imperial IPA Release
5-8 p.m. Saturday Nov. 12, The Growler Guys, 816 SE Eighth Ave.;
Growler guy Brendan Cocks brought together 2014 Alpha King champion Thomas Peters of Belching Beaver Brewery in Southern California and GABF Gold Medalist Mike Hunsaker of Fat Head's Portland to brew a 9 percent Imperial IPA showcasing Vic Secret hops along with massive dry-hop additions of Mosaic, Equinox, & more Vic Secret. The list includes the aforementioned
Dorothy Mantooth Collab plus Belching Beaver Batch 2: Sour ale brewed with honey and aged on peaches and apricots in French oak red wine barrels; Belching Beaver Phantom Bride: Collaboration IPA with The Deftones; Fat Head's Hop Juju Imperial IPA and
Fat Head's Gnome of Doom: Belgian Imperial Stout aged in Indio Whisky barrels, oplus the chance to meet both brewers.
McMenamins Bottle Shop First Anniversary
Saturday, Nov. 12, McMenamins 23rd Avenue Bottle Shop, 2290 N.W. Thurman St.; All ages ok, 21 and over to sample.
The Bottle Shop folks are throwing daylong party for their first year including a selfie contest (take yer pic with Homer Medica, who owned the space back in the 1980s), first-ever limited-edition Birthday Reserve Ale No. 1 bottles for sale, a special taster tray of McM's small batch, limited ales for $12 including….
Edgefield: Sorcerer's Apprentice Nectarine Pale Ale, Lord Julep
Crystal: Dying Embers III, Man It's a Hop One IPA
Concordia (Kennedy): Miss G's Tart Cherry Sour, Hogshead Whiskey Barrel-Aged Wee Heavy.
Also: 20 percent off Bottle Shop logo merchandise, no Crowler fee, cake and a special McMenamins Passport stamp.