Alesong Brewing & Blending 2023 Summer Beer Releases
|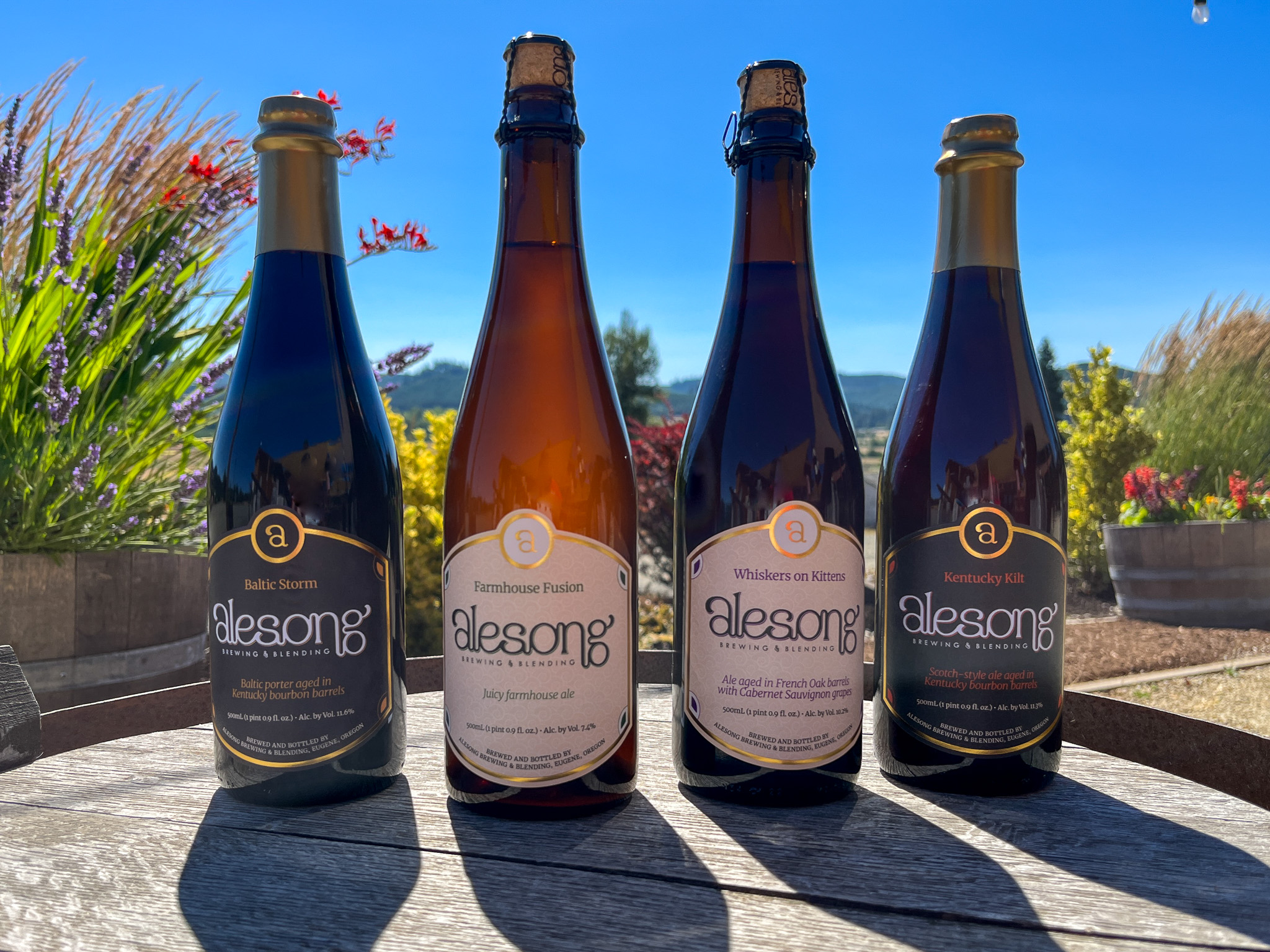 With summer in full force, Alesong Brewing & Blending is all set to release its 2023 Summer Beer offerings. On this go-round, the Eugene, Oregon brewer will bring back a couple of fan favorites in Kentucky Kilt and Whiskers on Kittens as well as releasing two brand new beers, Baltic Storm and Farmhouse Fusion.
The release party will take place Friday, August 4 – Sunday, August 6 at Alesong's Country Brewery just south of Eugene. This brewery will only to open those three days to Blender's Circle members. If you're not a member, there is still time to join via www.alesongbrewing.com/join. If not, all four beers will be also available at Alesong's downtown Eugene tasting room beginning on Friday, August 4th. Farmhouse Fusion, Whiskers on Kittens, and Kentucky Kilt will also be available at retailers throughout the Pacific Northwest.
Here's a rundown on all four beers that will be released
Kentucky Kilt is back!  One of Alesong's most frequently requested beers in the tasting room and one the team loves as well.  Rich notes of caramel and toffee from the underlying Scotch ale are complemented by extended maturation in barrels that once held George Dickel 14 Year Bourbon, Elijah Craig 18 Year Bourbon, and Henry McKenna 10 Year Bourbon, each adding their own unique character to the final blend.
Whiskers on Kittens is another returning fan favorite.  The encore to Raindrops on Roses, this beer wine hybrid showcases Alesong's favorite Bordeaux varietal with a co-ferment on beautiful Cabernet Sauvignon from the Coyote Canyon Vineyard in Washington's Horse Heaven Hills AVA.  The resulting beer is rich, jammy and stunning burgundy in color, a can't miss for any Cabernet-lovers out there!
Farmhouse Fusion represents a very Alesong take on New England's favorite beer style. Tropical, hop-forward, and slightly hazy, this saison was primarily fermented with Brettanomyces and blends mature barrels from Alesong's cellar with younger beer brewed with a heavy dose of Mosaic hop extract, resulting in an intriguing and delicious combo of yeast, oak, and hops!
Baltic Storm (Club Exclusive): Another voyage into the world of dark and tempestuous bourbon-barrel-aged beers, Baltic Storm was cold fermented for an exceptionally smooth experience. This Baltic porter presents layer upon layer of dark bakers' chocolate alongside mild, barrel-induced, notes of spice and vanilla.
For more information on Blender's Circle membership, visit www.alesongbrewing.com/join. Additional information on each of the new beers can be found at www.alesongbrewing.com/beers.
Alesong Brewing & Blending
80848 Territorial Highway
Eugene, OR 97405