Alesong Brewing & Blending Inaugural Bottle Release Celebration
|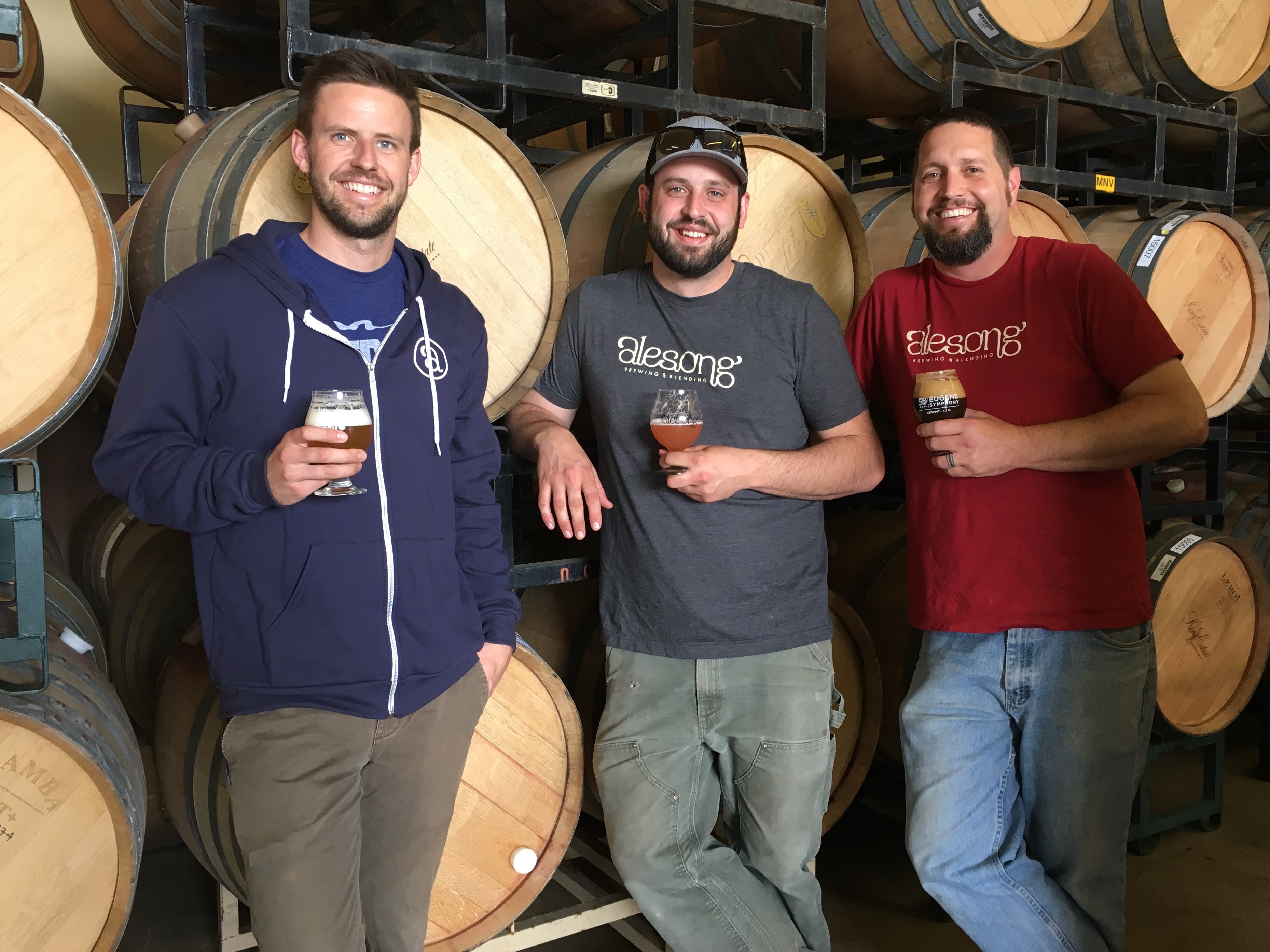 One of this year's most anticipated brewery openings in Oregon is now preparing for its first bottle release this weekend. Alesong Brewing & Blending will host its First Bottle Release Party at its production facility in Eugene, Oregon on Saturday, August 20th from 2:00 to 8:00pm. Expect the premiere of bottles for Touch of Brett, Tangled up in Blueberry, Hop Farm, Gin Hop Farm, and Blackberry Gose.
This past October we first reported the news that Matt Van Wyk was departing Oakshire Brewing, where he had been the brewmaster since 2009, to open Alesong Brewing & Blending. He along with founding partners, Brian and Doug Coombs quickly began assembling equipment to begin its brewing operations. After about 6 months of the brewery's announcement Alesong premiered a few draft offerings during Eugene Beer Week at the end of May. Alesong then made its debut outside of Eugene in Seattle, Washington at Sierra Nevada Beer Camp Beer Festival on June 11th.
Now the brewery is set for its first bottle release for five barrel aged beers. The release party will also have a few other Alesong beers pouring on draft along with a festive atmosphere that will be highlighted by live music and a couple of food trucks that includes Da Nang Vietnamese Eatery and Los Faroles Taco Truck. This will also be one of the rare opportunities to check out the brewery, as it is not normally open to the public.
"We've been working at this project for more than a year now, and are thrilled to finally be able to open our doors and share our vision with the community," stated Founder/Brewmaster Matt Van Wyk in a news release. "Plus we're releasing some awesome beers – oak-aged offerings exploring mixed culture fermentation and of course a couple with local fruit!"
Entry into the release party is free and open to all ages. To sample Alesong beers, a $15.00 festival fee will be required that includes 5 beer tokens and the first 250 attendees will also receive a commemorative Teku glass. Each token will be good for a 4 oz. pour of any beer. Two tokens will provide a 12 oz. pour of non-barrel aged beers and three tokens will provide a 12 oz. pour of barrel-aged beers. Additional tokens are $2.00 each. The $15.00 entry fee is waved if you pre-order six Alesong bottles. More details on this are listed further on in this article.
For Saturday's bottle release here are descriptions provided by the brewery for each of the five bottles including costs and bottle limits. All bottles are 500 ml.
Hop Farm
Our hop forward Ale begins with orange and grapefruit aromas. A medium bitterness balances with bready malt flavors, while a background note of oak tannins pulls it all together. Finally, Brettanomyces brings on the encore performance. Drink fresh now or store in a cool dark cellar to let the Brett flavors and aromas evolve, if you're into that.For the full back story click here.
ABV: 7.9%
IBUS: 56
Cases Produced: 150
Malt: Simpson Marris Otter, Rahr 2 row pale, Weyerman Munich, Simpson Light Crystal
Hops: CTZ, Amarillo, Pacifica, Sorachi Ace
Yeast: Saccharomyces, Bettanomyces Bruxellensis Var Drei
Barrels: French oak and acacia, Oregon Pinot Noir and Chardonnay
Food pairings: Grilled burgers, green curry, mild blue cheese, carrot cake
$16/bottle; 4 bottle limit
Gin Hop Farm
This hop forward Ale spent several months in gin barrels and aromas of gin botanicals complement hop-imparted citrus notes of orange peel and grapefruit zest. Dry and crisp with a medium bitterness, it finishes clean and refreshing. For the full back story click here
ABV: 8.3%
IBUS: 56
Cases Produced: 75
Malt: Simpson Golden Promise, Rahr 2-row pale, Weyerman Munich, Simpson Crystal Pale
Hops: CTZ, Amarillo, Pacifica, Sorachi Ace
Yeast: Saccharomyces
Barrels: Freshly emptied Ransom Spirits gin barrels
Food pairings: Lamb, English meat pie, roasted rosemary potatoes, sage derby cheese, oatmeal raisin walnut cookie
$16/bottle; 3 bottle limit
Tangled up in Blueberry
Our light-bodied Belgian-style Ale was matured on local blueberries for a soft purple color and a balanced berry aroma. The oak aging layers a hint of vanilla and mild dry tannin notes. Secondary fermentation adds a mild acidity and earthy character that will continue to evolve over time. Click here for the full back story.
ABV: 5.9%
IBUS: 3
Cases Produced: 75
Malt: Rahr 2-row, Weyerman Dark Munich, Castle Carablond, Weyerman acidulated, Malpass Unmalted wheat
Hops: Aged hops, Vanguard
Yeast: Saccharomyces, blend of Brettanomyces, and Lactobacillus
Barrels: French oak and acacia, Oregon Pinot Noir and Chardonnay
Special Ingredients: 1 lb/gal Willamette Valley grown blueberries
Food pairings: Roasted pork loin, chicken salad, chevre, lemon custard tart
$16/bottle; 3 bottle limit
Touch of Brett
This dry, French-style saison was primary fermented with Brettanomyces Lambicus for a fruity and spicy experience. After aging, it was dry-hopped liberally with Citra hops to complement the orange, grapefruit, and earthy flavors that evolved during the aging time. Click for the full backstory
ABV: 7.7%
IBUS: 23
Cases Produced: 250
Malt: Weyerman Pilsner, Rahr white wheat, Malpass Farms unmalted wheat, Weyerman rye, Weyerman acidulated malt
Hops: Magnum, Centennial, Sorachi Ace, Citra
Yeast: Brettanomyces Lambicus
Barrels: French oak, California Pinot Noir
Food pairings: Mussels with garlic and herbs, chicken pesto pasta, herbed cheese spread, Vermont cheddar, ginger snap cookies
$16/bottle; 6 bottle limit
Blackberry Gose
Crafted with coriander and sea salt, our Gose-style Ale went through a secondary fermentation on blackberries. Hazy, purple and bursting with juiciness, our Gose has just the right acidic and saline balance for a huge, end of summer, thirst-quenching experience. For the full back story click here
ABV: 5.1%
IBUS: 8
Cases Produced: 180
Malt: Weyerman Pilsner, Rahr white wheat, Malpass farms unmalted wheat, Crisp Torrified wheat, Weyerman acidulated malt
Hops: Magnum, Hallertau Huell Melon, Lemondrop
Yeast: Saccharomyces, Lactobacillus
Special Ingredients: 1 lb/gal blackberries
Food pairings: Lobster, smoked pork, mascarpone, panna cotta
$10/bottle; 8 bottle limit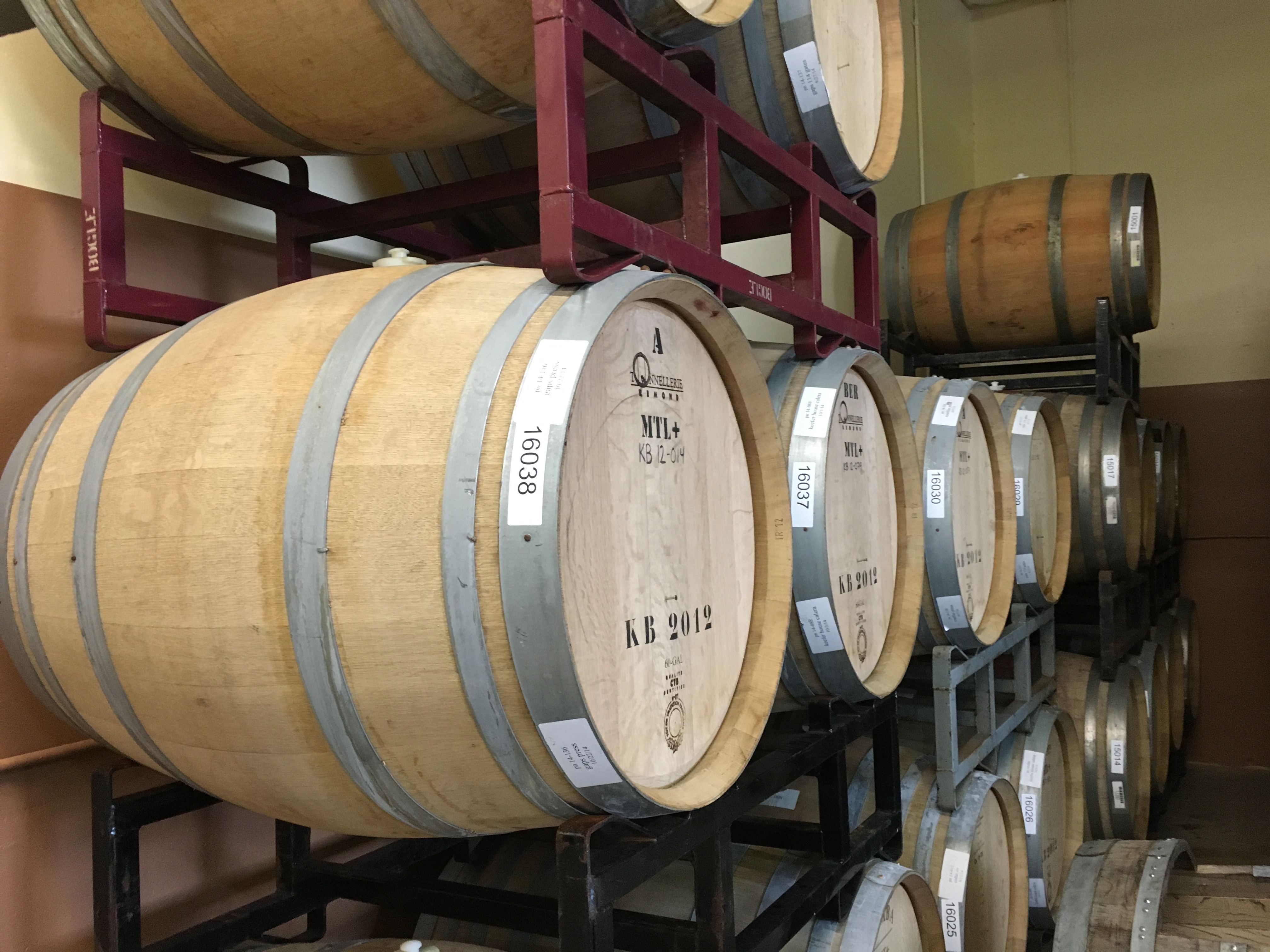 Any of these bottles can be pre-ordered on Alesong's website at alesongbrewing.com/join. There are three options to choose from when ordering.
Pickup at Alesong during the August 20 release party (free entry with 6 bottle online purchase up until Friday, August 19 at 9:00pm local time).
Pickup at the brewery within 60 days by appointment only. Unclaimed shipments forfeited after 60 days.
IN OREGON ONLY, ship directly via UPS the week after the August 20th release (21+ verification). While shipping of beer is expensive, you can optimize your shipping costs by ordering full cases.
If you cannot make any of these three options work Alesong will allow proxies to pick up beer for other customers. To do so the purchaser must send an email authorizing the proxy from the same email they used to place the order
All five of the beers being released in bottles will also be available on draft along with Alesong's Strawberry Gose, Alesong BPA, Indi's Gold, Bourbon Prelude and its two collaborations that it brewed with Breakside Brewery; Next Thursday and Dos Pinches.
Alesong Brewing & Blending
1000 Conger Street – Unit C
Eugene, OR 97402