Alesong Brewing & Blending March 2020 Beer Releases
|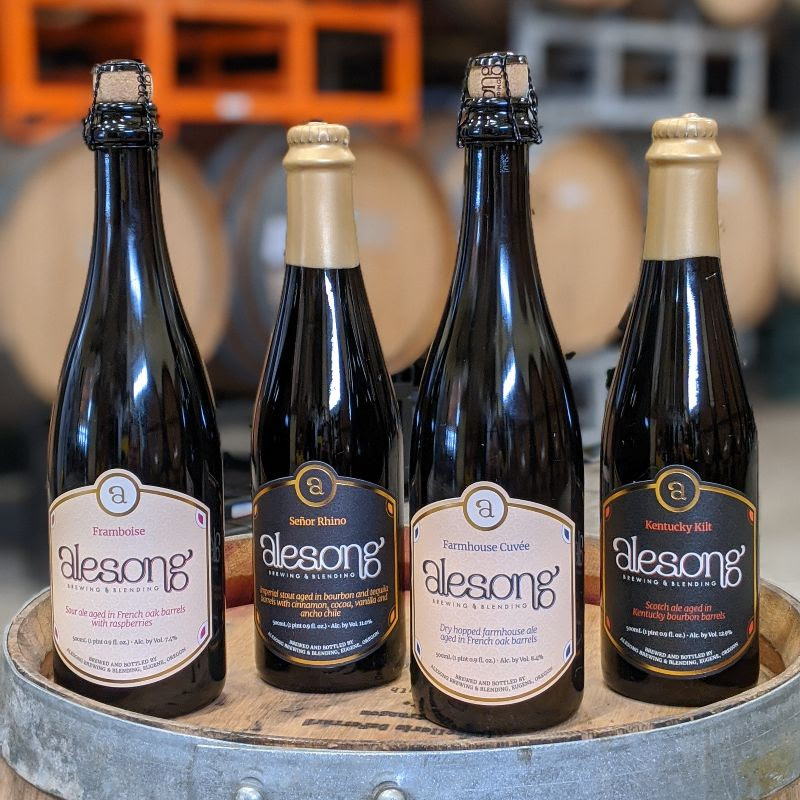 In less than a month, Alesong Brewing & Blending will host its March 2020 Beer Release. The initial release will take place at the Alesong Taproom south of Eugene, Oregon on March 14th and 15th from Noon-5:00pm each day.
For its March 2020 Beer Release, Alesong will release Señor Rhino, Framboise, Kentucky Kilt, and Farmhouse Cuvée. These beers will be released in conjunction with a celebration for the brewery's Blender's Circle members held at the brewery's tasting room. There will be live music while members can enjoy tastings of each of the four new beers paired with Eugene based Davey's Chocolates.
"Señor Rhino is back!" says Alesong Brewing co-founder, Doug Coombs, in a statement. "We've heard the requests and after a GABF medal last fall, we couldn't be more excited to be releasing a new version of it alongside three other awesome beers.  And with three release events, there's even more chances to come say hello and try them all!"
Alesong Brewing & Blending March 2020 Beer Release:
Señor Rhino, a 2020 version of our GABF award-winning imperial milk stout inspired by a Mexican hot chocolate. This rich and decadent beer is aged in bourbon and tequila barrels with cocoa nibs, vanilla, cinnamon and ancho chiles.
Framboise, a sour ale aged in French oak barrels with raspberries from Stahlbush Island Farms in Corvallis. Our framboise, French for raspberry, began its life as a blend of barrel-aged golden sour beer that was then conditioned on Oregon raspberries, imparting a beautiful magenta color. Jammy fruit aromas give way to a tart and refreshing beer that finishes crisp and dry.
Kentucky Kilt, our malt-forward Scotch-style ale that was matured for nearly a year in Kentucky bourbon barrels. Deep vanilla aromas envelope this dark amber ale, while hints of ripe fruit, oak, and toffee round out this unique and complex barrel-aged blend.
Farmhouse Cuvée (Club-Only Bottle), a delicate and complex blend of mixed culture ales of varying age, being matured in French Oak barrels anywhere from 12 to 24 months. A dry hop with Pekko hops accentuates the melon and citrus flavors in the base beer with floral and earthy spice notes.
Additional release parties will be held in Eugene and Portland. Details below.
March 17th, 5-8 P.M. – Eugene Release Event.  Alesong Packaging Hall (1000 Conger Street, Unit C, Eugene).  Tastings of the new release, bottle pickup.  Open to members and public with bottle pre-order.
March 18th, 5-8 P.M., – Portland Release Event.  Bad Habit Room (5433 N Michigan Ave).  Tastings of the new release, bottle pickup.  Open to members and public with bottle pre-order.
If you're not a Blender's Circle member you can also visit the tasting room as Alesong will be open to the public with live music and barrel-aged beer flowing! If you're not a member and you would like to sign up for the release, head to the brewery's membership page for more information.
Alesong Brewing and Blending
80848 Territorial Highway
Eugene, OR 97405