Alesong to Host pFriem Family Brewers for 3rd Alesong & Friends Event of 2022
|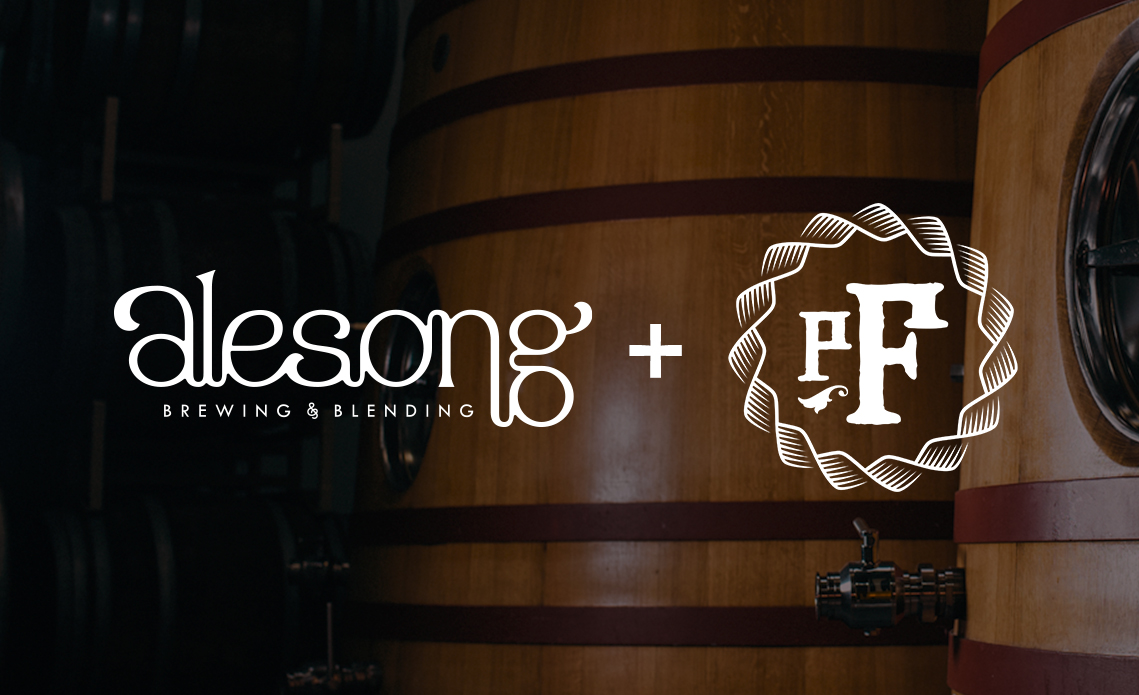 FOR IMMEDIATE RELEASE: 6/29/2022 – Eugene's Alesong Brewing & Blending is set to host its third Alesong & Friends event for the year, this time with special guest pFriem Family Brewers of Hood River, Oregon. The brewery's "Alesong & Friends" event series offers an intimate tasting and conversation with brewers, vintners, farmers, and other like-minded producers that have provided inspiration for Alesong.
R&D Brewer and Lead Blender Kyle Krause from pFriem will be joined by Alesong co-founder and production manager Brian Coombs to guide attendees through a selection of three limited and unique barrel-aged beers from each brewery and discuss pFriem's brewery and barrel program.
"Known to many primarily as the producers of one of Oregon's favorite pilsners, pFriem also has one of the states' most well-rounded barrel programs" says Alesong co-founder Brian Coombs. "We're always impressed by their ability to craft traditional mixed culture, Belgian styles right alongside some really creative and unique beers aged in spirits barrels."
The event will be held at Alesong's Countryside Brewery on July 24th in a single, limited-seating session at 1pm. Tickets are $45 each and include a curated cheese and charcuterie board to pair with the six beers. Tickets can be purchased through Alesong's website: https://www.alesongbrewing.com/events/2022/7/24/alesong-and-friends-pfriem-family-brewers
ABOUT PFRIEM FAMILY BREWERS: pFriem Family Brewers (pronounced "freem") is a Northwest and European inspired brewery and tasting room in Hood River, OR. Founded in 2012, pFriem has experienced incredible growth in the past nine & half years and has earned prestigious awards, including being named GABF® 2018 Mid-Size Brewing Company of the Year, Three-Time Brewery of the Year by the Beer Connoisseur, and numerous medals in national and international brewing competitions. Best known for artisanal beers influenced by the great brewers of Europe while staying true to homegrown roots in the Pacific Northwest, pFriem craft beers are unmistakably unique in both flavor and balance. www.pfriembeer.com
ABOUT ALESONG BREWING & BLENDING: Alesong Brewing and Blending is a small artisan brewery based in the heart of Southern Willamette Valley wine country with a second tasting room in downtown Eugene. The all-barrel-aged brewery crafts unique and small-batch beers, brewing both wild and non-wild styles that span the flavor spectrum. Once the beer in barrels has matured, the team samples and selects each barrel individually to blend. Paying homage to old-world Lambic blenders and artisan winemakers, Alesong believes that the final, balanced blend of a barrel-aged beer is much more complex and satisfying than the sum of its parts or each individual barrel by itself. For more information, visit alesongbrewing.com.