Anniversaries from First to 150th: Select craft beer events for July 14- 20
|
The 15th Annual Roadhouse Brewfest is noncompetitive celebration of beer that also celebrates the 150th birthday of McMenamins Cornelius pass Roadhouse this year. The fest features more than 20 beers and 10 ciders on draft from McMenamins and guest breweries, including and exclusive sour ale and barrel aged beer selection. It happens Saturday, July 16, Cornelius Pass Roadhouse, 4045 N.W. Cornelius Pass Rd. Hillsboro, and there's no admission charge, plus kids are OK. Guests of drinking age are welcome to stroll the historic property with their beers, meet and chat with the brewers, enjoy pub fare from Imbrie Hall's summertime menu and listen to the legendary Freak Mountain Ramblers starting at 6 p.m. Tours of the brewery and distillery – featuring the beautiful century-old French cognac still pictured above – will be available throughout the afternoon. Littler wonder that the Brewfest is a welcome summertime tradition for many Pacific Northwest beer lovers.
Columbia River Brewing's Sixth Anniversary
6 p.m. Friday July 15, Columbia River Brewing Co., 1728 N.E. 40th Ave.;
Rick Burkhardt and Columbia River Brewing celebrate six years with a BBQ dinner: St. Louis Style BBQ Ribs. Smoked Low and Slow. Dinner includes 6 Ribs, Baked Beans and Potato Salad and free Live Music at 7 p.m.
Montavilla Brew Works First Anniversary
Friday July 15- Sunday July 17, Montavilla Brew Works, 7805 SE Stark St.;
Michael Kora's Montavilla Brew Works has become a stalwart and well loved member of the Montavilla community during its first year. Kora writes that his philosophy was simple enough: he wrote a business plan that included only three rules: No hard liquor, No smoking and No TV. Beer, good conversation and feeling comfortable are the priorities and focus of the pub and it's working – just take a look at the happy crowd that usually fills the comfortable outdoor patio, enjoying beers such as such as Red Krush Red Ale, Stick and Frame Blonde Ale, Lesh is More, Pale Ale and Flam Tap IPA, and excellent lager styles including Korabraü Helles, a Traditional Bock and several dry, flavorful hoppy "session-style" IPAs as well.
Giveaways will be happening during the anniversary weekend while supplies last, as well as special beer releases including a dry-hopped Belgian ale, rum-oak aged Barleywine and more. Tamales, tacos and other Mexican treats will be served by Mixteca Catering on Friday and Saturday only from 4-9 p.m. and, as always, folks are welcome to bring in their own food from one of the many surrounding restaurants.
Loyal Legion's First Anniversary
3 p.m. Friday July 15- Sunday July 17, Loyal Legion, 705 S.E. Sixth Ave.;
The Legion celebrates its first year with beverage specials and $1 pretzels from 3-7p.m. all three days as well as a raffle every hour on the hour where you have the chance to win Timbers gear and other exciting prizes. Also: DJ Rev Shines 5-10 p.m. Saturday and Timbers on the big screen Sunday afternoon. Beers include: First anniversary Beer brewed by Breakside plus beer and schwag from:
The Commons Brewery
Culmination Brewing
Ecliptic Brewing
Flat Tail
Gigantic
Hop Valley
Ninkasi
Occidental
pFriem
Rosenstadt
Yachats
NW Cider Brokers
Migration's New Beer Fridays in July
Friday July 15, Migration Brewing Co., 2828 N.E. Glisan St.;
Migration is celebration Oregon Craft Beer Month by releasing a new beer every Friday, continuing this week with Pablo's Honey (6.9 percent, 20 IBU,) Sambucus Saison re-fermented in a oak wine barrel with local honey and Brettanomyces. ISA Got Back, a 4.4 percent India Session Ale, will be released on July 22.
Bolt Upright Night: 54°40'/Upright Fundraiser
6 p.m. Friday, July 15,The BeerMongers, 1125 SE Division St.;
The second of two two fundraising events in Portland for the National Brain Tumor Society on behalf of Team Brewpublic (founding Brewpublican Angelo De Ieso is living with an inoperable brain tumor) happens Friday when brewmasters Bolt Minister from 54°40′ Brewing and Alex Ganum from Upright Brewing bring two specially blended beers available only during this event. All proceeds from the sales of both beers will go directly to the National Brain Tumor Society supporting Team Brewpublic and its quest to raise $15,000 this year for the NBTS. 54°40′ Brewing's beer is a winter warmer aged in a wine cask; Upright Brewing's beer is a dark saison with cacao nibs (the Upright Saison Bruges featured on draft in the winter) aged in a brandy cask. Also in attendance on Friday will be The BeerMongers house band, Bolt Upright.
For the past ten years the Portland chapter of the NBTS has been hosting walks to raise awareness and resources to fund critical brain tumor-specific programs to improve the lives of all those affected by brain tumors. The 11th Annual Portland Brain Tumor Walk happens August 7, 2016 at Pioneer Courthouse Square. You can sign up to walk with Team Brewpublic here: The chapter's fundraising goal for 2016 is $110,000. Last year the chapter raised $100,000 and Team Brewpublic was the top team raising nearly $13,000. This year Angelo has placed the goal at $15,000: An anonymous donor is helping make that a reality by matching all donations up to $2,000 on behalf of Angelo and Team Brewpublic through July 15.
JT Wise Band at the Hoppy Brewer
6- 9 p.m. Saturday July 16, The Hoppy Brewer, 328 N Main Ave, Gresham;
Here's an Old Portland test: remember the White Eagle BEFORE it was a McMenamins joint? It was a vibrant showcase for local music during the 1970s, and one of the favorite bands was called Some Mighty Good Eatin', featuring Tim Wise on the guitar. (Full disclosure: Tim played in a band with me and bassist Gunga Dave Stensen for a couple of years after SMGE) He's still playing and playing well, with his wife Margaret on the bass guitar and old friends on drums and guitar, and he's still a devotee of Dickie Betts' melodic guitar style, if you're out and about Saturday night and looking for some good beer and good music…
Puckerfest Kickoff/Passionfruit Sour Ale Release
5-7pm Tuesday July 19, Belmont Station, 4500 S.E. Stark St.;
The Breakside Brewery crew hosts a release party for summer seasonal Passionfruit Sour Ale and the kickoff for Belmont Station's Puckerfest Tuesday. The 10th annual Puckerfest is a weeklong celebration of sour beers and Breakside will be featuring three new barrel-aged sour beers on tap in addition to Passionfruit Sour on draft and in 22oz bottles. Passionfruit Sour Ale is Breakside's most popular seasonal and will be brewed through September. Passionfruit Sour rolls out next week to Oregon and Washington on draft and in 22oz bottles.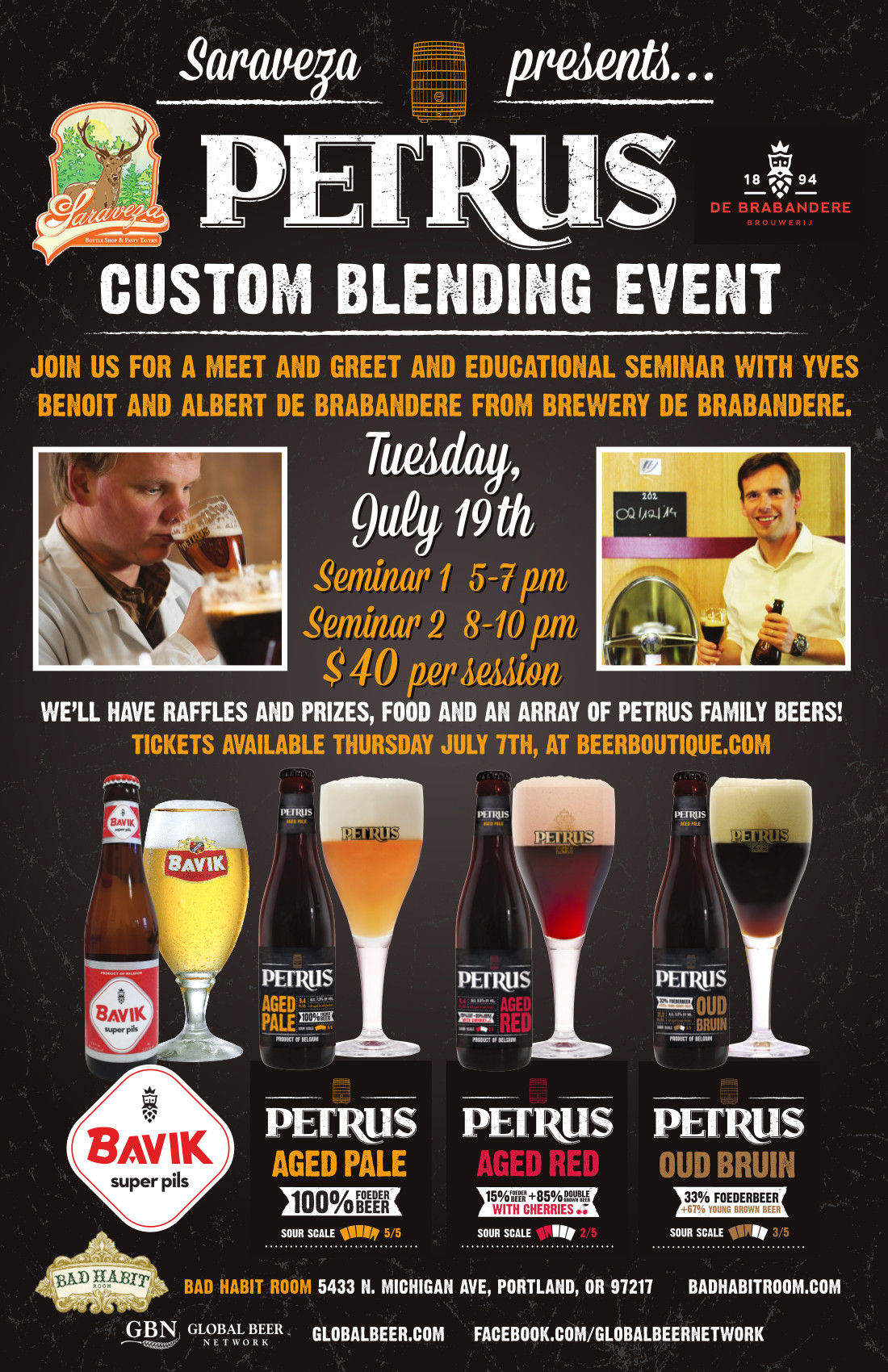 Petrus Custom Blending Event
5-7 p.m. & 8-10 p.m. Tuesday July 19, Saraveza, 1004 N. Killingsworth St.; $40, includes food, beverages and a souvenir Petrus blending glass.Tickets available here
Join seventh generation owner Albert De Brabandere and master brewer Yves Benoit from Brewery De Brabandere for an intimate blending event featuring three Petrus beers. This seminar, held in Bad Habit Room, will have two seatings, at 5 p.m. and at 8 p.m. Guests will receive 8-oz pours of Petrus Aged Pale, Petrus Aged Red, Petrus Oud Bruin, and Bavik Super Pils, and they'll also be sampling the new Wittekerke Wild, the classic Wit beer fermented with wild yeast cultured from the Petrus foeders.
Included with the beers and this very special chance to learn about blending sour and wild ales, Saraveza's head Chef, Dustin Gettmann, is preparing a selection of five hors d'oeuvres to pair well with the beers. Next door, in Saraveza, a very special blend called "80/20" will be on draft for your puckering pleasure.