Bad Habit Room Partners with Upright Brewing & Jacob Grier for a Night of Cocktails
|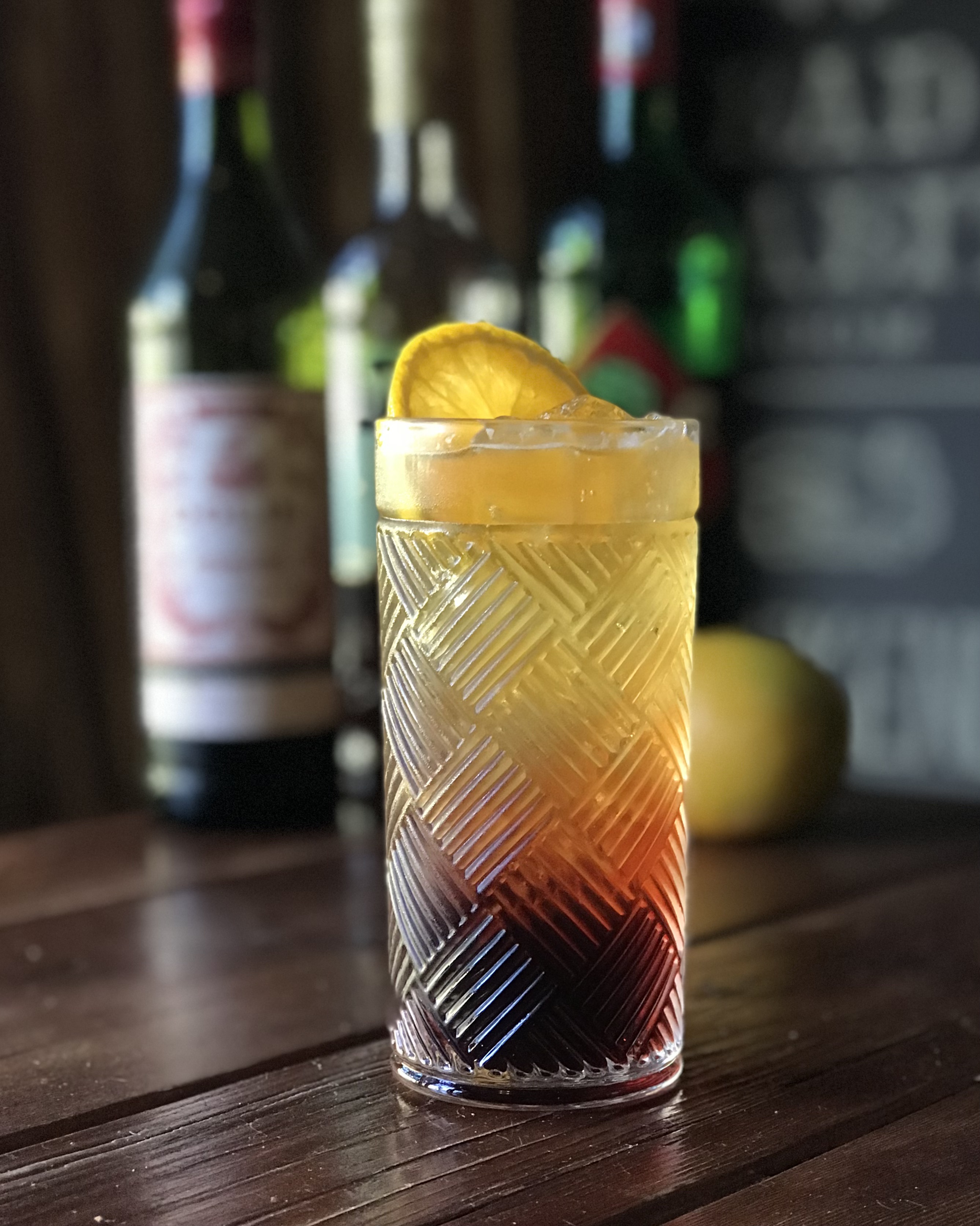 This past spring, the Bad Habit Room reopened to serve brunch after shutting its doors for the previous two years due to the pandemic. More recently, the space as reopened as a new cocktail bar that co-owner Jeremy Lewis states is a "speakeasy-style bar serving high quality cocktails with a low-key vibe".
Nestled along N. Michigan, just behind Saraveza, the Bad Habit Room offers house made cocktails, four rotating beers on tap, a selection of bottles, wine and a small food menu. The interior is quaint, but the outdoor space features a lengthy parklet that's shared with Saraveza.
To kick off the upcoming Labor Day Weekend, the Bad Habit Room will welcome Alex Ganum of Upright Brewing and local bartender and author Jacob Grier for a Night of Cocktails. The pair has developed a cocktail menu that pairs various spirits with a few of Upright beers. The duo along with the Bad Habit Room are excited to share it on Friday, September 2nd from 4:00-10:00pm.
Upright Brewing & Jacob Grier Cocktail Menu:
Nordic Rickey – Aalborg Aquavit, Ver, lemon, Upright Nordic Saison
Little Tongues – Cynar, Campari, Dolin Rouge, Upright Engelberg Pilsner
Mezcal Old Fashioned – El de Bateo Mezcal, Ancho Reyes, Upright stout syrup, bitters + Upright stout back
Crash Money – Novo Fogo Cachaca, passionfruit, lime, Upright Money Ave IPA
Boilermaker – Upright Nordic Saison + Brennivin Rugbraud
Beyond this special menu from Upright Brewing and Jacob Grier, Bad Habit Room has curated its own cocktail menu with drinks such as Bitter Sweet Symphony, Kentucky Bramble, Paper Doll, Groggy Foggy, West Texas and more! These cocktails range in price from $9 – $12 and we can attest that both the Bitter Sweet Symphony and West Texas are well made cocktails that let the ingredients shine through!
And if you're not imbibing in alcohol, the Bad Habit Room has a menu featuring three mocktails. There's the Strawberry Letter, Citracocco, and Mock-Mai-Tai, each nicely priced at just $6.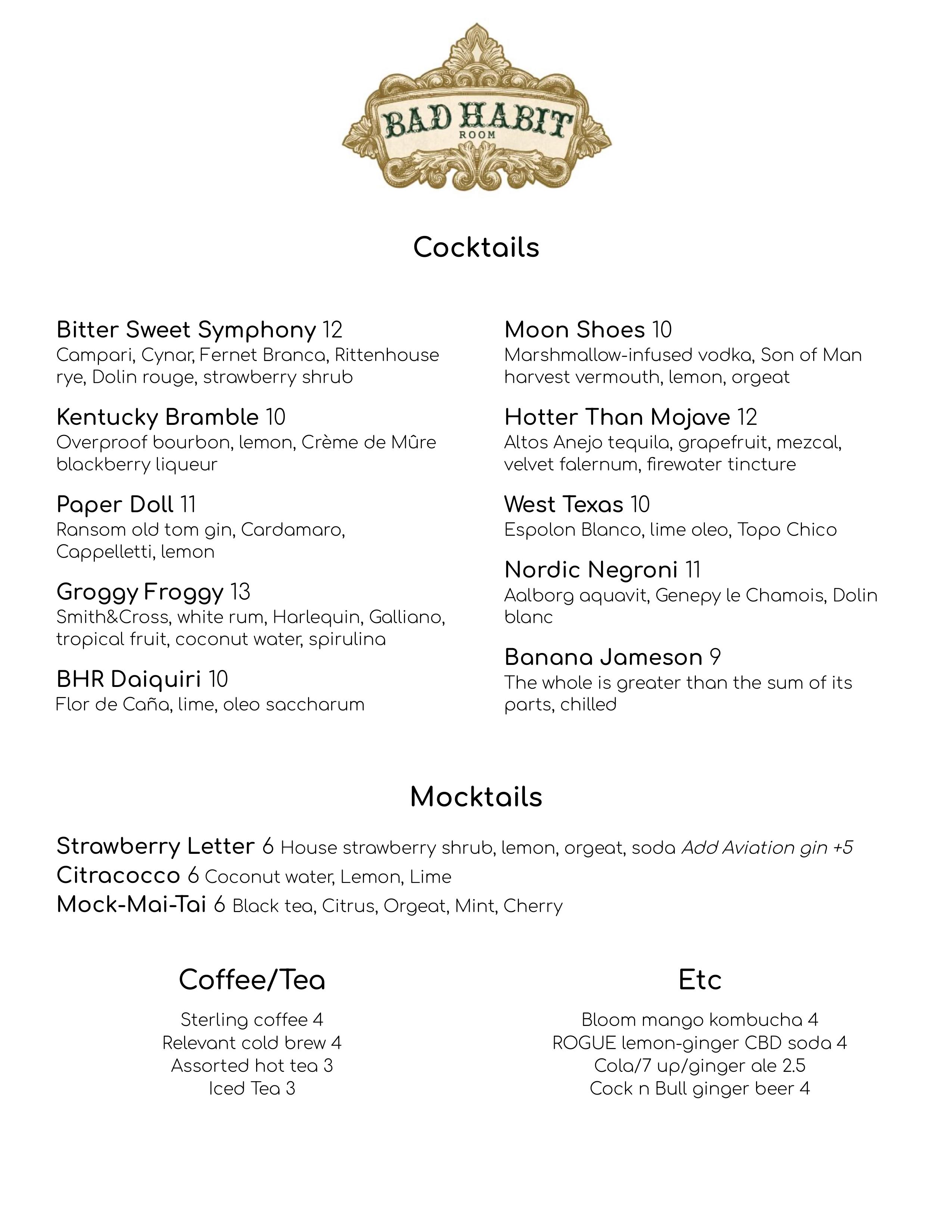 In the coming months, Bad Habit Room will be working on addition beer and cocktail collaborations; one with Alesong Brewing and Blending's Matt Van Wyk and another with Logsdon Farmhouse Ale's Shilpi Halemane.
Bad Habit Room is now open for cocktails Wednesday – Monday from 4:00-10:00pm. It is also open once again for Brunch on Saturdays and Sundays from 9:00am-2:00pm. Future beer and cocktail collaborations, food pop-ups, and other events will be announced regularly on their Instagram account at @badhabitroom.
Bad Habit Room
5433 N Michigan Ave.
Portland, OR 97217