Baerlic & Gigantic Beer Releases, Pelican Tasting and Fremont Looks To Spring: Beer Events For The Week of January 5th
|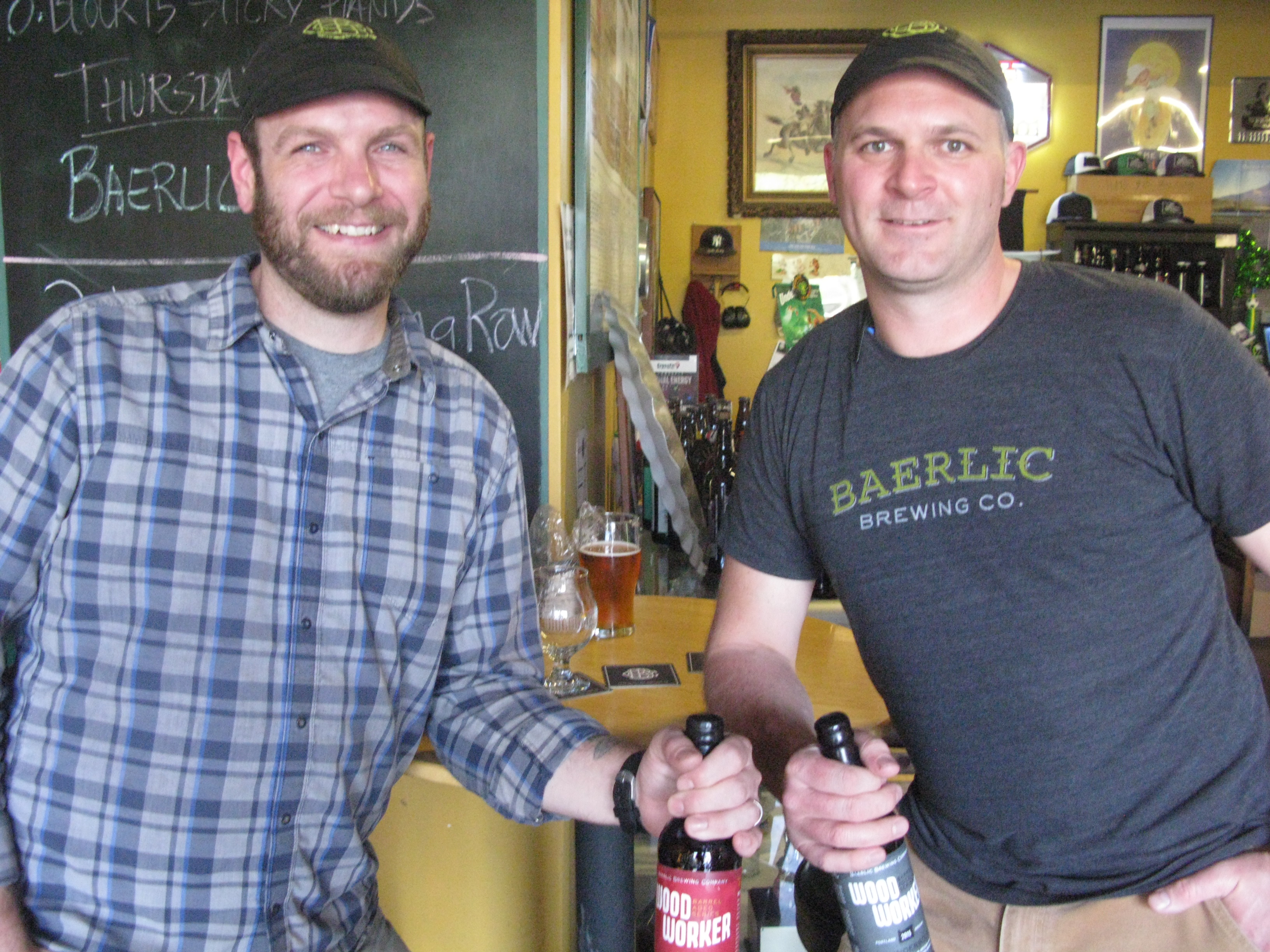 For the week of January 5th, look for beer releases from Baerlic Brewing, a collaboration from Gigantic Brewing, and Fremont Brewing, a tasting from Pelican Brewing and much more.
Dark Thoughts Black IPA Release
4 p.m. Thursday Jan. 5, Baerlic Brewery & Taproom, 2235 SE 11th Ave.;
Dark Thoughts is Baerlic Brewing's newest seasonal and will be available on draft and in 22-oz. bottles. Judging by the reported ABV — 6.66 percent — and the bitterness — 66.6 IBU — we can guess that Rik and Ben (and yes, marketing guy Jim Parker) had some fun with this one: " To possess Dark Thoughts with the precise amount of pure evil, we cold steep the hell out of roasted wheat for 24-36 hours. By utilizing this slow and torturous process, we're able to extract the rich chocolate, sweet and fruity flavor compounds while leaving behind the harsh and tannic flavors of the roasted malt—think of rich cold-brewed coffee vs. that of the heartburn-inducing gas station variety."
Dark Thoughts Flavor Profile
6.66% ABV
66.6 IBU
Black IPA/Cascadian Dark Ale brewed w/ Cold-Steeped Roasted Wheat
Dryhopped with .666 lbs per barrel each of Columbus & Mosaic Hops
A classic IPA possessed with a maniacal evil, Dark Thoughts Black IPA is brewed with cold-steeped roasted malts for an eerily smooth darkness and dryhopped with 6.66 lbs each of pungent Columbus & Mosaic hops.
Pelican Tasting, Meet the Brewer and Mother of All Storms Tapping
5-7 p.m. Thursday Jan. 5, Belmont Station, 4500 SE Stark St.;
Talk beer with brewer Coren Michaud-Tradd, sample some award winning beers and see what they're planning for 2017 seasonal releases. Draft list includes:
MacPelican's – Scottish-Style Ale
Beak Breaker – Double IPA
Beeznus – Honey Citrus Pale Ale
Mosaic IPA
Tsunami Stout (Nitro) – Foreign Export Stout
Mother of All Storms – Bourbon Barrel Barleywine
Gigantic/Behemoth Collabo IPA Release
5-9 p.m. Friday Jan. 06, Gigantic Brewing Co., 5224 SE 26th Ave.;
Too Big to Fail Triple IPA is a hop beast collabo with New Zealand's Behemoth Brewing Co. and hopped to the hilt with Nelson Sauvin, Simcoe, Citra and Lemondrop: 10.6 percent.
Homebrew Classes
Noon-2:30 p.m. Saturday Jan. 7, Saturday Jan. 28, F.H. Steinbart, 234 SE# 12th Ave. $45. Class size is limited, so call 503-232-8793 to register.
Where better to learn the art of homebrewing than at F.H. Steinbart, the country's oldest homebrew supply shop at nearly a century old. Better yet, they'ver upgraded the curriculum and the Beginner Brewing Class has been redesigned to make it it more hands-on and in-depth. They'll cover best practices for extract brewing from the boil to the bottle. Learn how to hone your recipes with a wide range of specialty grains, plenty of hop options, and the best yeast selection in town. Each attendee will take home a one gallon jug of beer wort made in class (with stopper, airlock, yeast, and 2 gallon plastic bucket) to finish fermenting at home.
Big Ass Beer Month continues at the Green Dragon/Rogue Eastside
Wednesday, Jan. 11, Rogue Eastside, 928 SE Ninth Ave.;
They spiffed up the Green Dragon and made it the 10th Rogue meeting hall, but the Green Dragon Brew Crew remains, avid homebrewers who have brewed more than 300 beers. Baltic Porter is the latest release and here's what the press release says about it:
Before there was stout, there was porter. Porters were considered the "big dark beers" of the world at the time and one characteristic they all share is that while dark in color they are not "roasty" meaning they don't taste burnt because they do not have heavily roasted malts in the malt bill. But even so, porters can have a sharp, somewhat acidic taste from all the dark malts used to make the beer. Long ago brewers discovered that by using a lager yeast to ferment the beer they could reduce that sharp flavor and produce a very smooth, almost soft, taste profile. It became a favorite drink of the Baltic region and these porters became known as Baltic Porters.
Deep and intense flavors of bread, chocolate, and vanilla emerge as you drink this porter. It has the trademark smoothness of a lager and the multi layered complexity of a truly fine beer. The bittering hops add enough balance to take your mind off all of that dark malt. Smooth, clean, deep and complex are the words to describe this rare and difficult to find beer. 9.2 percent,
30 IBU
Fremont Lush IPA Day – Portland Release Party
Wednesday Jan. 11, Bailey's Taproom, 217 SW Broadway;
Fremont Brewing launched a new Spring Seasonal called Lush IPA just after New Year and they're bring the party to Portland next week. Made with a blend of Northwest malts and juicy, tropical hops, the press release says, Lush evokes the warmth and promise of the coming spring. Lush replaces Fremont's first Spring Seasonal, 77 Select, and features Citra hops and a spring dusting of Mosaic for a clean, lush aroma. Lush tastes like spring feels.