Bailey's 8th Anniversary Barrel-Aged Beer Festival & Session Alley
|
This weekend will be a spectacular one for craft beer. As the Oregon Brewers Festival continues its run into the weekend, Bailey's Taproom's 8th Anniversary will also take place just a short walk away when Downtown Portland's best taproom celebrates its 8th year serving some of the best craft beers on Saturday, July 25th from Noon to 11:00pm.
New for this year, Bailey's 8th Anniversary will see a much larger space for its celebration by taking the festivities outdoors for a block party on SW Ankeny Street when it unveils Session Alley along with a Sold Out VIP Event at The Upper Lip featuring six rare beers. Yes, Bailey's will be closing down SW Ankeny to bring even more beers to the Anniversary. A portion of all proceeds will be donated to New Avenues for Youth, an organization that offers programs and services that empower homeless youth to exit street life.
The folks at Bailey's Taproom brewed a special 8th Anniversary beer in Astoria at Fort George Brewery. This barrel-aged collaboration is exclusive to Bailey's and is named Anni, Are You Oak-Aged? This 9.7% Wee Heavy ale was brewed back in December of 2014 and then aged in Bull Run Whiskey barrels for a little over six months.
Not only will this one-of-a-kind brew be available on tap for the festival, but Bailey's will also be offering a limited number of 32oz Crowlers for sale to go. For anyone who hasn't seen a Crowler machine in action, it seals cans of draft beers as easily as you might fill a glass growler, resulting in fresh tasting beer available outside its natural habitat.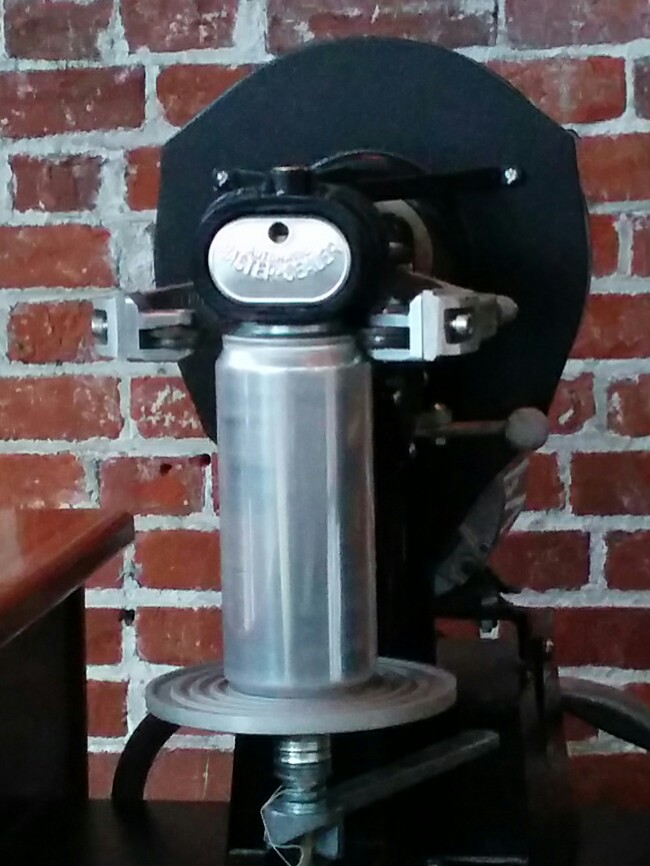 As in years past, Bailey's Taproom will be pouring over twenty special barrel-aged beers and ciders. The taplist will bring everything from wee heavies to barleywines, imperial stouts and mouth puckering sours. This is said to be one of the highest-octane collections of brews your taste buds have ever tried to tackle. Admission will be free and non-ticketed, and most beers will be available in both 12 oz glasses and 4 oz pours.
Here is the complete barrel aged draft list for the beers that will be pouring inside Bailey's Taproom.
Almanac Devil's Advocate – Dry Hopped Sour (Wine)
Barley Brown's Don Venucchi – Imperial Stout (Bourbon)
The Bruery Cuivre – Old Ale w/ Belgian yeast strain (Oak)
Block 15 Cardinal Coalescence – Flanders Red w/ Raspberries (Brandy)
Breakside Cerveza Carajillo – Imperial Stout w/ Mexican Coffee (Rum)
Crooked Stave Surette – Sour Saison (Oak)
Crux Freakcake – Oud Bruin w/ dark fruits (Bourbon)
Finn River Fire Barrel – Cider (Bourbon)
Firestone Parabola – Imperial Stout (Bourbon)
Flat Tail Wild from the Vine (Wine)
Fort George/Bailey's Taproom Anni, Are You Oak-Aged – Wee Heavy (Bourbon)
Fremont Abominable – Winter Warmer/Strong Ale (Bourbon)
Green Flash Natura Morta Plum – Saison (Red Wine)
Holy Mountain Third Nail – Saison w/ brettanomyces (Wine)
Laurelwood Santa's Woody – Barleywine (Bourbon) – nitro
Local Option Die Konigin – Kellerbier (Oak)
McMenamin's Edgefield Cerberus Wild Ale (Whiskey)
Oakshire Hellshire V – Imperial Stout (Bourbon)
Pelican Mother of All Storms – Barleywine (Bourbon)
pFriem Flanders Blonde (Pinot Noir)
Reverend Nat's Hallelujah Hopricot (Bourbon)
Russian River Supplication – Sour Ale w/ cherries (Pinot)
Santiam Pirate Stout – Stout w/ coconut (Rum) – cask
Sun King Paradis – Wee Heavy (Cognac)
Upright Heart's Beat (Wine)
For those fortunate enough to have a VIP Ticket you will be treated to a pour of Bayerischer Bahnhof Goseator, Block 15 '11 Imagine, The Bruery Black Tuesday, De Proef/Hair of the Dog '12 Flanders Fred, Russian River Consecration, and Straffe Hendrik '13 Heritage. All of this and a  22 oz souvenir Bailey's 8th Anniversary Snifter glass, plus artisan cheeses and charcuterie provided by Steve's Cheese and Olympia Provisions.
Then the largest addition to Bailey's Anniversary is the new Session Alley that will overtake SW Ankeny as an outdoor, fenced-in beer garden with picnic tables and an additional six taps dedicated to summer drinking. Take a break from all those brain cell-blasting brews with a pint of Pilsner, a Berliner Weisse or an ISA. Patrons of Bailey's Taproom will be welcome to take their beer outside to enjoy in the open air and those who have purchased VIP tickets will be able to freely roam between all three bars.
Then for those that want to take in Session Alley here are the beers that will be pouring in the street.
Boneyard Bone Lite – India Session Ale (4%)
pFriem Session IPA – India Session Ale (4.5%)
Pints Amerikaner – Berliner Weisse (2.8%)
Falling Sky Hassel Haferbier- Hefeweizen w/ oats (4.5%)
Arch Rock Gold Beach Lager – Pilsner (5%)
Upright Todo Modo – Saison (3.8%)
Anyone looking to bring home some additional suds after the anniversary will want to check out Session Alley, where they'll be Crowling off Session IPA, Berliner Weisse, Helles and plenty of other quaffable brewskis in addition to serving pints for onsite consumption.
Bailey's Taproom
213 SW Broadway
Portland, OR 97205