Beer Events Leading Up to the OBF: Oregon's Biggest Week in Craft Beer
|
Great Notion beertender and staunch advocate Andrew Robinson recently brought by a sample of the brewery's new Whole Melon IPA and it was a revelation. It's named after the only hop used, Hüll Melon, which was bred at the Hop Research Institute in Hüll in the Hallertau region of Bavaria. A moderate alpha aroma hop, "this hop variety has bold flavors," according to the website "and is not necessarily associated with typical hop variety aromas. Specific aroma descriptors include distinctive honeymoon melon and strawberry."
I'll drink to that: Whole Melon is a cloudy amber and has an amazingly rich, fruity aroma – melons, peaches, strawberries – they're all there – yet the beer has no fruit, whole or puree, added. And the fruit bouquet underlies the flavor of the beer and is a welcome antidote to the hoppier-than-thou-IPAs of the ongoing hop wars…especially that one hop that always makes me think of the lament in the Blackie and the Rodeo Kings song: "do you bring me water or gasoline?"
Whole Melon is not one of those, and at 6.7 percent alcohol, it's not killer huge either. The catch is that they've brewed just a single seven-barrel batch so far, which won't last long – less than a week, probably. So if you want to taste a whole new (welcome) direction for Oregon's favorite beer style, head over to Great Notion Brewing & Barrel House, 2204 NE Alberta St #101 – vote early and often…
Meet the Alesong Brewer
5 p.m. Thursday July 21, Green Dragon, 928 SE Ninth Ave.;
Meet Alesong Brewing & Blending founder and brewmaster Matt Van Wyk (late of Oakshire Brewing) and sample some of his beers such as Alesong BPA – Dry-hopped Belgian style Pale Ale with floral aromas and a hint of spice; Indi's Gold – A Petite Saison with Black Tea; Strawberry Gose – a Traditional Gose-style ale (sea salt and coriander) with a light kiss of strawberries; and Bourbon Prelude – Rich. Dark Cocoa. Vanilla. 10.5 percent.
Selfie Fest Roadshow
6-9 p.m. Thursday July 21, McMenamins 23rd Avenue Bottle Shop, 2290 NW Thurman St.;
The Baerlic crew continues Selfie Fest Tour 2016, the brewery's celebration of the independent brewers of Oregon who make, sell and deliver their own beers. Swing by for a night of beers with the brewers from Baerlic Brewing, Ruse Brewing, Vagabond Brewing and Royale Brewing.
Belgian Independence Day
5-9 p.m. Thursday July 21, Bazi, 1522 SE 32nd Ave.; $9 for three 5-oz pours.
Celebrate Belgium Independence Day with a Brasserie Dupont tasting tray featuring the Classic Dupont, Avec Les Bon Vous, and Duex Amix (collaboration with The Lost Abbey.) T-shirts, key chains and other cool swag will be given away during the course of the evening.
Happy Anniversary and Goodbye to the Good Ol' Hop & Vine
3 p.m. – close Friday July 22, The hop & Vine, 1914 N. Killingsworth St,;
Talk about bittersweet: the Hop & Vine, one of Portland's best taproom/bars, celebrates its eighth anniversary Friday night – and its last two days of business: "Join us on Friday July 22nd for our 8th Anniversary Luau Shenanigans Closing Party and help celebrate 8 glorious years of business in North Portland. In order to blow it out for our last two days of business we are planning an 8th Anniversary Party in style by throwing a Luau themed party on our huge patio. Starting on Friday at 3pm we are welcomes friends of new, old and everyone else to join us with the spirits from the tropical island gods to celebrate in Luau style with a Pig Roast at 6 p.m. and Pineapple Cocktails all day and night."
This just in from Hop & Vine owners Yetta Vorobik and Chad Yakobson:
We are closing the Hop & Vine because we did not want to continue with an additional 5 year lease at the current location. We are looking for a building to purchase so we can re-open the Hop & Vine. We would like to be able to maintain a higher standard and grow our quality aspects of the bar. When we re-open we will be able to have a better draft system, a bar set-up more suited for specialty cocktails and a better kitchen space with more room! We love Oregon and we hope to have our baby back up and running soon!
Migration's New Beer Fridays in July
Friday July 22 , Migration Brewing Co., 2828 N.E. Glisan St.;
Migration is celebration Oregon Craft Beer Month by releasing a new beer every Friday, continuing this week with ISA Got Back, a 4.4 percent India Session Ale, which will be released on July 22.
Breakside Milwaukie Summer Luau
Noon – 8 p.m. Saturday July 23, Breakside Brewery Milwaukie Tasting Room & Brewery, 5821 SE International Way, Milwaukie; $15 includes glass & four tix. All ages ok.
Breakside Brewery celebrates the sun, refreshingly crisp, hoppy and tart beers, Hawaiian-style BBQ and family friendly games and entertainment at the third annual Summer Luau, featuring the release of Breakside's most popular seasonal, Passionfruit Sour Ale. Celebrate its Hawaiian influence with music, games and great beers and Hawaiian-themed menu with meat and veggies and specials like Chef Mike Delaney's famous Kahlua Pork. The tasting room will be pouring a new batch of Passionfruit Sour Ale, and Wanderlust IPA poured through a fresh-mango-filled Randall. Also: kids corner & activity packs; outdoor misters; and a kiddie soaking pool.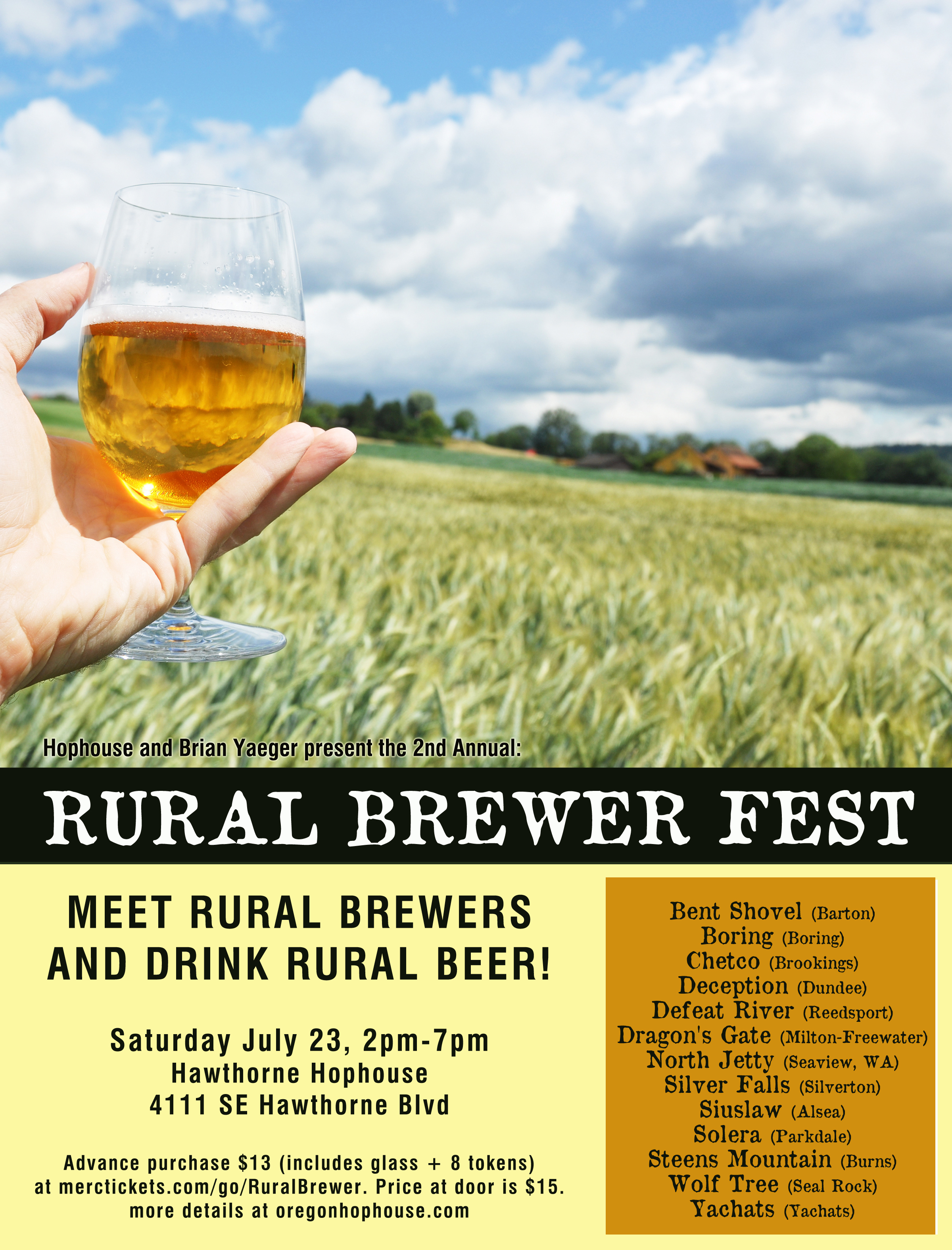 The Rural Brewer Fest
2-7 p.m. Saturday July 23, Hawthorne Hophouse, 4111 SE Hawthorne Blvd.; $15 includes 8 tix. Minors OK.
Author Brian Yeager's beerfest celebrates more than a dozen of the smallest and most remote breweries in Oregon, each from a town of fewer than 10,000 people — and several from towns with fewer than 500 souls, such as Siuslaw Brewing from the smallest Oregon city with a brewery, Alsea (population 164). A variety of styles will be pouring, from hoppy IPAs to fruit beers and Belgian styles. Here's the list of breweries:
Bent Shovel Brewing (near Barton)
Boring Brewing Co (Boring)
Chetco Brewing Company (Brookings)
Deception Brewing Company (Dundee)
Defeat River Brewery (Reedsport)
Dragon's Gate Brewery (Milton-Freewater)
North Jetty Brewing (Seaview, WA)
Silver Falls Brewery (Silverton)
Siuslaw Brewing (Alsea)
Solera Brewery(Parkdale)
Steens Mountain Brewing Company (Burns)
Wolf Tree Brewery (Seal Rock) and…
Yachats Brewing + Farmstore (Yachats)
29th Oregon Brewers Festival
Noon-9 p.m. Wednesday July 27- Saturday July 30, noon – 7 p.m. Sunday July 31, Tom McCall Waterfront Park: no admi9ssion charge, $7 for 2016 glass, beer tokens $1 each. Photo ID required, minors OK all hours when accompanied by a parent.
One of the country's longest-running and best loved beer fests is a craft beer destination for 80,000 who annually make the pilgrimage to Beervana to drink in one of the world's best settings for a beer festival. The 29th annual will serve 88 beers ranging from Belgians to braggots, cream to coffee ales, goses to gluten free, pales to Pilsners and saisons to stouts from craft breweries across the nation.
The International Beer Garden will feature six breweries from Japan – Baird, North Island, Shiga Kogen, Shonan, Y Market and the winner of a national beer competition in Japan hosted by the Japan Beer Journalists Association; seven breweries from The Netherlands – De Molen, Frontaal, Maximus, Oedipus, Oersoep, Oproer and Van Moll; plus two breweries from Germany – Brauerei Nothhaft and Lang Bräu. The International Beer Garden began three years ago as part of a cultural exchange of ideas, knowledge and the worldwide celebration of craft beer and has been growing every year. As always, the event also features five days of live music, food booths, craft vendors and homebrew demonstrations.
And, as always, the OBF organizers remind us that parking is at a premium/nonexistent: take MAX instead, which has a station just one block away from the main entrance. Or ride you bike and take advantage of the Hopworks Urban Brewery secure bike corral.
Buoy in the Pearl
Wednesday July 27- Sunday 31, River Pig Saloon, 529 NW 13th Ave.;
Yes, there'll be no end of fine beers on the waterfront at the OBF, but the Buoy crew will also take over the taps at the River Pig Saloon during the fest, turning it into the Buoy Beer Saloon. Meet the Buoy Beer staff Wednesday night, including founders, brewers and the rest of the crew and enjoy a taplist of standards and one-time brews, including:
Dragon Weisse (brewed for the 2016 OBF)
Buoy IPA
Buoy Czech Pils
Buoy NW Red Ale
Buoy Helles
Buoy Dunkel
Buoy Pale Ale
Brewer's Retreat Kolsch
Benedict Cumberbatch
Simcoe Single Hop
Session Pale Ale
Rice Rice Baby
Hellesbock
River Barrel-Aged Hellesbock