Beer Fests in Portland, Bend, Vancouver and Newport – Beer Events Week of August 10
|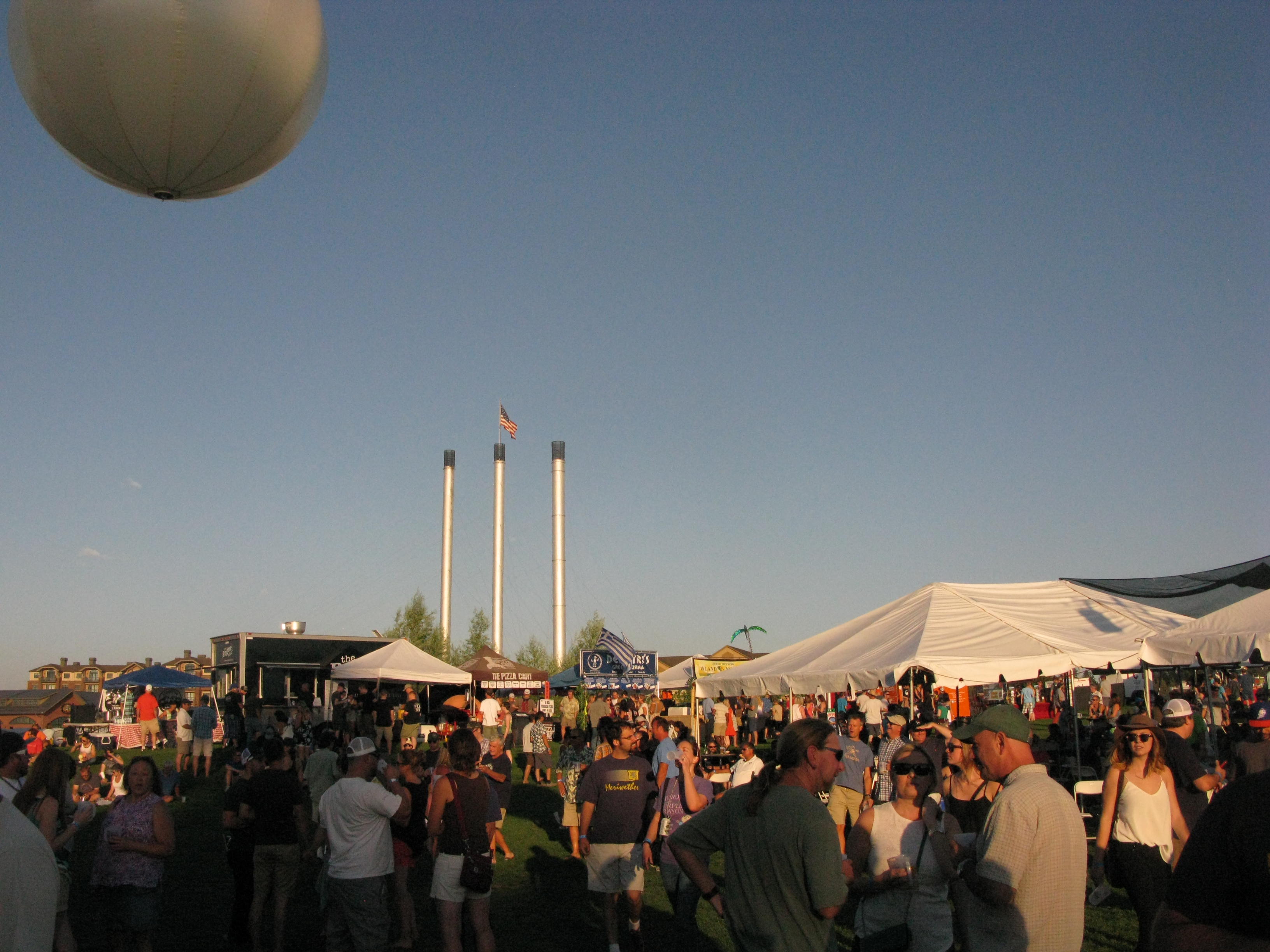 The week of beer events beginning August 10th includes beer festivals in Portland, Bend, Newport and Vancouver. Plus the city of Portland honors Terry Currier, owner of Music Millenium with his very own day on Saturday. 

15th Annual Bend Brewfest
Noon-11 p.m. Thursday August 10, Friday August 11 & Saturday August 12, Les Schwab Amphitheater, 344 SW Shevlin Hixon Drive, Bend; free admission, mug/token packages start at $20. 21 & over after 5 p.m. daily; no dogs allowed.
Traditionally held the third weekend of August in Bend's Old Mill District, this year's event was moved up a week to avoid the highly anticipated solar eclipse, which will pass over Central Oregon on August 21. The Bend Brewfest showcases some of the most innovative breweries in the country, large and small. West Coast heavyweights Deschutes, Lagunitas and Sierra Nevada will once again be at the Bend Brewfest, as will regional favorites like Crux, pFriem, Fremont and Hopworks Urban Brewery. Craft beer aficionados will also have the chance to sample some of the Pacific Northwest's smaller standouts such as Sedition Brewing out of The Dalles, Oregon; Ashtown Brewing from Longview, Washington; and Incline Cider Company based out of Auburn, Washington. Overall, more than 200 beers, ciders and wine will be showcased during the festival.
One of the yearly highlights at the Bend Brewfest is its X-Tap program, a specialty beer festival within the Brewfest featuring small batch and experimental beers. That's where festivalgoers can indulge in big barrel-aged beers such as Anderson Valley's Wild Turkey Bourbon Barrel Aged Salted Caramel Porter or Deschutes Brewery's Black Butte XXVII, both of which will be on tap at this year's Brewfest. The 2017 X-Tap program also includes a number of hard-to-find sour and farmhouse ales, such as pFriem's Kumquat Farmhouse Ale, Buoy's Benedict Cumberbatch and Boneyard's Gooze Cruze. Approximately 40 breweries and cider houses are participating in this year's X-Tap program.
Dog Days of Summer
5-10 pm Friday August 11, Noon – 10 pm Saturday August 12, Rogue Ales Brewery, 2320 OSU Dr. Newport; $5, kids and dogs free
Billed as the world's largest beer and dog festival Dog Days of Summer is the incarnation of what was once known as Brewer's Memorial Ale Fest, an event dedicated to Rogue Brewmaster John Maier's late dog, Brewer. This most doggeriffic of all events features many of the same dog-inspired events and live music, but with a strictly Oregon Coast taplist from Rogue Ales, Buoy, Pelican, Rusty Truck, Wolf Tree, Yachats Brewing Co, Bier One, de Garde, Fort George and more. Proceeds will benefit local animal charities including Oregon Coast Therapy Animals, Lincoln County Animal Shelter, Friends of the Lincoln County Animal Shelter, plus Portland Animal Welfare (PAW) Team, Imagine Peace for Pups, and Deaf Dogs of Oregon.
First Portland Radler Festival
Noon-8 pm Saturday August 12, Stormbreaker Brewing, 801 N. Beech St.; $20 includes mug and 8 tix.
Portland's first celebration of the way-refreshing confluence of beer and fruit soda features more than 20 breweries/cideries pouring Radlers, a drink that takes its name from the German word for cyclist, whose favorite thirst-quencher this is. Organizers say yhere may not be a better drink on a hot Portland summer day, and this just might be the most refreshing beer festival of the summer –the street will be tented for shade and there will be live music featuring Buddy Jay's Jamaican Jazz Band too. Here's the roster: StormBreaker, Baerlic, Base Camp, Breakside, Burnside, Coalition, Commons, Culmination, Gigantic, Great Notion, Hi Five Cider, Hopworks, Montavilla, Oregon Mead and Cider, Pono Brewing, Reverend Nat's, Ross Island, Stiegl, Widmer, Wild Ride, Zoiglhaus, 54 40
Terry Currier Day
Saturday August 12, Music Millennium, 3158 E Burnside St.;
You may not know Terry Currier but if you go to live music shows in Portland, you've likely seen him, the tall, curly haired gent dressed all in black. For 40 years, Currier, who owns Music Millennium, has been at the heart of the Portland music scene, so much so that Mayor Ted Wheeler proclaimed Saturday as Terry Currier Day. "Terry Currier, owner of Portland's long-serving, independent and iconic Music Millennium record store for over thirty years has provided tireless, unrivaled support and assistance to all facets of the renowned and well-established Portland music community, including musicians, venues and events…"
Former mayor Bud Clark, who brought joy and order to this city from 1985 to 1992, will present the City of Portland Proclamation to Terry Currier at 1 pm in the Music Millennium back lot on Saturday, August 12. Bud Clark may be best known for The Mayor's Ball, an annual charity event featuring independent musicians from all over the Pacific Northwest. It helped pay off his campaign debts and created a fund for various Portland charities. In 1967, he opened the Goose Hollow Inn tavern that celebrated its 50th anniversary last weekend.
I don't know of any specific events planned so maybe we music lovers should informally raise a pint Saturday to Portland's own man in black…
Axe Throwing With Timber Jim
12.30-2.30pm Saturday August 12, Cider Riot Pub, 807 NE Couch St.;
Join Timber Jim and Portland Axe Throwing learn to throw axes, pick up your Lemmy' s Summer Camp axe throwing merit badge and stick around for the Timbers vs Toronto match.
Breweriana Garage Sale
8 am-3pm Saturday August 12, The Lair Bar & Grill Parking Lot, 17720 SE McLoughlin Blvd., Milwaukie;
The beer collectors of the Cascade Breweriana Assoc. celebrate National Garage Sale Day by selling — and buying! — beer memorabilia: old signs, posters, schwag, glassware — collectibles of all kinds. It's a fun browse and a great group of people and there are lunch and dinners specials inside the tavern…
2017 Vancouver Brewfest
4-9:30 pm Friday August 11, Noon-9 pm Saturday August 12, Esther Short Park, 415 SW Sixth Ave., Vancouver; 21 & over only. Various entry packages from $20 – $37, $7 for designated drivers. $1.25 tokens are good for beer/food purchase, ATM onsite.
The Vancouver Brewfest features more than 100 brews to try, a variety of wine, cider, and meads, great food, fun, art/craft vendors and live music — the premier event for beer lovers in Southwest Washington. Sample for 1 token or get a whole pint for 4 tokens. $1.25 per token. Keep your wristband and glass from Friday and get in free Saturday.
OP Wurst Brewers Series
4 pm Saturday August 12, OP Wurst Division, 3384 SE Division St.;
The Olympia Provision folks are launching a Brewer's Series every Saturday through Oktoberfest — September 30 — at OP Wurst Division. Founders is the featured brewery this weekend and they'll be onsite pouring All Day IPA, Founders Pale Ale and more. Also: live music, food specials, patio games and giveaways.