Beer List For Saraveza's 7th Annual IIPA Festival
|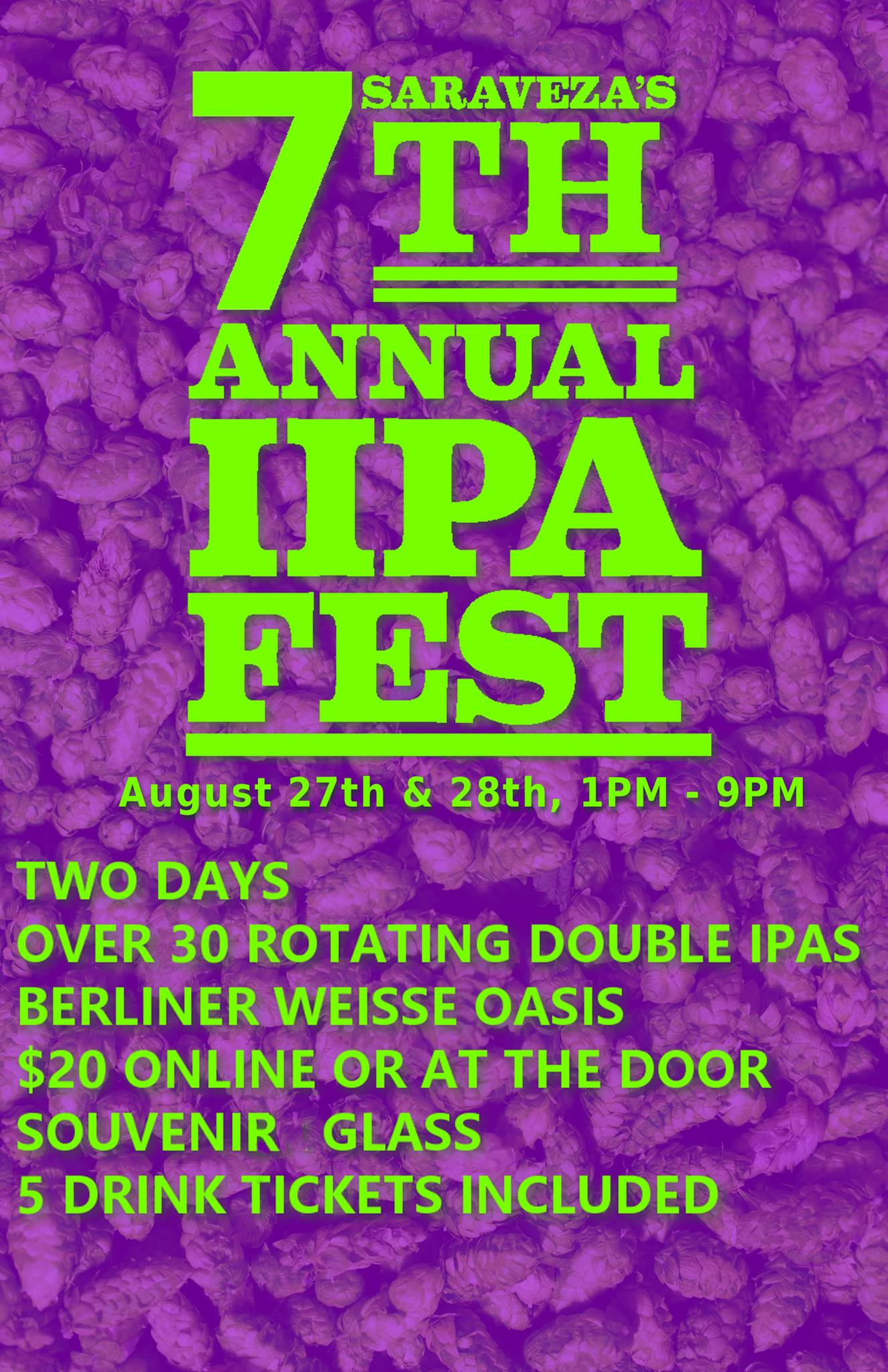 The beer list has been revealed for the 7th Annual IIPA Festival as it returns to Saraveza Bottle Shop & Pasty Tavern over the last weekend in August. From 1:00 to 9:00pm on Saturday, August 27 and Sunday, August 28, Saraveza and Bad Habit Room will host the hoppiest two days in beer. For 2016 there will be 38 Imperial IPAs pouring, the return of the Berliner Weisse Oasis and a new food option of Double Beef Burgers.
Entry to the 7th Annual IIPA Festival is $20.00 that includes a commemorative IIPA Festival glass along with 5 beer tickets that are good for a 4 oz. sample of beer. Some of the festival beers will cost 2 tickets per 4 oz. sample. Advanced ticket purchase is encouraged.
Here is the beer list for the rotating Imperial IPAs during the 7th Annual IIPA Festival.
54 40 – A.D.H.D. – Dry hopped with Citra just for the fest!
8 Wired – Superconductor
Alameda – Yellow Wolves of Thailand
Avery – Maharaja
Ballast Point – R&D Experimental IIPA
Barley Brown's – Forklift
Block 15 – Sticky Hands
Boneyard – Hop Venom
Breakside – The Pathfinder
Claim 52 – Area 52
Coalition – Bourbon Science
Culmination – Elation
Dogfish Head – 120 Minute
Double Mountain – Pale Death
Elysian – Space Dust
Epic – Imperial IPA #55
Ex Novo – Dynamic Duo
Fat Head's – Hop Dependency – 2016 GABF Alpha King entry!
Fort George – TBD IIPA – brewed just for the fest!
Fremont – The Brother
Fremont – The Brother – infused with Grapefruit and Rosemary
Georgetown – Fruit Vendor
Golden Valley – Alphaville
Great Notion – Juice Box
Great Notion – Party in Your Mouth
Knee Deep – 6th Anniversary
Lagunitas – Citra Stoopid
Loowit – Robot Overload – brewed just for the fest!
Mazama – Double Eruption
Melvin – 2×4
Mikkeller – Crooked Moon Tattoo
Nogne-o – Two Captains
Pelican – Beak Breaker
Renaissance – Boom!
Russian River – Pliny The Elder
Santiam – Bloody Hell
Sierra Nevada – Six Rights
Silver Moon – Crazy Horse
Sixpoint – Puff
Sixpoint – Resin
Stone – Citracado
Three Magnets – TBD IIPA – brewed just for IIPA fest!
Walking Man – My Old Kentucky Homo
To keep one's palate refreshed, Saraveza will once again be offering its Berliner Weisse Oasis. Be ready for Berliner Weisse style beers from seven different breweries. Organizers state that this will be the last year for the Berliner Weisse Oasis as next year it will break out into it's own festival. Here's what to expect.
Berliners:
Bear Republic – Tartare
Claim 52 – Day Drinker
Culmination – Deutschland Down-Under
Mikkeller – Hallo, Ich Bein Berliner Weisse Cherry
Perennial – Hopfentea
Prof Briem's – 1809
Upright – Dry Hopped Berliner Weisse
One change to this year's IIPA Festival is that its Double Bacon BLTs are being retired. Yes, Saraveza is well known for its bacon but this year things are changing by offering double beef burgers.
The safest way to arrive and depart from Saraveza's IIPA Fest is to take TriMet. The #72 & #4 bus lines run right to Saraveza and the MAX Yellow line N. Killingsworth stop is just a few blocks away to the west. There is limited off-street parking available in the PCC #6 lot across Killingsworth from Saraveza.
Stay up to date on all of the 7th Annual IIPA Festival happening by following its Facebook Event Page. Also be sure to follow Saraveza on Instagram at @saravezapdx and use hash tag #IIPAFest.
Saraveza Bottle Shop & Pasty Tavern
1004 N. Killingsworth St.
Portland, OR 97217