Beer List for the 13th Annual Big Wood Festival at Brouwer's Cafe
|
Big, bold beers will take over Brouwer's Café in Seattle when the legendary beer bar hosts its 13th annual Big Wood Festival. This year's four-day festival featuring heavy alcohol variations of Barleywine, Stout, Sour Ales, and IPA will take place from Thursday, December 5th – Sunday, December 8th.
Opening each day at 11:00am, Brouwer's Café will bring together an impressive curated list of beers over 50 barrel-aged beers, making it one of the biggest festivals of its kind in the Emerald City. Best of all, there are no tickets or cover charge, just come on down and enjoy the beers that you are intrigued by.
Here's a preview of what will be on tap during the 2019 Big Wood Festival…
13th Annual Big Wood Festival Tap List:
Alesmith Bourbon Bbl-Aged Vietnamese Speedway Stout '16 (12%)
Alesong Raspberry Rhino Suit BA Imp Stout w/ Raspberries (11.1%)
Aslan Peach Dojo Oak-Aged Saison w/ Peaches (7%)
Best of Hands State of Non-Return Oak-Aged Saison (6.5%)
Big Time Bourbon Bbl-Aged Breakfast Cereal Killer '19 Stout (8.5%)
Block 15 Turbulent Consequence Peche '14 Sour Ale w/ Peaches (6.9%)
Boneyard Bourbon Bbl-Aged Suge Knite '19 Imp Stout (16%)
Boon Schaarbeekse Oude Kriek (6.5%)
Breakside Sun Ripened '19 Chardonnay BA Golden w/ Nectarines (7.5%)
Burial The Extinction of Useless Light Rum BA Sour Quad (12%)
DCB BBCM Bbl-Aged Sour w/ Corn, Pineapple, Cloves & Cinnamon (9.8%) $
Dugges Coffee Vanilla Deluxe Whiskey BA Imp Stout (15%) Landvetter
Dwinell Country Ales Fruit Machine Farmhouse w/ Cherries (6.5%)
E9 Balaton & Brother Bing Wild Ale w/ Cherries & Raspberries (8%)
Elliott Bay Rum Bbl-Aged Fauntleroy '19 Imp Stout (9.2%)
Epic Brewing Big Bad Baptist #73 Bbl-Aged Imp Stout w/Coffee (12.5%)
Ex Novo Protect Ya Nect' '18 BA Sour w/ Peaches & Nectarines (6.5%)
Finnriver Sour Plum Cyser '16 (7%)
Firestone Walker Maple Parabola '19 Maple Syrup BA Imp Stout (10%)
Fort George Clatsop Mule Bbl-Aged Strong Ale w/ Lime & Ginger (13.3%)
Fremont Rusty Nail Bbl-Aged Imp Stout w/ Licorice & Cinnamon '18(14.5%)
Garden Path/Thiriez Buffalo x 11 Bbl-Aged Bière De Garde Blend(7.4%)
Georgetown Tombourbon Bourbon Bbl-Aged Brown Ale (9.1%)
Great Divide Barrel-Aged Yeti '19 Bourbon Bbl-Aged Imp Stout (12.5%)
Hair of the Dog Matt '19 Bbl-Aged Strong Ale (12.5%)
Het Nest Aquavit BA Dead Man's Hand Imp Stout (10%)
Hill Farmstead Arthur Foudre-Aged Farmstead Ale (6%)
HofTen Dormaal Kriek (6.5%)
Holy Mountain Bbl-Aged Bonne Nuit '17 Belgian Holiday Ale (9.99%)
Little Beast Rhūs Jūs'19 Sour w/ Sumac, Elderflower & Elderberries (6.56%)
Logsdon Eagle Kriek Bbl-Aged Sour Blend w/ Cherries (7%)
Lost Abbey Red Poppy '19 Oak-Aged Flanders Red Ale (6.5%)
Matchless Pinot Punch Down Pinot Grape & Foudre Aged Sour Blend(13%)
Mirage Battle of Cameras Wine BA Tart Saison w/ Peaches
Modern Times Mega Devil's Teeth: NOLA Coffee'19 BA Imp Stout(13.5%)
Narrows BA Gloom Imp. Stout (14.1%)
New Belgium Southern Vine Foeder-Aged Golden Sour w/ Grapes (8.4%)
North Fork Electric Strawberryland'19 Bbl-Aged Sour (6.9%)
Oakshire Hellshire IX '19 Bourbon Bbl-Aged Imp Stout (13%)
pFriem Brouwer's 14th Anniversary BA Lambic-Style w/ Huckleberries(7.1%)
Propolis Keir '19 Port Bbl-Aged Brett Saison w/ Black Currants (6.5%)
Rare Barrel Across the Sea Bbl-Aged Golden Sour w/ Coriander & Salt (6%)
Reuben's Brews Cognac BBIS '19 Cognac& Bourbon BA Imp Stout (14%)
Ruse Love & Lore Pinot Bbl-Aged Golden Sour w/ Cherries (6%)
Seapine Golden Sour Saison (6.2%)
Single Hill Johnson Cherry Wine BA Belgian Golden w/ Cherries (8.4%)
Skookum BA Asesinato de Cuervos '19 Stout w/ Chilis, Vanilla (10.2%)
Standard The Big Sleep Imp Stout (11.5%)
Stoup Raspy Angel Bourbon Bbl-Aged Imperial Stout (11%)
Structures Vintage Isolation Pinot Noir Bbl-Aged Saison (7.4%)
Upright Vintage Ives Blend '19 Lambic-Style Ale (6.2%)
Urban Family Tessellate:1 Wine BA Golden Sour w/Blue & Blackberry(6.5%)
Varietal The Philosophy of Time Travel Whiskey Bbl-Aged Imp Stout(13.2%)
Wander Plum Bob Foeder-Aged Sour Ale w/ Plums (7.4%)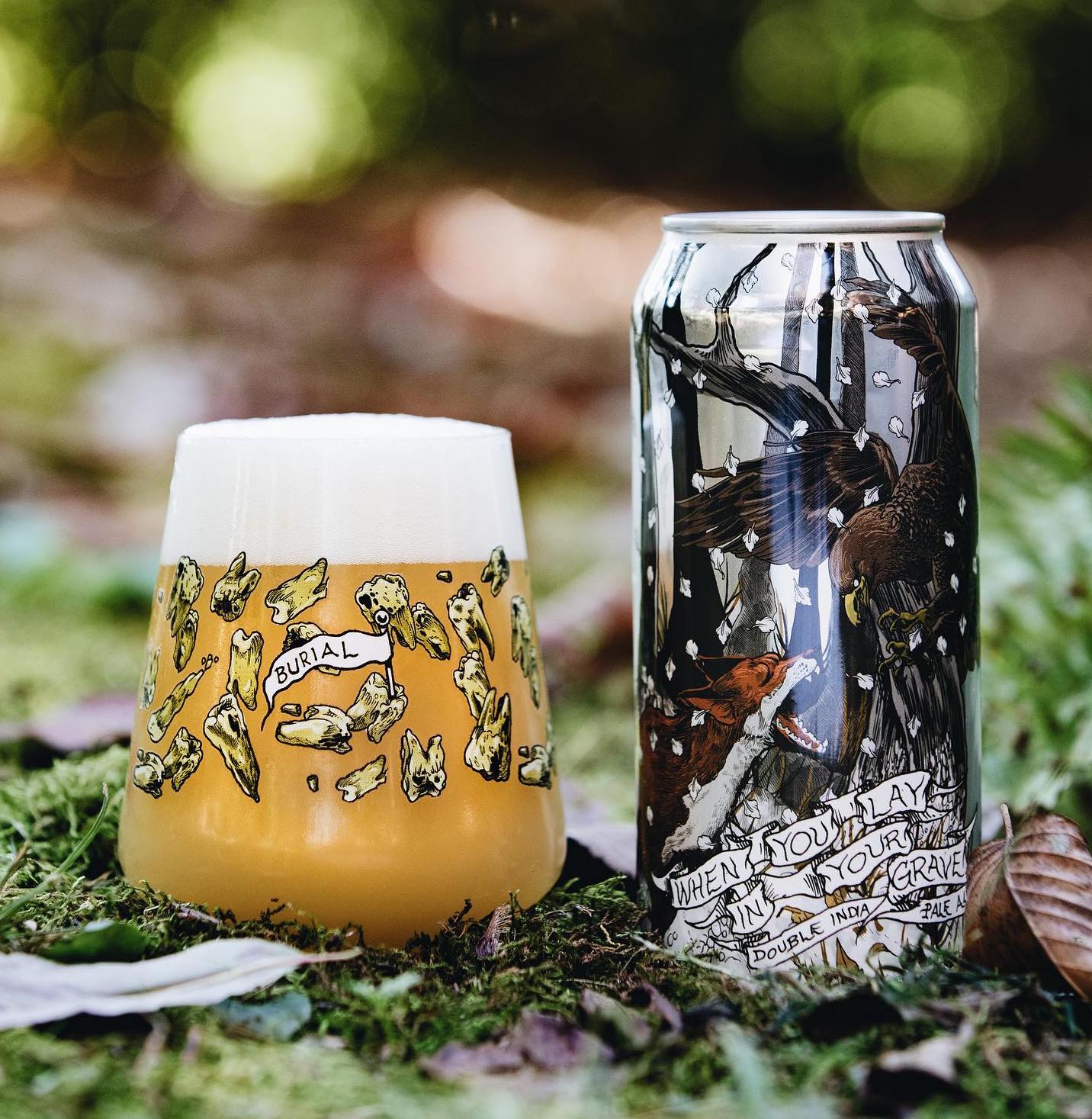 Also taking place during its 2019 Big Wood Festival, Brouwer's Café will host An Evening with Burial Night on Saturday, December 7th beginning at 6:00pm. Burial Beer hails from Asheville, North Carolina and will be sending a few of its beers to Seattle for this event.
Burial Beer Taplist:
To Wear the Feathers of Slain Beasts Mixed Culture Saison w/second use peaches
This Earthen Helix of Death DIPA
When You Lay in Your Grave DIPA
Hellstar Dark Lager
Contrition Pilsner
Surf Wax IPA
Bottleworks, located at 1710 N 45th Street in Seattle will also be receiving some package from Burial Beer, but this allotment is in limited supply.
Brower's Café
400 N 35th St.
Seattle, WA 98103