Beer List Revealed for the 16th Annual Portland Fresh Hop Festival
|

The 2019 hop harvest is in full swing and this means the return of the Portland Fresh Hop Festival is imminent. Returning once again to Oaks Amusement Park, the 16th Annual Portland Fresh Hop Festival will take place on Friday, September 27th and Saturday, September 28th.
Hosted by the Oregon Brewers Guild, the 2019 edition of the its Fresh Hop Festival will be similar to years past but with a few new additions. This includes a new competition called The Cone Wars on both days and an exclusive Bines and Brewers seminar that will take place on Friday evening at the festival.
The Cone Wars is a competition featuring Oregon's hop farms that are partnered with Oregon breweries that brewed a fresh hop beer from the 2019 hop harvest. A vote from the festival attendees will determine the winner of The Cone Wars.
The Cone Wars Participants:
Baerlic Brewing Co. / Indie Hops
Breakside / Crosby Hop Farms
Hopworks Urban Brewery / Goschie Farms
McMenamins /  Sodbuster Farms
Ninkasi / Goschie Farms
Wolves & People / Crosby Hop Farm
The other new event for the 2019 Portland Fresh Hop Festival is the new Bines and Brewers seminar. On the limited Friday night session of the fest a few select Oregon brewers, including Ben Edmunds, Breakside Brewery Brewmaster, will take the stage. These brewers will discuss what it takes to create a fresh hop beer from the wet hops picked off the bines and put in the tank all within a short window of a few hours.
"Most Oregon breweries are within a few hours of a world class hop farm," Oregon Brewers Guild Co-Executive Director Tony Roberts said in a statement. "There aren't many other places in the world where so many brewers have such easy access to hops harvested and delivered on the same day."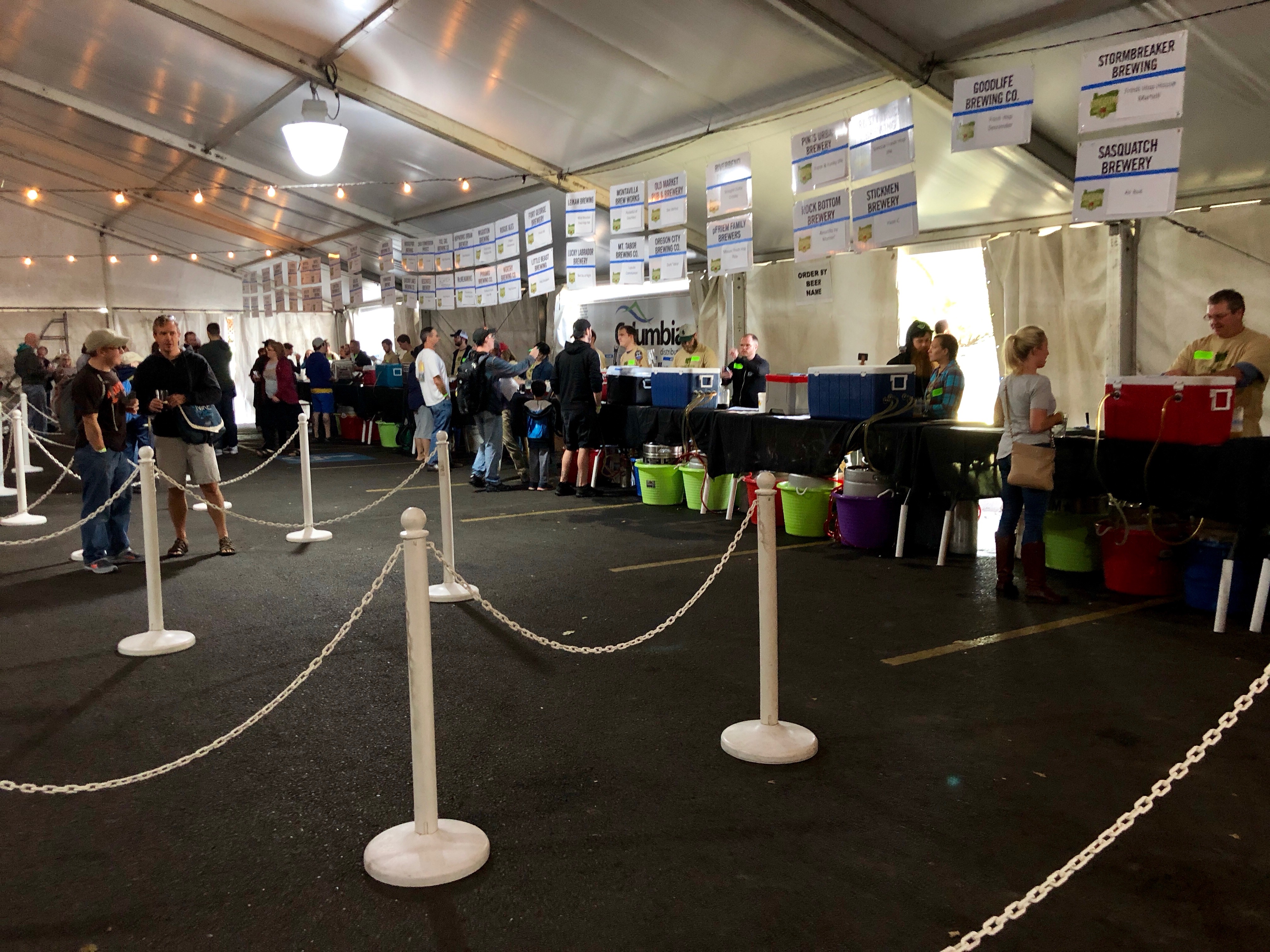 Here's a preview of the beers that will be poured by brewery members of the Oregon Brewers Guild. This list will continually be updated and the most current list can be accessed by clicking here.
16th Annual Portland Fresh Hop Festival Beer List:
Ascendant Beer – Van Run Fresh Hop Red
Away Days Brewing – Deadline Day Fresh Hop IPA
Bend Brewing Company – Fresh Trop (Simcoe)IPA
Bent Shovel Brewing – FreshCent IPA
Binary Brewing – Summer Ale 47 Blonde Ale + Fresh F*cken Cones!Blonde Ale
Cascade Lakes Brewing – Sizzle Juice Fresh Hop IPA
ColdFire Brewing – Can't Stop Won't Stop Fresh Hop IPA
Crux Fermentation Project – Pert Near Fresh Hop IPA + Dr. Jack IPA
Culmination Brewing – Fresh Hop Phaedrus IPA
Deluxe Brewing – Fresh Hop Pilsner
Double Mountain Brewery – Killer Lion Fresh Hop IPA
Ecliptic Brewing – Altair Fresh Hop Pale Ale
Ex Novo Brewing – Fresh Hop Eliot IPAIPA
Fire on the Mountain Brewing – Oregon Outdoor Fresh Hopped Chinook IPA
Gigantic Brewing – Sodbusted Simcoe VII: The Simcoe Awakens Fresh Hop Pale
Golden Valley Brewery – Fresh Hop Bald Peak IPA
Great Notion Brewing – Fresh Hop Ripe New England Style IPA
Klamath Basin Brewing – Fresh Hop IPA
Krauski's Brewskis/ The Hoppy Brewer – Freshly Floc'd Fresh Hop Hazy IPA
Leikam Brewing – Misty Mountain Fresh Hop Pale Ale
Mazama Brewing – Green Magic Fresh Hop Pale Ale
McMenamins – Thundercone Fresh Hop Ale American Pale Ale
Migration Brewing – Fresh Outta Portland Fresh Hop IPA
Montavilla Brew Works – Fresh Hop Flam Tap IPA
Ninkasi Brewing – Centennial Fresh Hop IPA
Pelican Brewing – Carronade Fresh Hop Pale Ale
pFriem Family Brewers – Fresh Hop Amarillo Hazy IPA + Fresh Hop Centennial IPA
RiverBend Brewing – Citra Made Me Do It New England IPA w/ Fresh Citra
Rock Bottom Brewery – Space Potato IPA
Sasquatch Brewery – Hey I Just Met You And This Is Hazy IPA
Silver Moon Brewing – Hydrosphere 19'Fresh Hop IPA
Stickmen Brewing Company – Red Kit – Fresh Hop Northwest Red
StormBreaker Brewing – Handfuls of Fresh Hops IPA
Sunriver Brewing – Green Initiative Fresh hop Strata IPA
Three Creeks Brewing – Cone Lick'r IPA
Unicorn Brewing – Dankarillo IPA
Wild Ride Brewing – Fresh Traction IPA
Worthy Brewing – Hop Gusher Fresh Hop
Zoiglhaus Brewing – Oktoberfresh Märzen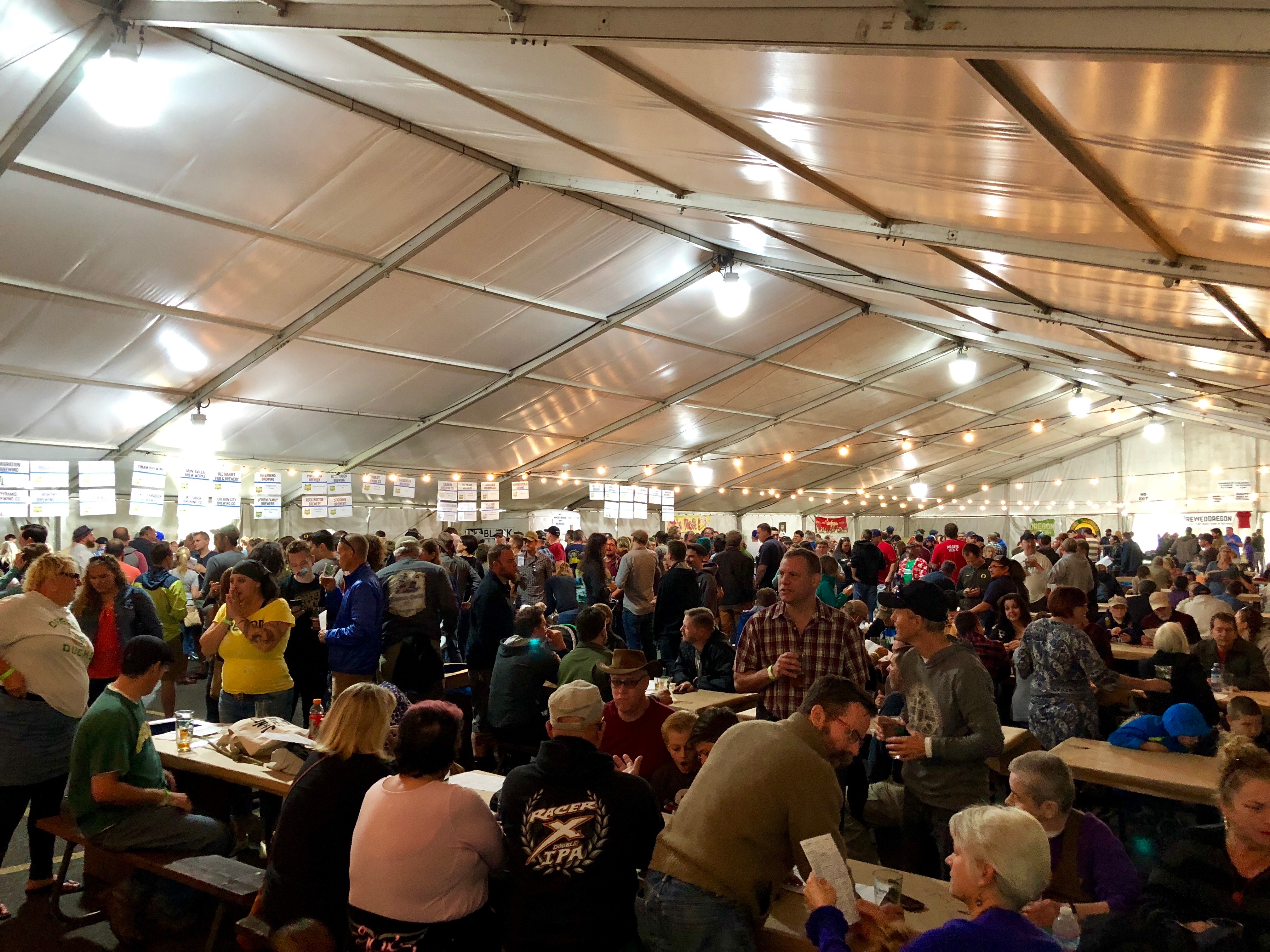 The 16th Annual Portland Fresh Hops Festival will take place on Friday, September 27th from 5:00-9:00pm and Saturday, September 28th from Noon-8:00pm at Oaks Amusement Park. Limited Friday tasting packages are $25 ($27.54 after fees) that includes eight 4oz samples and Saturday admission is free, but to drink a tasting package much be purchased at $20 ($22.23 after fees) that includes eight 4oz samples. There's also a limited Friday/Saturday combo ticket for $35 ($38.16 after fees) with twelve 4oz samples. Tickets are available through Mercury Ticketing by clicking here.
For those of you that are SNOB members, there doesn't appear to be any discount packages to this year's festival as has been done in years past. Ever since the new regime at the Oregon Brewers Guild took over the reins earlier this year, the consumer side of the guild, aka SNOB, has seem to have been a focus of industry trade group.
Friday evening will be only for those of legal drinking age. On Saturday when the festival begins at Noon, minors will be welcome until 5:00pm as there will be a small children's play area. Also, Oaks Amusement Park is open for business through September 29th offering its family entertainment. The fest will serve craft root beer from Double Mountain Brewery for the kids and the designated drivers on Saturday afternoon.
If you're interested in volunteering at the Portland Fresh Hop Festival learn more about this by clicking here.
Oaks Amusement Park
7805 SE Oaks Park Way
Portland, OR