Beer List Revealed for the 23rd Annual Holiday Ale Festival
|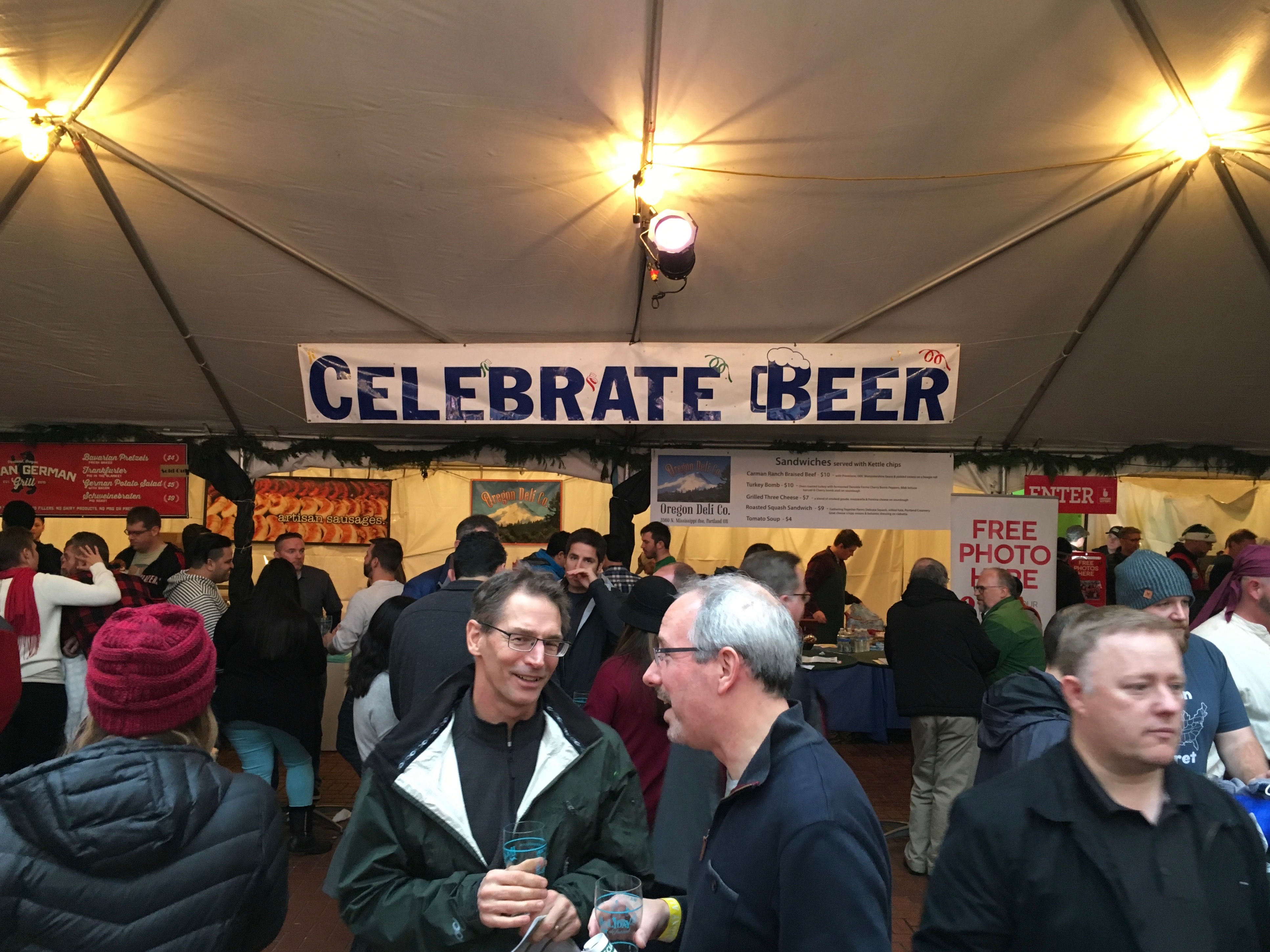 In just four short weeks the 23rd Annual Holiday Ale Festival will return to Pioneer Courthouse Square from November 28 – December 2, 2018. Held outdoors each year under heated tents just below the Portland Christmas Tree, the 2018 Holiday Ale Festival will once again bring in over 50 breweries pouring notably higher alcohol beers.
Yesterday the brewery and beer lineup was announced for the 2018 Holiday Ale Festival. For the standard lineup there will be 45 beers, five ciders, and one mead pouring during the five-day festival. All of these 51 offerings are made or blended specifically for the festival or are rare or vintage products not commonly tapped within the state of Oregon.
Breaking down some of the offerings we have found that breweries pouring at the festival include 42 from Oregon, four each from Washington and California, and one from Colorado. The lowest ABV beer is at 5.9% and is from pFriem Family Brewers with its Raspberry Brut IPA. Then on the other end of the spectrum there are two beers coming in at 12% ABV; RiverBend Brewing's Moriturus II Barrel Aged Imperial Milk Stout and Migration Brewing's Apres Oak Aged Imperial Milk Stout.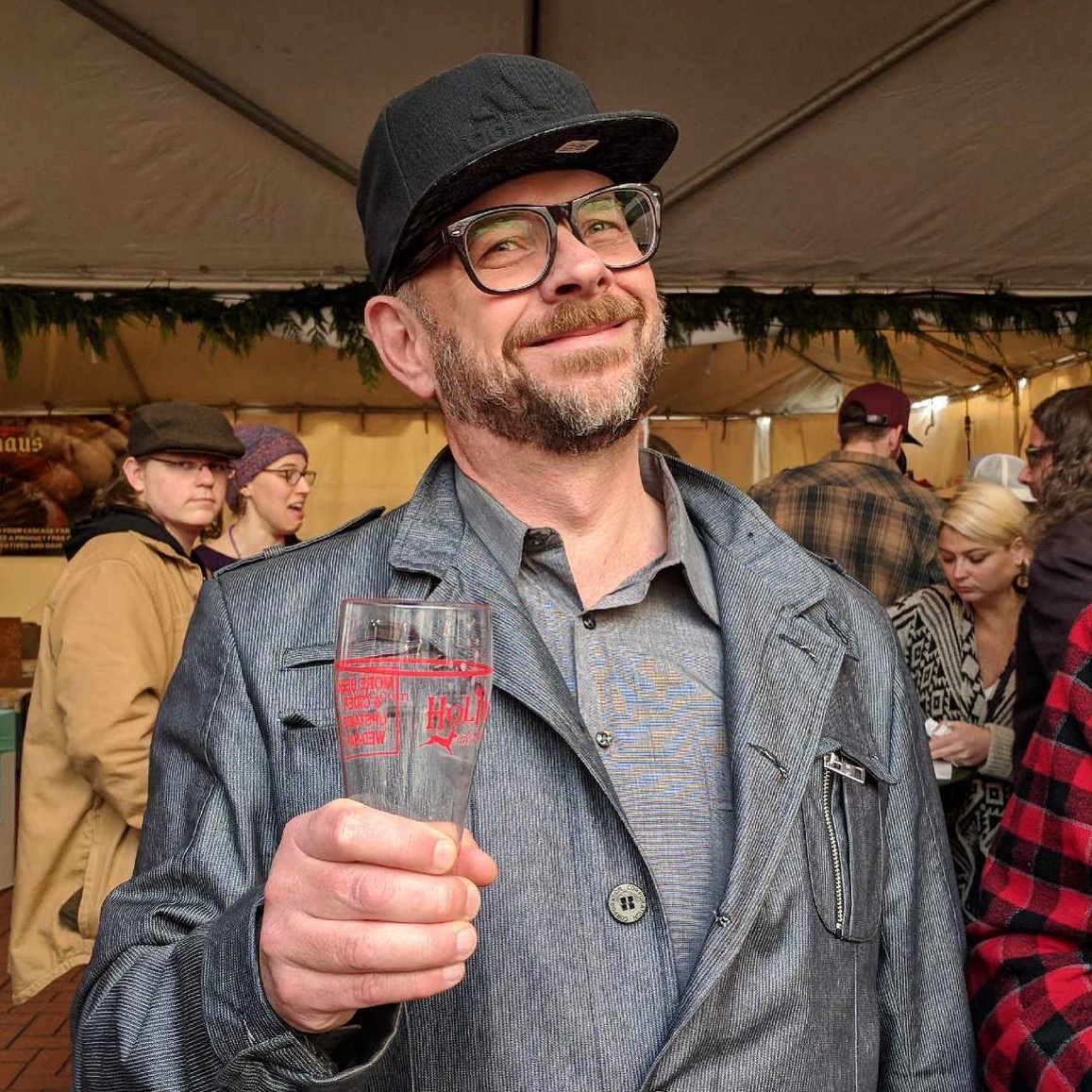 Entry into the 2018 Holiday Ales Festival is the highest that it has ever been. After staying at a hefty $35.00 for the past four years, this year entry into the festival increases to $40.00.
Advance General Admission entry is $40.00 ($41.61 after fees) and includes the 2018 plastic tasting cup, 15 taster tickets, plus "expedited entry" all five days with the ticket. At the door General Admission entry is still $40.00 but only includes 12 taster tickets and no "expedited entry".
For the big rollers there's an Advance VIP Ticket Package for $100 ($103.78 after fees) and include the tasting cup, 30 taster tickets, special VIP beer lines, exclusive VIP only vintage beers, bottled water, and "express entry" all five days. VIP tickets are limited to 200 and are not available at the door.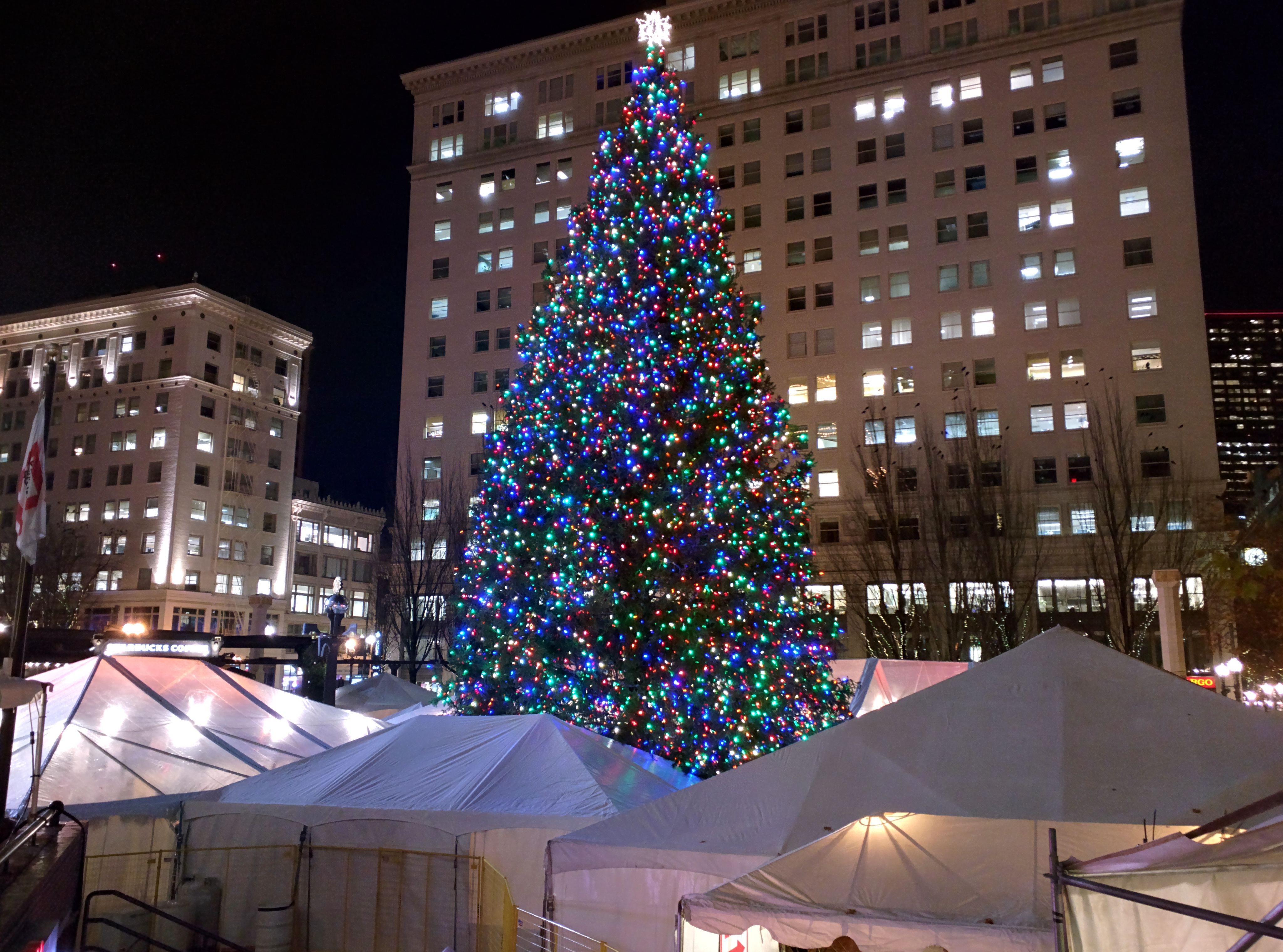 Here's a preview of 51 beers, ciders and meads pouring at this year's event. For a complete description of each offering view the Google Doc by clicking HERE.
2018 Holiday Ale Festival Tap List:
2 Towns Ciderhouse: Kentucky Barrel Nice & Naughty (Imperial Cider)
Anthem Cider: Sugar Plum Cider Fairies (Cider)
Ascendant Beer Co.: Peachy Charro (Fruit Triple IPA)
Bauman's Cider Co.: Perry Christmas (Perry)
Bear Republic Brewing Co.: Human Santapede (Barrel Aged Sour Stout)
Coalition Brewing: Newly Fashioned (Bourbon Barrel Aged Double IPA with CBD and Terpenes)
Collaborator: BitezenBock (Weizenbock)
Crooked Stave Artisan Beer Project: 5 Golden Rings 2017 (Golden Sour Ale)
Crux Fermentation Project: Holiday Brut (Brut IPA)
Deschutes Brewery: Ginger Cookie Imperial Porter (Imperial Porter)
Drakes Brewing Co.: Vin-Drakonic (Wild Imperial Stout Fermented with Grenache Grapes)
Ecliptic Brewing: Gravity Well (Belgian Dark Strong Ale with Spices)
Eel River Brewing: Wolves at the Door (Bourbon Cherry Pie Inspired Barleywine)
Elysian Brewing Co.: Million Dollar Face (Wine Oak Aged Baltic Porter)
Firestone Walker: Winter Wookus (Barrel Aged Imperial Black Rye IPA)
Fort George Brewery: Cinnamon Babka IPA: Pastry IPA)
Fremont Brewing: Mexican Hot Chocolate Imperial Stout with Coffee (Imperial Oatmeal Stout)
Georgetown Brewing Co.: Barrel Aged Chopper's Imperial Red Ale (Imperial Red Ale)
Gigantic: Santa Quad is Coming to Town (Bourbon Barrel Aged Grand Cru)
Golden Valley Brewery: The Hydronym (Baltic Porter)
Great Notion Brewing: Double Stack (Imperial Breakfast Stout)
Hopworks Urban Brewery: Straight Up Cashmere (Dessert Beer)
Klamath Basin Brewing Co.: Belznickle (Belgian Stout)
Laurelwood Brewing Co.: The Wood Old Fashioned (Whiskey Barrel Aged Strong Ale)
Lompoc Brewing: St. Nick's Nightcap (Cabernet Sauvignon Barrel Aged Bier de Garde)
MadCow Brewing Co.: Hansel and Gretel's Revenge (Gingerbread Imperial Stout)
McMenamins Edgefield Brewery: Lord of Misrule 2018 (Imperial Gingersnap Milk Stout)
Migration Brewing: Apres (Oak Aged Imperial Milk Stout)
Monkless Belgian Ales: Friar's Festivus 2017 (Winter Quadruple)
Montavilla Brew Works: Run to the Hops (Pacific Northwest Double IPA)
Nectar Creek: Bourbon Barrel Aged Wildflower (Barrel Aged Session Mead)
Ninkasi Brewing Co.: Whack and Unwrap (Chocolate Orange Cascadian Dark Ale)
Oakshire Brewing: 2015 Vintage Barleywine (English Barleywine)
Old Town Brewing: Weird Uncle (Breakfast Stout)
Ordnance Brewing: Collusion (Imperial Stout)
Pelican Brewing Co.: Cookie Monster (Oatmeal Cookie Brown Ale)
pFriem Family Brewers: Raspberry Brut IPA (Brut IPA with Raspberries)
Portland Cider Co.: Humble Bumble (Spiced Imperial Cider)
Reverend Nat's Hard Cider: Cherry Abbey Spice (Spiced Cider)
RiverBend Brewing: Moriturus II (Barrel Aged Imperial Milk Stout)
Rusty Truck Brewing Co.: Chocolate Oyster Stout (Chocolate Oyster Stout)
Shattered Oak Brewing: Secret Santa Ale (Spiced Ale)
Stickmen Brewing Co.: Blend #3 (Barrel Aged Blend)
StormBreaker: Hawaiian Christmas (Imperial Red Ale Aged on Toasted Coconuts)
Stoup Brewing: "Why" Stock Ale (Brett Stock Ale Aged in Cognac Puncheons)
Sunriver Brewing Co.: Mele Kalikimaka (Double IPA)
Three Mugs Brewing: Mrs. Claus's Nutty Desire (White Chocolate Macadamia Nut Blonde Ale)
Upright Brewing: Rein Helles Bock (Imperial Helles Bock)
Vanguard Brewing Co.: Cranberry Cringle (Imperial Stout with Fruit)
Widmer Brothers Brewing: No Additional Ticket Required (Wheat Wine)
Wolf Tree Brewery: Wolf of the Deep (Rum Barrel Aged Sour Stout)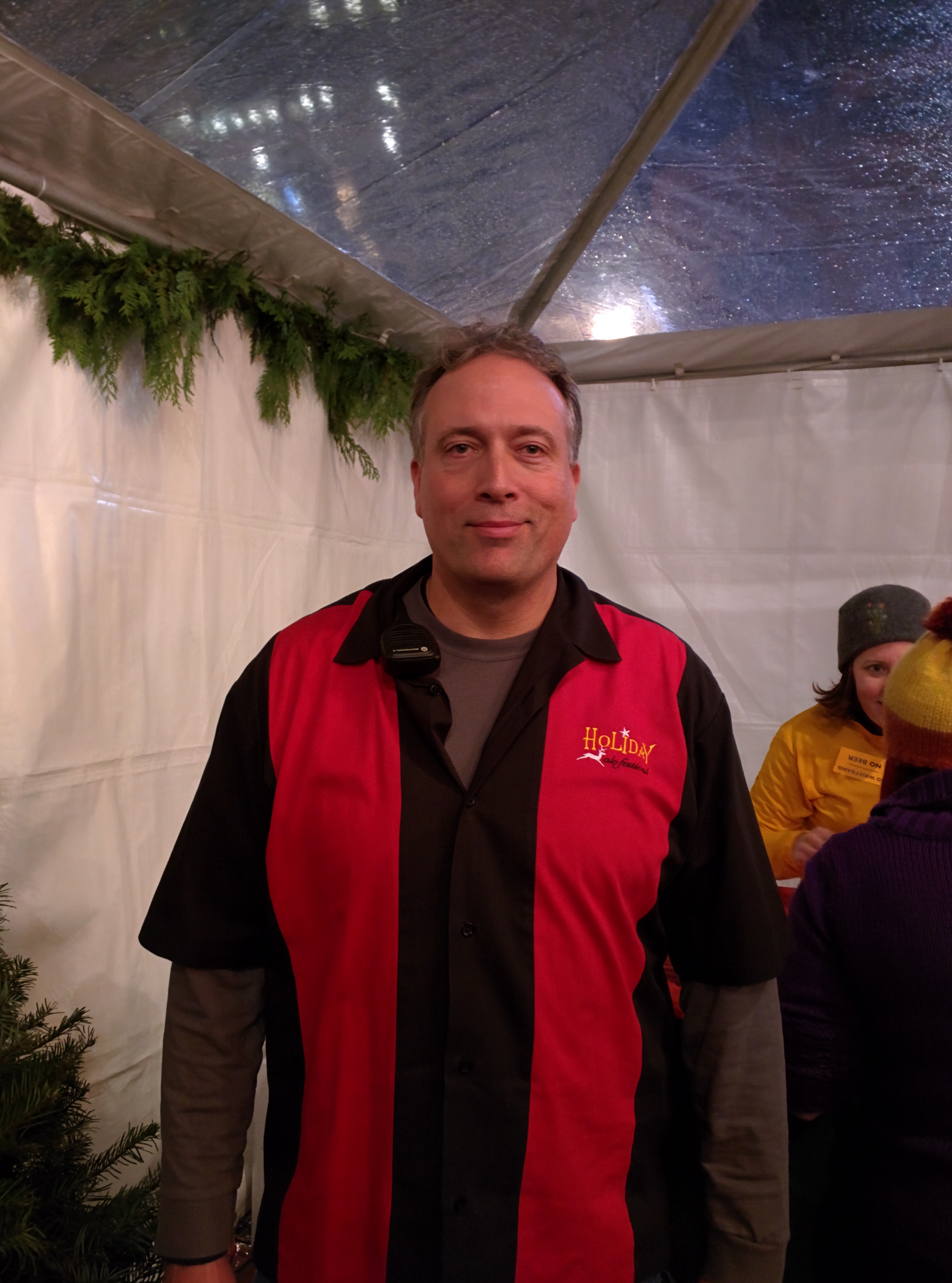 In addition to this lineup of beer there will be Meet the Brewer events and additional rare beers pouring throughout the festival, many requiring multiple tickets for a sample pour. Plus there will be several food options, including food from Urban German and roasted nuts from Family Nut Love.
Once again the Holiday Ale Festival will raise funds for the Children's Cancer Association MyMusicRx Program from its onsite coat and bag check and the Crater Lake Soda Garden. The Children's Cancer Association MyMusicRx Program delivers the healing power of music to the bedsides of children and teens facing cancer and other serious illnesses. The Holiday Ale Festival doubles and matches all monies raised.
The 23rd Annual Holiday Ale Festival takes place from 11:00am to 9:00pm Wednesday through Saturday and from 11:00am to 5:00pm on Sunday. The Holiday Ale Festival is for ages 21 and over. For more information, visit www.holidayale.com and engage with the event @HolidayAleFest.
Pioneer Courthouse Square
701 SW Sixth Ave.
Portland, OR 97204