Beer, Oysters, Hop Harvest and The BeerMongers Anniversary – Beer Events Week of August 31
|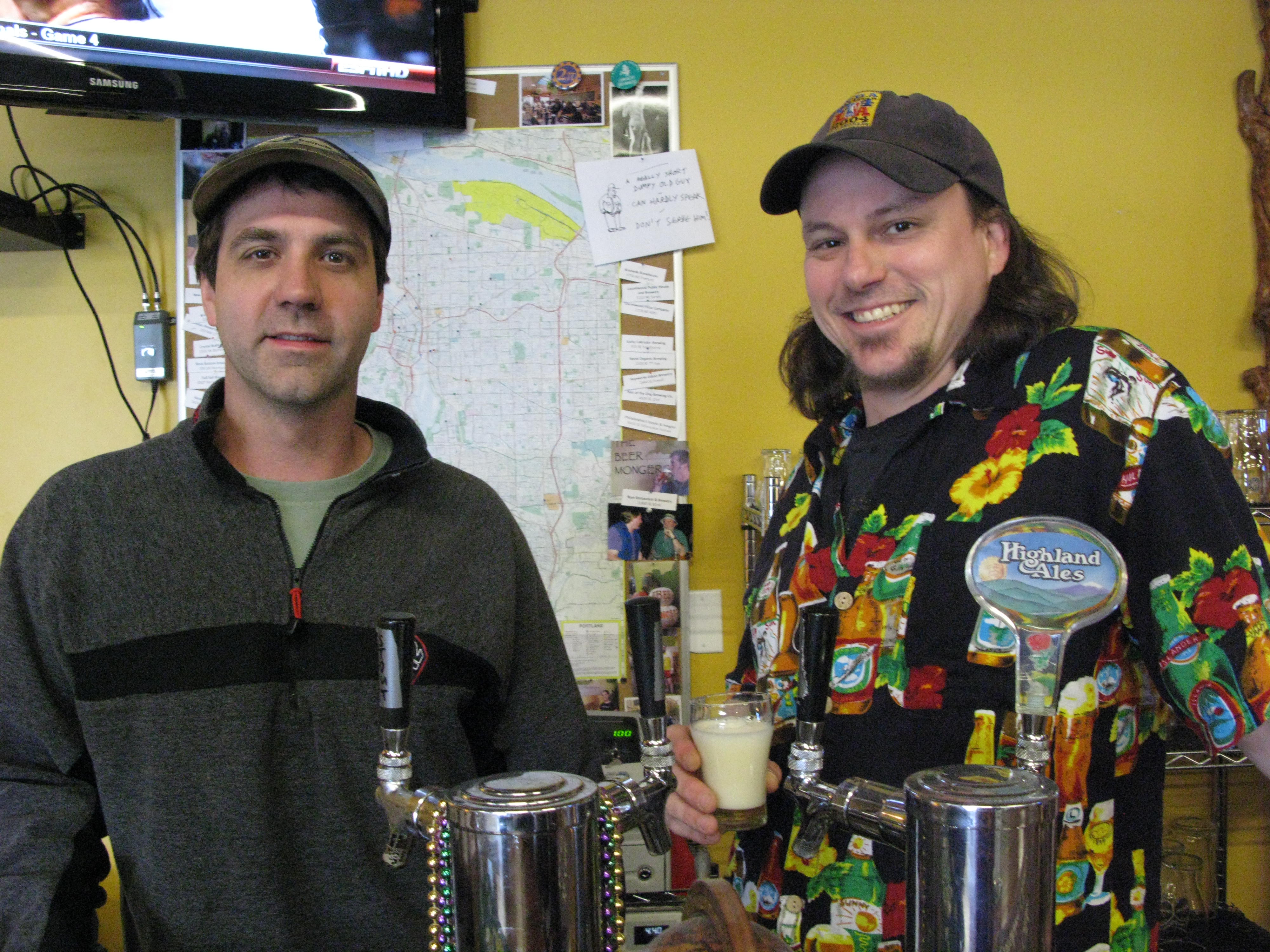 Oysters and beer, anniversary week at The BeerMongers and hop harvest at the Lucky Lab – beer events for the week of August 31st.
Mt Angel Volksbier Release Party
6 pm Thursday August 31, Hopworks Urban Brewery, 2977 SE Powell Blvd.;
Celebrating Bavarian culture at Mount Angel Oktoberfest is a tradition dating back more than a half-century, and about 350,000 people are expected at this year's event (Sept. 14-17.) Thanks to the Hopworks brew crew, festival goers can enjoy a unique Pacific NW take on a Bavarian Session Ale: the limited edition release Mt. Angel Volksbier, an easy-drinking session ale brewed with German ale yeast along with Hull Melon and NW hops. Mt. Angel Volksbier is one of five HUB beers poured at the four-day event (all other beer is imported from Germany).
Available for a limited time prior to the festival, Mt. Angel Volksbier officially releases on Thursday, August 31st at 6 pm at HUB's SE Powell brewpub. Purchase a 22 oz. bottle for $5.99 at the beer release party and receive a coupon good for $2 off the festival admission, which can be redeemed at the Mount Angel Oktoberfest Biergarten admission gate during the fest. Mt. Angel Volksbier is expected to run out quickly at the HUB pubs and various Roth's Fresh Market stores; after that, it will be available exclusively on tap at the 52nd Annual Mount Angel Oktoberfest.
Chill N Fill Third Anniversary
5-10 pm Thursday August 31, Chill N Fill, 5215 N Lombard St.;
The Chill N Fill crew celebrates three years with Tørkes Oysters from Netarts Bay for a buck each, plus IPA's from Barley Brown's, Boneyard, 3 Magnets, Buoy, Gigantic, Firestone Walker and more. Also: hot sauce from NOPO's own Wet Wizard Hot Sauce.
Migration/Nevor Farm Oyster Social
4 pm Thursday August 31, Migration Brewing, 2828 NE Glisan St.;
The second in a series of Migration Oyster Socials features Nevør Shellfish Farm oysters and shucking crew and some great Migration beers.
The BeerMongers Anniversary Week
Friday Sept 1- Tuesday Sept. 5, the BeerMongers, 1125 SE Division St,;
BeerMongers will have been open every day for 2922 days next week and that calls for a party – or several:
Friday, Sept 1
Live Music 9 pm featuring Ashbolt & Beats Working
Taplist…
pFriem 2015 Bourbon Imperial Stout
pFriem 2016 Flanders Red
pFriem 2017 Bosbessen Blueberry Lambic Style
Saturday, Sept. 2 – Outdoor Beer Garden featuring Jamaican Taste PDX
Taplist…
Block 15 Super Nebula Barrel Aged Imperial Stout
Block 15 Turbulenbt Consecquence Framboise
Block 15 Citracicle IPA
Sunday, Sept. 3 – Outdoor Beer Garden and Special Bottle Pours
Monday, Sept. 4 – Outdoor Beer Garden, Hoppy beers & Labor Day Cookout
Taplist…
Ex Novo & Grains of Wrath Triple IPA
Russian River Pliny the Elder Double IPA
Block 15 Nugg Hug IPA
Ruse 4th Wave Pale
Culmination Obscured By Clouds Double IPA
Tuesday, Sept. 5 – Day 2922: Anniversary Day. Customer Appreciation and Rare Beers plus a High Stakes Cribbage Tournament at 6 pm winners receive Westvleteren bottles
Beer lists in development but will include:
Rodenbach Alexander
Bell's Expedition Stout
Founders 2016 KBS
Russian River Sours
Prairie Birthday Bomb
Flanders Fred Collab
Alesong Touch of Brett-Mosaic
Logsdon Kriek Vier
Ale Apothecary Sahalie with Huckleberries (Firkin)
Cantillion Rose de Gambrinus
OP Wurst Brewers Series
4 pm Saturday Sept. 2, OP Wurst Division, 3384 SE Division St.;
The Olympia Provision Brewer's Series continues every Saturday through Oktoberfest — September 30 — at OP Wurst Division. This weekend features Wildcraft and its dry ciders. Also: live music, food specials, patio games and giveaways.
Lucky Lab Hop Harvest
4-9 p.m. Wednesday, Sept. 6, Lucky Lab Brewpub, 915 SE Hawthorne St.;
In the dozen years since the first Lab backyard hop harvest, this event has become one of the highlights of Portland's beer year, when people get together on the back porch of the Lab to pick donated backyard hops, sip beers and socialize. Nobody knows what all variety of hops are being picked, which is why the fresh hop beer the hops will flavor is known as The Mutt. Late, lamented brewer Ben Flerchinger always use to honcho these picking bees: we'll have to soldier on without him this year, but I imagine he'll be there in spirit and that there will be more than one toast to dear Ben — both here and at next Saturday's BenFest at Gigantic Brewing.