Beer Releases, Food Pairings, Beer and Art and More – Beer Events Beginning April 27
|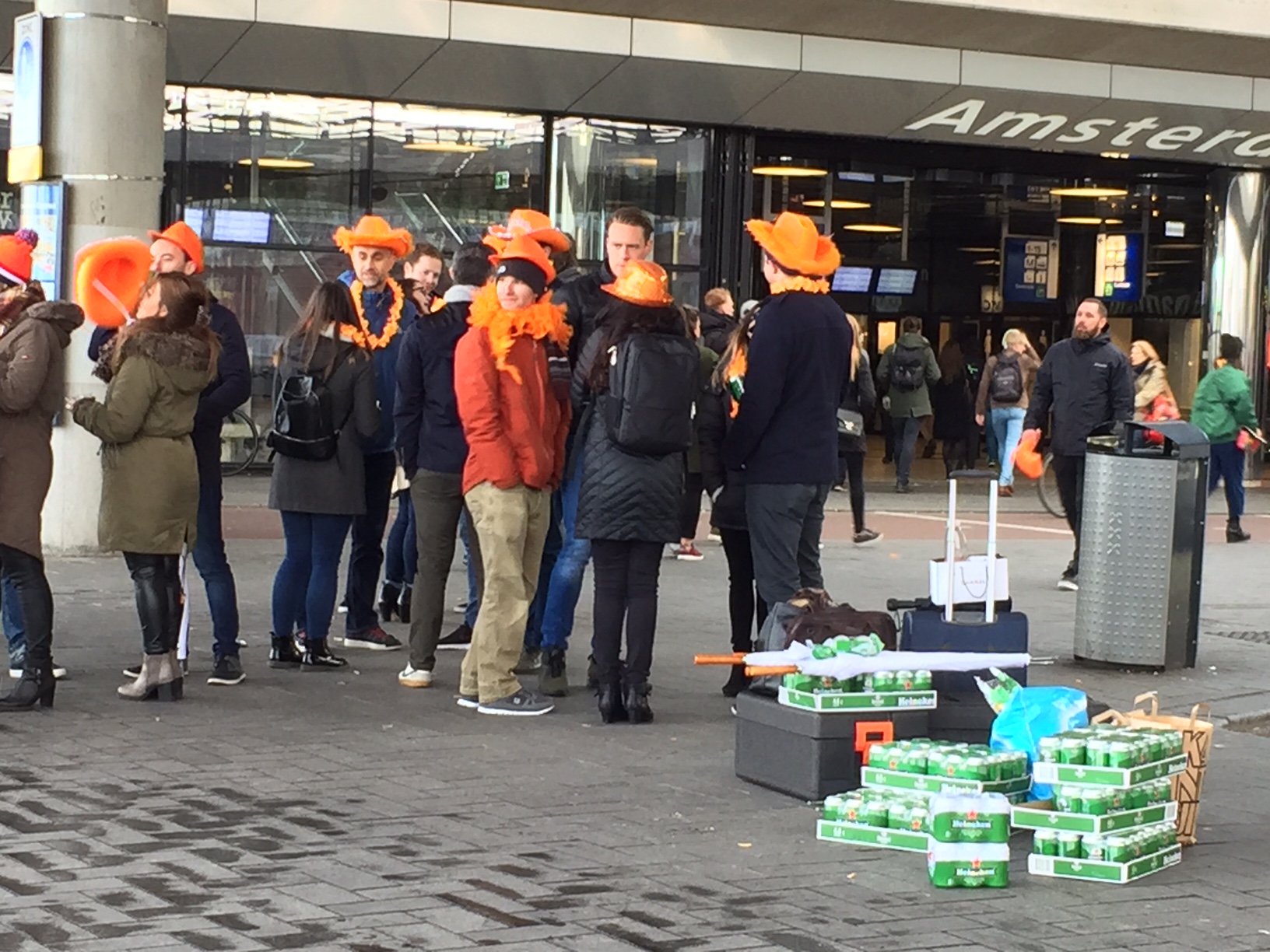 This week there are a tremendous amount of beer releases, events from the likes of Little Beast Brewing, Crux Fermentation Project, Baerlic Brewing, and Great Notion Brewing. Plus Falling Sky Brewing brings its meats to Imperial Bottle Shop and the raclette machine is in action at Occidental Wursthaus. Here are the beer events including a wine tasting and a whiskey class that begin the week of April 27th.
Delight Belgian Blond Beer Release
4-10 p.m., Thursday, April 27, Baerlic Brewing, 2235 SE 11th Ave.;
After a slight delay since the beer was not quite ready, the folks at Baerlic Brewing will release its Belgian Blond Ale today. Delight is a Belgian style blond ale with big aromas of Honeycrisp apple, sweet bread & candied orange with a dry and warming finish. A beer designed to leave a smile on your face!
In The Pocket With Crux
4-8 p.m. Thursday, April 27, The Upper Lip, 720 SW Ankeny;
Celebrate the release of the brand new [BANISHED] beer from the Crux Fermentation Project above Bailey's Taproom. In the Pocket is a NW Red Wine Barrel-Aged Rustic Saison with Brettanomyces Lambicus and Bruxellensis.
Crux Tap Takeover:
In the Pocket
Pilz
Hazy IPA
Gimme Mo
Half Hitch
PCT Porter
Raclette Night
5-8 p.m. Thursday, April 27, Occidental Wursthaus, 6635 N. Balmoral Ave;
An evening of cheese and beer will take place at Occidental Wursthaus as David Gluth will be on the patio serving Raclette hot off the wheel accompanied with baguette, sliced ham, potatoes, and salad. Pair the cheese with one of Occidental Brewing beers on tap or with a glass of wine. The event goes from 5:00-8:00 or until we run out of cheese!
Little Beast Meet The Brewer
5-8 p.m. Thursday, April 27, Loyal Legion, 710 SE 6th Ave;
Come meet Little Beast Brewing founder and brewmaster Charles Porter as Loyal Legion will be pouring a few beers from the new brewery.
Falling Sky Beer + Pastrami Pairing
5-9 p.m. Thursday, April 27, Imperial Bottle Shop & Taproom, 3090 SE Division;
Falling Sky Brewing from Eugene will be Imperial Bottle Shop & Taproom as it brings up its delicious house-made pastramis and beers.
Beer and Pastrami Pairings:
Upside Brown Ale + Beef Brisket pastrami
Cloud Break Munich Helles Lager + Lamb pastrami
Chicken Little Double IPA + Turkey pastrami
Hassel Haferbier Hefeweizen + Beef Belly pastrami
Get the full 4 beer and pastrami pairing with accoutrements (rye bread, mustard, pickled veggies) for $17. Beers will also available by the glass and pint.
3rd Annual 99 Bottles of Art On The Wall
7-10 p.m., Thursday, April 27, Baerlic Brewing, 2235 SE 11th Ave.;
As part of Design Week Portland, Baerlic Brewing will host its second event of the day with its 3rd Annual 99 Bottles of Art on the Wall: Drink and Draw event.
Come out and cut your chops in the historic art of beer bottle design for a collaborative Drink and Draw event! Delicious beer will be served along with a blank canvas in the form of a 22oz bomber bottle to attack with your creative prowess. As each bottle of art gets finished, we all populate the wall with 99 Bottles of Art! Sit, relax, drink & draw – easy as that!
Kippy Crowler Release
Noon-11 p.m. Friday, April 28, Great Notion Brewing, 2204 NE Alberta #101;
Crowler Release Day for Kippy, a hazy, juicy double dry-hopped IPA. Named after one of the brewery owner's beloved 17 year old Blue Russian cat, Kippy who passed away on April 17th. This beer is double dry-hopped with Galaxy, Nelson and Citra at 6.5% ABV.
Belgian Beer Summit
2 p.m. Friday, April 28, Roscoe's, 8105 SE Stark;
Join Roscoe's in celebrating the beers and beer styles of Belgium! The Belgian beer summit will kick off on April 28th at 2:00pm with great Belgian and Belgian style beers on tap all weekend.
Some of the breweries (and beers) will include: Commons (Brett Urban Farmhouse), pFriem Family Brewers (Belgian Single), Alesong Brewing and Blending (Belgain Wit), De Struise Brouwers (2013 Rye Triple Reserva), Ecliptic Brewing (Barrel Aged Tarantula Belgian Dubbel), Logsdon Farmhouse Ales, LLC., Crux Fermentation Project (New Imperial Saison Barrel aged in NW Red Wine Barrels with Brettanomyces), and many more!
Goodbye To Jacob Wilson
4-8 p.m. Friday, April 28, McMenamins 23rd Avenue Bottle Shop, 2290 NW Thurman;
McMenamins West Linn's brewer Jacob Willson is departing McMenamins to open his own brewery. Come say farewell and raise a pint to his next adventure. The Bottle Shop will be pouring four of his beers: Hole Mole Brown Ale, Whiskey Barrel-Aged Coffee Porter, Brew Hawaii Blueberry Pineapple Pale Ale, and his infamous Angry Reindeer Double IRA.
Little Beast Brewing Night At The BeerMongers
5-8 p.m. Friday, April 28, The BeerMongers, 1125 SE Division;
Last Saturday Charles Porter launched his brewery at OP Wurst. Now he's taking the show on the road. Look for his latest beers on tap at The BeerMongers.
Fluffy IPA Can Release
6-9 p.m. Friday, April 28, N.W.I.P.A., 6350 SE Foster;
Join N.W.I.P.A. for Claim 52 Brewing and its Portland can release of Fluffy IPA, one of its popular IPAs.
Pints For Pups
6-9 p.m. Friday, April 28, Caps N' Taps, 337 NE 4th Ave., Camas, WA;
Join Original Bully, Caps N' Taps, and Several Amazing Local Breweries, including Backwoods Brewing Company & Coalition Brewing, to raise a glass for pups in need!
100% of proceeds from every pint, growler and crowler sold of donated beer from the generous sponsors plus $1 per pint or fill from in-house taps, glasses of wine, and bottles in coolers will be donated to MyPitBullIsFamily.org. This is a non-profit organization focused on ending breed discriminatory housing and insurance policies, as well as building a nation-wide database of pet friendly housing for pups of all breeds!
Raffle with prizes from Original Bully, My Pit Bull is Family, Caps N' Taps, Local Breweries including Backwoods Brewing Company of Carson, WA, Coalition Brewing of Portland, OR and Grains of Wrath Brewing coming soon to Camas, WA and more! Plus bring at least a $1 and enter the special raffle to win a bully sized pet basket, suitable for any breed!
Archiversary 2: Arch Harder
1-11 p.m. Saturday, April 29, Arch Bridge Taphouse, 205 7th Street, Oregon City, OR;
Celebrate two years of Arch Bridge Taphouse with Archiversary 2: Arch Harder.
Brewery List:
De Garde Brewing
Block 15 Brewing Co.
Brasserie Cantillon
Kloster Andechs
Fremont Brewing
pFriem Family Brewers
Claim 52 Brewing
The Commons Brewery
Upright Brewing
Shattered Oak Brewing
Alesong Brewing and Blending
Prairie Artisan Ales
2 Towns Ciderhouse Tasting
2-4 p.m. Saturday, April 29, McMenamins 23rd Avenue Bottle Shop, 2290 NW Thurman;
Join 2 Towns Ciderhouse at 23rd Avenue Bottle Shop as they pour a selection of ciders
Abbey Bar on 23rd First Anniversary and Home Brew Contest
3 p.m.-Midnight, Saturday, April 29, Abbey Bar & Bottle Shop, 1650 NW 23rd Ave.;
Celebrate the first anniversary of Abbey Bar on 23rd from 3:00pm until Midnight. Abbey Bar is also hosting a European style home brew contest that will include a People's Choice category.
Entries will be accepted in all European beer styles. Winners will be determined by a panel of judges, plus there will also be a People's Choice award. Prizes include a $100 gift certificate to Abbey Bar for both the judges' choice and people's choice. Contact Abbey Bar for more details on entering.
Pour Oregon – A Cellar 503 Wine Festival
2-7 p.m. Sunday, April 30, Castaway, 1900 NW 18th Ave.; $65 includes souvenir glass and tastes from all 40 wineries
Pour Oregon is a one-day wine tasting event on April 30, 2017 featuring over 40 boutique wineries from all over the state. It will be open to the public from 2-7pm. Ticket price includes entry to the event, a Riedel wine glass, and tastes from all 40 wineries. $5 of every ticket goes to support the Make-A-Wish Foundation of Oregon. www.pouroregon.com
Beaches PDX Brews & Bites With Burnside Brewing
6:30-9 p.m Sunday, April 30, Beaches, 7000 NE Airport Way; $43 Ticket
An evening of food and beer pairings from Beaches and Burnside Brewing will take place at PDX. Join Beaches and learn about what's brewing at Burnside and try some creative dishes from Chef Eugene and his team! Call now to reserve your spot at 503-335-8385
Spirit Research Academy – Oregon Whiskey Edition
5:45-7 p.m. Monday, May 1, Jo Bar & Rotisserie, 715 NW 23rd Ave; $35 Ticket – Reservations Required
Begin the week with Spirit Research Academy – Oregon Whiskey Edition. For this month's class Jo Bar will be tasting attendees on Ransom Spirit's The Emerald, Bull Run Distillery's Oregon Single Malt, and Clear Creek's McCarthy's Oregon Single Malt. In addition to those being served neat guests will get small pours of those as cocktails, different recipes to highlight the various flavor profiles of each whiskey. They will also get some small snacks through out the event.
The event is $35, paid at the event, though we do require reservations, as seating is limited. R.S.V.P to reserve your seat at (503) 222-0048.
Watch The Birdie Gooseberry Gose Beer Release
4-10 p.m., Tuesday, May 2, Baerlic Brewing, 2235 SE 11th Ave.;
In time for spring, Baerlic Brewing brewed Watch the Birdie Gooseberry Gose. This is its house gose recipe and added 80lbs of Gooseberry puree to the conditioning tank. Gooseberries add a nice level of tartness with notes of muscat grape and strawberry. A touch of salt adds a snap of quenching drinkability!
Meet the Ex Novo Brewer
6-9 p.m. Wednesday, May 3, The BeerMongers, 1125 SE Division;
Ex Novo Brewing comes to Southeast Portland with a solid tap list of new beer and cellared ones.
Ex Novo Tap List:
2016 Kill the Sun
2015 Nevermore
ISO NEIPA
Cabeza Gorda Hazy IPL (Fat Head's Collaboration)
Introducing Little Beast Brewing
Wednesday, May 3, Belmont Station, 4500 SE Stark St.;
Charles Porter continues his beer releases around Portland with an evening at Belmont Station.