Beer & Wine Grape Varietal Fest By Upright Brewing
|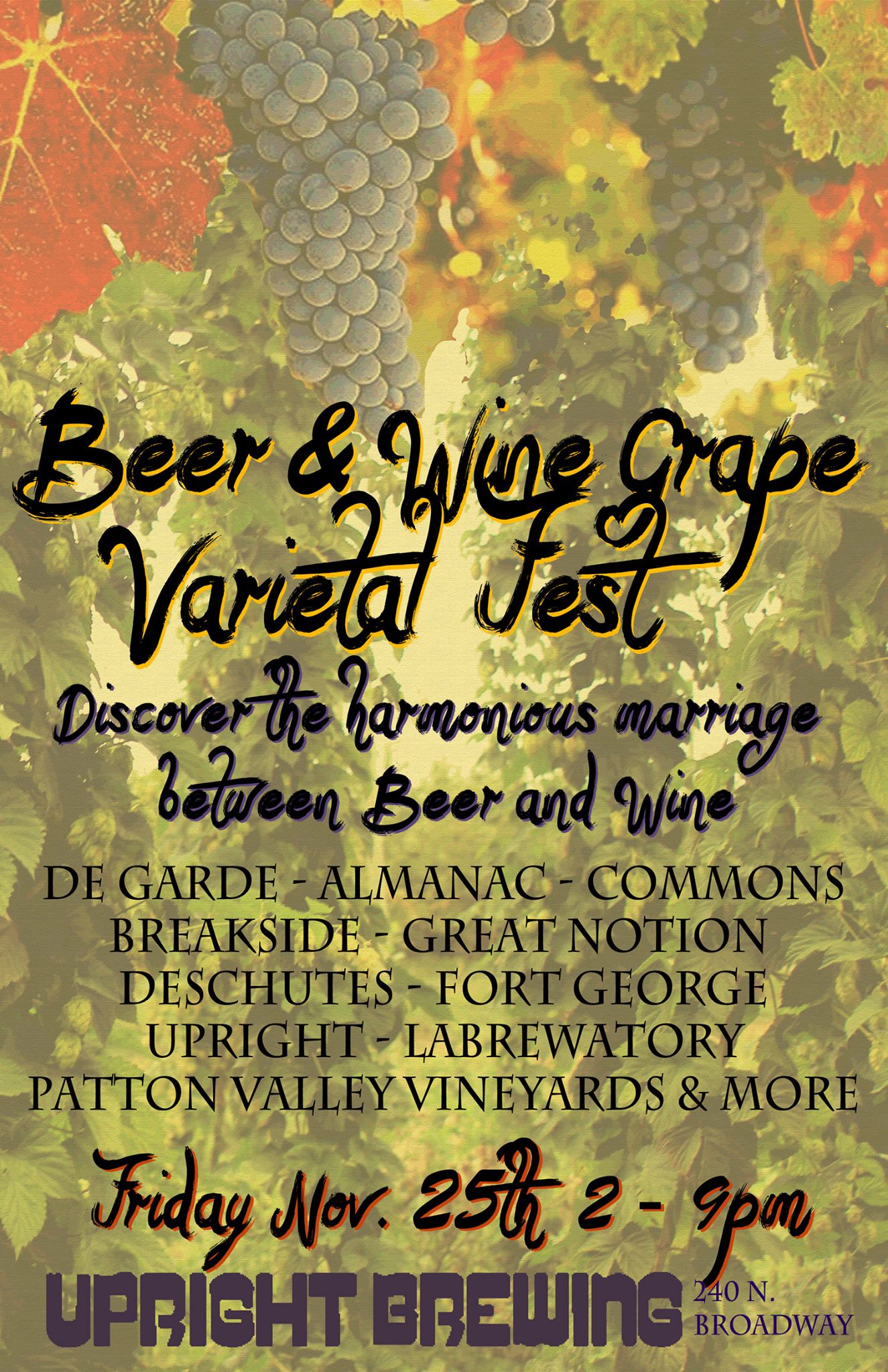 Celebrate Black Friday at Upright Brewing for its Beer & Wine Grape Varietal Fest inside its intimate brewery and tasting room. Taking place on Friday November 25th, from 2:00 to 9:00pm, this free all ages event will showcase 10 beers that incorporate either wine grapes or wine grape juice to create some very interesting and intriguing beers.
Beer & Wine Grape Varietal Fest is expanding on a couple of stellar events that BREWPUBLIC hosted at 16 Tons in Eugene in 2011 and at Beer Revolution in 2013 during San Francisco Beer Week. At this event look for a few wines to be served that relate to the beers that will be pouring including wines from Patton Valley Vineyards.
Speaking of Patton Valley Vineyards, this is the vineyard that winemaker Derek Einberger collaborated with Alex Ganum at Upright Brewing on that resulted in the brewery's Oregon Native release. This collaboration took place over one and a half years ago on September 21, 2014 and was officially released over Memorial Day weekend this year. Oregon Native is one of the best beers we have had the pleasure of drinking this year. The beer then went through cask fermentation on whole fruit with an end goal of making a true pinot beer and not a grape beer. A truly amazing beer!
Here's the beer list for the Beer & Wine Grape Varietal Fest.
Almanac Beer Co.: White Label
This beer pairs two "blancs": California-grown Muscat Blanc grapes and German Hallertau Blanc hops. Blended together in wine barrels and large oak foudres, White Label emerges from the casks as a unique hybrid of beer and wine. The combination of white grapes and tropical-aroma hops creates a luscious nose of ripe apricot, lychee and lemongrass. Finished with a touch of coriander, this complex sipper is a perfect pairing for dishes like mussels steamed in coconut curry, fresh pad thai, and macadamia crusted halibut. 7.5% ABV
Almanac Beer Co.: Grand Cru Red and Grand Cru White
Grand Cru Red blends a Flanders Red-style sour ale with California red wine grapes, locally grown raspberries and whole vanilla beans to craft something truly unique. We combined lush Zinfandel and Petite Sirah grapes with a special imperial version of our oak-aged Dogpatch Sour ale and finished it with Santa Cruz Mountain raspberries and fragrant vanilla beans.
Grand Cru White is an ode to our favorite aromatic white wines. We combined California Muscat Blanc grapes with an imperial version of our Farmer's Reserve sour blonde base and fresh, locally grown apricots before aging them for over a year in French oak barrels.
Breakside: Beaujolais Avec Brett '14
A strong sour ale fermented with wild yeast and bacteria that pours a beautiful violet color. The Oregon-grown Gamay grapes used in this beer come to us courtesy of Tom and Kate Monroe of the SE Wine Collective. Bottle conditioned with Brettanomyces for added complexity and cellarability. Wine and beer together forever! 8.2% ABV
The Commons Brewery: Viognier Grisette
An adjunct based grisette fermented with saccharomyces, then aged in stainless with one of our house brettanomyces cultures, followed by a short aging in 3rd fill gin barrels with pressed viognier juice and more of the house brettanomyces culture added to ferment out the juice. 4.8% ABV
de Garde Brewing: The Lily 
One of the oldest barrels from our stock, a lambic influenced sour ale. We added a hefty harvest of whole cluster Southern Oregon grown Tempranillo grapes from a favorite vineyard. Big rustic and spicy fruit aromas with a bracing acidity, and earthy backdrop. We expect this beer to evolve positively in the bottle over a long period, but the brightness and fruit character is very enjoyable now! 7% ABV
Deschutes Brewery: Pinot Suave 
This Belgian style ale was aged in Pinot Noir barrels that were filled with Pinot grape must. The result, a unique flavor profile with some delicate notes of acidity and wine tannins. The light malt body makes sure the berry flavors stay at the forefront. 11.8% ABV
Fort George Brewery: Deck the Helles 
One helluva Helles Lager brewed with Pinot Noir grapes (stomped by the brewers), hibiscus petals, black currant, and aged in Penner-Ash Pinot Noir barrels. Is it Christmas yet? Who knows? Deck the Helles. 9.5% ABV
Great Notion Brewing: Señor Blanc
Saison fermented with Kiwi, Pear, & Sauvignon Blanc grapes. It was fermented in a Pinot barrel with our house sour culture for 9 months.
The Labrewatory: Member berries
Farmhouse ale fermented with 500 lbs of gewurtztraminer grapes from the willamette valley . Brettanomyces , sacchromyces and lactobacillus .Notes of dry grape, spicy pear and bright lemon! 6.5% ABV
Upright Brewing: Oregon Native
A barrel-fermented beer made in collaboration with Derek Einberger of Patton Valley Vineyard, using their pinot noir grapes and indigenous yeasts to unique effect. 7.75% ABV
Beers will be poured in 4 oz. servings for $3.00 each and 12 oz. glasses for $6.00 each. Entry is free and all beers are pay as you drink. Make sure to bring plenty of CASH as this event is cash only!
In addition to the beers and wines there will be cheese and charcuterie pairings available from Old Salt Marketplace. To stay up to date on all of the happenings for the Beer & Wine Grape Varietal Fest please follow its Facebook Event Page.
Upright Brewing, Tasting Room
240 N. Broadway – Suite 002
Portland, OR 97227