Beers From the Dead – Classic Oregon Microbrews Back From Their Grave
|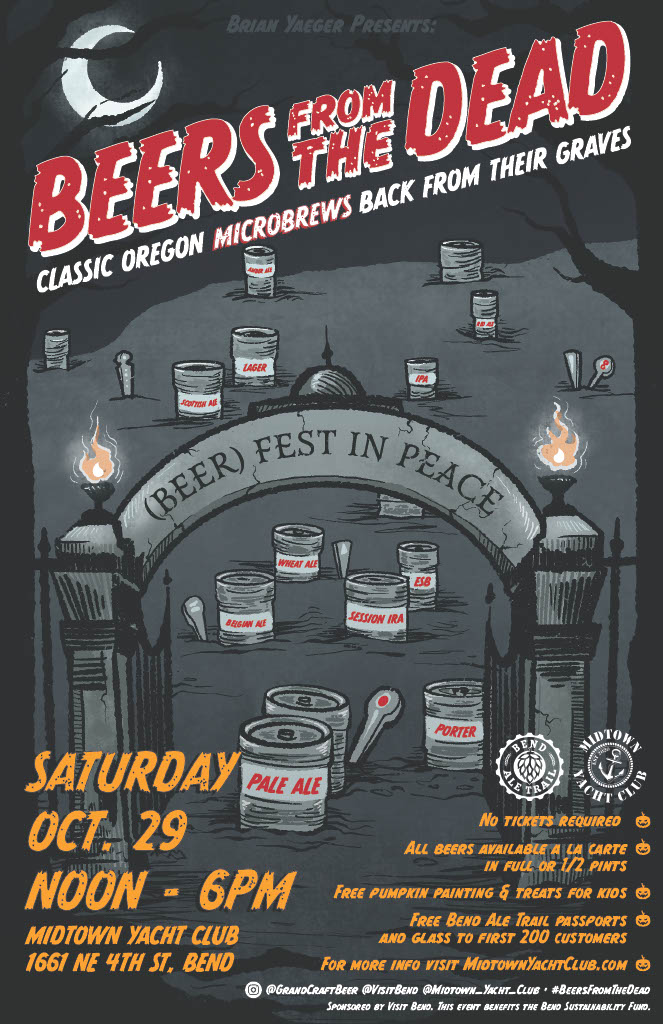 In time for Halloween, a new beer festival will resurrect nine beers from Oregon's rich brewing history that haven't seen the light of day in quite some time. Hosted by the Bend Ale Trail, the new Beers From the Dead – Classic Oregon Microbrews Back From Their Grave will bring back a few beers from an era when many of the unique beers at the time were better known as microbrews.
Beers From the Dead will feature beers when styles were few and far in between and when beer tasted just like beer. This will include such classic styles as golden ales, red ales, black ales, and other beers that were named after their appearance. The brewery list will feature many longstanding Central Oregon breweries along with a couple eacb from Portland and Eugene.
The new festival will take place in Bend, Oregon at the Midtown Yacht Club on Saturday, October 29, from noon – 6:00pm. Beers From the Dead is also the kickoff event for Bend Ale Trail Month that takes place during the month of November. Guest will be able to revisit beers back from the dead.
The lineup includes the following nine Oregon breweries and beers as described by the festival organizer himself, Brian Yaeger…
Deschutes Brewery's debut release born in 1986, Cascade Golden Ale. McMenamins Brewery at Old St. Francis resuscitates Mars Ale, the 1985 pastry stout 30 years before the term pastry stout was coined. Boneyard Beer revives Black 13 black from the dead. Steelhead Brewing, which opened in Eugene in 1991, reanimated as McKenzie Brewing and ushers back red ales with Raging Rhino Red among the brewpub's first offerings created by legendary brewer and Pink Boots Society founder Teri Fahrendorf. Silver Moon Brewing, Central Oregon's fourth-oldest brewery, brings Voodoo Dog India Red Ale back from the pet sematary, er, beer cemetery. From Redmond's Porter Brewing, where ESB never died, guests can try Infamous ESB on cask. A pair of Portland breweries, Breakside and U-Brew (Unicorn), will treat attendees to Lunch Break ISA (among the first ever India Session Ales) and Grapefruit IPA (the first-ever grapefruit infused IPA), respectively. As a mega throwback, Hop Valley Brewing brings the original Pacific Northwest macro lager, Henry Weinhard's Private Reserve, back to life. And while The Ale Apothecary is only a decade old, its wild ales were and remain groundbreaking so attendees will find dusty bottles loosed from the Apothecary morgue.
Entry into Back From the Dead is free and all nine beers will be available a la carte in either full or half pint pours. Plus, there will be free pumpkin painting and treats will be available for kids while Bend Ale Trail passports and event glassware will be free for the first 200 customers. 
Back From the Dead is sponsored by Visit Bend and benefits the Bend Sustainability Fund, taking care of the places that take care of us by investing in what makes Bend such a special place. To stay up to date on Beers From the Dead, make sure to follow the Facebook Event Page or the festival's Instagram page.
Midtown Yacht Club
1661 NE 4th Street
Bend, OR 97701