Belmont Station 20th Anniversary – An Interview With Carl Singmaster and Lisa Morrison
|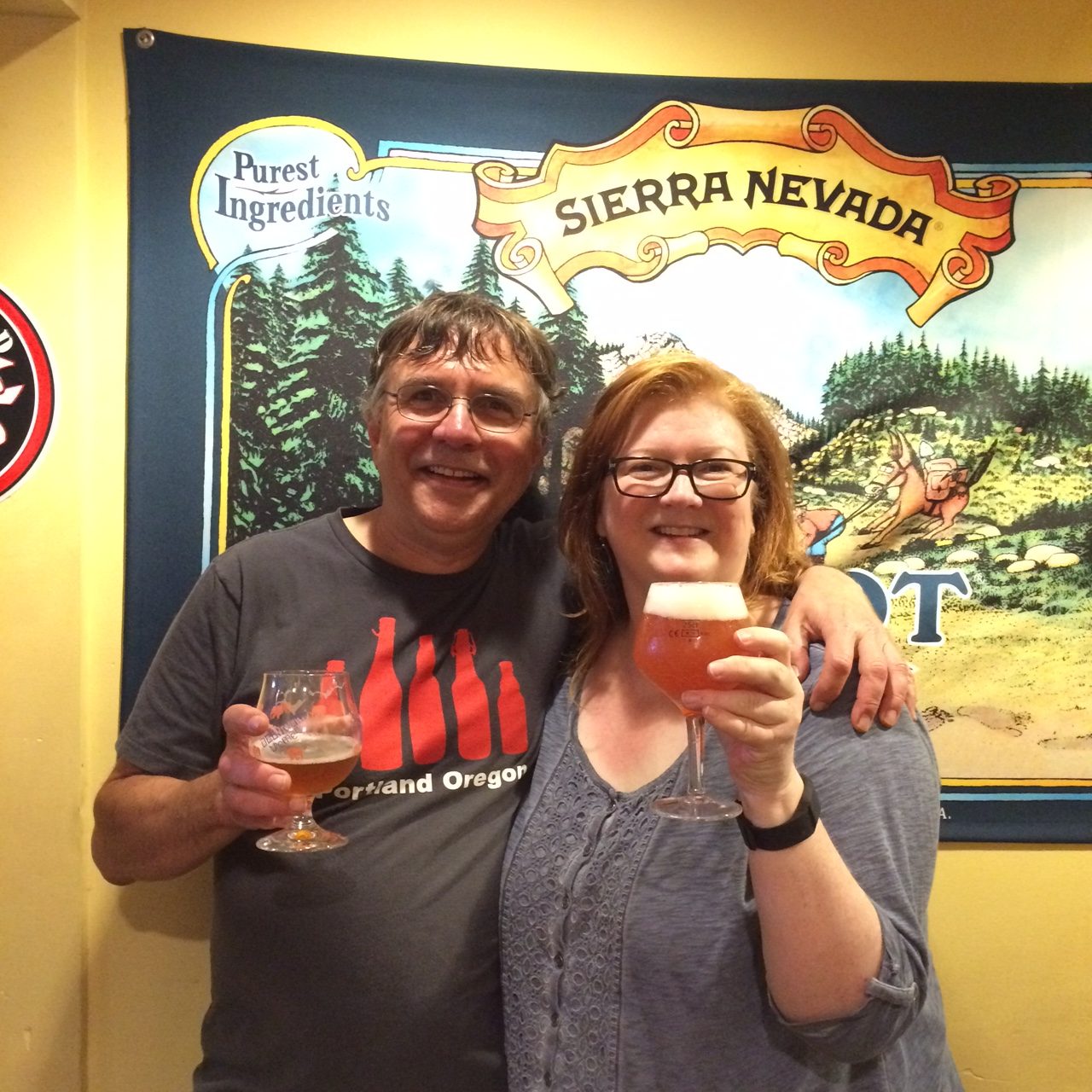 Legend has it that back on St. Patrick's Day 1997, Belmont Station officially opened its doors across the breezeway from the world famous Horse Brass Pub. During the shop's first decade Don Younger and Joy Campbell operated the business of selling bottles of beer alongside some imported specialty foods. Belmont Station once was the "place" in Portland to purchase the iconic British HP Sauce.
As the business progressed as the microbrew movement transitioned into what is now better known as craft beer, the need for the shop to relocate to a larger space was more evident. This was when Carl Singmaster entered the picture in 2006 when he ended up purchasing a majority ownership after he and his wife Amy relocated to Portland from South Carolina.
The following year the shop relocated to its current home at 4500 SE Stark Street in January 2007. This is also when Carl and Joy added the Biercafe pouring four rotating taps. During the next six years the Station increased its tap selection to 16 rotating taps and served some light food such as sandwiches and soups until another change took place, an expansion of the building to include the beer garden out back with an adjacent food cart. This was also when the Station added additional taps increasing its number of beers pouring to 23 and keeping anywhere from 1300 to 1500 different bottles of beer in stock on any given day. It was during this time in May 2013 when Lisa Morrison took over a controlling interest in the shop as her and Carl continue to run and operate the Station.
Speaking for myself that impulsive action in 2006 to buy into Belmont Station became a wonderful journey full of amazing people and an incredible period of growth for better beer! The journey gets ever more fascinating each year." – Carl Singmaster
Belmont Station is one of the top bottle shops and beer bars in the country. Magazines such as DRAFT continually rates the bar as a premier beer bar and Beer Advocate gives the Station a score of 99. This is THE BAR in Portland where out of market brewers want their beer to be released and showcased. Remember the line out the door and around the block when Bell's Brewery was in town in April 2015? It just so happens that Bell's Brewery brewed the 20th Anniversary beer for Belmont Station. This is a testament at the influence that Belmont Station has within the craft beer community.
Beginning on Saturday, April 1st, Belmont Station will celebrate its 20th Anniversary with 20 consecutive days of events. Festivities kick off at 11:00am at the Horse Brass Pub and will then proceed to Belmont Station at 1:00pm via a impromptu parade. (More details on these 20 days is listed below the following interview.)
We recently reached out to both Lisa and Carl to learn more about their involvement and how it came to be in Belmont Station.
When you relocated to Portland in 2006 how did you approach Don Younger and Joy Campbell in becoming part of the ownership of the bottle shop? 
Carl: I had known Don and Joy for many years and always shopped at Belmont Station when visiting Portland. When we decided to move to Portland Don and Joy told me they were considering moving Belmont Station to a bigger space on Stark Street (where it now resides). They were looking for an investor. Given that I had 20 years of prior retail experience I offered to invest and volunteered to help them improve the merchandising. At the time the Station had one display bottle of each beer on the wall and customers had to make a list of which beers and how many they wanted. Staff then went into a walk-in to fetch the beers.
I didn't intend to actually work at Belmont Station, outside of advising. On our drive across country to take an apartment in Portland Joy called and said they decided the expansion project was more than they wanted to take on. I'd psyched myself up to help this pioneering bottle shop expand so much that I said "Hold on, I'll be in Oregon in 3 days." I then impulsively walked in and offered to buy Joy's majority share of the business, thereby doing what I so often advised others not to do: buy yourself a full-time job!
In January 2007 you relocated the bottle shop to its current home. How did this decision come about?
Carl: As noted above I felt the merchandising needed to be improved and more room was required to achieve this. The space on Stark Street had been an upscale convenience store with a coffee shop next door. Joy's excellent idea was to add a taproom and still do coffee in the former coffee shop. Gotta give a nod to the Bier Stein in Eugene for showing how a taproom and bottle shop could pair. I take the blame for axing the coffee part.
We signed a lease in May 2006 but the city of Portland held us up for many months in permitting, even though we were making no changes to the building. We moved in January 2007
When did the changes take place when you expanded beyond the original 4 taps in the Biercafe?
Carl: We originally thought that by having 1000 different bottled beers people would be excited to come try so much variety on site. We put in 4 taps because that was all we had space for in the existing footprint and we didn't have the budget to build another walk-in cooler. But all customers cared about was what was on tap. So in (I think) 2008 I had a walk-in installed so that we could expand the tap selection.
In 2013 Lisa purchased a majority stake in Belmont Station. How did this business relationship come about?
Carl: I had become a bit exhausted navigating the settlement of the estate when Don Younger passed and what I considered to be the necessary addition of the back patio for more seating. This had been planned prior to Don passing but the estate settlement and once again the permitting process delayed this for a couple years.  Having run small businesses for most of my life I wanted to have more time to travel and step back from running the business. I had known Lisa for years and always admired her people skills, beer knowledge and experience, and integrity so I asked her if she'd like to buy 51%. And she bought herself a full-time job!
Lisa: ​My husband, Mark Campbell, and I had started talking very casually about what retirement might look like for us. We had no plans then to retire, but thought it would be smart to start a discussion, which turned more to pipe dreaming. We both agreed it would be fun to open a "place like Belmont Station" out at the coast. Not three days later, Carl contacted me about the possibility of becoming his business partner. I took that as a sign that those retirement pipe dreams should start happening sooner rather than later! Plus, I could learn from Carl and not make a bunch of rookie mistakes. Which was a good thing because I made enough as it was with him running interference!
How many bottles is Belmont Station currently stocking?
Carl: We typically have a total of between 1300 and 1500 different beers, ciders, and meads, with beer being the major percentage
Managing this massive amount of inventory has to be a challenge, one that many customers may not be well aware of the work involved. Of your inventory, how many new SKUs on average do you add each week? In doing so how many do you delete?
Carl: How many new (or returning seasonals) we add each week depends on how many are released to the market. We give most every craft brewery/beer a chance by stocking a case. If it sells within freshness dating we continue to restock it.
Some weeks there may be only a few new releases, some weeks there may be one hundred or more. 20 – 50 is typical.
Before we restock anything we look at how long it took to sell a case (the minimum quantity you can purchase from a distributor). If it didn't sell 1) within it's freshness period or 2) the season is about to change so we know people won't be looking for that style any longer or 3) for bigger beers with longer shelf life within a reasonable time frame to keep its shelf space we discontinue it. So we are usually discontinuing almost as many beers weekly as we add.
Lisa, how did you approach Bells Brewery on brewing Belmont Station's 20th Anniversary Ale?
Lisa: Larry Bell and I have known each other for years, and we are Facebook friends. It sounds crazy, but I simply messaged him on Facebook about it, asking him if I showed up to brew a beer for our anniversary if they'd let me. 😉 Honestly, I was pretty surprised they said yes!​
From my understanding you were in Kalamazoo, MI to assist in the brewing of the anniversary ale. How was this experience?
Lisa: It was a great experience. Everyone at Bell's was the perfect host. My husband, Mark Campbell, and I got to help design the beer and then we brewed it on the original Bell's system with three of their pilot brewers, so it was very hands-on. It was quite an honor to brew on a system that has so much history. We all were marveling at ​what the walls could tell if they talked.
What can you tell us about the beer?
​Lisa: It's an IPA brewed with all NW-grown hops: Equinot (the hop formerly known as Equinox), Citra, Idaho 7 and Loral. Lots of whirlpool and dry-hopping, so very aromatic (I hope!) Cannot wait to try it!
With the guidance of Carl and Lisa, it's the staff at Belmont Station that makes it one of the most inviting beer bars in all of the country. The current managerial staff at Belmont Station consists of General manager (and second longest tenured Belmont member after myself) Neil Yandow, Bottle Shop Manager David Atchison, Taproom Manager Susan Luoma, and Purchasing Manager Ryan Fosbinder. We cannot thank them and their predecessors enough for all of the great beer events that have taken place inside the walls of the Station. Prost!
Here's a rundown on the days events for Belmont Station 20th Anniversary – 20 Days For 20 Years provided by Belmont Station. Keep checking the Belmont Station website for any updates.
Belmont Station 20/20 Kick-Off Party
Saturday April 1 | 11 AM (at the Horse Brass)/1 PM'ish(Parade) – All Hours
We're kickin' it old school and starting this 20 Days for 20 Years celebration at The Horse Brass Pub, where Belmont Station got its start in 1997 as a side project (literally – it was next door to the Brass).
Hit the Brass, grab a beer, and enjoy a slice of complimentary birthday cake, because at 1 PM, we march! A Scottish piper band will lead this ragtag parade of revelers north a few blocks up 45th Street to Belmont Station's current location, where we will be joined by the Three-Headed Hop Monster IPA, a collaboration from Barley Brown's, Boneyard and Melvin – an encore brew of this popular beer that was revived just for this party!
Bring a thirst, because we also will be tapping several other very special beers! Some are drafts we rarely see around these parts, and many were made just for our anniversary — some of which will also be released in collectible bottles and available in the bottle shop to take home:
Alameda Best of Both Worlds IPA — draft only
Cider Riot! Lullaby of London Dry Gin Barrel-Aged Cider — draft and bottles (Also available at The Horse Brass)
Gigantic Hop-Dippa 2 Belmont Boogaloo Dip-Hopped Pale Ale — firkin
Heater Allen Yeti Topper Hoppy Hellerbock — draft and bottles
Hopworks Urban Brewery Double Vision Pacific NW Inspired English Strong Ale — draft and bottles
Russian River STS Pils — draft only
Many brewers and brewery reps will be on hand to chat about our special anniversary beers, plus there will be plenty more libations and at least a toast or two!
PLEASE NOTE: THIS IS A CASH ONLY EVENT IN THE TAPROOM! ATM on site, but plan to bring cash! Credit cards welcome at all times in the bottle shop.
Finnriver Rare Cider Tasting
Sunday April 2 | 2-5 PM
Cider lovers rejoice! One of the Northwest's favorite cider makers, Finnriver, will be in the bottle shop, sampling an enticing array of their amazing ciders — including a few that rarely make it off Finnriver's farm on the Olympic Peninsula — selected especially for our 20th anniversary celebrations.
Featuring:
Golden Russet — the inaugural release of Finnriver's new 'Orchard Series' ciders – handcrafted almost exclusively sourced from Finnriver's Chimacum Valley orchard.
Fire Barrel 2016 Harvest — aged in Washington rye whiskey barrels for about 5 months, it offers whispers of whiskey and rye spice, smoky aromas and notes of caramel and vanilla with a soft tannic finish.
Both Golden Russet and Fire Barrel 2016 will be available for sale in the bottle shop, along with other Finnriver ciders.
Additionally, in the taproom, Ginger Bug, will be pouring. Made with organic white ginger from a family farm in Kauai, it is a brand-new, one-off draft-only cider that will only be available in Portland at Belmont Station at this time.
Finnriver always hosts informational and exciting tastings, and we are very pleased to feature them during our "20/20 (20 days for 20 years) Anniversary Celebrations"!
Fremont BS IPA Release Party
Monday April 3 | 5-8 PM
When was the last time someone offered you a nice, cold can of BS? Well, Seattle's Fremont Brewing is doing just that! There might be more to the moniker (maybe they are Sounders fans?) but we prefer to think of this delightful IPA's name as a nod to Belmont Station's initials and our big anniversary — and the "20" on the cans confirms it! Brewed with several Belmont Station employees, who made the trek up to Seattle on brew day, these cans are limited and are guaranteed to go fast! The Fremont crew will be in-house around 5 PM to chat about Fremont and this beer in particular — and maybe offer us all a little BS!
Buoy Belmont Imperial Extra Red Ale & Stormbreaker Station-to-Station DIPA Release Party
Tuesday April 4 | 5-8 PM
Both Buoy and Stormbreaker brew crew members will be on hand to help launch these beers brewed especially for Belmont Station's 20th Anniversary with Belmont staff on-site during brew days! Buoy's draft-only BIER (Belmont Imperial Extra Red) Ale will be pouring in the taproom, and Stormbreaker's Station to Station IPA will be on draft — plus 22-ounce bottles of Station to Station (with very cool labels) for sale in the bottle shop to take home! It's guaranteed to be a fun night with some tasty beers!
German Sparkle Party!
Wednesday April 5 | 5-8 PM (tasting) / 3-Close (stein giveaway)
Join us in the taproom for a celebration of German beer and its influence on our craft beer culture!
In the bottle shop: From 5-8 PM enjoy a sampling of Bitburger Pils and Bitburger Radler.
In the taproom: We will be pouring a nice assortment of German and German-inspired beers, including:
Heater Allen's Yeti Topper Hoppy Hellersbock — a special Belmont Station 20th anniversary beer (bottles available)
*Radeberger Pils
*Radeberger BraufactuM Colonia Kölsch
Rosenstadt Biergöttin (Beergoddess) Weizenbock — draft-only specially brewed with Belmont Station staff for our 20th
Sixpoint Kold Shower Kölsch — a special keg that "escaped" the brewery for our anniversary
Rosenstadt Brewers/Owners Nick Greiner and Tobias Hahn will be on-hand during the festivities!
Buy a litre of either Radeberger Pils or BraufactuM Colonia Kölsch and take a Radeberger litre stein home (while supplies last)!
Additionally, Sera of Faery Hair Sparkles joins us on the back patio from 5-8 PM to sparkle up our hair (and beards and mustaches …)! Many of you have noticed that several Belmont staffers have subtle sparkly threads in their hair — that's Fairy Hair Sparkles! Check out her Facebook page to get a better idea of what these magical threads are all about and plan to sparkle it up with us — if you dare to be different!
German Bier + Fairy Hair Sparkles = German Sparkle Party!
Pelican Cherry Poppin' Dory Release Party & Birthday Bash
Thursday April 6 | 5-8 PM
The Pelican flock is flying in from the coast for a big night of birthday fun! And while it's all part of Belmont Station's 20th Anniversary celebration, this is all about YOU!
Pelican brewed a very special batch of their Dory Dark Ale, adding cherries and aptly naming it Cherry Poppin' Dory! Grab a pint and enjoy it with slice of birthday cake courtesy of the Pelican pod who, of course, will be on-hand to help us celebrate!
Buy a glass of Cherry Poppin' Dory and get a raffle ticket for a chance to win one of three birthday presents chock full of cool Pelican and Belmont Station gear! Tickets also available for purchase, with all the proceeds from the raffle going to benefit the local chapter of the Habitat for Humanity! We also will have some other great beers on tap from Pelican, so keep an eye right here for updates!
Mini-Puckerfest Kickoff with Flat Tail & Cascade!
Friday April 7 | 5-8 PM
Our summertime sour and wild beer celebration is coming around for a shorter stay April 7-9 as part of our 20/20 Experience — 20 days of events to celebrate 20 years of Belmont Station! (Don't worry, our regular Puckerfest will be here as usual in July, too!) And, just like the big Puckerfest, if you don't fancy sours, there will definitely be some other tasty Belmont Station exclusive beers on tap to enjoy! But if sours and wild ales are your thing, this will be the place to be!
To help kick things off, our friends at Flat Tail Brewing have created a very special edition of their DAM Wild series: Belmont Station 20th Anniversary Sour Ale, made with 20 special ingredients to honor our 20 years in business (stuff like raspberries, cranberries, lemongrass, pink peppercorns and more). We will be pouring this lovely beer in the taproom and we will have special commemorative bottles available for sale in the bottle shop! Brewmaster Dave Marliave will be around 5-8 PM for what we expect will be some Flat Tail shenanigans — and to hand out some Flat Tail swag.
Plus, it's another edition of the Battle of the Belmont Blends! Our pals at Cascade Brewing have once again invited the entire Belmont staff to join them for a pair of special blending sessions. We split up into two groups and each blended what they think is the winning blend. But YOU get to vote on your favorite. The Cascade crew will be on hand to help us out, and a little after 8 PM, the votes will be tallied and the winning blend will be announced for bragging rights among the Belmont Staff — at least until the next round!
PLEASE NOTE: THIS IS A CASH ONLY EVENT IN THE TAPROOM! ATM on site, but plan to bring cash! Credit cards welcome at all times in the bottle shop.
Mini-Puckerfest Day 2 Featuring Block 15 & de Garde
Saturday April 8 | 2-5 PM
Puckerfest regulars know that Block 15 and de Garde have a mutual admiration thing going on. And far be it from us to keep these two great breweries from enjoying each other's company — especially when they bring a beautiful array of sour and wild ales to share!
De Garde blended a barrel-aged beer for our 20th anniversary! Called The Station, it's available in very limited amounts for sale in the bottle shop — while supplies last. For all you de Garde collectors out there, this is a must-obtain bottle! We also will be pouring some other stunning de Garde beers, and, of course, Trevor and Linsey will be hanging out with us at least from 2-5 PM talking and drinking great sours!
De Garde Draft:
The Pas: Wild Ale aged in Oak barrels blended from 3 years
Special Rouge:Sour red fermented and aged in a foudre with Montmorency cherries and raspberries.
Dame Rouge: Wild oak fermented and aged saison, refermented in oak with Montmorency cherries and raspberries, then blended with 20% two year old oak aged saison
Saison Facile: A wild farmhouse ale aged in oak foeder
That's also when the Block 15 gang will be here! Block 15's Draft List:
2015 Framboise White: Belgian style white ale open fermented with Belgian yeast, lactobacillus and brettanomyces. Matured three seasons in chardonnay barrels with organic golden raspberries.
2016 Golden Canary: blend of sour Golden ales matured 4, 9, 14, & 20 months in Pinot Noir Oak Barrels
2015 Kriek: Open-fermented oud bruin aged in Bourbon barrels with Montmorency cherries
Laissez-Faire Spontaneous IPA: Spontaneously fermented and harmoniously hopped with fruit-forward varietals
The Cimmerian Sour Dark Ale: a blend of dark ales, matured for 10 months in oak barrels
PLEASE NOTE: THIS IS A CASH ONLY EVENT IN THE TAPROOM! ATM on site, but plan to bring cash! Credit cards welcome at all times in the bottle shop.
Mini-Puckerfest Day 3 Featuring Ale Apothecary, Upright, Double Mountain & Firestone Walker
Sunday April 9 | 2-5 PM
We conclude our Mini-Puckerfest with a fantastic lineup!
Ale Apothecary: Paul Arney brings us Belmont La Tache, an exclusive and rare blend of his popular La Tache made with raspberries and loganberries just for our 20th anniversary! This one is a sourheads dream, and Paul says it can be laid down for up to three more years, showing different nuances with age. Available exclusively in the bottle shop, you will want to get some before this rare treat disappears. Paul hopes to be on site during the event to chat and share some beer!
Upright: Alex Ganum will be in the house 2-5 PM to present Ives. Just for Belmont Station's 20th anniversary, this is a sneak preview of a bottle Upright plans to release later this year. Alex describes Ives, which was named for American composer Charles Ives, as "a straight blend of four barrels filled in the summer of 2015. The base was formulated and brewed for long term maturation with plenty of raw wheat and aged hops, then slowly fermented in the casks with a mix of yeasts and bacteria selected from our favorite existing barrels at the time. The earthy nose is followed by a sharp tartness up front, then opens with a rounded grain profile mid palate, finishing on the softer side with complexities throughout."
Double Mountain: Rainier Kriek 2013 — a rare keg indeed, this was the last year Double Mountain named what is now Tahoma Kriek after the gorgeous cherries that make the beer. Come try this beautiful kriek on draft!
Firestone Walker: Bretta Rose Berliner Weisse: A rare keg of this delightful Barrelworks Berliner-style Weisse magically made it to Portland for our 20/20 Anniversary Experience!
Hells (YEAH!) Bells!
Monday April 10 | All Hours of Operation
Belmont Station becomes BELL'Smont Station once again as this awesome Michigan brewery brings us another load of goodies from Kalamazoo! A Midwest treat at the midpoint of our 20/20 Experience: 20 Days of Events for 20 Years!
In what is a very rare occasion, we got a chance to design and brew a one-off anniversary beer that we had the honor to brew on the original Bell's system, which is now mostly used for pilot brews and small batches. The finished product, Bell's Belmont Station 20th Anniversary Ale, will be tapped at high noon! (Don't worry, we have plenty of this exclusive draft-only beer!) The only other place it's being poured at this time is at Bell's Eccentric Cafe in Kalamazoo!
Other Bell's on draft: an exclusive Mango Habanero Oberon Ale (very rare and the first time in Oregon!) and everybody's favorite, Two Hearted Ale!
Of course, for sale in the bottle shop, we will have a big stack of cans of Two Hearted Ale and this year's recently released Oberon Ale — and who knows what else our friends at Bell's will surprise us with!
Customer Appreciation Day & Beer Party PDX Fundraiser Featuring Gigantic Hop Dippa 2 Belmont Boogaloo
Tuesday April 11 | All Hours of Operation
We can't do what we love to do without YOU! Come in wearing your Belmont Station gear (hat, shirt, etc.) and get $1 select Belmont Station 20th Anniversary beers currently on draft. A portion of our proceeds for the day will be donated to the Beer Party PDX, a fledgling nonpartisan organization of beer industry professionals who are using the common language of beer to help protect and promote basic civil rights including voter access, freedom of speech, and equal rights. Interested in learning more about how to drink good beer for good causes? BPPdx representatives will be on hand to tell you more!
Plus, join Ben Love and Van Havig as they bring us their Belmont Station 20th Anniversary Ale: Hop Dippa 2 Belmont Boogaloo, a tasty pale ale that Belmont staff brewed with Gigantic! It utilizes a distinctively different way of using hops called "hop-dipping" for a truly lupu-licious experience! Try it on draft and don't forget to take some bottles home!
Bigger Badder Blacker Begins With Founders KBS
Wednesday April 12 | 5-8 PM
You asked for it, and it's b-a-a-a-a-ck: our popular celebration of all beers big, black, bad (in a good way) or any combination of all the above! We offer a stunning five days of amazing stouts, imperial stouts, barley wines, strong ales, barrel-aged offerings and more to share — starting with a little something known as Founders Kentucky Breakfast Stout, tapped at 5 PM! Grab a glass of it at the bar, and get a Founders KBS glass to take home (while supplies last). Hurry in! The beer and the glasses are sure to disappear quickly!
Bigger Badder Blacker Day 2: A Date with the Baptists
Thursday April 13 | 5-8 PM
Epic's Big Bad Baptist has to make an appearance during this event! And sure enough, we have So. Many. Baptists. On tap:
O.B (Son of a Baptist) Brewed with local Coava coffee
Big Bad Baptist (Imperial Stout brewed w/ cocoa nibs and coffee and aged in Bourbon barrels)
Big Bad Baptista, inspired by traditional Mexican coffee
Double Barrel Big Bad Baptist (Imperial stout brewed with cocoa nibs and whiskey-aged coffee beans)
We will also have a very limited amount of all of these beers in bottles to go!
Bigger Badder Blacker Day 3: Deschutes Night
Friday April 14 | 4 PM-Close
What better way to kick off a weekend than with a deep vertical lineup of Deschutes' Black Butte anniversary beers, XXV, XXVI, XXVII, and XXVIII to be exact! And since Deschutes does Bigger Badder Blacker better than Chris Rock, we are throwing Scotch Barrel Abyss and Brandy Barrel Abyss on draft as well. In the bottle shop, look for a ridiculous amount of great vintage beers from our cellar! It's a great way to fill in your collection, or start a new one! During this particular event, we will be featuring an assortment of well-kept vintage bottles from Deschutes. We also will be kicking off our Silent Auction of a complete vertical of The Abyss, from 2006-2016,including two variants. The auction will run April 14-20, with the winner being announced April 21. All proceeds will go to Habitat for Humanity!
Bigger Badder Blacker Day 4: A MALT-ly Crew!
Saturday April 15 | All Hours of Operation
Some great breweries have pulled out some really rare stuff for our 20th anniversary for this day. Look for:
Ninkasi Four Roses Barrel-Aged Oatis Oatmeal Stout
Fort George Matroyshka with Cocoa Nibs (Extremely limited number of bottles available in the bottle shop, too!)
Firestone Walker Double DBA
Firestsone Walker ParabaJava 2016
Double Mountain Bourbon Barrel Chaos
Of course, in addition to all the BBB beers, we still will have a nice array of our anniversary beers on tap, plus a few extras, assuring a balanced taplist for all to enjoy!
Bigger Badder Blacker Kick the Kegs Day & Scavenger Hunt!
Sunday April 16 | All Hours of Operation
We wrap up our Bigger Badder Blacker 20th Anniversary Edition with a chance to taste some of the beers you missed! Come help us blow some of these kegs and, while you're at it, join our Scavenger Hunt! Pick up the game rules and the list of what you need to find in and around Belmont Station — the bottle shop, the bar, the back patio and maybe even outside the building. After you've "collected" each item, show your completed form to one of our staff members for a special Belmont Station prize, while supplies last! It's way more fun than Easter egg hunting!
The Besties!
Monday April 17 | 5-8 PM
The Oregon Beer Awards named Oregon's best breweries of 2017 in three sizes, based on production: Baerlic for small brewery, The Commons for medium-sized brewery and Breakside for large brewery. Belmont Station for a third year running was named Best Beer Bar/Bottle Shop in the same awards ceremony. And because we are all friends, we thought it would be fun to have a Besties Night, celebrating not only great beer, but the wonderful community of friendships that support our craft beer culture!
Folks from all three breweries will be on hand to swap stories and enjoy each other's beers. Don't forget to ask Baerlic about why their saison has such an unusual name!
Pouring in the taproom:
Baerlic 'Let's Not Kill Ryan' Non-Gin Barrel Aged Saison
The Commons Nocino Barrel-Aged Zeven – Belgian dubbel aged in a Nocino (Italian style spiced green walnut liqueur) barrel.
Breakside & Belmont 'We Haven't Come Up with a Name Yet' Barrel Aged Peach Sour Ale
The Commons is also bringing us a very limited bottles of Maybelle and 2013 Bourbon Little Brother available in the bottle shop to take home!
Samuel Smith's Salute! & Tax Relief Party
Tuesday April 18 | 5-8 PM
Samuel Smith's was one of the imports that inspired the first generation of America's artisan brewers, so it's fitting that we celebrate all that this amazing brewery has brought us and taught us! In addition to a nice array of Sam Smith's bottles for sale in the bottle shop, we will have select bottles available for on-site consumption all day long. Around 5 PM, Merchant du Vin's chief storyteller Tom Bowers will be in the taproom to tell us more about Samuel Smith's and lead us in the annual salute.
We also will feature a Samuel Smith's-inspired collaboration by local brewers 54°40' and the upcoming Grains of Wrath brewing. A few folks from both breweries will be on-site, along with Alan Sprints from Hair of the Dog and John Harris from Ecliptic, all of whom will say a few words about how Sam Smith's inspired them. We will also be pouring a Hair of the Dog beer especially chosen by Alan and the 19th Anniversary Ecliptic Belmont Station Barley Wine!
We're Not Done Yet!
Wednesday April 19 | 5-8 PM
Three of Oregon's hottest breweries made special beers for our 20th anniversary celebration! And they will all be here, pouring their beers, tonight! Join Culmination, pFriem and Ruse for these very special beers:
Culminaton Euphoric Brett Ale (bottles available in the store)
Ruse Sparrow Sin English-American Barley Wine Aged in Rye Whiskey Casks
pFriem Belmont Belgian Single
Closing Ceremonies
Thursday April 20 | 4:19 PM-8 PM
What better day to end this 20th Anniversary madness than on April 20, or 4/20? And what better way to commemorate the day than with a Triple Double — a trio of Double IPAs!
Lagunitas The Waldo's Special Ale — the quintessential 4/20 beer. To make sure everyone has some in their hands at 4:20, we will tap the keg at 4:19. Hey! This obviously ain't our first rodeo! Expect some fun giveaways from the Lagunitas folks too!
Sixpoint Brewing will be joining the party with the 4/20 release of Puff, their hazy, unfiltered version of Resin that also is becoming a 4/20 tradition — so much so that Sixpoint will be giving away Puff rolling papers, perfect for stuffing with whatever you want to puff on while getting your Puff on!
And, the fine folks at Laurelwood will be on site to help us release their always anticipated Megafauna Double IPA and sharing some great Laurelwood gear with fans!
It promises to be an evening to remember — at least until we turn 21!
Belmont Station
4500 SE Stark Street
Portland, OR 97215