Belmont Station to Host 13th Annual Puckerfest Sour Beer Festival
|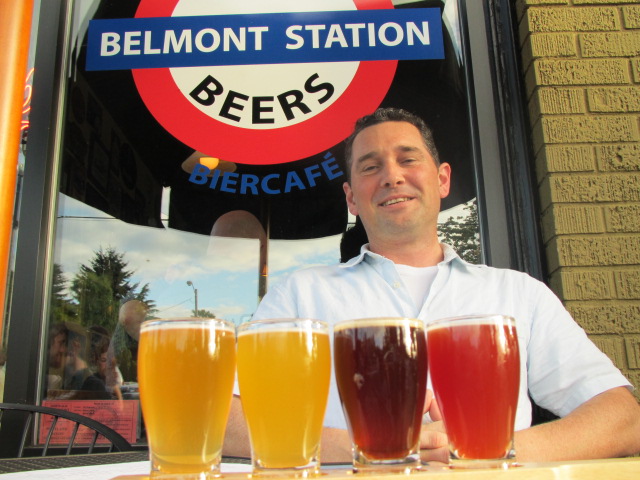 It's that time of year again to get ready to pucker up as Belmont Station is set to host its 13th Annual Puckerfest from Thursday, July 18th through Monday, July 22nd. This annual celebration of sour and wild ales is always a hit as Belmont Station assembles an impressive of list of beers from both near and afar.
Spanning five day, the 2019 Puckerfest will feature at least eight different sour or wild-fermented beers and cider each day during all hours of operation. With themes like, "Locals Only" (featuring only Portland breweries) and "Belgian Birthday Party" (highlighting Belgian sour beers), each daily event will bring something new and exciting.
"When we first started Puckerfest in 2006, sour beers were hardly even known outside certain countries like Belgium and parts of Germany," wrote Belmont Station co-owner, Lisa Morrison in a statement. "It's fun watching styles like Berliner Weisse and Lambic gain in popularity among beer fans, as well as seeing local and U.S. breweries put their own spin on these styles."
Entry to Puckerfest is free and the tap list will rotate with a wide lineup of sour and wild-fermented beer. Patrons can enjoy these special pucker beers by the glass or a tasting flight.
Here's a rundown on events during the 2019 Puckerfest at Belmont Staton.
Thursday, July 18 – Kickoff Party: East vs. West (sour ales from both coasts, except Oregon)
Breweries: Russian River, Hill Farmstead, Stoup, Matchless & more
Friday, July 19 – Oregon Gorge, Valley & Coast
Breweries: de Garde, Alesong, pFriem, Double Mountain, Block 15 & more
Saturday, July 20 – Out There! (sour ales from random locations)
Breweries: New Braunfels, Fonta Flora, Jester King, Carakale (Jordan's first craft brewery) & more
Sunday, July 21 – Belgian Birthday Party!
Breweries: Cantillon, Tilquin, Boon, Wittekerke & more
Monday, July 22 – Locals Only (Portland breweries)
Breweries: Breakside, (releasing a new sour ale), Cascade, The Commons, Culmination & more
Also, make sure to share your best PuckerFest "PuckerFace" on Instagram with the hashtag #PuckerFace2019. The live, daily draft list will be published and available on Belmont Station's website: belmontstation.com
Belmont Station
4500 SE Stark St.
Portland, OR