Best Coast Virtual Beer Fest – Father's Day Edition
|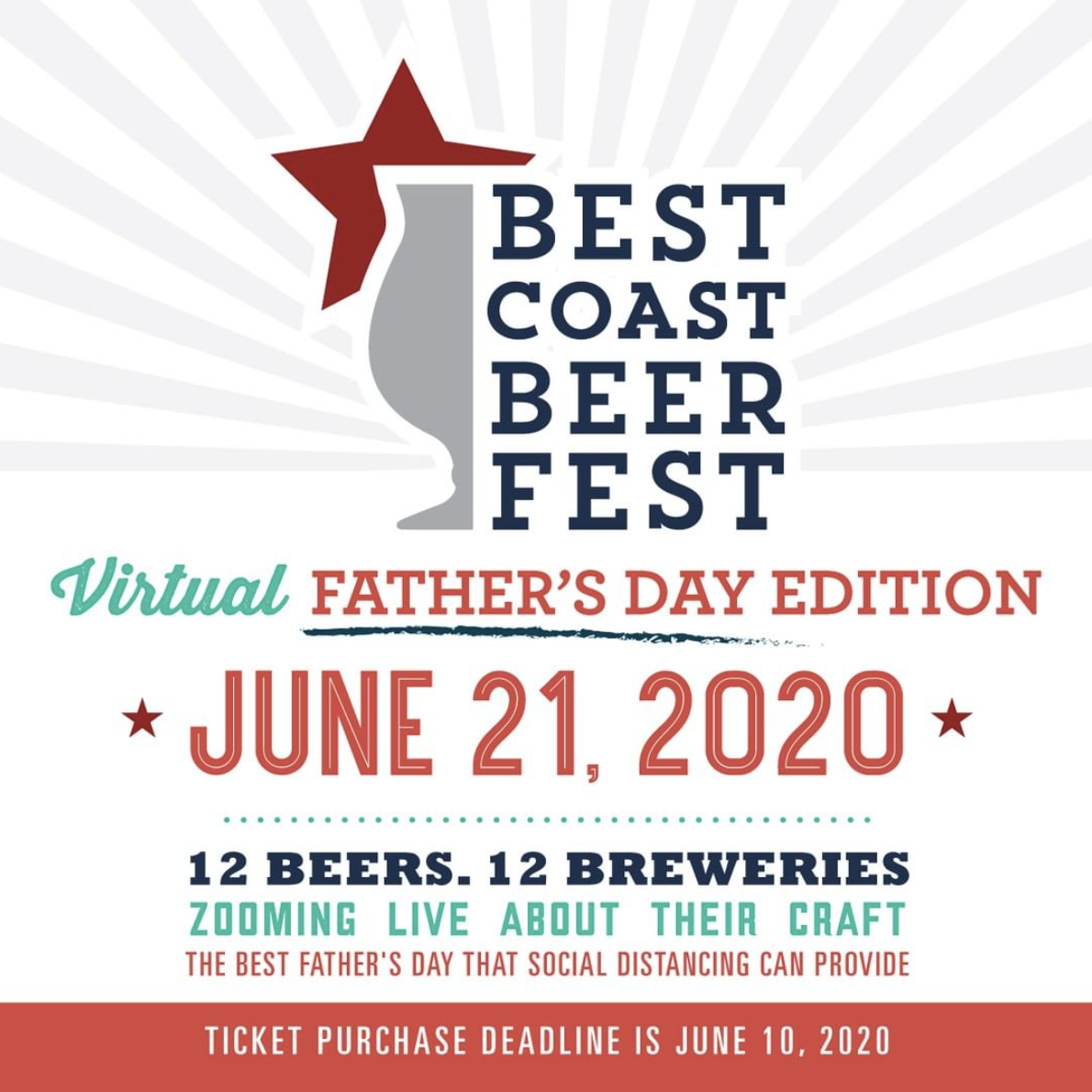 The Best Coast Beer Fest is going virtual this year with a special Father's Day Edition that'll take place on Sunday, June 21, 2020. This virtual fest will take place via Zoom from 3:00 – 5:30pm PST and is limited to 1,000 people.
To partake in the Best Coast Beer Fest, one must order a Festival Beer Kit that consists of 12 curated beers in 12oz and 16oz formats. The fest will also feature meet the brewer Q&A, beer trivia and prizes. Festival organizers reached out to a handful of breweries in the San Diego, their home base, as it also received commitment from a few other breweries outside Southern California to create a well rounded list.
"We have a great relationship with many of San Diego's craft breweries and hand curated the list of breweries based on the new beers they are releasing and making sure that we featured a variety of beer styles, personalities and a mix of smaller and larger production breweries," wrote Amy Ulkutekin from Best Coast Beer Fest in an email.
"The brewers will all participate in the Q&A," wrote Ulkutekin. "Additionally we will have reps from each brewery on the Zoom who will be able to respond to questions we are not able to get to live as well as interact with attendees in the chat."
Here's a preview of the what each festival beer kit will include.
Brewery + Beer List:
Aftershock Brewing Company – Guavaaah! Hazy/Juicy Pale Ale
AleSmith Brewing Company – Forgeberry Ale
Claremont Craft Ales – Pepper & Peaches IPA
Creative Creature Brewing – Pina Colada Blonde Ale or Blutsbrüder Munich Dunkel
Deschutes Brewery – Wowza!
High Water – Campfire Stout
Honest Abe/SoCal Cider Co. – Life's A Peach Cider
Lagunitas Brewing Company – Hazy Wonder
Melvin Brewing – Frothy Embrace Nordic IPA
Mother Earth Brew Co. – Tierra Madre
Resident Brewing Company – Chasing Citra Single Hopped IPA
Trumer Brewery – Trumer Pils
Currently the introductory cost to the Best Coast Beer Fest – Father's Day Edition is $49.50 + $14.75 shipping to Portland for a total of $64.25. These shipping rates may vary per ship to location. This price will increase to $55 + shipping on June 1 and $60 on June 9. The final day to order is June 10. Purchase tickets here: https://bestcoastbeerfest.com.
The beer kit will be shipped out between June 12-15 and will take about 1-3 days to arrive. Best Coast Beer Fest will ship to 40 states including Oregon, Washington, California, Nevada, and Idaho.