Block 15 Brewing Celebrates its 15th Anniversary
|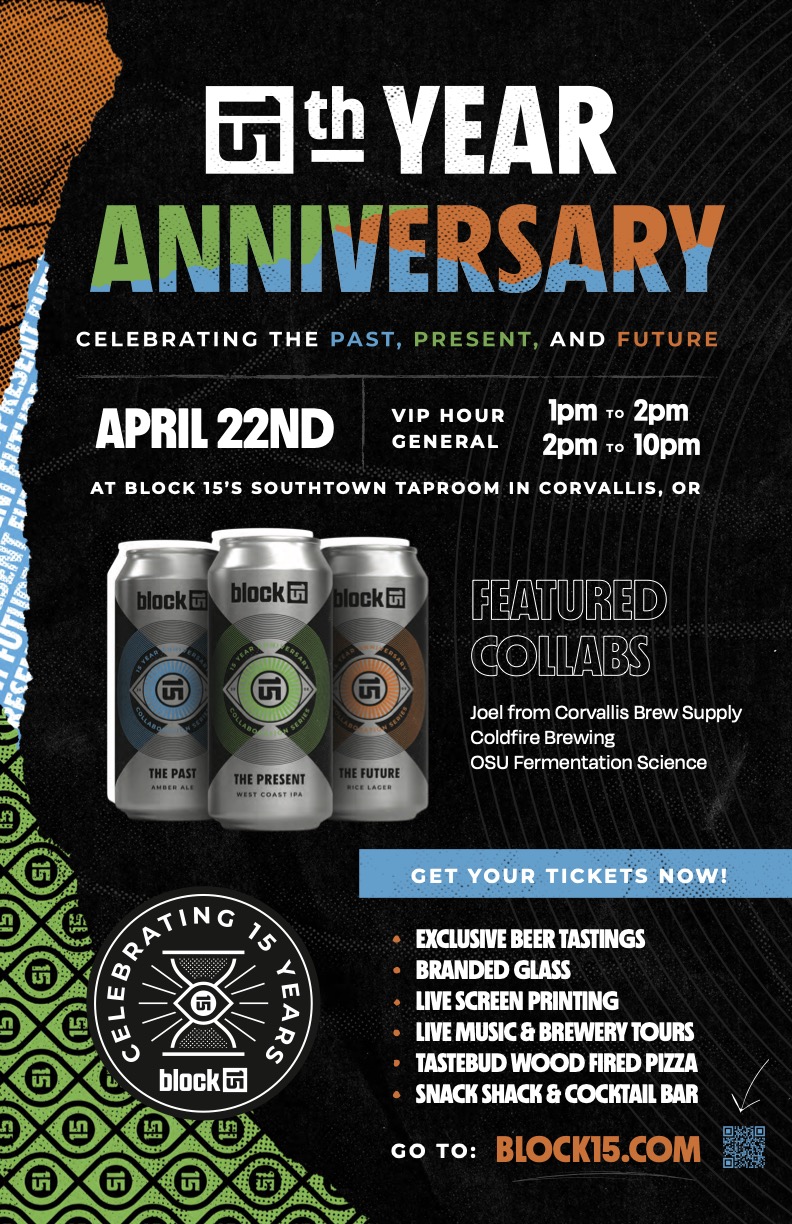 Press Release 3/21/2023 – Corvallis, Oregon's Block 15 Brewing, is excited to announce its 15th Anniversary Celebration this April, along with three special collaboration beers releasing at The 15th Anniversary: Past, Present, and Future Fest. The celebration will be held in Corvallis at Block 15 Brewing on Saturday, 4/22, at their Southtown Taproom location, with a distribution tour shortly after, with locations and dates TBD.
The Anniversary Celebration will start with a limited VIP session from 1-2 pm, with general entry tickets starting at 2 pm and carrying through the night until 10 pm. The day will include live music, food from Portland's Tastebud Wood Fired Pizza and Block 15's Snack Shack, live screen printing, industry friends, new beer releases, vintage bottle releases, and the tapping of The Past, The Present, and The Future collaborations. The theme will focus on the past, present and future relationships that Block 15 Brewing has held over the years and are excited to make. Bring your friends and family; kids' 12 and under admission will be free!
"We can't believe it has been 15 years since we opened our doors! We want to sincerely thank the community of Corvallis and the friends we have made in the industry throughout this time. Here's to many more beers and meals  with our friends and family, Corvallis, and beyond." – Nick and Kristen Arzner
Purchase Tickets
Tickets go live on March 24th at 11am. Tickets can be purchased on the 15 Anniversary Hub HERE.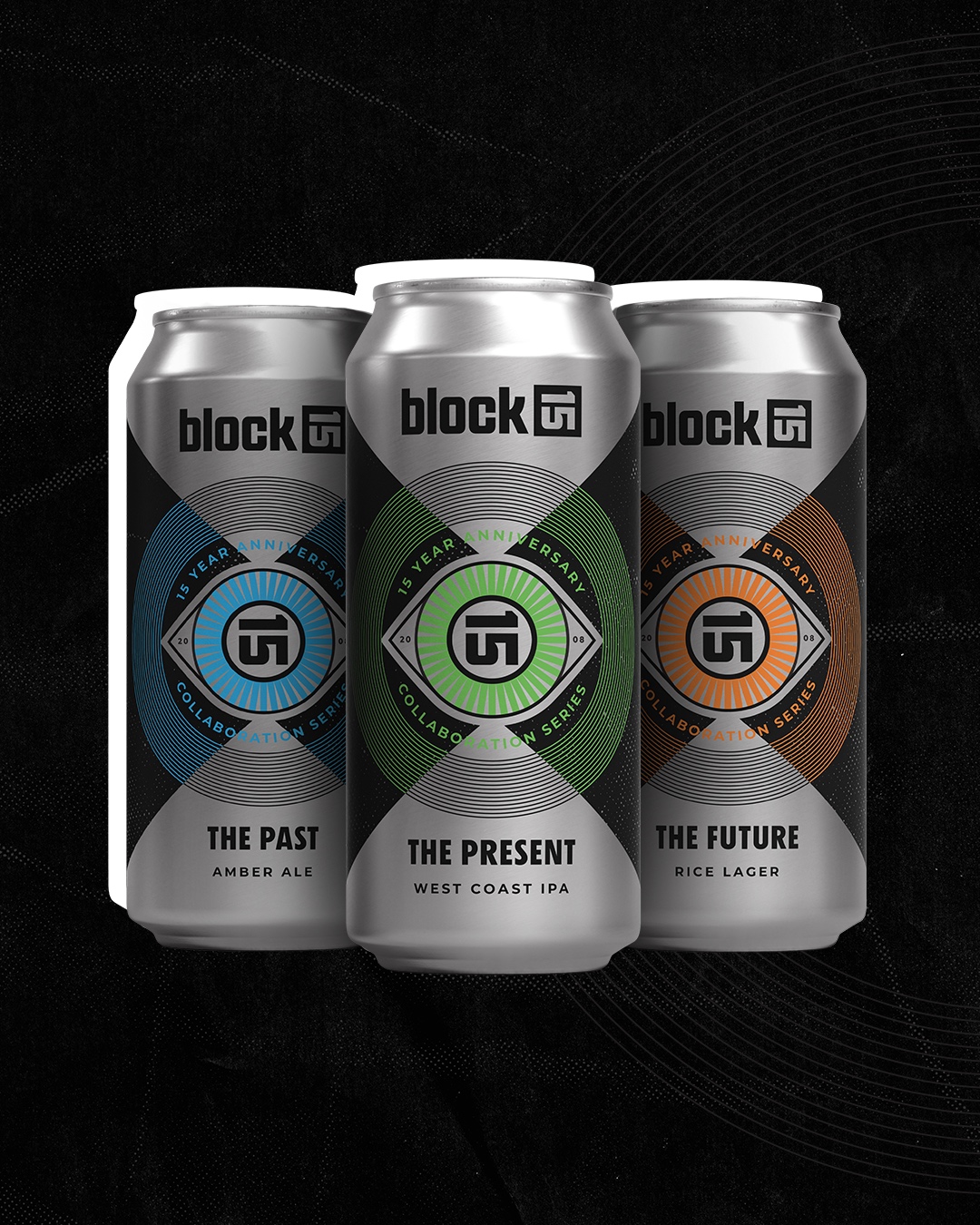 About the Beers
The Past: Amber Ale – Partnering with Joel from Corvallis Brewing Supply, The Past is a brew to celebrate the building blocks of Block 15 brewing. Corvallis Brewing Supply and Joel Rea were instrumental in Block 15's beginning and development as a community brewpub. From supplying our first home brew kit to providing knowledge and encouragement as we put together the dream of Corvallis' first locally-owned brewpub. Few things stand the test of time as a crisp amber ale. We hope to inspire you as he did with generations of Oregon beer lovers. This brew is a toast to the past!
The Present: West Coast IPA – Partnering with our friends from ColdFire Brewing, The Present is a brew to celebrate the up-and-coming breweries in the industry. ColdFire has been a long-time friend, and we couldn't be more excited to work with them. A shared vision of craft beer brought us together, but juicy Nectaron hops sealed our bond for this IPA. There's no time like the present to create this delicious beverage with our friends from ColdFire.
The Future: Rice Lager – Partnering with the Oregon State University (OSU) Fermentation Science Department, The Future is a brew to celebrate the developing research and the new beginnings to the industry! This crisp and refreshing lager features pilsner malt grown in the PNW. A more sustainable beer for our future.
Revolve: Bier de Champagne Aged in Peach Brandy Barrels – Entering our 15th revolution, this golden ale features NW grown grains cellared two years with brettanomyces in peach brandy barrels and bottled, riddled and discouraged in the méthode traditionnelle, revolve symbolizes remaining in motion without forgetting where we started.
Friends of the Industry Tap List:
Foreland, Ferment, de Garde, Bespoken, ColdFire, Ale Apothecary, The Bier Stein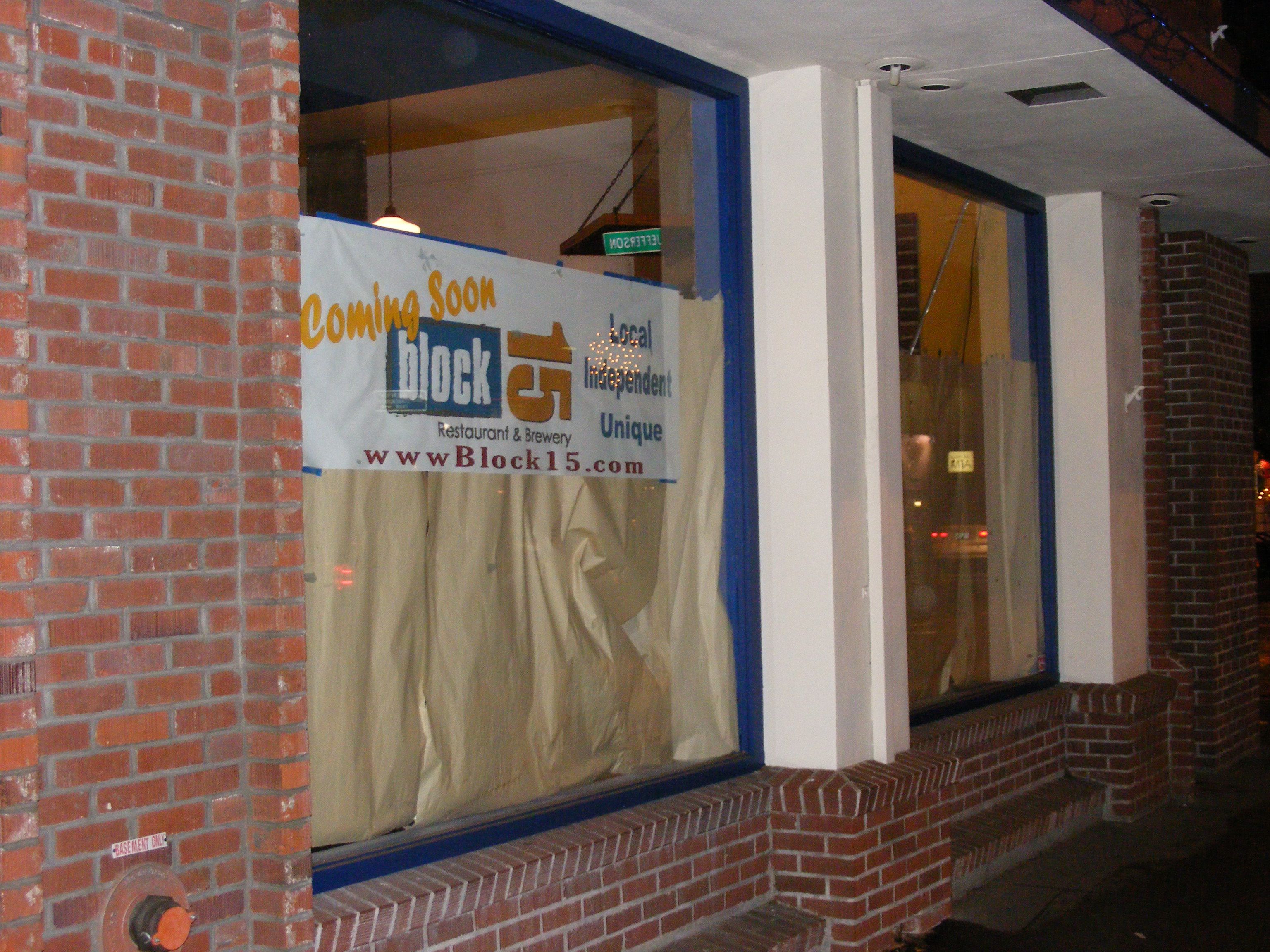 Events Calendar
– Tickets go on sale – March 24th
– 2008 Throwback Party – April 20th, 11 am to 11 pm – The original downtown location, Block 15 Restaurant & Brewery
– The 15th Anniversary: Past, Present, and Future Fest – April 22nd, with VIP starting at 1 pm and General Admission starting at 2 pm until 10pm – Block 15 Brewing Taproom *ticketed event*
– Distribution tour – Dates TBD
How To Get To the Fest
Block 15 will run shuttles between their original Block 15 Restaurant & Brewery downtown location to their Southtown Taproom. Carpooling and biking are highly encouraged! Parking will be VERY limited. Join their Strava Group if you're heading there by bike and want the scenic bike route.

About Block 15 Brewing Company
Established in 2008, Block 15 aims to elevate excellence in the craft beer and beverage experience, measured by endless passion, curiosity, and drive for accessible brilliance. Our family includes our
Corvallis Downtown Brewpub, South Corvallis Production Brewery, Winery, and Taproom, Caves Restaurant, and craft distribution through the Pacific NW.
Block 15 Restaurant & Brewery Downtown: 300 SW Jefferson Ave, Corvallis, OR 97333
Taproom Location: 3415 SW Deschutes St, Corvallis, OR 97333
Caves Corvallis: 308 SW 3rd St, Corvallis, OR 97333
To learn more about Block 15 Brewing head HERE