Breweries in the Gorge 4th Annual B.I.G Swig
|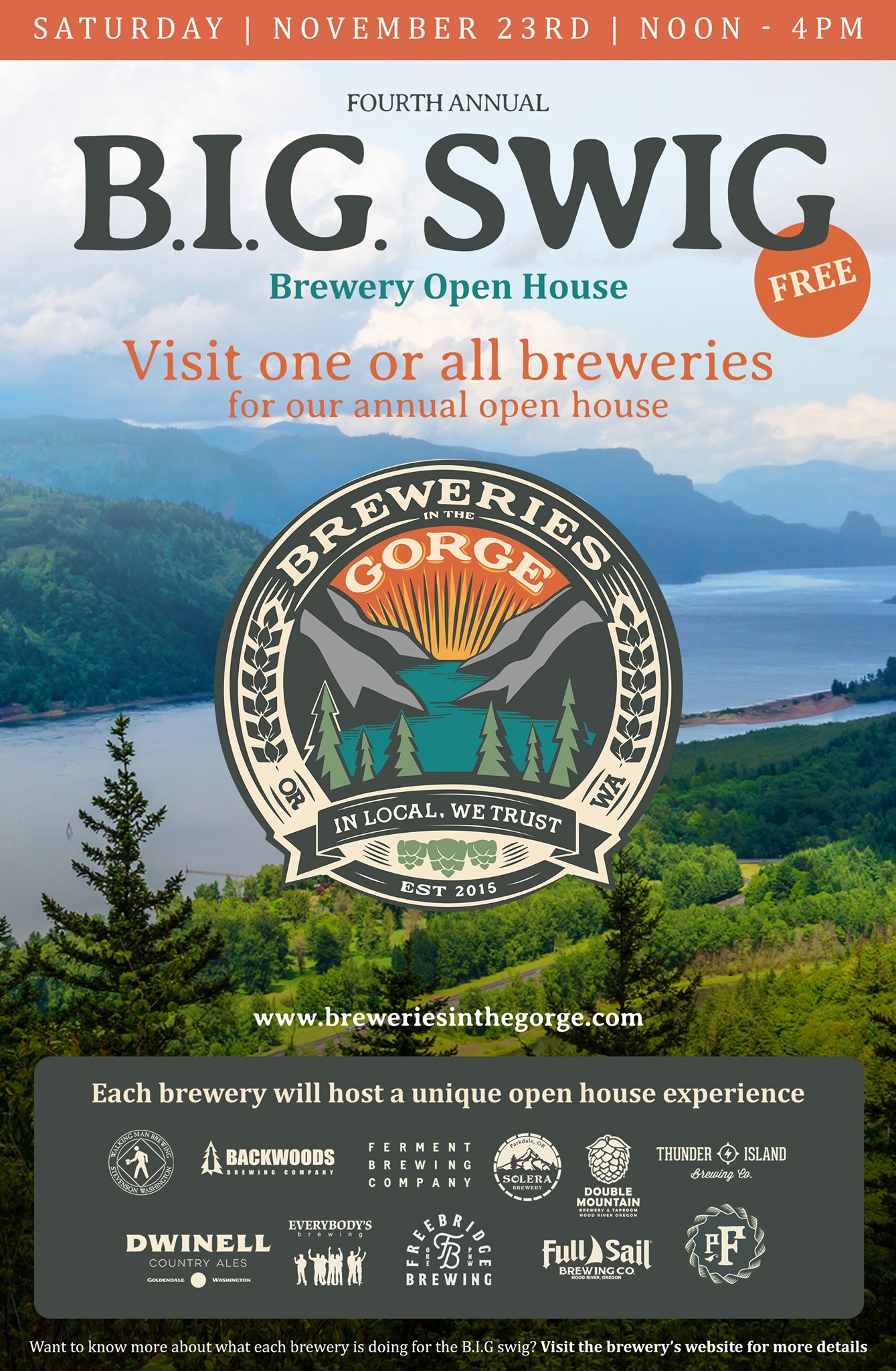 Nestled in the scenic Columbia River Gorge, the trade group Breweries in the Gorge (B.I.G.) will host its 4th Annual B.I.G Swig. This annual event is a brewery open house with brewery tours, special beer tastings and more that will be held on Saturday, November 23rd.
B.I.G. is comprised of twelve craft breweries all located in the Columbia River Gorge from Cascade Locks, Oregon to Goldendale, Washington. The 4th Annual B.I.G. Swig will feature seven of these twelve breweries hosting an open house from Noon to 4:00pm. Each one will reflect the individual brewery beer styles and approach to the craft beer culture in the Gorge.
Here are details on the seven participating breweries of the 2019 B.I.G. Swig.
Thunder Island​ (Cascade Locks, OR) will be providing tours of the brewery every 30 min with a brewer, food specials and will be tasting beers in the tanks.
Walking Man​ (Stevenson, WA) will be providing a fireside chat to celebrate the Breweries in the Gorge's BIG Swig event. Hang out with their brewers while sampling rare and unreleased beers in the brewery itself. You'll be available to ask questions about the brewery, the process, etc. with Head Brewer James Landers and Lead Brewer Tessa Longnecker.
Everybody's Brewing​ (White Salmon, WA) will be giving brewery tours every hour on the hour from 12- 4pm, led by one of their brewers.
Double Mountain Brewery​ (Hood River, OR) will have tours at 12, 1, 2, & 3 pm. Tours will include two samples of beer, one from a fermenter and one from a brite tank. Both samples will be paired with cheese and charcuterie.
Guests will receive a complimentary pint glass and sticker. Tours are 21 and over and limited to 15 people.
pFriem Family Brewers​ (Hood River, OR) will provide brewery tours on the hour, the first at 12 PM and the last will start at 4 PM. They will also be providing complimentary tastings of some of their favorite beverages and small bite pairings matching with the complimentary beers.
Full Sail​ (Hood River, OR) will be offering tours with a beer and food pairing every half an hour from 12:00-4:00. The beer will be their 2017 Top Sail Bourbon Barrel Aged Imperial Porter paired with gourmet chocolate and artisanal cheese. Tour guests will also receive a complimentary pint glass and swag.
Ferment Brewing Co​. (Hood River, OR) will be offering tours on the hour from 12- 4pm and will be serving beer samples and a small bite pairing to guests.