BREWPUBLIC Celebrates 10 Years With 2018 Killer Beer Weekend
|
It has been ten years since the inception of BREWPUBLIC, the beer website founded by Angelo De Ieso and Aaron Miles in 2008. Nearly 8,000 posts later BREWPUBLIC continues to bring the most beer industry news to the Pacific Northwest. We are truly grateful to our loyal readers.
During these ten years we have seen a lot of changes that includes some massive growth in the beer industry. Looking back ten years it's amazing to see the how the beer landscape has changed. We have seen small breweries expand and receive brewing awards on the largest stage, as others have unfortunately had to shut their doors. What times we live and drink in!
To mark this yearly milestone, each year at our anniversary we have hosted a wide array of events and this year is no exception. We will celebrate our tenth year with a Killer Beer Weekend of events. The weekend kicks off on Thursday, October 18th at Roscoe's for our Killer Beer Weekend Kick-Off Party. On Friday we will be posted up at The BeerMongers for our 10th Brewniversary. The weekend culminates on Saturday with our most anticipated event, KillerBeerFest 10.0 that is held each and every year at Bailey's Taproom.
We present to you our 2018 Killer Beer Weekend that takes place from October 18th – 20th.
BREWPUBLIC's Killer Beer Weekend Kick-Off Party
Thursday, October 18th, 4:00-10:00pm
Roscoe's – 8105 SE Stark St. – Portland, OR
We kick off our Killer Beer Weekend at Roscoe's on Thursday, October 18th. This year marks our 10th year of bringing the best beer news in all of the Pacific Northwest. We are happy to celebrate this milestone at Roscoe's with some Killer Beers to kick off our three-day celebration!
The tap list will include offerings from Alesong Brewing. Firestone Walker, GoodLife Brewing, Aslan Brewing, Fremont Brewing, Great Notion. Loowit Brewing, Fort George. Boss Rambler Beer Club. Boneyard. Machine House and more!
BREWPUBLIC's 10th Brewniversary
Friday, October 19th, 4:00-10:00pm
The BeerMongers – 1125 SE Division St. – Portland, OR
Celebrate our 10th Brewniversary with us at The BeerMongers. On tap will be some killer beers from Alesong Brewing and Blending, Gigantic Brewing Company & Other Half Brewing Company, Great Notion Brewing, Firestone Walker Brewing Co., Chuckanut Brewery & Kitchen, 10 Barrel Brewing Company – Boise, and more!
We will also have Hakuna Murata Food Truck on site serving up its Japanese and Filipino inspired food!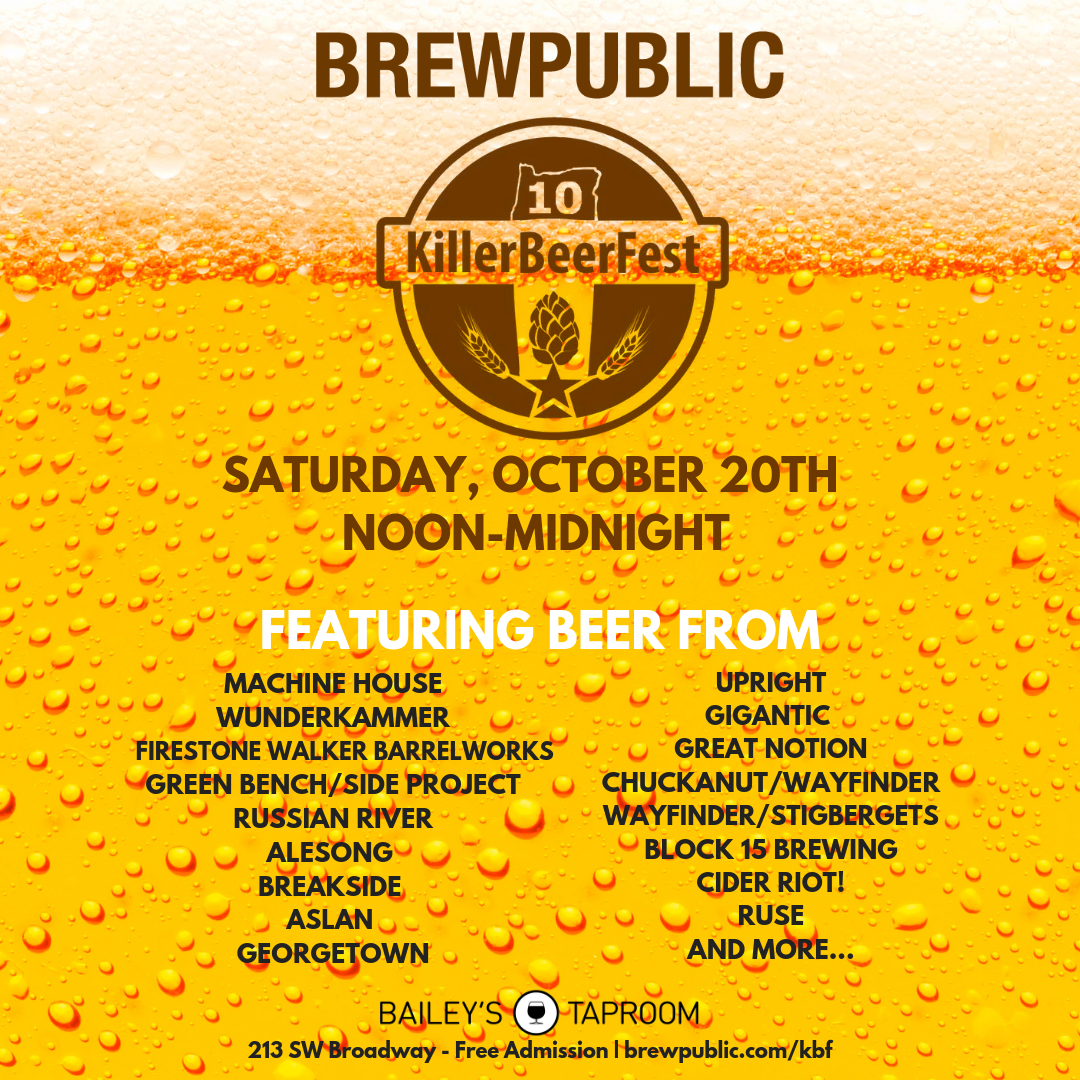 BREWPUBLIC's KillerBeerFest 10.0
Saturday, October 20th, Noon-Midnight
Bailey's Taproom – 213 SW Broadway – Portland, OR
The team at BREWPUBLIC celebrates 10 years of beer news at downtown Portland's top beer bar, Bailey's Taproom. On tap will be 26 killer beers carefully selected by BREWPUBLIC. As with other years, KillerBeerFest 10.0 will only have the best of the best on tap as the best beers are sought out from the best breweries both near and afar.
KillerBeerFest 10.0 Tap List:
Daidala Cider – Mandarina Sangria
Cider Riot! – Porter's Perfection Single Varietal
Machine House – Fresh Hop Citra IPA
Lagunitas – Willettized Coffee Stout
Georgetown Brewing – 18lb Hammer
Boneyard Beer – Wooden Femur (English Barleywine)
Chapman Crafted – Oatmeal Stout
Wunderkammer – Volume 10: A Winter Landscape
Firestone Walker Barrelworks – UnderCurrants
Green Bench/Side Project – Les Ammis Grisettes
Russian River– Supplication
Alesong Brewing & Blending – Terroir Pinot Noir
Breakside Brewery – #MOREFRIENDS #MOREMEMORIES
Aslan Brewing – HIgh Plains Drifter
GoodLife Brewing – Reserve Saison
Gigantic Brewing – Fantastic Voyage
Chuckanut/Wayfinder – 10° Pils
Ruse Brewing – Strands of Truth IPA
Block 15 Brewing – Snozzberry
Upright Brewing – Self-Portrait In Three Colors
Great Notion Brewing – Baby Blue
10 Barrel Brewing – Boise – Idahop
Wayfinder/Stigbergets – NEIPA
pFriem Family Brewers – Maple Barrel Smoked Porter
Boss Rambler Beer Club – Palm Tree Dreams DDH IPA
Breakside Brewery – Iron Galaxy House Beer