BREWPUBLIC Killer Beer Week Returns To Portland October 14-23, 2016
|
Its that time of year again where we here at BREWPUBLIC celebrate eight strong years of bringing craft beer news and events to the craft beer drinkers of the Pacific Northwest. Our motto has always been and remains Yeast, Malt, and the Pursuit of Hoppiness!
As always, in conjunction with our anniversary, our pioneering spirit of Beervana flavor is delivering to you Killer Beer Week. We return with some traditional favorite events as well as some new creative happenings to appease the seemingly unquenchable palates of the world's undeniably best beer region.
Since 2008 we've made it a point to try to give back to the community which has always provided a delicious malted beverage to us with ever-evolving styles as well as unbridled creativity and charisma. So please join us at 10 of Portland's top beer venues from October 14 – 23, 2016 for some truly Killer craft beer events during our annual Killer Beer Week. Check out for yourself with the ten days of events listed below.
Killer Beer Summit (KBW Kick-Off)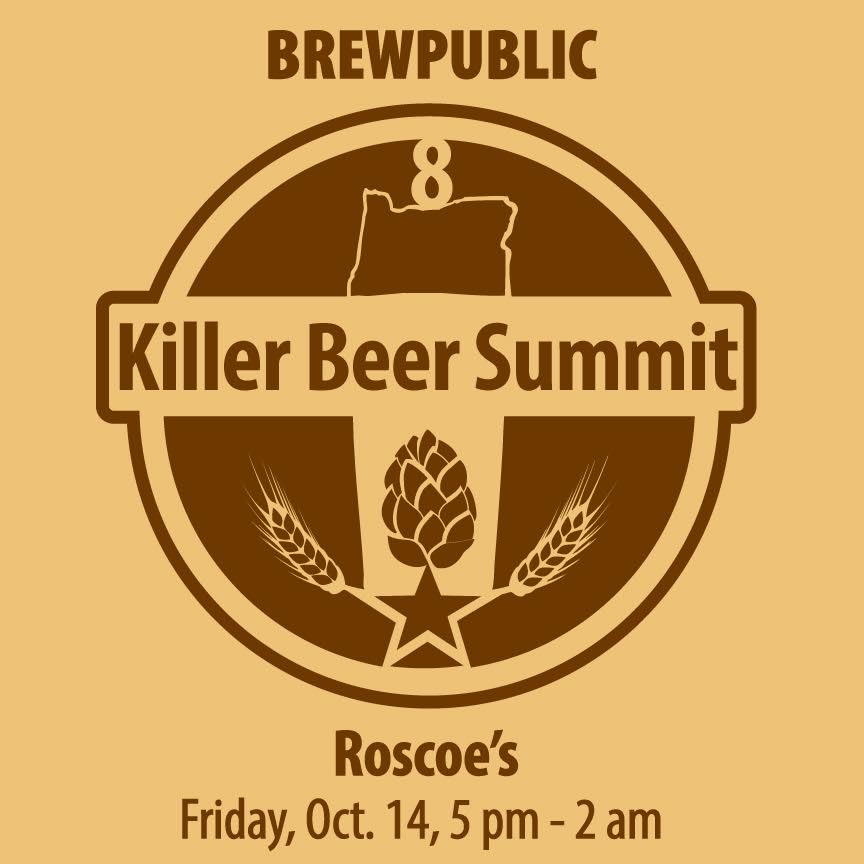 Friday, October 14
5:00pm – 2:00am
Roscoe's Pub – 8105 SE Stark St., Portland, OR
A killer beer festival by its own right, we keep tradition here along with our dear friends Quyen and Jeremy and the staff at Roscoe's Pub of Portland's Montavilla neighborhood and bring you some exclusive seasonal and cellared offerings Portland has to offer while welcoming the madness of KBW to the hearts and livers of those with truly eclectic palates. Look for delectable treats that include Corn Star, a collaboration from Bagby Beer, Sun King Brewing and Beachwood BBQ and Brewing along with other tasty beers from Alesong Brewing & Blending, Gigantic Brewing, Three Weavers, Melvin Brewing and many more!
Killer Pumpkin Fest
Saturday, October 15 RESCHEDULED FOR SATURDAY, OCTOBER 29TH
11:00am – Midnight
Green Dragon – 928 SE 9th Ave., Portland, OR
It's October and pumpkin beer season is in full force. Come on out to the Green Dragon and sample from dozens of pumpkin beers. This family friendly daylong event will feature all things pumpkin including pumpkin foodie treats, the beloved pumpkin smashing festivities, and more pumpkin beers than you can shake a stick at! The Dragon has a permit to close SE 9th Ave down to traffic in order to make room for surplus family pumpkin fun. Elysian Brewing will tap its gourd filled with beer at 5:00pm. Killer Pumpkin Fest will once again be Portland's largest pumpkin party. Don't miss it!
Alchemeat – The Portland Beer and Charcuterie Festival
Saturday, October 15
Noon – 6:00pm
Culmination Brewing – 2117 NE Oregon St., Portland, OR
The inaugural Alchemeat- The Portland Beer and Charcuterie Festival will debut during this year's Killer Beer Week. Culmination Brewing is hosting an event that will feature charcuterie boards filled with meats from Laurelhurst Market, Old Salt Marketplace, and Tails and Trotters. Each board will also include cheese from three Pacific Northwest cheese makers. Entry to this event is $35.00 and includes two 13 oz. beers. Tickets sales are limited to 300. Purchase advance tickets here.
Killer IPA Fest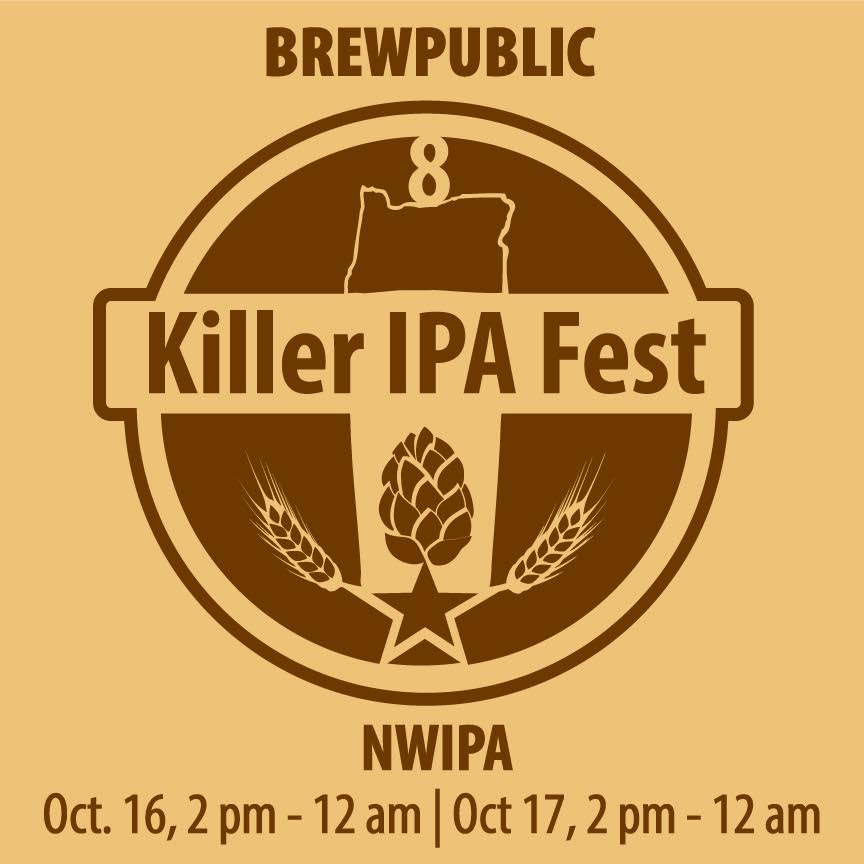 Sunday, October 16 – Monday, October 17
2:00pm – Midnight
N.W.I.P.A. – 6350 SE Foster Rd., Portland, OR
Looking for a way to get your hop fix to close out the weekend? How about a way to begin your week too? Well this year Jackson Wyatt and his crew at N.W.I.P.A. will be hosting two days of Killer IPA Fest.
On Sunday it's Greetings from SoCal. This day will feature some extremely rare offerings to the Portland market from the likes of Bagby Beer, Noble Ale Works, Three Weavers, El Segundo, and more. Then on Monday N.W.I.P.A. channels its inner New England with day two for Vermont Style Haze Craze. Look for cloudy, hazy IPAs from Noble Ale Works, Block 15, Great Notion, and more. Since its Burger Monday, Jackson will be cooking up some burgers, Vermont style of course! Don't delay on your burger orders as these will surely sell out. Order in advance here.
Killer Dave Fest + Cribbage Night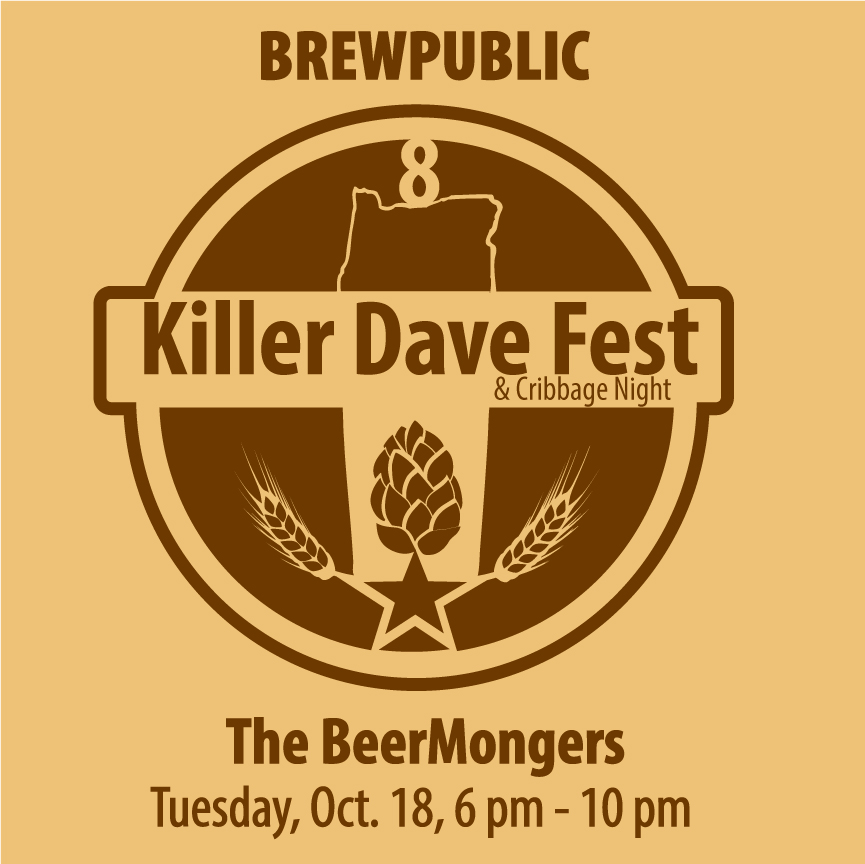 Tuesday, October 18
6:00pm – 10:00pm
The BeerMongers – 1125 SE Division St., Portland, OR
With our revolving yearly event of Name Fest shenanigans, 2016 will be the year of Dave. Back in 2011 Brewpublic's Angelo decided that there were a rather significant number of brewers named Ben. So, Ben Fest was brought to life. Since that fateful day at the Grain and Gristle (inspired by a photo of a pack of Bens at Horse Brass Pub in 2010) it was decided that other packs of similarly named craft beer personnel were in need of their own special days. Sean Fest, Mike Fest, Chuck Fest, and Chris Fest followed. This year we honor the Dave's of the craft beer world with this special night at The BeerMongers. This night will be a taplist of beers brewed by Dave. Look for beers from Dave Marliave of Flat Tail Brewing, Dave Fleming and more.
Tuesday night is also the weekly night of cribbage at The BeerMongers. Cribbage game boards will be available but if you have a lucky one from home feel free to bring it along.
Killer Lupulin Night

Wednesday, October 19
4:00pm – 10:00pm
The Upper Lip – 720 SW Ankeny, Portland, OR
So if you didn't get your hop fix on Sunday and Monday at N.W.I.P.A., The Upper Lip is bringing in three breweries from out of state that will leave your tongue in palate fatigue. The night's breweries include two beers each from Other Half Brewing, Three Weavers Brewing and El Segundo Brewing. We are working with Portland's latest distributor Day One Distributing on bringing these beers that are featured on this night in the cozy bar above Bailey's Taproom.
Killer Benefit Night

Thursday, October 20
5:00pm – 10:00pm
The Garrison Tap Room – 8773 N Lombard St., Portland, OR
On this evening at the recently opened tap room for Royale Brewing, The Garrison Tap Room, will be hosting a night that will feature some rare kegs form eight outstanding breweries. Located in the St. Johns neighborhood of Portland, The Garrison will be pouring exclusive offerings from Royale Brewing, Hair of the Dog, Melvin Brewing, Burnside Brewing, Gigantic Brewing, Alesong Brewing, Upright Brewing, and Cascade Brewing. All proceeds from the evening's generously donated beer will go to Brewpublic co-founder Angelo De Ieso who continues to battle his brain tumor.
Brewpublic's 8th Brewniversary Party

Friday, October 21
6:00pm – 11:00pm
Saraveza Bottle Shop & Pasty Tavern – 1004 N. Killingsworth St., Portland, OR
Celebrate Brewpublic's 8th year at the newly renovated Saraveza by hanging out with the crew, drinking some of our favorite picks including two 2016 GABF Gold Medal winning beers with Touch of Brett from Alesong Brewing & Blending and Sweet Ride from Bagby Beer. There will also be beers pouring from Gigantic Brewing, Laurelwood Brewing, Ninkasi Brewing, and more plus Pit Peach Apricot Cider from Cider Riot!.
Thank you to all who have supported by reading our blog and attending our past events. -Brewpublic team
KillerBeerFest

Saturday, October 22
Noon – Midnight
Bailey's Taproom – 213 SW Broadway St., Portland, OR
The long week of killer beers culminates with what we feel is the BEST little beer fest in Portland. Each and every year KillerBeerFest happens at one of the best beer bars in this fair land of ours, Bailey's Taproom in downtown Portland. It's during this day that we seek out only the finest craft beers and try to present the very, very best of what is available and even some brews that you might never find again. And to make our 8th year event better, we will be serving some delights upstairs at The Upper Lip on its 6 taps including a rare keg of unfiltered Pilsner Urquell. We don't want to ruin the surprise of what will specific beers will be pouring just yet, but we can promise some truly KILLER goodies!
Killer Beer Week Recovery Beerunch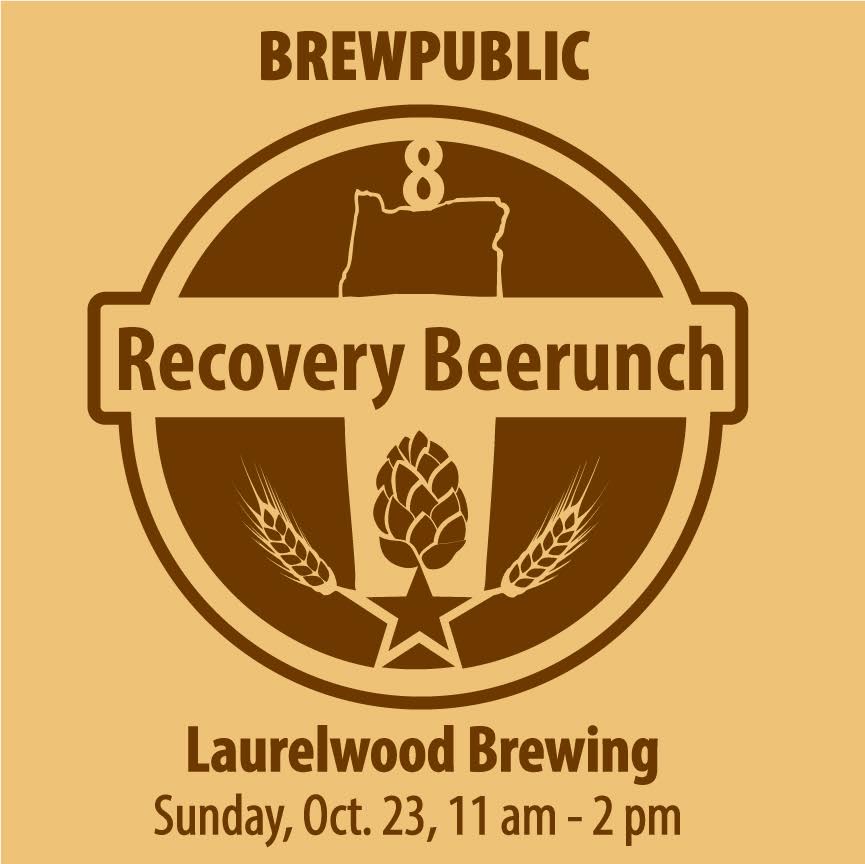 Sunday, October 23
11:00am – 2:00pm
Laurelwood Brewing – 5115 NE Sandy Blvd., Portland, OR
The best way to recover from this year's Killer Beer Week is with our annual Killer Beer Week Recovery Beerunch. This year's brunch will be hosted by Laurelwood Brewing in its quaint upstairs Brewers' Den. Laurelwood Chef Richard Blake will prepare a two beer-centric food offerings including Golden Ale waffles topped with fresh fruit, served with sausage links and a Bacon Wrapped Brat topped with Golden Ale kraut and Porter mustard on a hoagie served with choice of side. These two options will be served alongside Laurelwood's standard brunch menu. And to assist in your recovery there will be Beermosas, Bloody Marys and beers from Laurelwood and a few other special breweries.
Make sure to visit Brewpublic.com to stay up to date on all of the events and use hashtag #KBW16 for all your social media!