BREWVANA & EcoShuttle Bus Transportation for Zwickelmania 2019
|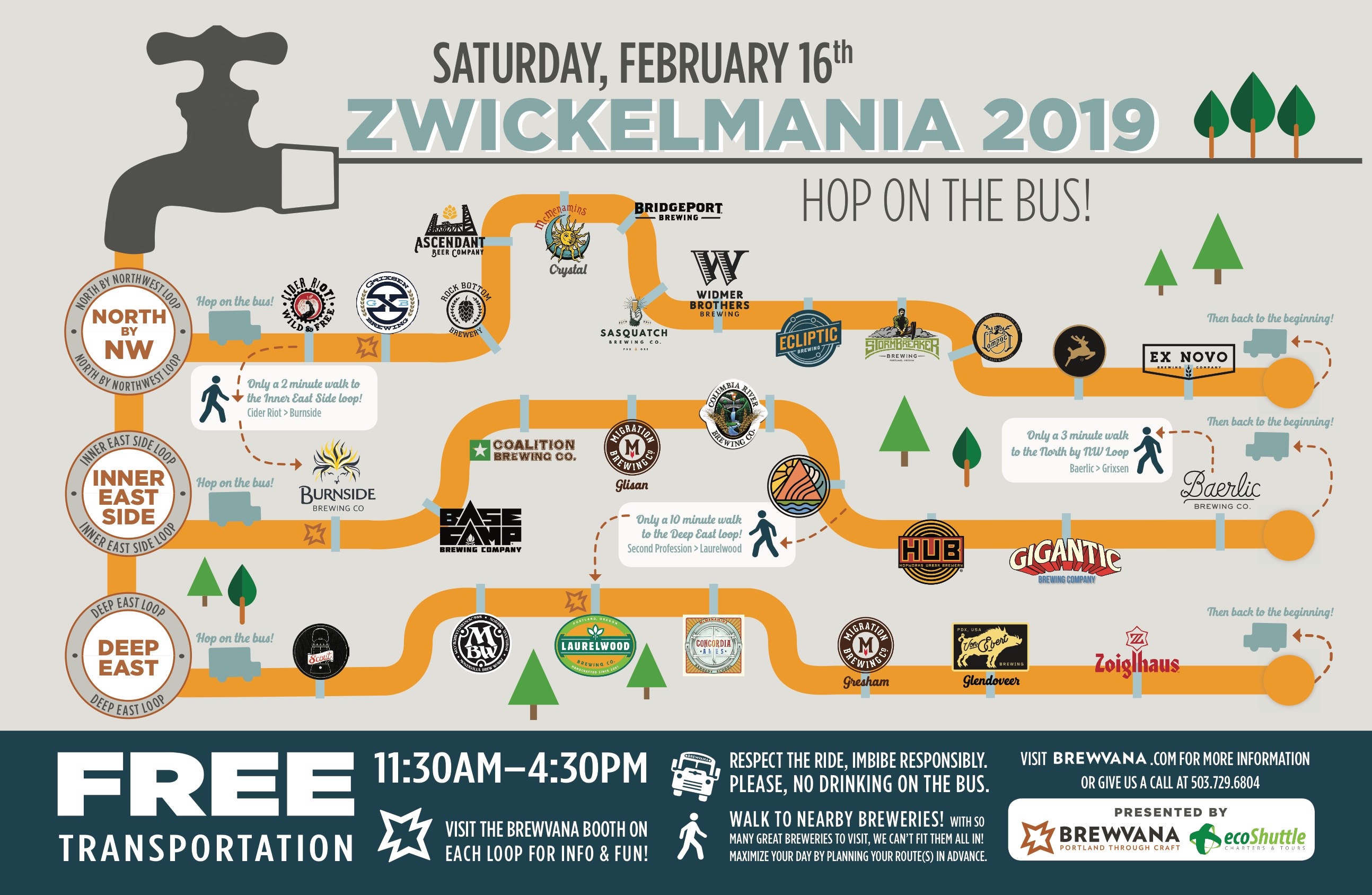 PORTLAND, Ore. (January 25, 2019) – The Oregon Brewers Guild will host its 11th annual Zwickelmania on Saturday, February 16, in the Portland metro area from 11:00 a.m. to 4:00 p.m.  Participating Portland breweries will open their doors to drinkers for free tours, beer samples, meet-the-brewer opportunities, food and beer pairings, and other fun events. BREWVANA and EcoShuttle will be offering free transportation to select breweries between 11:30 a.m. and 4:30 p.m. so beer drinkers can visit as many locations as possible during that time.
"It's the one day each year that BREWVANA doesn't provide all inclusive tours," said Ashley Rose Salvitti, BREWVANA founder and beer lover. "On Zwickelmania, we will partner with our featured breweries to provide transportation for beer drinkers. We want everyone to visit as many places as possible in a safe and fun way!"
There's no cost to ride and no need to reserve a seat, just "hop" on the bus at one of the participating locations and ride to their next destination. Buses will be picking up and dropping off approximately every 35 to 40 minutes at each location. There will be three separate shuttle routes: the North by Northwest Loop, the Inner East Side Loop and the Deep East Loop. Each route will have at least one location that's walking distance to another loop so beer lovers can transfer from one route to another.
BREWVANA will have a table set up at each loop for information and fun: Grixsen Brewing(1001 SE Division St #2) on the North by Northwest Loop;  Burnside Brewing on the Inner East Side Loop (701 E Burnside St); and Laurelwood Public House and Brewery (5115 NE Sandy Blvd.) on the Deep East Loop. A representative will be available to answer questions, offer help with route planning, and share resources such as maps and pens. There will be beer journals and pretzel necklaces for sale, social media sharing opportunities, games with prizes to win, and discounted tours when booking on-site.
The following is a list of each participating brewery its respective routes:
Inner Eastside Loop:
Burnside
Base Camp
Coalition
Migration – Glisan
Columbia River
Second Profession
Hopworks
Gigantic
Baerlic
North by Northwest Loop:
Grixsen
Rock Bottom
Ascendant
Crystal Brewery at Crystal Ballroom – McMenamins
Bridgeport
Sasquatch
Widmer
Ecliptic
Stormbreaker
Lompoc
Old Town Brewing
Ex Novo
Cider Riot!
Deep East Loop:
Laurelwood
Concordia Brewery at Kennedy School – McMenamins
Migration – Gresham
Von Ebert – Glendoveer
Zoiglhaus
The Lot @ Scout
Montavilla Brew Works
The following are the transfer options between loops:
Burnside Brewing (Inner Eastside Loop) to
Cider Riot (North by Northwest Loop)
2 minute walk
Grixsen Brewing Company (North by Northwest Loop) to
Baerlic Brewing Company (Inner Eastside Loop)
3 minute walk
Laurelwood Brewing Co. (Deep East Loop) to
Second Profession Brewing Company (Inner Eastside Loop)
10 minute walk
Other Oregon regions will participate on Saturday, February 23, although BREWVANA will not be providing transportation. Visit the Zwickelmania event page for a full list of participating breweries in Oregon at https://oregoncraftbeer.org/zwickelmania.