Cascade Brewing 2019 Sour Flower Fest Returns This Weekend
|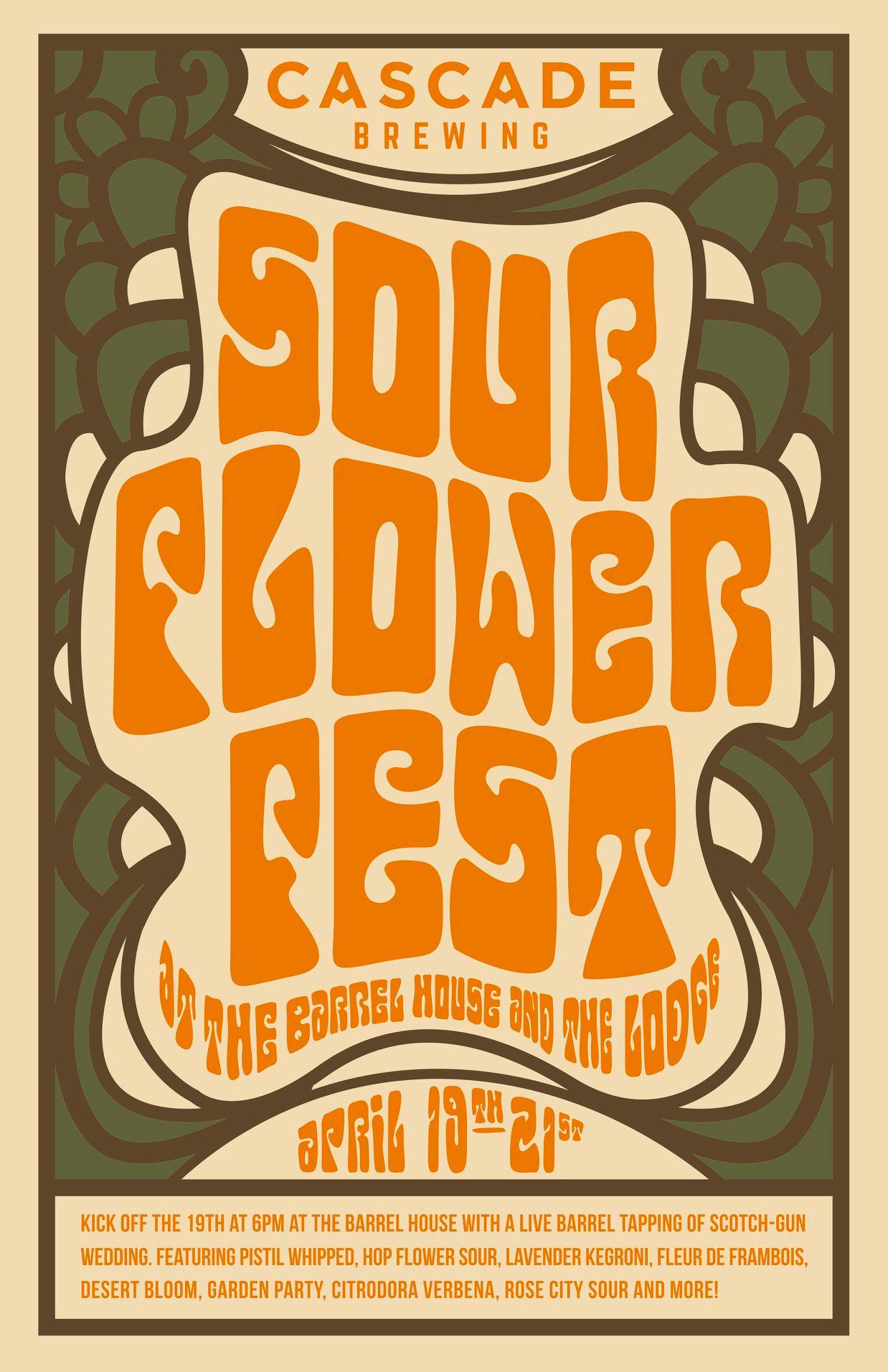 Kicking off today at Noon is the 2019 Sour Flower Fest at Cascade Barrel House in Southeast Portland. The three-day sour beer fest will take place today through Sunday, April 21st, opening each day at Noon.
This year's Sour Flower Fest is in its third year and brings together many of Cascade Brewing's beers that incorporate the use of floral ingredients. Featured beers include Pistil Whipped, Hop Flower Sour, Lavender Kegroni, Fleur de Frambois, Desert Bloom, Garden Party, Citrodora Verbena, Rose City Sour and more.
Sour Flower Fest begins in earnest this evening at 6:00pm when the Barrel House hosts a live tapping of Lavender Kegroni. This beer is a blend of sour blond and strong blond ales aged in oak barrels for up to two years with a late infusion of gin botanicals from Aviation Gin. Fresh orange and lime zest additions round out the blend to help showcase layers of lavender, citrus, coriander and juniper.
Beer Descriptions:
Desert Bloom: sour blond ales aged in oak barrels for up to two years with a late infusion of sage, yarrow flowers and High Desert honey from our friends at Bee Local. Inspired by the Oregon high desert country, this new blend captures the essence of the native plants found in the central and eastern parts of the state.
Rose City Sour: Celebrating Portland's reputation as the City of Roses, Rose City Sour is a blend of wheat and blond ales aged in oak wine barrels for up to 14 months with rose petals, rose hips and hibiscus flowers. Rose City Sour captures the delicate floral aromas of fresh roses matched with notes of dried cranberries, pomegranates and a hint of white pepper.
Fleur de Framboise: a blend of sour blond, wheat and triple ales aged for over two years in oak wine barrels with rose hips, hibiscus, red raspberries and fresh tangerine peel. This blend offers delicate notes of strawberries, raspberries and citrus, with the added complexity of pomegranates and dried cranberries.
Citrodora Verbena: a blend of strong blond ales aged in oak wine barrels for up to two years, then infused with lemon verbena and fresh orange and lime zest. Delicate aromas of citrus and tea-like qualities from the lemon verbena combine to create a refreshing sour reminiscent of a freshly made glass of iced tea.
Scotch-Gun Wedding: an ode to the Scottish Highlands, Scotch-Gun Wedding is a blend of sour blond and smoked wheat ales aged in oak barrels followed by an infusion of heather flowers and honey. Commonly worn by brides in Scottish weddings, heather flowers impart floral and herbal notes that are balanced with the sweetness of honey and the peat-like quality of the wheat ale that proves to be the "smoking gun" of the blend.
Pistil Whipped: a blend of sour strong blond ales infused with saffron, annatto and chamomile flowers. Pouring a rich golden-yellow from the saffron's distinct color infusion, this Sour Flower Fest creation captures saffron's earthy, hay-like spice character with a gentle chamomile tea background.
Hop Flower Sour: a sour blond ale dry-hopped with Hull Melon hops, Hop Flower Sour celebrates the brewing world's most beloved flower: the hop! Fresh citrus, tropical, stone fruit and pine notes are the hallmark of this rare dry-hopped sour beer offering from Cascade Brewing.
Sour Flower Fest is free to attend, just pay as you go for your beers. The fest will also take place at The Lodge at Cascade Brewing in the Raleigh Hills neighborhood of Southwest Portland.
Cascade Barrel House
939 SE Belmont St.
Portland, OR 97214