Cascade Brewing Presents 8th Annual Sour Fruit Fest
|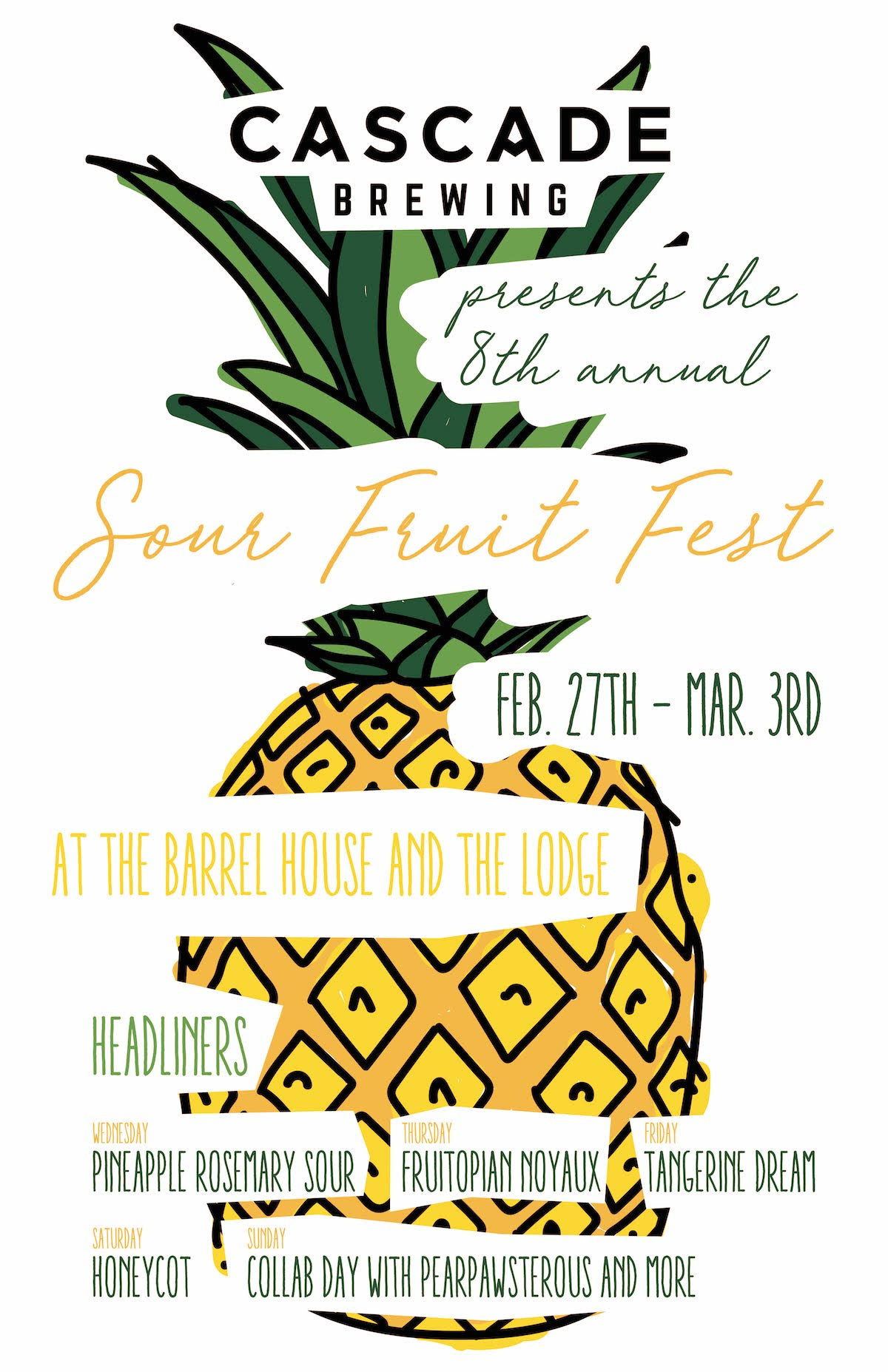 PORTLAND, Ore. (Feb. 14, 2019) – Cascade Brewing has announced the details for its Sour Fruit Fest, taking place Feb. 27 through March 3 at its two Portland pubs: Cascade Brewing Barrel House at 939 SE Belmont St., and The Lodge at Cascade Brewing at 7424 SW Beaverton Hillsdale Hwy.
The 8th annual Sour Fruit Fest will feature more than four-dozen exclusive Cascade sour fruit beers on rotation throughout the week, with at least 25 sour beers on tap each day at the Barrel House, and at least 20 at The Lodge. The event takes place from open to close daily, Wednesday through Sunday, at both locations. Admission is free, beer tasting costs additional.
"The combination of sour beer and fruit is really at the heart of our blending program at Cascade Brewing, and we work incredibly hard to incorporate a wide variety of ingredients throughout the year," explained Kevin Martin, Director of Brewing Operations. "Our Sour Fruit Fest is really a culmination of those efforts and celebrates the creativity of our team and the agricultural bounty of our region."
The following beers will headline each day at both pubs: Pineapple Rosemary Sour on Wednesday, Fruitopian Noyaux on Thursday, Nectarine Dream on Friday (with a live tapping at the Barrel House that night at 6pm), Honeycot on Saturday, and Collab Day on Sunday––featuring Pearpawsterous (Upland Brewing Co.), One Way or Another (Bruery Terreux), Chêne Des Fous (Burial Beer Co.), and a sneak preview of a collaboration with Beachwood Brewing.
Throughout the week, fans can look forward to tasting dozens of sour fruit beers, including Vitis Melonious, Crème de Peches, Oregon Berry Live, Kriek Blanc, Kriek 15, Orange Bourbonic, Tangerine Dream, Blimeberry, Daytona Delight, Shrieking Violet 16, Noyaux 15, Crazy Navel, Manhattan 15, Cherry Vlad, Plumcot, Et tu Fruitis, Ruby Red, and Marionberry Spritzer.
Vintage bottles will be available for sale, as well as merchandise. Learn more at www.cascadebrewing.com and follow the brewery on Facebook  Twitter and Instagram for real time updates on the beer schedule.