Cascade Brewing to host Bourbonic Black Out Party
|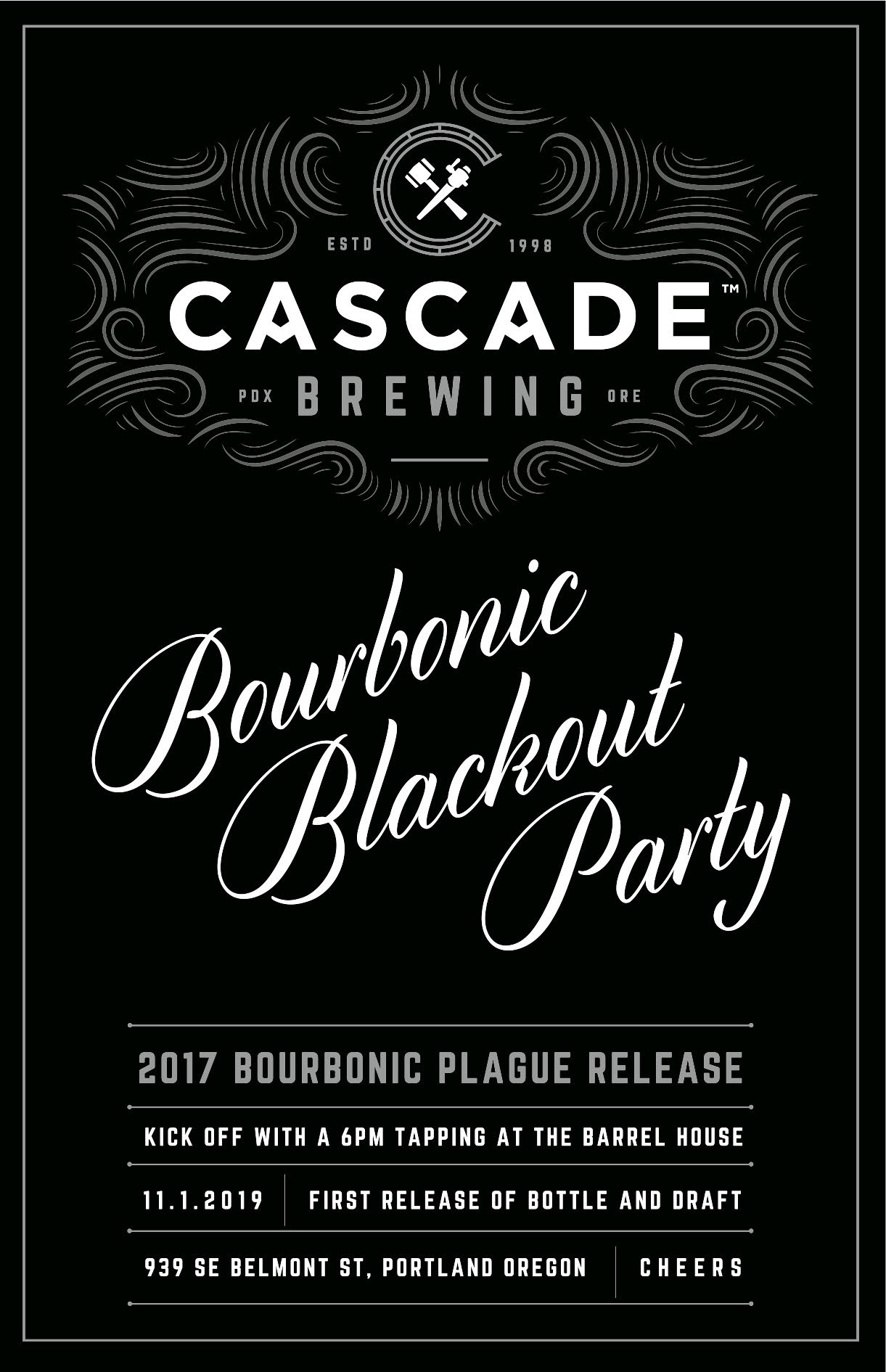 PORTLAND, Ore. (Oct. 25, 2019) An outbreak of "the Plague" has arrived at Cascade Brewing! The sour beer pioneer is holding a Bourbonic Black Out Party in celebration of the release of its latest Bourbonic Plague project. The event will take place on Friday, Nov. 1 from 5pm to 10pm at the Cascade Brewing Barrel House, 939 SE Belmont St. Guests are encouraged to wear all black for the occasion.
The evening will highlight the release of Bourbonic Plague 2017 in 500ml bottles and on draft. Bourbonic Plague features sour imperial porters aged in Bourbon and wine barrels for up to two years with additions of dates, vanilla beans, orange peel and cinnamon. This contagiously complex and incurably enigmatic blend continues to represent the pinnacle of Cascade's craft.
At 6pm, the Barrel House will tap a live barrel of Honey Bourbonic, a twist on its Bourbonic Plague, which features a late infusion of wildflower honey from Portland's own Bee Local. The honey accentuates decadent flavors of bourbon, roasted malts, dried dark fruits, vanilla and spice with a bittersweet chocolate finish.
An additional six Bourbonic variants will be available, including Cardi B. Bonic––Bourbonic Plague infused with fresh orange zest and cardamom; Strawberry Bourbonic––Bourbonic Plague blended with vintage Strawberry 2015; Sarsaparilla Spice Bourbonic––Bourbonic Plague infused with sarsaparilla root and star anise; Mayan Bourbonic––Bourbonic Plague infused with raw organic Peruvian and Dutch cacao powder, cinnamon and cayenne pepper (served on the nitro tap); Cherry Bourbonic; and a Dutch Cocoa Bourbonic
The brewery will also be offering Mulled Apple Sour, a beer that is served warm, plus a special dessert made with Bourbonic Plague, and raffle prizes.
The original Bourbonic Plague won Cascade its first gold medal at the 2009 Great American Beer Festival in the wood- and barrel-aged sour beer category. The 2017 project will be available at Cascade's two Portland area pubs and through its distribution network.
For more information, visit CascadeBrewingBarrelHouse.com and engage on social media at @CascadeBrewing.