Chuckanut Brewery Celebrates 2019 Skagit Beer Week
|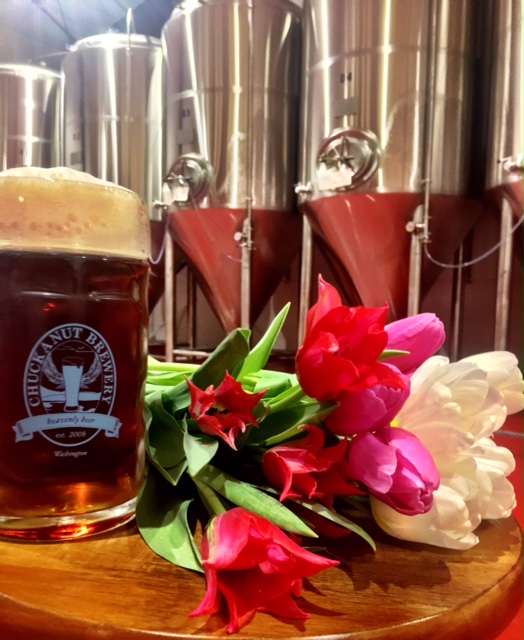 FOR IMMEDIATE RELEASE: MARCH 12, 2019 – It's that time of year once again and Chuckanut is jumping on board with a calendar of events for Skagit Farm to Pint Beer Week March 23 through 30. This is the second year of events that bring beer lovers into Skagit Valley to get excited about craft beer. Events at Chuckanut South Nut Tap Room, 11937 Higgins Airport Way, Burlington cover a multitude of activities from a fundraising Beer Dinner inside the brewery to Women in Beer Bingo and more. Chuckanut has once again made a Skagit Harvest Ale to celebrate made with Skagit Valley Malt. The new Skagit Harvest Ale will be tapped on Friday March 22.
On Saturday March 23 the South Nut Taproom will open early at 11:30 am for the runners with the Run for Beer event at Cardinal Brewing at the Port of Skagit. All those out early on the run at the Port are welcome to stop in South Nut for beers and snacks. A free brewery tour will take place at 12:30 pm. If the weather is nice the beer garden will be open too!
On Tuesday March 26 Women in Skagit Beer Bingo will take place. Last year's event was a huge success! Women reps from Skagit breweries and related industries will talk about what they do at their respective places and offer schwag for winners of the bingo rounds! Men are also welcome but so are women he want to know more about craft beer women in Skagit beer related businesses.
Chuckanut will be part of the Skagit Brewery Tap Takeovers on March 26 at Growler Guys, Lake City; March 27 at Special Brews in Lynwood; March 28 at Beer Star in White Center Seattle; and March 29 at Elizabeth Station in Bellingham. Drink Skagit beers including Chuckanut, and meet the brewery reps. It's your chance to ask questions about your favorite Skagit brews and find out more about them.
Saturday, March 30 is the close of the beer week and a major celebration at the Aviation Museum at the Port of Skagit. Chuckanut and other Skagit breweries will team up with different restaurants and food suppliers for a big Farm to Pint Festival. Chuckanut's partner Paellaworks will prepare a beer boil to be paired with Chuckanut Harvest Ale made with Skagit Valley Malt. This culmination of beer week is a super popular event and we encourage you to buy tickets in advance as they sell out quickly https://www.eventbrite.com/e/skagit-farm-to-pint-fest-2019-presented-by-the-port-of-skagit-tickets-55526809181.
Make sure to attend any of the Farm to Pint Chuckanut activities and show your support of craft beer in the Skagit Valley!
Brewery & Kitchen located at 601 West Holly St, Bellingham was awarded the National Small Brewpub/Brewer of the Year 2009 and National Small Brewery/Brewer of the Year 2011 at the Great American Beer Festival (GABF). The full service "Kitchen" serves from 11:00am every day to guests of all ages with an eclectic fresh local menu. South Nut's Tap Room is in the heart of Skagit Valley, 11937 Higgins Airport Way, Burlington and welcomes guests of all ages Monday to Friday starting at 3 pm and Saturday and Sunday from 12 pm. Check out additional information about Chuckanut Brewery at http://www. chuckanutbrewery.com/