Chuckanut Brewery Smoke Fest on March 5
|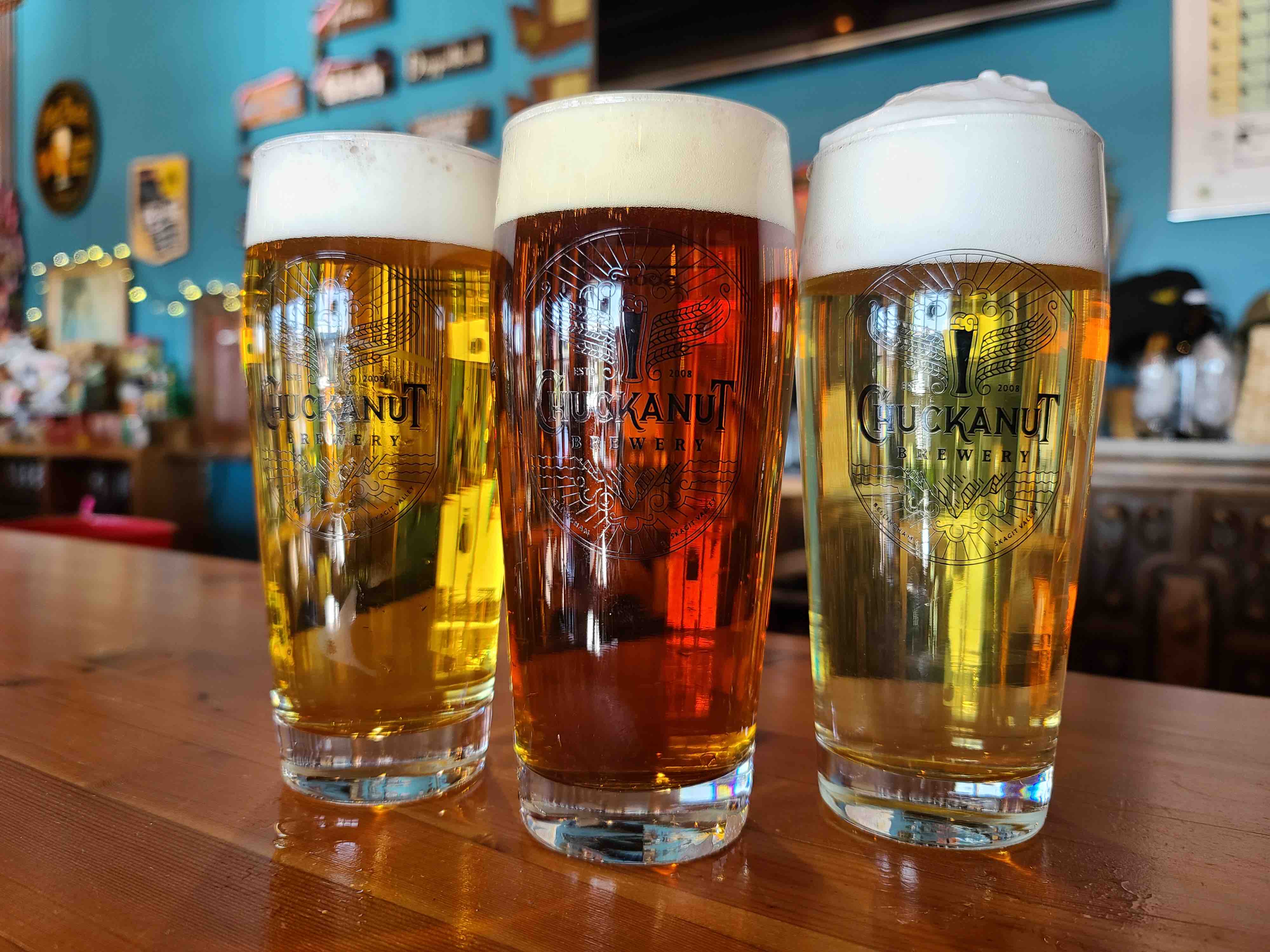 The historical German smoke beer will the highlight of Smoke Fest at both Chuckanut Brewery locations on Saturday, March 5, 2022. These beers originally from Bamberg, Germany are known for their smoky aroma and flavor due to the fires on which they were brewed as well as smoking the malt as it dried during the malting process.
Both Chuckanut's P. Nut Beer Hall in Portland and South Nut Brewery & Tap Room will be hosting Smoke Fest in celebration of smoke lagers! Chuckanut will have three smoke beers on tap: Grodziskie Polish Lager, Rauch Marzen Lager and Rauch Helles Lager. All three beers use a different variation of smoke malts and are unique in both color and flavor.
Here are descriptions of each of these smoke beers as provided by Chuckanut Brewery.
Grodziskie Polish Lager
An old Polish style beer sometimes referred to as "Polish Champagne" that's brewed with oak smoked wheat malt. It has a subtle smoky flavor and finishes dry as a bone due to the use of the wheat malt. Grodziskie has mineral notes on the nose and great back-end vanilla on the palate. Weighing in at a whopping 3% ABV this beer is extremely crushable.
Rauch Marzen Lager
A more medium bodied amber colored beer. Known as the beer from Bamberg, every brewery in Bamberg, Germany where this style continues to be brewed, makes their own rendition of a Beechwood smoked malt lager. The complicated malt bill used in a Rauch Marzen rewards one with a balanced malt/hop combination covered in smokiness! Chuckanut Rauch Marzen Lager is modeled after the style Spezial Brewery in Bamberg makes.
Rauch Helles Lager
Also uses Beechwood smoked malt but in the body of a Helles (light colored) beer. This rauch bier has the body of a Marzen but the color and lightness of a Helles Lager. With its well-developed bready flavors and elegant maltiness Rauch Helles has an added layer of smokiness too!
To help our communities in wildfire relief, Chuckanut will be donating $1.00 of each smoke beer sold at both locations on March 5 to Direct Relief, an organization that supports firemen and people who have been affected by wildfires.
The festivities will include a brewery Open House at South Nut with free brewery tours from 12-4 pm and food pairings ordered from local Skagit Valley Provisions and Skagit Landing Restaurant. At P. Nut in Portland,Poblano Pepper Food Truck will be on site as well as Sip & Knit with its first meet up for those that want to knit while enjoying a beer!
Chuckanut Brewery P. Nut Beer Hall
920 SE Caruthers St
Portland, OR 97214
Chuckanut Brewery & Tap Room
11937 Higgins Airport Way
Burlington, WA 98233