Coin Toss Brewing to Host OC Fresh Hop Showcase
|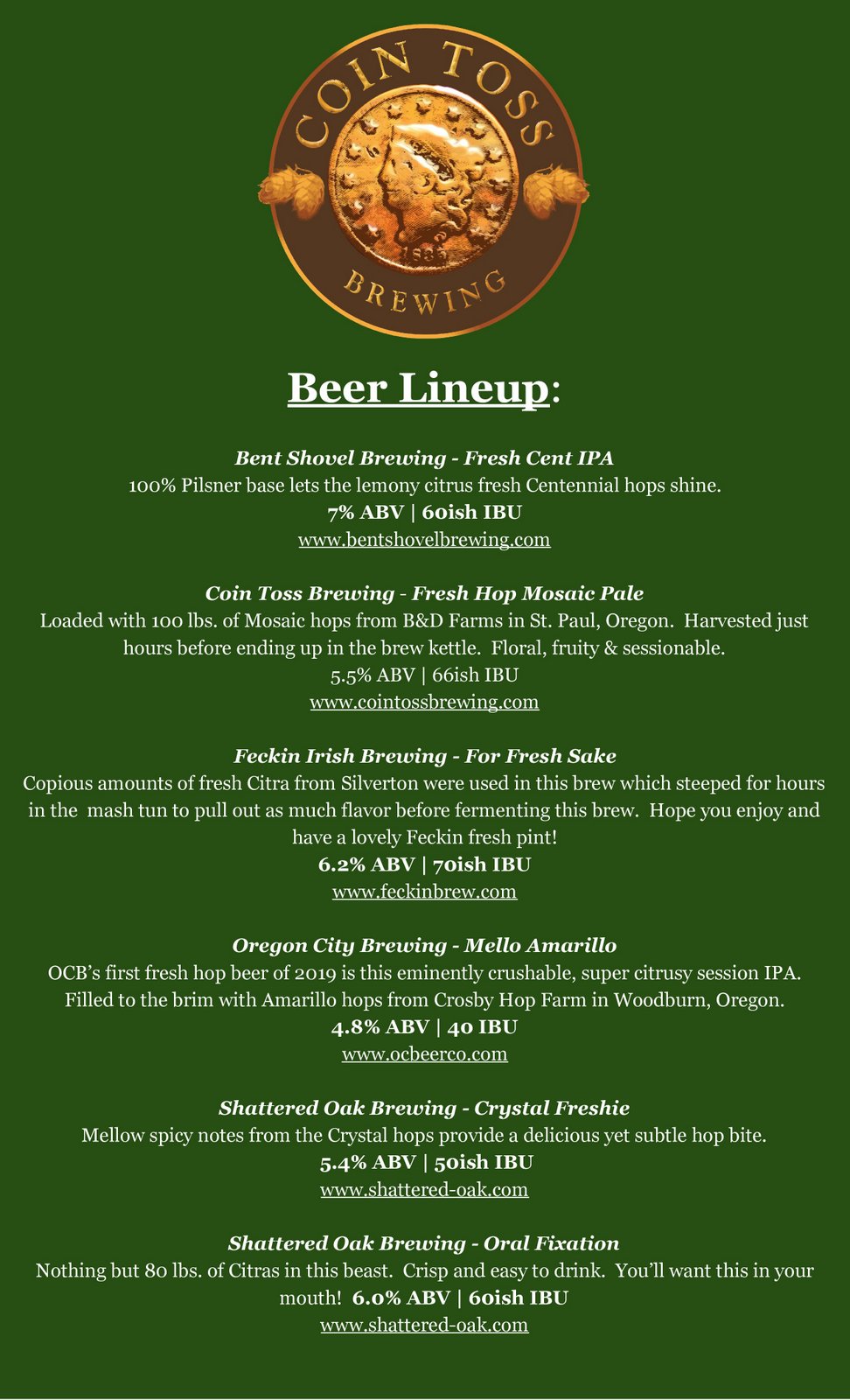 Coin Toss Brewing in Oregon City is prepping for its OC Fresh Hop Showcase. This six-day event will feature fresh hop beers from each of the five Oregon City breweries on tap at Coin Toss.
OC Fresh Hop Showcase kicks off on Tuesday, October 1st and continues through Sunday, October 6th. The beers will be available to enjoy by the flight or pint; limited amounts will also be available to go in 32 oz. Crowlers.
"As brewers, this is absolutely our favorite time of the beer year," said Tim Hohl, Founder of Coin Toss Brewing, in a press release. "There is so much delicious local beer happening in Oregon City, we thought this would be a perfect opportunity to show off what our hometown breweries can create with this once-a-year style."
Here's a preview of the Oregon City freshies that will be beginning on October 1st.
Oregon City Breweries and Featured Beers
Bent Shovel Brewing: Fresh Cent IPA
100% Pilner base lets the lemony citrus fresh Centennial hops shine. 7% ABV | 60ish IBU
Coin Toss Brewing​: Fresh Hop Mosaic Pale
Loaded with 100 lbs. of Mosaic hops from B&D Farms in St. Paul, Oregon. Harvested just hours before ending up in the brew kettle. Floral, fruity & sessionable. 5.5% ABV | 66ish IBU
Feckin Irish Brewing: For Fresh Sake
Copious amounts of fresh Citra from Silverton were used in this brew which steeped for hours in the mash tun to pull out as much flavor before fermentation. 6.2% ABV | 70ish IBU
Oregon City Brewing: Mello Amarillo
OCB's first fresh hop beer of 2019 is this eminently crushable, super citrusy session IPA. Filled to the brim with Amarillo hops from Crosby Hop Farm in Woodburn, Ore. 4.8% ABV | 40 IBU
Shattered Oak Brewing: Crystal Freshie
Mellow spicy notes from the Crystal hops provide a delicious yet subtle hop bite. 5.4% ABV | 50ish IBU
Shattered Oak Brewing: Oral Fixation
Nothing but 80 lbs. of Citras in this beast. Crisp and easy to drink. You'll want this in your mouth! 6.0% ABV | 60ish IBU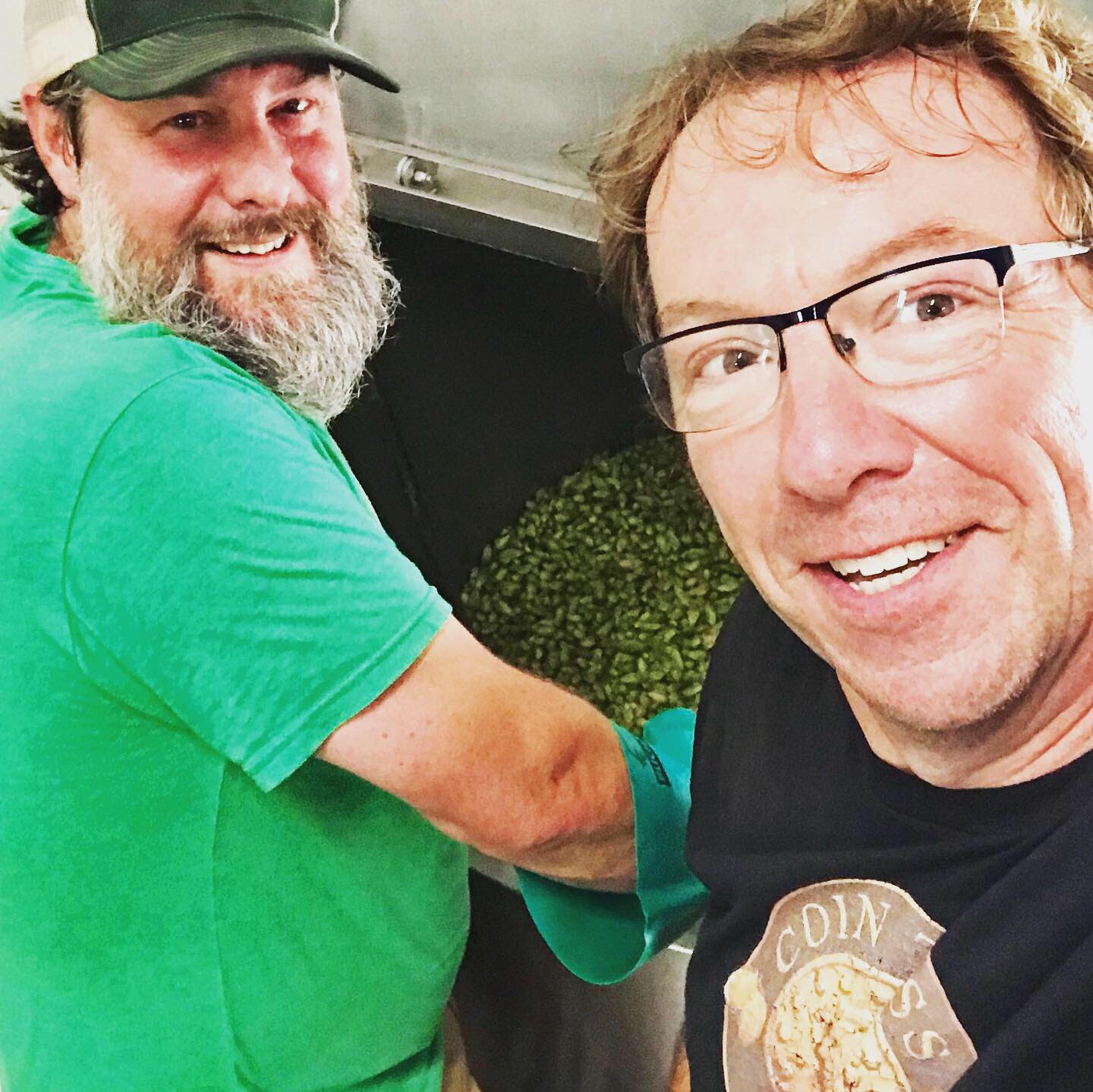 Coin Toss Taproom hours are Tuesday through Friday, 3:00-8:00pm; Saturday, Noon-8:00pm; and Sunday, Noon-6:00pm and are closed on Monday.
Coin Toss Brewing
14214 Fir St. Suite H
Oregon City, OR