Culmination Brewing Celebrates its 4th Anniversary
|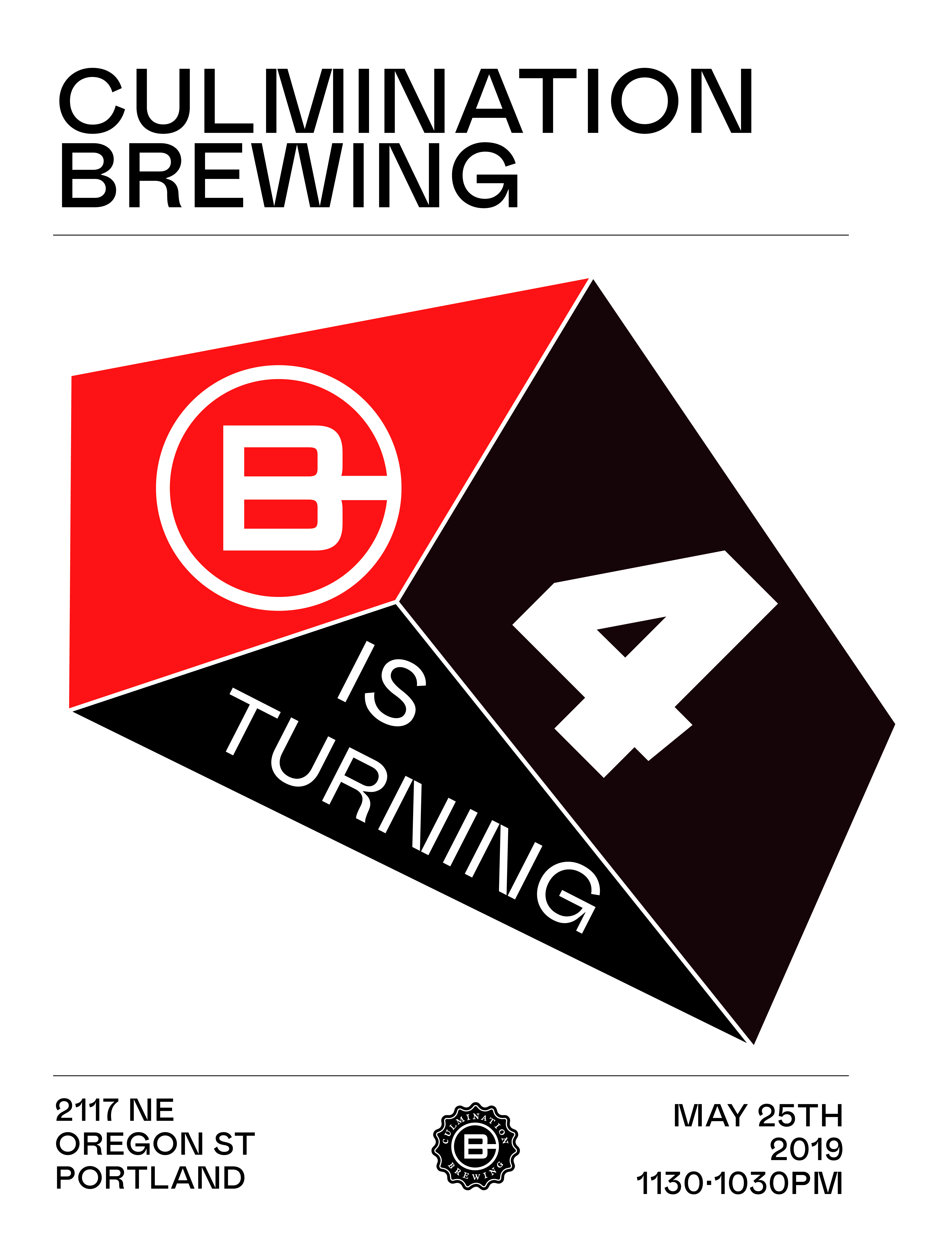 Four years ago Tomas Sluiter opened the doors to Culmination Brewing that took over a large portion of a building that was formerly home to a book bindery. To honor this milestone, Culmination Brewing will celebrate with a week's worth of events for its 4th Anniversary that takes place at the brewery from May 19-25, 2019.
Culmination Brewing will feature daily events including days celebrating recent beer collaborations with the likes of Ruse Brewing, Great Notion Brewing, Moksa Brewing, Baerlic Brewing, and Modern Times Beer.
Here's a peek at what's in store at Culmination Brewing each day of their week long anniversary celebration.
Sunday, May 19th – 11:30am-9:30pm
Jackfruit Kitchen Pop-Up — Our weekly Sunday pop-up with Jackfruit Kitchen, which features an exclusively Vegan Menu of always rotating items, will be bringing back an All-Star menu of fan favorites from the past.
Monday, May 20th – 4:00-9:30pm
Bhuna Kitchen Pop-Up — Our Friends at Bhuna Kitchen ran a weekly pop-up with us for a year before moving to their permanent brick and mortar location in NW. For our Anniversary week they'll be coming back for a one time only pop up featuring their brand of delicious Kashmiri Soul Food.
Tuesday, May 21st – 11:30am-9:30pm
Culmination/Ruse Can Release — Ruse and Culmination maintain a special bond and have collaborated on a number of beers both while Ruse was operating under the Culmination roof and since they've moved to their permanent location. For this years anniversary we are releasing Creative Conundrum in 16oz Cans. A Hazy IPA with Denali in the whirlpool and Dry Hopped with Mosaic and El Dorado.
Wednesday, May 22nd – 11:30am-9:30pm
Culmination/Great Notion Can Release — A Collaboration long in the making, we have teamed up with the team at Great Notion to brew Love in Shadows, a Pastry Stout fermented with Raspberry and Cherry then conditioned with Cocoa from Woodblock Chocolate and Vanilla Bean. This beer will be available in 16oz Cans. An additional Great Notion beer will also be available on draft.
Thursday, May 23rd – 11:30am-9:30pm
Culmination/Moksa Can Release — Back in November our friends from Moksa came to Portland and brewed a beer with us and in return Head Brewer Conrad Andrus flew down to Rocklin, CA and brewed a special beer with them. Moksa Mule is a Kettle Sour fermented with Lime & Ginger. Inspired by a classic Moscow Mule and available in 16oz Cans. Additional Moksa beer will also be available on draft.
Friday, May 24th – 11:30am-10:30pm
Culmination/Baerlic Can Release — Old friends and first time collaborators, the team from Baerlic came to the Culmination and made a Piña Colada inspired beer with us. Sunday Night In Florida is a Kettle Soured beer fermented with Pineapple and conditioned on Coconut. A vacation beer to put you on island time. Available in 16oz cans.
Saturday, May 25th – 11:30am-10:30pm
Culmination/Modern Times Beer Release and Blowout Party — To close out the week we are blowing it up. All remaining cans and draft from earlier in the week will be available and for a cherry on top we've brewed a beer with the Modern Times PDX team. A West Coast Double IPA Dry Hopped with Nelson, Galaxy, New Zealand Cascade, and New Zealand Waimea. We will have BBQ specials on this day as well as an outdoor Can Garden and live music from 6-9pm.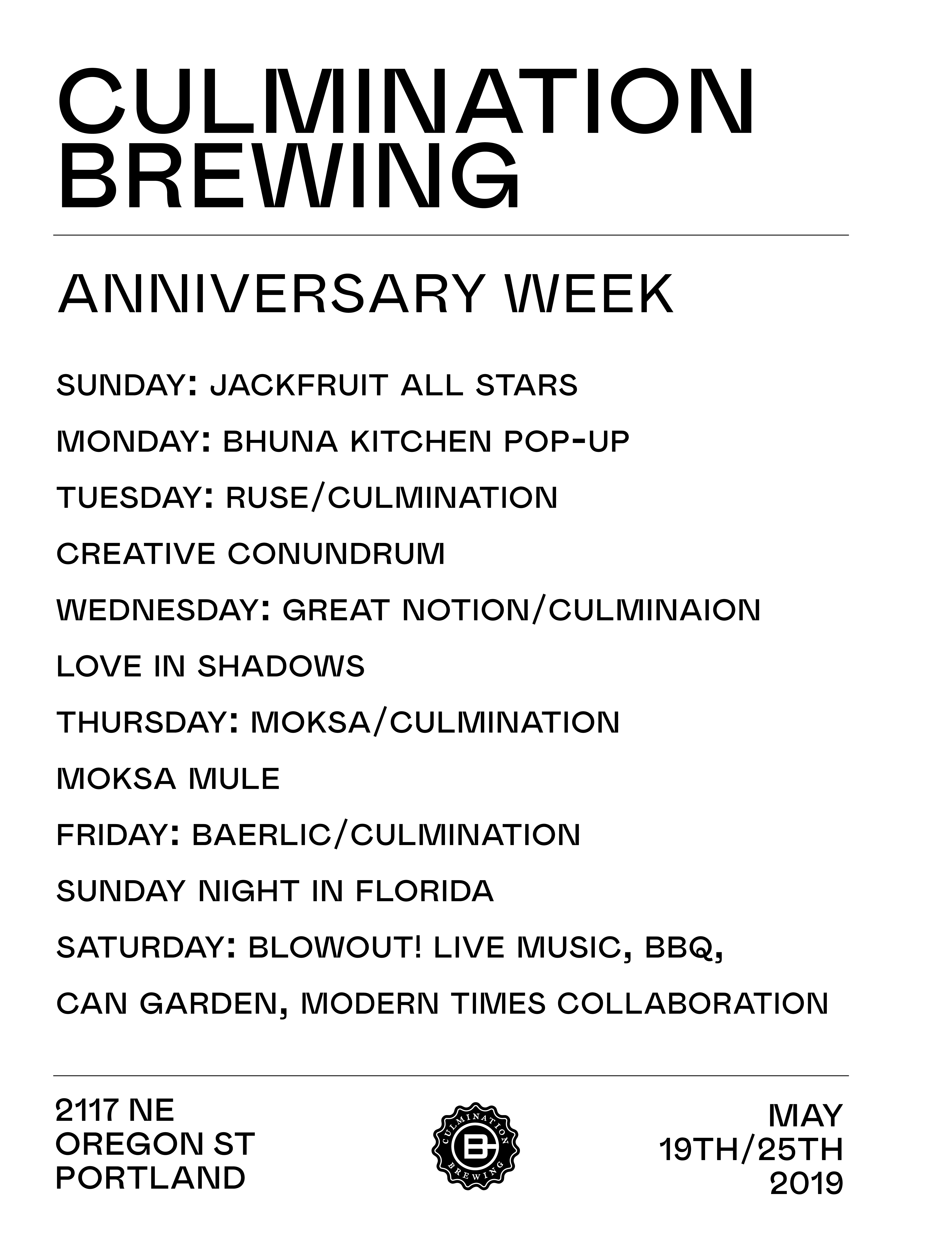 Culmination Brewing
2117 NE Oregon St.
Portland, OR 97232