Deluxe Brewing & Sinister Distilling Celebrates 10 Years
|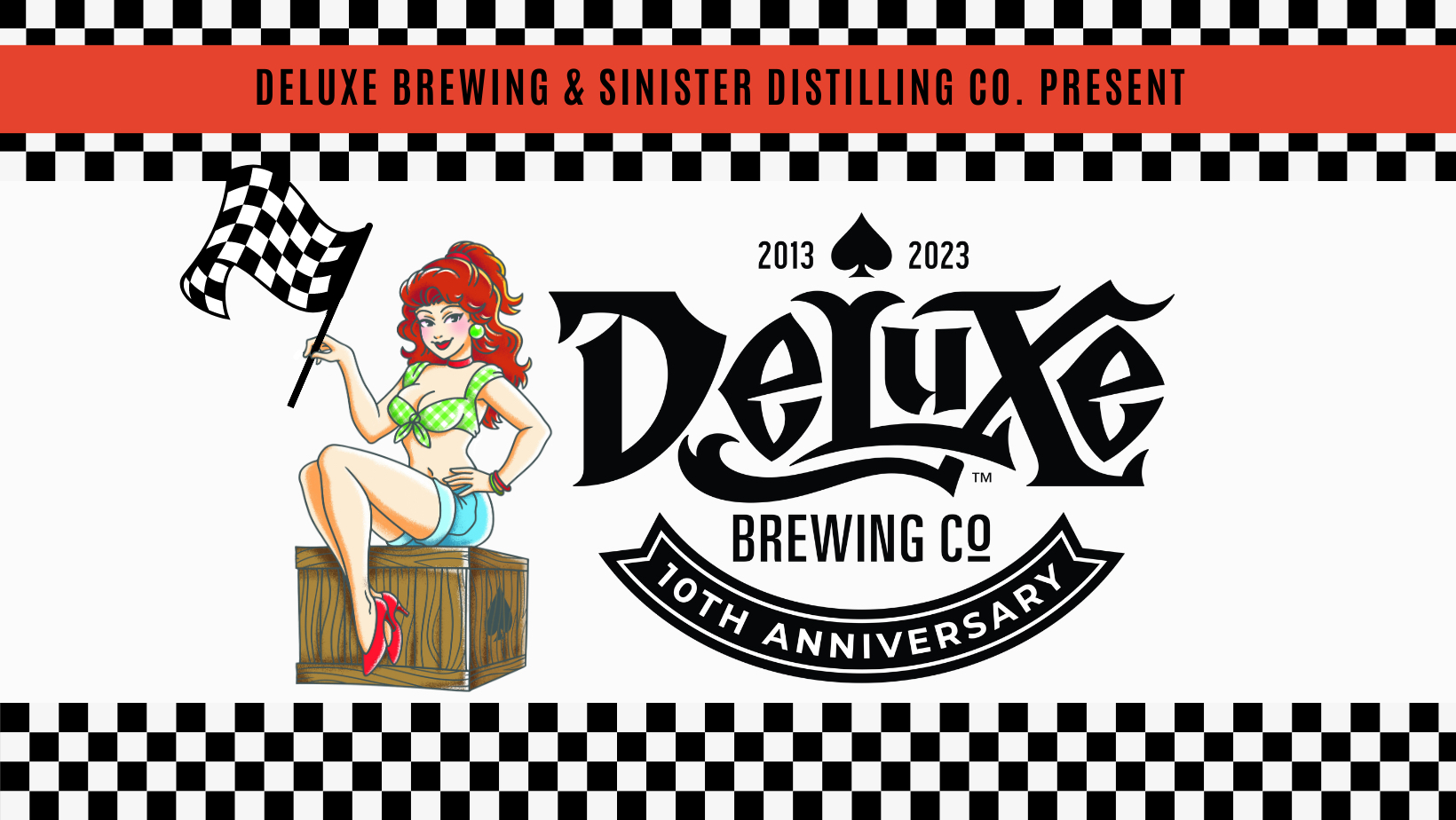 Ten years ago, Jamie and Eric Howard founded Deluxe Brewing and Sinister Distilling in Albany, Oregon. The family-owned business became Albany's first brewstillery, a 15-barrel production brewery and distillery located along the Willamette River in the historic Borden Building along NE Water Avenue.
To celebrate its first decade in business, founded Deluxe Brewing and Sinister Distilling will host its 10 Year Anniversary over the course of seven days from Monday, September 18 through Sunday, September 24, 2023. Each day will feature a different event and includes beer releases, cocktails, food themed nights, trivia, classic cars, yoga, live music and more!
10 Year Anniversary Schedule of Events
Monday, September 18: Official beer release of the Helles Bock Golden Lager. Customers will have the opportunity to sample this anniversary craft beer as well as purchase pints and cans to take home. The Monday Night Acoustic Jam will provide live music from 5:00-8:00pm, hosted in the taproom by Albany Oregon Jams. The weekly acoustic jam is free for all attendees.
Tuesday, September 19: Celebrate Taco Tuesday in the taproom with food specials at the Deluxe Food Cart paired with cold pints of the brewery's flagship De Lux Especial Cerveza, a Mexican-style lager available on draft and in cans.
Wednesday, September 20: Celebrate National Rum Punch Day featuring Sinister Distilling Anchor Rose Pineapple Rum and Aged Rum in a menu of handcrafted cocktails with free rum samples for those 21+ over.
Thursday, September 21: Taproom Trivia Night from 6:30-8:30 pm. Teams of six or less players will be quizzed on their knowledge of craft beer, spirits, the history of Deluxe, Sinister and much more. There is no cost to participate and winning teams have the chance to take home gift cards redeemable in the taproom or at the Deluxe Food Cart.
Friday, September 22: Cruise-in with your hopped-up classic cars beginning at 5 pm, followed by Music Bingo from 7-9 pm. Free for participants, this event is an interactive night of competition against the crowd featuring music from the last decade. As Albany's home for Music Bingo, Deluxe Brewing hosts the perfect marriage of classic bingo and name-that-tune with a night filled with music and chances to win fun prizes.
Saturday, September 23: The biggest night of celebration and "One Helles of a Party". Enjoy Deluxe's finest selection of taproom games from 1-5 pm, followed by live music with local band Thunder Road from 7-9 pm. Thunder Road is a 5-piece variety cover band, based locally in the Mid-Willamette Valley. Expect to hear fan favorites from all over the musical spectrum, including songs from Bob Seger, Elle King, Bonnie Raitt, Little Big Town, Blondie, CCR and more.
Sunday, September 24: Yoga + Beer in the taproom from 11-12 pm. Doors open at 10:30 am and all levels of yoga practice are welcome. This event will begin with a 60-minute all-levels flow yoga class in the taproom, taught by yoga instructor Jenni Harper. Pre-registration is available on their website and is encouraged. The week of events will conclude with an hour of Classic Bingo at 3 pm, which is free for customers.
Deluxe Brewing is open to all ages and is pet friendly. Customers may order craft beer, cider, wines or from a cocktail menu featuring hand-made spirits from Sinister Distilling Company. The on-site Deluxe Food Cart serves customers delicious brewery fare during open taproom business hours.
For more information and full event details, please visit the event website at https://linktr.ee/sinisterdeluxe.
Deluxe Brewing Company & Sinister Distilling Company
635 NE Water Ave., Ste B & D
Albany, OR 97321