Deschutes Brewery Jubelale Coats for Kegs Portland Pub-Crawl
|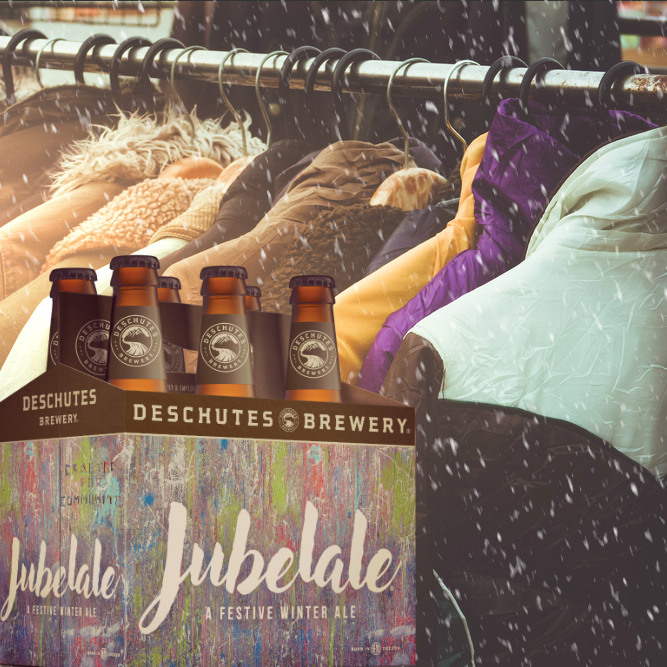 Tonight, across the Pearl District and Northwest Portland, Deschutes Brewery will host its Jubelale Coats for Kegs Portland Pub-Crawl. This fundraiser will bring together charitable giving and Deschutes' Jubelale.
The Jubelale Coats for Kegs Portland Pub-Crawl will take place this evening, Friday, December 21st from 5:30-11:00pm. The crawl will begin at Twenty First Ave Kitchen & Bar and will wrap up at River Pig Saloon with a few stops in between.
Here are complete details on tonight's Jubelale Coats for Kegs Portland Pub-Crawl.
For every Keg of Jubelale Sold to a pub, bar, restaurant, or shop in Portland from Thanksgiving until Christmas, we are donating coats for those in need this Holiday season.  To celebrate the season and to get more coats out to local shelters and to those who need them, we'd love for you to join us on a Pub Crawl of festive fun! For $20 (all of the $ goes to purchasing more coats), get a passport for beer + snacks at 5 iconic downtown Portland bars, fun holiday games for amazing prizes from Hydro Flask, Keen and Deschutes, and of course the warm feeling of helping others.
The crawl starts at Twenty First Ave Kitchen & Bar at 5:30pm and travels to 3 other stops before ending at the River Pig Saloon in the Pearl for a big celebration complete with a DJ, wacky games, great prizes and of course damn tasty Deschutes Beer.
You can also contribute a lightly used coat in exchange for a free $10 gift card to our Bend & Portland Pubs. We'll see you out there!
Locations will be featuring these beers – Jubelale, Fresh Squeezed IPA, Mirror Pond Pale Ale, and Special Reserve Bottle Samplings.
Coats for Kegs Crawl Route:
Start: 5:30-6:30 pm: Twenty First Ave Kitchen & Bar (all meet here)
Stop 1: 6:30-7:15 pm
(Team A) Muu-Muu's
(Team B) Pharmacy
Stop 2: 7:15 – 8:30 pm
(Team A) Joe's Cellar
(Team B) Lightning Will Bar
Stop 3: 8:30-9:15 pm
(Team A) Paymaster Lounge
(Team B) Yur's
Finale: 9-11 pm
River Pig Saloon (all end here)