DRUNK HERSTORY: A Night of Tipsy Storytelling at Alberta Street Pub
|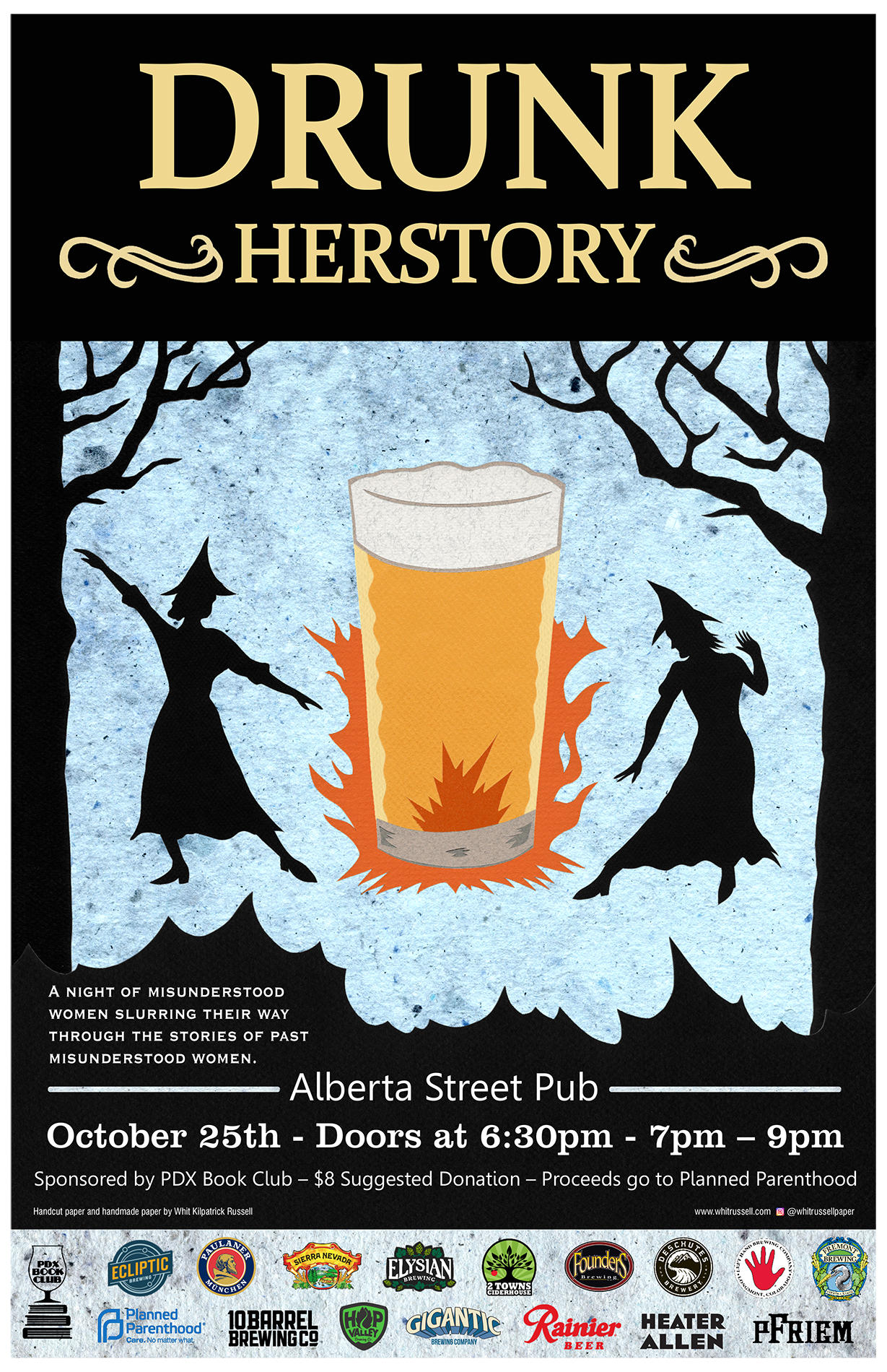 In anticipation of Halloween, a group of women that work in the local beer and cider industry will convene for a night of over indulgence and drunken story telling. DRUNK HERSTORY: A Night of Tipsy Storytelling will take place on Thursday, October 25th at Alberta Street Pub.
This industry group of ladies that are also part of the PDX Book Club will bring together a night of tipsily retold stories of infamously misunderstood women in history. These retold stories that feature women from Cleopatra to Bridget Bishop will be anchored by a liquored-up narration of stories you thought you knew. According to event organizers "booze helps bring out the truth, it's just sometimes the truth is a little incoherent."
Co-hosted by PDXBeerGirl and Randi Curran, the evening's format for DRUNK HERSTORY is based on the original Derek Water show, Drunk History that is televised on Comedy Central. DRUNK HERSTORY is also similar to events hosted by the women in the Seattle industry over the last two years during Women's History Month in March.
Each participating brewery or cidery will have at least one draft option available for purchase. Plus $1.00 from select pints will be donated to Planned Parenthood: Columbia Willamette Chapter.
A special collaboration beer will be served only at the event, a spooky concoction brewed up by PDX Book Club at 10 Barrel Brewing in Portland last month. The complete draft list will be available closer to the date of the event bur here's a peek at the brewery and cidery list.
Participating Breweries & Cideries:
2 Towns Ciderhouse
10 Barrel Brewing
Ecliptic Brewing
Elysian Brewing
Founders Brewing Company
Fremont Brewing
Gigantic Brewing
Heater Allen Brewing
Hop Valley Brewing Co
Left Hand Brewing Company
Paulaner Brewery
pFriem Family Brewers
Rainier Brewing Company
Sierra Nevada Brewing Co
Advance tickets to DRUNK HERSTORY: A Night of Tipsy Storytelling go on sale October 2nd via its Facebook Event Page. The cover charge is $8.00 ($9.79 with fees) and 60 tickets will be available for pre-sale and the remaining 20 tickets will be available at the door on October 25th.
Doors will open at 6:30pm and the drunken show will begin at 7:00pm.
Alberta Street Pub
1036 NE Alberta St.
Portland, OR 97211