Ecliptic Brewing, Wicked Weed Brewing and Stone Brewing Points Unknown IPA Release Party
|
The latest three-way collaboration project from Stone Brewing includes local brewing legend, John Harris from Ecliptic Brewing, along with Wicked Weed Brewing from Asheville, NC. Points Unknown IPA will see its official Portland launch on Wednesday, May 20th at Ecliptic Brewing beginning at 5:30pm.
Though the beer is named Points Unknown IPA, this beer is far from a traditional IPA. Points Unknown IPA is a West Coast Imperial IPA that is blended with a Belgian­-style tripel aged in tequila barrels that previously held red wine. All three breweries were on hand in Escondido, CA at Stone Brewing Co. to brew this beer.
For the release party on Wednesday, both the Ecliptic and Stone teams will be on­hand to celebrate one of the first kegs available in Oregon. Additionally, revelers will have the opportunity to taste not only the collaboration beer, but also kegs of the two unblended base beers used to create the final beer blend.
"We're incredibly excited to tap Points Unknown at Ecliptic," said John Harris, Ecliptic owner and head brewmaster. "Collaborating with our friends at Wicked Weed and Stone has been an incredible experience for us, and I think our guests will love trying not only Points Unknown, but also the base beers."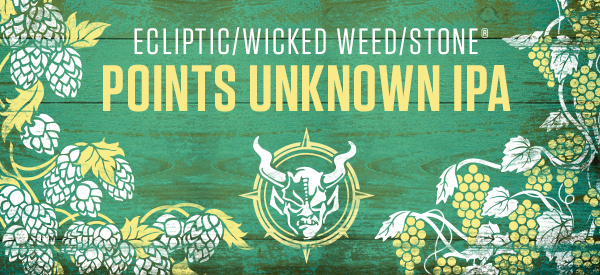 Points Unknown IPA resulted from a blend of fresh double IPA (80%) and a barrel­aged Belgian­style tripel (20%). The latter was placed in a barrel that housed red wine before finding a second life holding añejo tequila, providing a wealth of flavors to flavor the tripel and, eventually, the entire beer.
From sampling Points Unknown IPA from a 22oz bottle over the weekend, this IPA delivers a sticky, resiny hop wallop that is overtaken from its malty sweetness. Then there's the Belgian yeast from the tripel that takes on its own flavors of slight dryness on the tongue. Points Unknown definitely gives the palate a workout. At 72 IBUs and 9.5% ABV this beer definitely offers a bold taste. Almost bordering on a Barleywine style of beer.
Come check it out yourself at Ecliptic Brewing on Wednesday. It'll be interesting to sample all three beers that resulted in Points Unknown IPA.
Ecliptic Brewing
825 N Cook
Portland, OR