Firestone Walker Collaborates With Creature Comforts on Mother's Milk for the 7th Annual Firestone Walker Invitational Beer Fest
|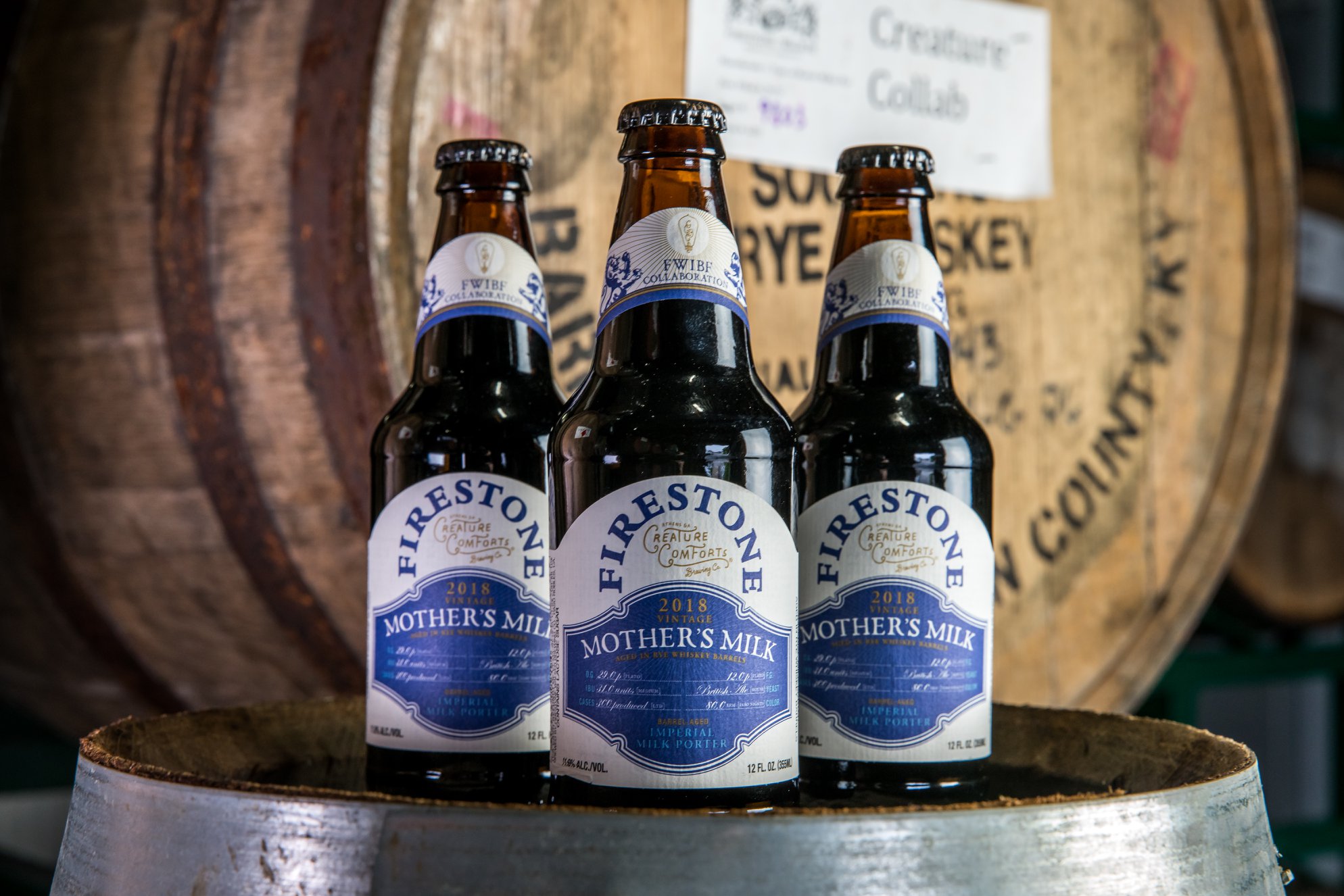 For those fortunate enough to be making their way to Paso Robles, California next weekend to attend the 7th annual Firestone Walker Invitational Beer Fest (FWIBF) you are sure in for a treat. Firestone Walker Brewing collaborated with Creature Comforts Brewing on the festival's collaboration beer, Mother's Milk, a barrel-aged imperial milk porter.
This collaboration began a few years back when Firestone Walker brewer Evan Partridge, now R&D Head Brewer at Firestone Walker – Propagator, visited Creature Comforts in his home state of Georgia. This brewery friendship then became a bit more solidified when the Athens, GA brewery attended the FWIBF for the first time in 2016.
Then last year the plan to brew a barrel-aged beer with Creature Comforts became a reality when Firestone Walker's Brewmaster Matt Brynildson invited Creature Comforts' Brewmaster Adam Beauchamp and Head Brewer David Stein to collaborate with.
"This beer is a great example of what happens when you combine forces with a young innovative brewery, 2,000 miles away, and plug their ideas into our well established barrel program," said Brynildson in a statement.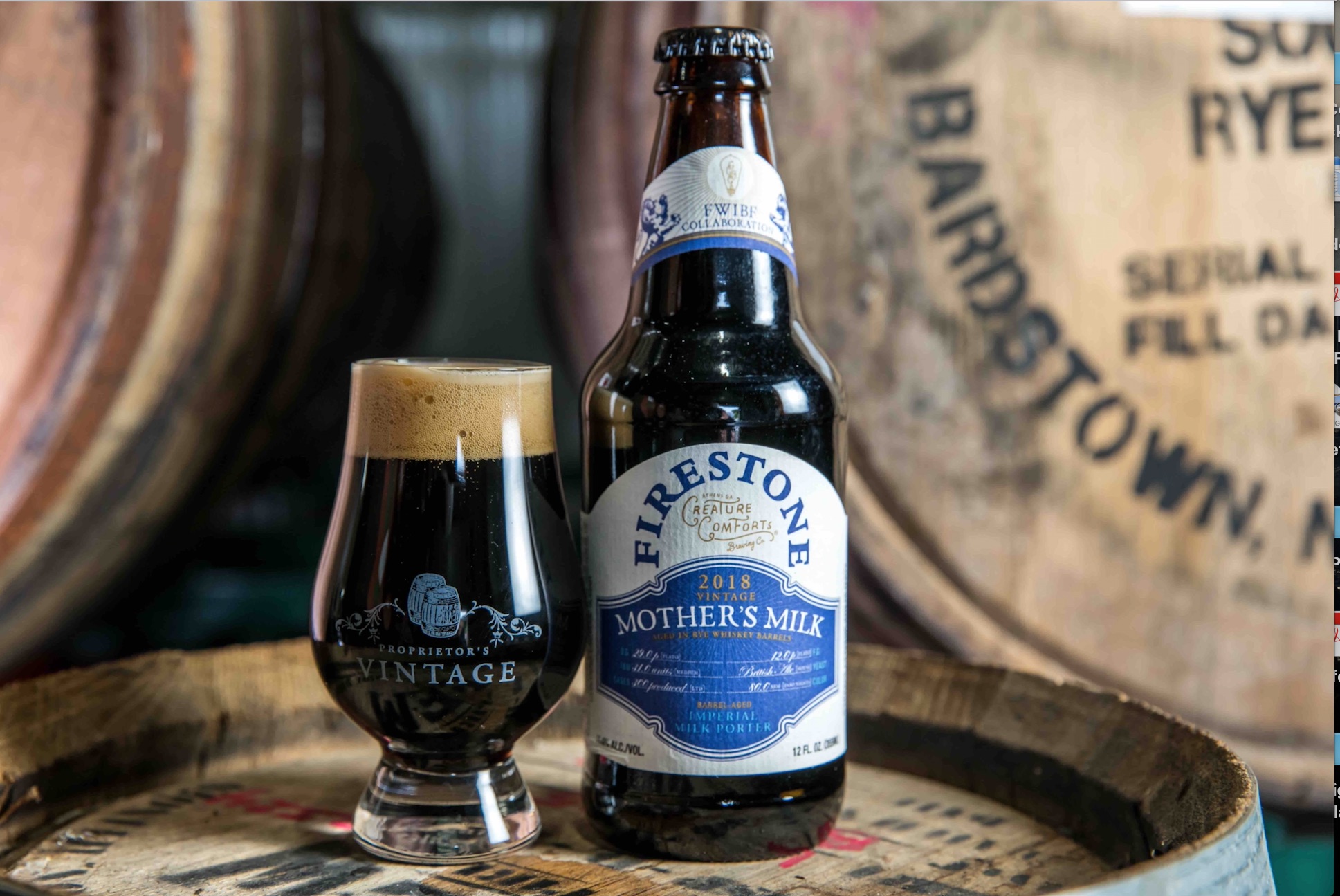 Mother's Milk was aged for nearly 12 months in rye whiskey barrels. The base beer was made with five malts – Two-Row, Munich, Chocolate, Franco-Belges Kiln Coffee, and Crystal 45 along with oats, lactose (milk) sugar and a dash of sea salt.
Rye whiskey barrels were specifically chosen to balance the sweeter tones of the milk porter with a spicy bitter quality. The end result is a 11.6% ABV barrel-aged beer.
"The sweetness inherent to bourbon would have made this beer too cloying, given the presence of the milk sugar," said Eric Ponce, Firestone Walker's barrel program manager, in a statement. "We designed the base beer with the intent of aging it in rye whiskey barrels—we thought it would be the perfect marriage. The dash of salt just makes everything pop on the palate."
"Firestone Walker is a brewery we greatly respect and have been inspired by long before starting our own brewery," said Beauchamp in a statement. "We've enjoyed the friendships we've made with them and were thrilled to have the opportunity to collaborate on a beer together."
"Creature Comforts is one of our favorite new breweries hailing from the South and it has been a blast getting to know these guys and make beer with them," Brynildson said in a statement. "Both of our breweries are members of the Hop Quality Group and we both recently poured beer at the Mikkeller Fest in Copenhagen, so we have had some quality time together—and that will now continue at the upcoming Firestone Walker Invitational Beer Fest."
Mother's Milk will be served to each attendee of the 2018 FWIBF on Saturday, June 2nd and will also be available for sale in 12 ounce bottles the same day at all Firestone Walker locations for $10.99 each. This beer is very limited as only 300 cases (12 x 12-oz bottles) of Mother's Milk was produced.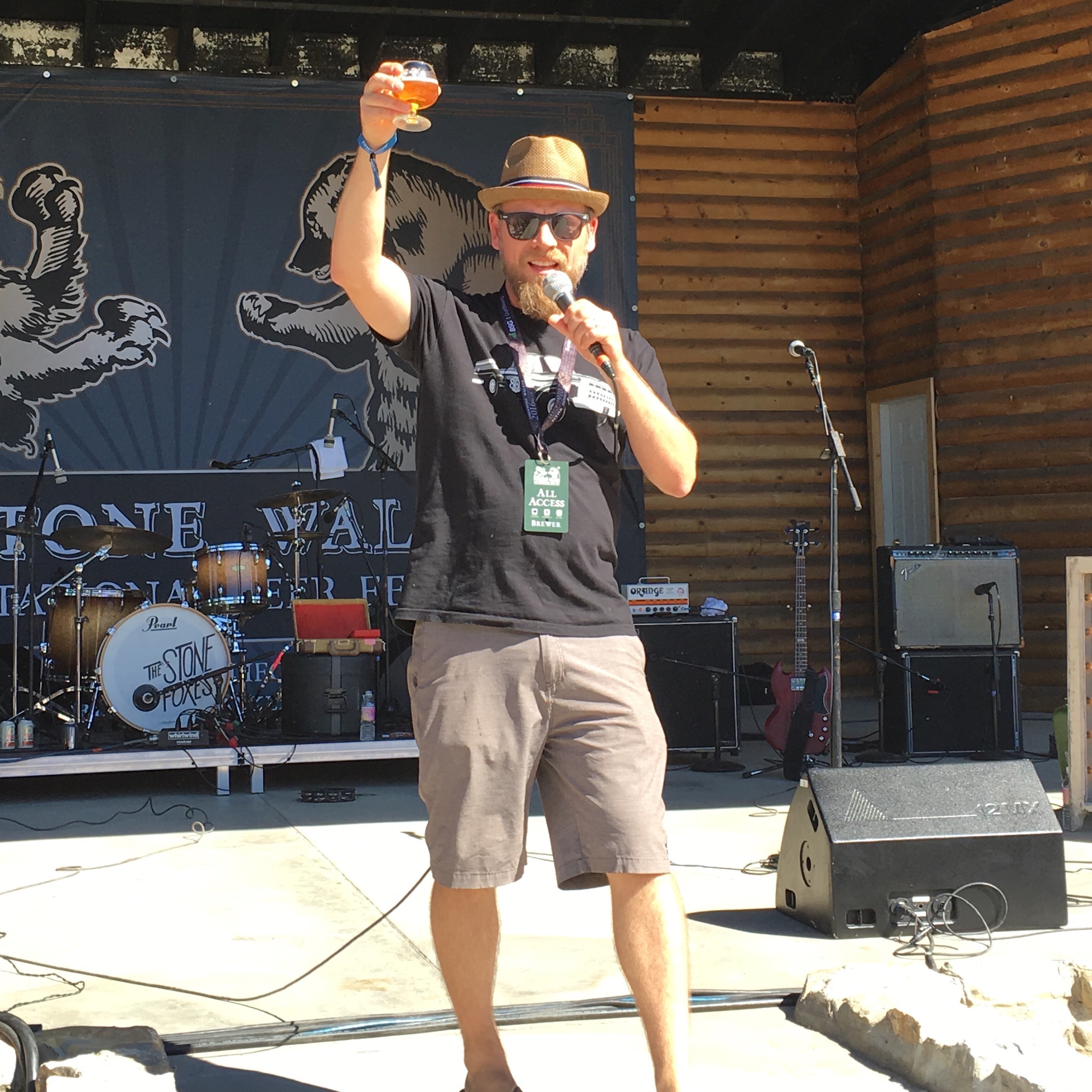 For those attending the 7th annual FWIBF, here is a rundown of the advance list of breweries and beers pouring at this coveted beer festival.
2018 Firestone Walker Invitational Beer Fest Beer List:
3 Floyds Brewing Company
ChemTrail Mix
Von Munshtr
Cheer Team
Zombie Dust
Allagash Brewing Company
Coolship Red
Allagash White
Shiro's Delight
Interlude 2016
Alvarado Street Brewing
Anniversary Ale IV
Blue 'n Gold
Wave Jammer
Kettle Cooler
Arizona Wilderness
Sonoran Prince
Dirty Hop Water
Sangio Cerveza
Connection Saison
Avery Brewing
Tweak
Go Play IPA
Apricot Sour
White Rascal
Bagby Beer Company
Shwarz Story
Boy Wonder
Gotta Pay the Pils
Sweet Ride Bohemian Pils
Beachwood BBQ & Brewing
Hayabusa
Chaos is a Friend of Mine
Dia de los Mangos
Barrel Aged System of a Stout
Beavertown Brewery
Heavy Lord
Breed
I Finally Invented Something that Works
Metamorph
Bell's Brewery
Pooltime Ale
Double Two Hearted
Two Hearted Ale
Lager of the Lakes
Birrificio del Ducato
Settembre
Torrente
La Formula Moderna
Boneyard Beer
Barrel Aged Suge Knite
Funky Bunch
PABO Pilsner
Enzymatic IPA
Boulevard Brewing Company
Saison Brett
American Kolsch
Jam Band
BraufactuM
Indra
Hoppy Kellerpils
Brewery Ommegang
Bourbon Barrel Vanilla Smoked Porter
Pale Sour
Buxton Brewery Company
Very Far Skyline
Trolitunga
Cigar City Brewing
Hunahpu's Imperial Stout
Whateley Family Farmhouse
Creature Comforts
Golden Door
Tritonia
Tropicalia
Booher Hill
Crooked Stave Artisan Beer Project
Nightmare on Bret Fruit Party
Von Pilsner
Sour Rosé
Crux Fermentation Project
Wild Farmhouse
Lawn Party
Double Sevens
Berryful Bounty
Faction Brewing Company
NYX
Hipster Conformant
The Penske File
Firestone Walker Brewing
C-Hops
Pivo Pils
Luponic Distortion Rev. 010
Pivo
Propagator: Shawrzbier
Propagator: OPALesence
Propagator: Buddha's Hard Pink Lemonade
Propagator: Patrick Hayze V.1
Propagator: Patrick Hayze V. 2
Propagator: Single Hop Galaxy
FW Rare Beers
2014 Sucaba
XIX Anniversary Ale
Maltose Falcons Brownywine
Coconut Rye Parabola
2015 Parabola
FW Barrelworks
Pixie Dusted
Nec Bones
UnderCurrants
Krieky Bones
Feral Vinifera
Thin Skin
Oudenaarde #1
Oudenaarde #2
Feral Estevez
Fonta Flora Brewery
Urban Monk (Carrot Cake Variant)
House Lagah #3
Funk Fuzz
Snug Glove
Funkwerks
Opalesence
Rasberry Provincial
Saison d'Brett
Oud Bruin
Garage Project
Cockswain's Courage – Double Barrel Edition – Hot Poker
Yuzu Rising Son
Ziggy's Carrot Cale Ale – Nitro
We Are a Family
Gigantic Brewing
Big Brett Love
Sassy Pony
End of Reason
2016 MASSIVE
Green Cheek Beer
Sweet Gold Bird
Berlin!
Radiant Beauty
Oaked Just Right
Half Acre Beer
Benthic
Pony Pilsner
Beachweed
Move Through the Hills like a Ghost
Highland Park
Barrel Aged Griffith J. Griffith
America's Preference
No Stress
Lazier Susan
Hollister Brewing Company
Low Winter Sun
Tiny Bubbles
Hippie Kicker IPA
Astro Boy
Jack's Abby Brewing
Kriek Mythology
Post Shift Pilsner
Hoponius Union
Jackie O's Brewery
Hockhocking
Hopfen Helles
Skipping Stone
Vision is Lost Without Eyes to See it Through
Jester King
Colour Five
Le Petit Prince
Liefmans Brewery
Goudenband
Kriek Brut
Rosetta
Mahrs Brau
Pils
aU Unfiltered Kellerbier
Saphire
Helles
Melvin Brewing
Citradamus
Hubert
Melvin IPA
Modern Times Beer
Monsters' Park
Analog
Revolution of the Moon
Hedge Witch
Monkish Brewing
Mas Fruit Cart
Interstellar Hitchhiker
Triple IPA
DDH Double IPA
New Belgium Brewing
Le Terroir Noir
Mural Agua Fresca Ale
Odell Brewing
Green Coyote
Rupture
Friek
Ten Paces
Omnipollo
Giedon's Pancake Stack, 3 Sons collab
Plemora Rasberry Creme Brulee Sour
Noa Cocoalmondcoffee Imperial Stout
Oxbow Brewing
Cavern
Lupplo
Revolution Brewing
Double Barrel VSOJ Cherry Rye
Sun Crusher
Cafe Deth
Freedom of Speech
Russian River Brewing Company
Intinction
STS Pils
Pliny the Elder
Sante Adairius Rustic Ales
We Are You
Collective We
Saison Bernice
Tomorrow, Today
Side Project Brewing
Derivation Blend #8
Grisette Blend #5
Fencerow Blend #3
Fuzzy Blend #3
Sierra Nevada Brewing
Barrel Aged Narwhal
Pale Ale
Societe Brewing Company
The Swindler
The Mistress
The Highbinder
Stone Brewing
Stone Mission Sour – Sauvignon Blanc
Stone Brewing Berlin – White Ghost Berliner Weisse
Mikhail with Coconut
Liberty Station 5th Anniversary IPA
Sun King Brewing Company
Golden Girls
Afternoon Delight
Pachanga
Surly Brewing Company
Barrel Aged Darkness
1 Golden Ale
Mosaic Kettle Sour
The Bruery
Double Barrel Black Tuesday with Vanilla
Thanks for the Hops!
Bruesicle: DFG
Bruesicle: Mango Fire
The Lost Abbey
Duck Duck Gooze
Devotion
24 Steps
Veritas Peach
The Rare Barrel
Alchemy and Magic
Raging Waters
2018 Map of the Sun
Bourbon Barrel Aged Home Sour
Thornbridge
Days of Creation
Lukas
Pineapple Halcyon
Versa
Trillium Brewing
Peach Fated Farmer
Vicinity
WeldWerks
Mexican Medianoche
Extra Extra Juicy Bits
Peach Pie Berliner
Single Barrel Medianoche (16 months)