Fort George Brewery 2018 Festival of Dark Arts Returns February 17
|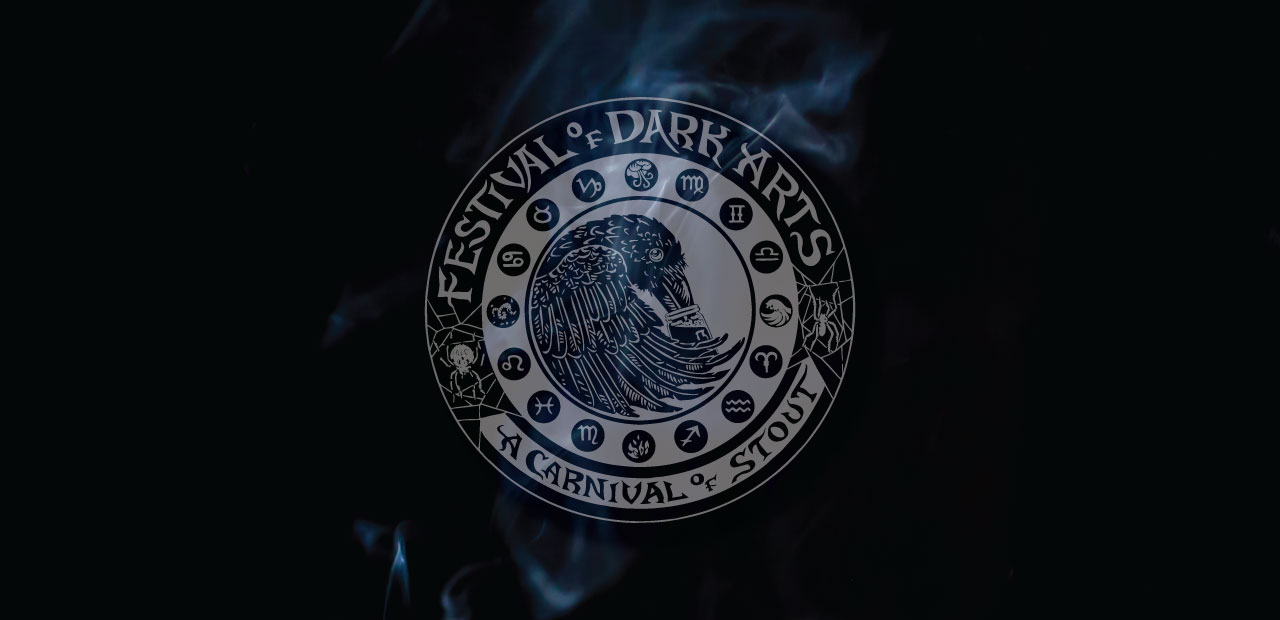 [Astoria, Oregon] There is no darker place than Fort George Brewery during February Stout Month. Every year the faucets flow in a rich tapestry of pitch-black colors, with specialty stouts and bottles releases all month. And it's all anchored by the largest single-day stout & art celebration in the world – the Festival of Dark Arts.
Prepare Yourself
Limited tickets to the 2018 Festival of Dark Arts go on sale starting Wednesday, November 29th (at 12:00am) this year they are more limited and coveted than ever. Bearers will be granted entrance on Saturday, February 17th into a magical menagerie of dark art and macabre entertainment, all the while surrounded by the most awe-inspiring collection of stouts ever assembled in one place. You'll be entranced by the iron, glass, ice, and chainsaw craft. Live music, dark art galleries, and roaming practitioners of the fanciful arts will delight you. All told, over 60 rare and unique stouts will be tapped, tempting all of your darkest senses.
New to the Fest
Stretch out into expanded festival areas on 14th Street and onto the new upper deck of the Fort George Building where new surprises await you. Arrive at your leisure starting at noon and come and go as you please. You can look forward to rare stouts tapping throughout the day and night, with all-new live entertainment until festival end.
And then, save stout room for the boldest Fort George barrel aged bottle release ever, starting Sunday, February 18th at noon. Five unique variations of Matryoshka will be available in wax-dipped bottles, plus very limited quantities of cellared 2017 Matryoshka and Matryoshka variations to construct your vertical tasting. It is indeed a Sweet Virginia bottle release worthy of Stout Month.
The Details
For more information and a link to tickets go to www.festivalofdarkarts.com. Entertainment and stouts will be added as they are confirmed. Tickets are $55 each. All tickets this year allow festival access starting at noon. Every ticket holder will receive a Festival of Dark Arts Grimoire, a 2018 festival glass, and twelve drink tokens with additional tokens for sale at the festival. You must be 21+ and have a ticket to attend.
Festival of Dark Arts
Date: Saturday, February 17th, 2018
Time: Noon to 10pm
Place: Fort George Block – 1483 Duane Street, Astoria, OR
Details: All tickets are $55. 21+ only & IDs required for entry.
Buy your tickets and book your hotel rooms early, then prepare to paint your palate black with the awe inspiring essence of Stout Month.
Legal Disclaimers
Be forewarned: stout will stain your clothes. Dress appropriately. Tickets are transferrable but not refundable. Voted by the Willamette Week Oregon Beer Awards in 2016 & 2017 as the best beer festival in Oregon. 2018 will only get darker….